Marieke, what scene was really hard for you to write and why, and is that the one of which you are most proud? Or is there another scene you particularly love?
Honestly, the entire book was really hard to write, but I knew that going in, and I am so proud of how it turned out. But for me, the hardest scenes to write (beyond the ones where characters died, because I may have cried my way through those) were the tender moments. The sister trying to get through to her brother. The student putting friendship above common sense. The support. The love. The jokes. The possibilities of future.
(For the favorite scene – see my Monday answer!)
Was there an AHA! moment along your road to publication where something suddenly sank in and you felt you had the key to writing a novel? What was it?
All four of my main characters are connected to the shooter, in one way or another. I spent a lot of time figuring out how they knew him, but it was an AHA! moment for me when I realized I also needed to know
who
it was they knew. They all knew a different Tyler. They knew a brother, a boyfriend, a student. They all saw bits and pieces of him; not the whole truth, but fragments.
What do you hope readers will take away from THIS IS WHERE IT ENDS?
I've answered this question before, but I think it bears repeating—I hope readers will take hope away from reading THIS IS WHERE IT ENDS. TIWIE is no easy story. My four main characters, Autumn, Claire, Sylv, and Tomás, face what may well be every student's worst nightmare. A situation where nothing is safe and survival seems impossible. But even though it's a story of revenge, it's also a story of love. It's a story of anger but also friendship. There's family. There's sacrifice. And ultimately, there's the belief that even when the world seems to have stopped turning, when everything has fallen apart, the darkness is never absolute. There is always hope.
What's your writing ritual like? Do you listen to music? Work at home or at a coffee shop or the library, etc?
I can write pretty much anywhere, and I often do so in stolen moments. But wherever I am, I do need music. Whether it's a story's playlist – I make playlists for some stories and not for others, depending on what the story needs – or soundtracks, classical music, or otherwise instrumental, I love having music around me to inspire me.
What book or books would most resonate with readers who love your book--or visa versa?
I could recommend so many wonderful books! But one book in particular feels particularly relevant – another 2016 debut that'll come out this Tuesday! Marisa Reichardt's UNDERWATER, which takes place after a school shooting and follows Morgan, who deals with PTSD and anxiety, as she try to find her way back to life. I love the way this story deals with therapy in particular (and I will always love a good redemption story). If you love THIS IS WHERE IT ENDS, I think this would be a great next read.
ABOUT THE BOOK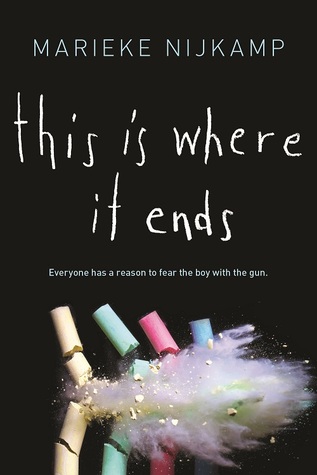 This Is Where It Ends
by Marieke Nijkamp
Hardcover
Sourcebooks Fire
Released 1/5/2016
10:00 a.m.
The principal of Opportunity, Alabama's high school finishes her speech, welcoming the entire student body to a new semester and encouraging them to excel and achieve.
10:02 a.m.
The students get up to leave the auditorium for their next class.
10:03
The auditorium doors won't open.
10:05
Someone starts shooting.
Told over the span of 54 harrowing minutes from four different perspectives, terror reigns as one student's calculated revenge turns into the ultimate game of survival.
Purchase This Is Where It Ends at Amazon
Purchase This Is Where It Ends at IndieBound
View This Is Where It Ends on Goodreads
ABOUT THE AUTHOR
Marieke Nijkamp was born and raised in the Netherlands. A lifelong student of stories, language, and ideas, she is more or less proficient in about a dozen languages and holds degrees in philosophy, history, and medieval studies. She is a storyteller, dreamer, globe-trotter, geek. Her debut young adult novel This Is Where It Ends, a contemporary story that follows four teens over the course of the fifty-four minutes of a school shooting, is published by Sourcebooks Fire.
She is the founder of
DiversifYA
as well as the founding member and advisor of
We Need Diverse Books
. Find her on
Twitter
.
---
Have you had a chance to read THIS IS WHERE IT ENDS yet? Do you write about hope in the darkness? Do you create playlists for your stories?
Happy reading,
Jocelyn, Shelly, Martina, Erin, Lisa, Susan, Sam, Lindsey, Sandra, Kristin, and Anisaa