Brenda, what was your inspiration for writing THIEF OF LIES?
It was a coffee table book of world libraries. I came across it in a bookstore and fell in love with the photographs of libraries in the book. The pictures moved within my imagination and I envisioned a battle happening in one of the libraries. I bought the book and started drafting the story that day.

What scene was really hard for you to write and why, and is that the one of which you are most proud? Or is there another scene you particularly love?
One of the battle scenes in the book was difficult to write. There was so much going on and I worried I would overwrite it. I pared it down, then added to it, and then whittled it down some more. I spent days and days agonizing over it. After so many attempts, I skipped over it and went back to it after I'd finished. It wasn't bad, but something was missing. I couldn't get it right. Until my editor's notes. It lacked emotion and after adding some in, I finally felt it was where I wanted it. I am proud of it, but I'm most proud of a romantic scene between Gia and Arik, it involves mud and pastries.
What book or books would most resonate with readers who love your book--or vice versa?
This is always hard for me to answer. I just feel too humble to compare my work with writers I admire. A reviewer mentioned that fans of
The Mortal Instruments
and
The Girl at Midnight
series would love this book. And I would have to agree.
How long did you work on THIEF OF LIES?
It feels like I've worked on it forever. It took about a year to write it. I was working at the time, so I had to fit the writing in when I could. Over the years, I'd tweak and edit it. Then edit it some more. And some more. I took a little detour during the publishing stage and I ended up exactly where I should have been all along—with Entangled Teen and my amazing editor, Liz Pelletier.
What did this book teach you about writing or about yourself?
It taught me that real magic happens during editing. For myself, it taught me patience.
What do you hope readers will take away from THIEF OF LIES?
A fun, entertaining experience, and an affinity to the characters, who will fight against all odds for those they love and those who can't fight for themselves.
How long or hard was your road to publication? How many books did you write before this one, and how many never got published?
I've been writing for ten years. I wrote many stories before I queried my first manuscript. It was horrible. It's laughable how terrible it was.
Thief of Lies
, originally
Library Jumpers
, took six years to publish. I had many heartaches and missteps, had to change course a few times, but I never gave up. I felt strongly about this story and I'm so happy Entangled did, too.
Was there an AHA! moment along your road to publication where something suddenly sank in and you felt you had the key to writing a novel? What was it?
Yes, when
Library Jumpers
kept getting full requests from agents, I knew I had a good story.
What's your writing ritual like? Do you listen to music? Work at home or at a coffee shop or the library, etc?
I prefer to work at home, but need to take breaks and write in coffee shops every so often. I'm not good at having a writing friend at the coffee shop with me. I talk too much, and we can't get anything done. Music is a must. I have a very active, loud home at times, so I need to put on the headphones to concentrate. Music puts me in the mood for each scene, so the artist is important. I've put one song on repeat before and listened to it continuously until I've finished the scene. I use a lot of post-it notes with my goals for each day written on them. I have them stuck to my bookcase above my desk. It feels good to remove each as I finish the goal written on it. I have a little wink to that system in
Thief of Lies
. Professor Attwood does it in his office.
What advice would you most like to pass along to other writers?
Never give up. Keep writing and put out stories until the right one clicks. And learn patience—you'll need it.
What are you working on now?
I'm currently writing the second book in the Fated Series,
Cursing Fate
. It's a challenging story and it's difficult to write. It follows the story of Iris and Wade. Iris is Aster's (from
Touching Fate
) sister and twin to Violet. The story includes romance, cursed cards, and revenge, pitting the twins against each other. And I can't wait to share it with readers.
ABOUT THE BOOK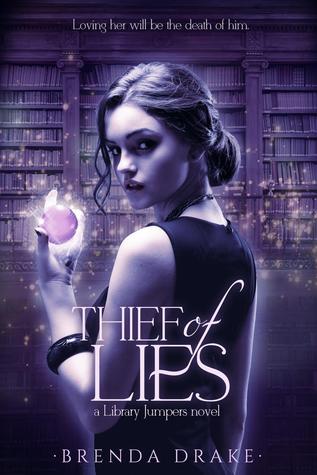 Thief of Lies
by Brenda Drake
Hardcover
Entangled: Teen
Released 1/5/2016
Gia Kearns would rather fight with boys than kiss them. That is, until Arik, a leather clad hottie in the Boston Athenaeum, suddenly disappears. While examining the book of world libraries he abandoned, Gia unwittingly speaks the key that sucks her and her friends into a photograph and transports them into a Paris library, where Arik and his Sentinels-magical knights charged with protecting humans from the creatures traveling across the gateway books-rescue them from a demonic hound.
Jumping into some of the world's most beautiful libraries would be a dream come true for Gia, if she weren't busy resisting her heart or dodging an exiled wizard seeking revenge on both the Mystik and human worlds. Add a French flirt obsessed with Arik and a fling with a young wizard, and Gia must choose between her heart and her head, between Arik's world and her own, before both are destroyed.
Purchase Thief of Lies at Amazon
Purchase Thief of Lies at IndieBound
View Thief of Lies on Goodreads
ABOUT THE AUTHOR
Brenda Drake, the youngest of three children, grew up an Air Force brat and the continual new kid at school. Her fondest memories growing up is of her eccentric, Irish grandmother's animated tales, which gave her a strong love for storytelling. So it was only fitting that she would choose to write stories with a bend toward the fantastical. When Brenda's not writing or doing the social media thing, she's haunting libraries, bookstores, and coffee shops or reading someplace quiet and not at all exotic (much to her disappointment).
----
Have you had a chance to read THIEF OF LIES yet? Do you add emotion to your battle scenes? Has writing taught you patience?
Happy reading,
Jocelyn, Shelly, Martina, Erin, Lisa, Susan, Sam, Lindsey, Sandra, Kristin, and Anisaa