Heirs of Watson Island
series.
Martina, what was your inspiration for writing PERSUASION?
Since it's the second book in the series, the biggest inspiration was a deadline and a contract, but I already had the story and characters arcs in mind. I knew what needed to happen in the middle book, and how that was going to advance the overall plot of the trilogy. I also knew that I needed to explore Cassie's individual story and reveal the reason she is how she is. But where the story took off for me is when I discovered Obadiah. He wrote himself, and because I never knew in Persuasion whether he was a good guy or a bad one, hero or villain, he kept me eager to write. Another thing that fueled the story for me was the kidnapping of the school girls in Nigeria by Boko Haram. This helped inform the research into women's rights, into slavery—both past and present—and the rape culture. I call the books in this series popcorn with vitamins. You can enjoy them as a gothic romance, but there is also a layer of history and issues that are important to me that resulted in the eight page learning guide that goes with the book. (You can find that on my website.)
What scene was really hard for you to write and why, and is that the one of which you are most proud? Or is there another scene you particularly love?
My favorite scene is the cemetery scene between Barrie and Eight. I love that romance so, so much. The hardest scene to write was the one in the middle where the spirits raise the ghost of the Colesworth mansion and we see what happened the night it burned. That's a much watered down version of the scene I originally wrote, because readers wouldn't have come back from that if I'd left it the way it was. I literally wrote the scene as the news was going on with Boko Haram, and I was shaking with anger as I typed.
What book or books would most resonate with readers who love your book--or visa versa?


We call the series a Southern Gothic, but that really means it's a Gothic romance set in the South with some of the social issues and history typical of a Southern Gothic woven in. It seems to do well with readers of THE RAVEN BOYS, MARA DYER, THE ARCHIVED, BEAUTIFUL CREATURES, etc. For adult readers, I get a lot of comments on the similarity to THE MIDNIGHT GARDEN OF GOOD AND EVIL and the work of Susannah Kearsley or Sarah Addison Allen.

How long did you work on PERSUASION?


About a year and a half. My agent gave me the green light to go ahead and start writing before we went on sub with COMPULSION, but then it eventually sold as a series so I had to completely rewrite it--and then I started it in the wrong place. I had planned the three books as companion novels, one told from the perspective of each of the three families, so everything I had done on the book up until then got tossed out.

What did this book teach you about writing or about yourself?

Writing a sequel while your debut is making its way out into the world is an education in itself. There are many ups and downs and high emotions that come as part of the process. I lost my acquiring editor before COMPULSION was even published, and that strips away some of your armor. You have to believe in your vision and develop your own armor. At the same time, there are things in PERSUASION that I really want people to know--history and issues that I want to get to readers who, in many cases, would not normally be inclined to pick up books that have issues or history. Readers like my daughter who love it even though history is not her thing.

What do you hope readers will take away from PERSUASION?
That just because you are dating a guy, even if you love him, you don't automatically have to choose his future over yours.
That strong girls don't have to be perfect.
That it's normal for teens to struggle with difficult choices and to make mistakes.
That there are a lot of different ways that we, as a society, force or "persuade" people to do things we want them to do.
That there's a fine line between compulsion and persuasion.
How long or hard was your road to publication? How many books did you write before this one, and how many never got published?

I wrote two YA novels before COMPULSION. One was finished, and I was in the process of revising the second based on some comments I'd gotten from an agent when I got the idea for COMPULSION and stopped to write that one.

Was there an AHA! moment along your road to publication where something suddenly sank in and you felt you had the key to writing a novel? What was it?

As I was writing COMPULSION, I went to a workshop where Tracey Adams of Adams Literary asked the writers in the workshop about our favorite main characters in YA as we were growing up. What I discovered was that the characters we loved DID things. They made things happen rather than letting things happen to them.

What's your writing ritual like? Do you listen to music? Work at home or at a coffee shop or the library, etc?

I'm lucky enough to get to write full time, but that means that I get down to my office (or often the living room couch), and I start working first thing in the morning and I work late into the night. Often I'm doing social media, or working on marketing, or promotion, or the Compulsion for Reading campaign etc. My ritual basically centers around Butt in Chair. : )

What advice would you most like to pass along to other writers?

Believe in what you're wanting to do. Read a ton in every different genre. MAKE time to read. And work on your craft as hard as you can before you get published. Don't expect to get it right on the first draft or even the tenth. It's a process. Reward yourself at every step of that process, because each one is a milestone.

What are you working on now?

I'm finishing up edits on ILLUSION (book three) and I just turned in a proposal to my agent for a new series. I'm also super excited about a different series that I've just started plotting with a friend who happens to be a brilliant author in her own right.
ABOUT THE BOOK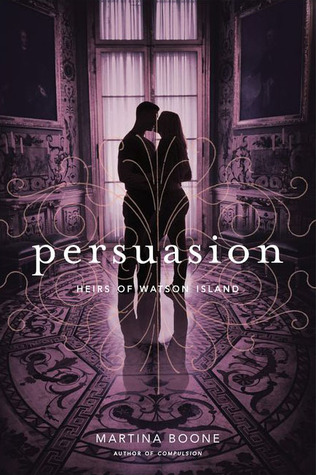 Persuasion
by Martina Boone
Hardcover
Simon Pulse
Released 10/27/2015
Romeo and Juliet meets Midnight in the Garden of Good and Evil in the spellbinding second novel in the Heirs of Watson Island trilogy that "skillfully blends rich magic and folklore with adventure, sweeping romance, and hidden treasure" (Publishers Weekly, on Compulsion).
Grieving the death of her godfather and haunted by her cousin Cassie's betrayal, Barrie returns from a trip to San Francisco to find the Watson plantation under siege. Ghost-hunters hope to glimpse the ancient spirit who sets the river on fire each night, and reporters chase rumors of a stolen shipment of Civil War gold that may be hidden at Colesworth Place. The chaos turns dangerous as Cassie hires a team of archeologists to excavate beneath the mansion ruins. Because more is buried there than treasure.
A stranger filled with magic arrives at Watson's Landing claiming that the key to the Watson and Beaufort gifts—and the Colesworth curse—also lies beneath the mansion. With a mix of threats and promises, the man convinces Barrie and Cassie to cast a spell there at midnight. But what he conjures may have deadly consequences.
While Barrie struggles to make sense of the escalating peril and her growing and forbidden feelings for Eight Beaufort, it's impossible to know whom to trust and what to fight for—Eight or herself. Millions of dollars and the fate of the founding families is at stake. Now Barrie must choose between what she feels deep in her heart and what will keep Watson's Landing safe in this stunning addition to a series filled with "decadent settings, mysterious magic, and family histories rife with debauchery" (Kirkus Reviews, on Compulsion)
Purchase Persuasion at Amazon
Purchase Persuasion at IndieBound
View Persuasion on Goodreads
ABOUT THE AUTHOR
Martina Boone was born in Prague and spoke several languages before learning English. Her first teacher in the U.S. made fun of her for not pronouncing the "wh" sound right, so she set out to master "all the words"—she's still working on that! In the meantime she's writing contemporary fantasy set in the kinds of magical places she'd love to visit.
If you like romance steeped in mystery, mayhem, Spanish moss, and a bit of magic, she hopes you'll look forward to meeting Barrie, Eight, Cassie, Pru, Seven and the other characters of Watson Island.
She is also the founder of AdventuresInYAPublishing.com, a Writer's Digest 101 Best Websites for Writers site, the CompulsionForReading.com book drive campaign for underfunded schools and libraries, and YASeriesInsiders.com, a site devoted to the discovery and celebration of young adult literature and encouraging literacy through YA series. Locally in her home state, she is on the board of the Literacy Council of Northern Virginia, helping to promote literacy and adult education initiatives.



Have you had a chance to read PERSUASION yet? Do you ensure your characters are making things happen? Do you follow the ritual of Butt in Chair?
Happy reading,
Jocelyn, Shelly, Martina, Erin, Lisa, Susan, Sam, Lindsey, Sandra, Kristin, and Anisaa