Pat, what scene was really hard for you to write and why, and is that the one of which you are most proud? Or is there another scene you particularly love?
My favorite scene in the book is the one where Kivali sheds her lizard skin. I wrote it very quickly, and it didn't change much through the seven or eight drafts. I loved writing it, and yes, I'm proud of it. I wanted to capture the wild confusion and intense "everything-is-different-now" sensation of fully connecting with another human for the first time in a (very young) adult way. There's no way to put it into words, but I think I at least caught the tail of the feeling.
What did this book teach you about writing or about yourself?
Lizard Radio taught me about the power of Both and Neither. I've never done well with either-or thinking of any kind (I hate true/false and multiple choice tests!), and I worked things out in my own mind about gender, visions, saurians, power and politics right along with Kivali.
What do you hope readers will take away from LIZARD RADIO?
I hope readers walk away with faith that no matter how unusual they may be, no matter how unconventional their thinking or experience, they will find others who can relate – maybe not to their particulars, but to that
feeling
of being alien, of being dropped into a world where they just can't fit. I hope they take away ideas of how to hold onto one's own essence and integrity while still connecting with love and friendship and camaraderie. It is not either/or. We can have both.
ABOUT THE BOOK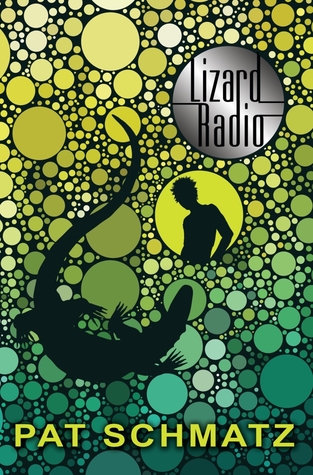 Lizard Radio
by Pat Schmatz
Hardcover
Candlewick
Released 9/8/2015
Fifteen-year-old bender Kivali has had a rough time in a gender-rigid culture. Abandoned as a baby and raised by Sheila, an ardent nonconformist, Kivali has always been surrounded by uncertainty. Where did she come from? Is it true what Sheila says, that she was deposited on Earth by the mysterious saurians? "What are you?" people ask, and Kivali isn't sure. Boy/girl? Human/lizard? Both/neither? Now she's in CropCamp, with all of its schedules and regs, and the first real friends she's ever had. Strange occurrences and complicated relationships raise questions Kivali has never before had to consider. But she has a gift—the power to enter a trancelike state to harness the "knowings" inside her. She has Lizard Radio. Will it be enough to save her? A coming-of-age story rich in friendships and the shattering emotions of first love, this deeply felt novel will resonate with teens just emerging as adults in a sometimes hostile world.
Purchase Lizard Radio at Amazon
Purchase Lizard Radio at IndieBound
View Lizard Radio on Goodreads
ABOUT THE AUTHOR
Pat grew up in rural Wisconsin and has lived in Michigan, California, and Minnesota. In addition to writing, she's interested in language study (ASL, Italian, Japanese and Spanish), drawing/cartooning, travel and anything outdoors. She occasionally teaches writing on-line and in person, and is always happy for a chance to visit a middle school or high school classroom. Her #1 favorite hobby, relaxation and adventure has been the same since she was little – stories. Stories in books, music, art, dance – it's all about the story.
Have you had a chance to read LIZARD RADIO yet? Are you intrigued by a character who sheds her lizard skin? Have you read any of Pat Schmatz's earlier novels?
Happy reading,
Jocelyn, Shelly, Martina, Erin, Lisa, Susan, Jen, Sam, Lindsey, Sandra, Kristin, and Anisaa