Mikaela, what book or books would most resonate with readers who love your book--or visa versa?
I've seen
The Unquiet
compared to Never Let Me Go by Kazuo Ishiguro and How I Live Now by Meg Rosoff, both of which are incredible books and I'm so honored.
What do you hope readers will take away from THE UNQUIET?
That no one has the power to determine who you are, but you.

What's your writing ritual like? Do you listen to music? Work at home or at a coffee shop or the library, etc?
The only thing I need to write is absolute silence. I usually use noise-cancelling headphones. I'll sometimes listen to music before I write but lately I listen to music only when I'm editing. Other than that I try really hard not to have any rituals. I do most of my writing at home but I will change things up and go to coffee shops once in awhile. It's important to be able to write wherever I am, with whatever I can use.

What advice would you most like to pass along to other writers?
Fall in love with good books and with the actual art of writing. Once you do, you won't give up as easily. You'll write and grow and write some more and eventually, some editor somewhere will notice your unique wonderful style and love it.
ABOUT THE BOOK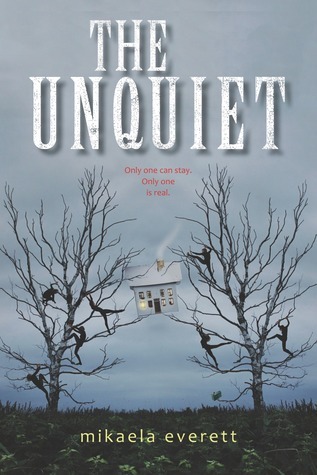 The Unquiet
by Mikaela Everett
Hardcover
Greenwillow Books
Released 9/22/2015
For most of her life, Lirael has been training to kill—and replace—a duplicate version of herself on a parallel Earth. She is the perfect sleeper-soldier. But she's beginning to suspect she is not a good person. Fans of eerily futuristic and beautifully crafted stories such as Never Let Me Go, Orphan Black, and Fringe will find themselves haunted by this unsettling debut.
The two Earths are identical in almost every way. Two copies of every city, every building, even every person. But the people from the second Earth know something their duplicates do not—two versions of the same thing cannot exist. They—and their whole planet—are slowly disappearing. Lira has been trained mercilessly since childhood to learn everything she can about her duplicate, to be a ruthless sleeper-assassin who kills that other Lirael and steps seamlessly into her life.
An intricate, literary stand-alone from an astonishing new voice, The Unquiet takes us deep inside the psyche of a strong teenage heroine struggling with what she has been raised to be and who she really is.
Purchase The Unquiet at Amazon
Purchase The Unquiet at IndieBound
View The Unquiet on Goodreads
ABOUT THE AUTHOR
Mikaela Everett is the author of THE UNQUIET, her debut novel, to be published by Greenwillow/HarperCollins in fall 2015. She is currently working on her next novel.
Have you had a chance to read THE UNQUIET yet? Are you able to write wherever you are or do you need certain rituals? Have you fallen in love with the actual art of writing yet?
Happy reading,
Jocelyn, Shelly, Martina, Erin, Lisa, Susan, Sam, Lindsey, Sandra, Kristin, and Anisaa