eighteen
new YA books releasing this week, and we have giveaways for four of them! Take a look at the wealth of books emerging into the world, and make sure to scroll all the way down to enter the giveaway.
Happy reading,
Lindsey, Martina, Sam, Jocelyn, Erin, Lisa, Shelly, Susan, Elizabeth, Kristin, Jen, Sandra and Anisaa
YA BOOK GIVEAWAYS THIS WEEK
* * * *
Hallowed
by Tonya Hurley
Signed Hardcover plus Swag Giveaway
International
Simon & Schuster Books for Young Readers
Released 7/7/2015
Three lost girls, one mysterious boy. They battle for his heart while he struggles for their souls in this gripping conclusion to The Blessed trilogy, from the New York Times bestselling author of the ghostgirl series.
Lucy, Cecelia, and Agnes have sacrificed everything for their belief in a boy who stole their hearts. First in Precious Blood and then in Passionaries, the girls have struggled to reconcile with their destinies. Now, as the world turns against them, will they be able to hold steadfast? Will they survive the final test?
Author Question: What is your favorite thing about Hallowed?
Hallowed is the conclusion of The Blessed trilogy and my favorite thing about it is that it is mostly about the character Agnes, which means it is all about love. She is the youngest and most idealistic of my Subway Saints, a girl searching for true love, one that is real and lasting, and in Hallowed she finally finds it. Ridiculed by her classmates as a hypocritical 'virgin' queen, as a delusional attention-seeker by her own mother and a dangerously psychotic fraud by her nemesis Doctor Frey, Agnes nevertheless remains true to herself and her beliefs until the bloody and beautiful end of her story. The books were so much fun for me to write because Sebastian, Jesse, Lucy, Cecilia and Agnes were not typical teen characters preoccupied with typical high school stuff, i.e. boys, clothes, parties, snapchat and instagram. They were outsiders not really looking for a way to fit in but just looking to survive despite overwhelming odds. This trilogy really gave me a chance to explore further many of the themes I started writing about in ghostgirl. Love, loyalty, fame, fate, death, destiny, fitting in and standing out. About believing something so deeply inside you are compelled to do whatever is necessary, despite the consequences. I'm sad to leave these girls and their world behind but since they are saints now, I can rest assured they will live forever!
Purchase Hallowed at Amazon
Purchase Hallowed at IndieBound
View Hallowed on Goodreads
* * * *


Naked
by Stacey Trombley
Signed Paperback Giveaway
U.S. Only
Entangled: Teen
Released 7/7/2015
The best place to hide is in a lie…
I could never fit in to the life my parents demanded. By the time I was thirteen, it was too much. I ran away to New York City…and found a nightmare that lasted three years. A nightmare that began and ended with a pimp named Luis. Now I am Dirty Anna. Broken, like everything inside me has gone bad.
Except that for the first time, I have a chance to start over. Not just with my parents but at school. Still, the rumors follow me everywhere. Down the hall. In classes. And the only hope I can see is in the wide, brightly lit smile of Jackson, the boy next door. So I lie to him. I lie to protect him from my past. I lie so that I don't have to be The Girl Who Went Bad.
The only problem is that someone in my school knows about New York.
Someone knows who I really am.
And it's just a matter of time before the real Anna is exposed…
Author Question: What is your favorite thing about Naked?
My main character, Anna. She really jumped off the page for me and made this book what it is. It's not about a teenaged prostitute, it's about Anna. A girl broken but hopeful. Honestly, sometimes I wonder if she's a real person, out there somewhere, and somehow I had the ability to jump into her head for a while. She's so real and complex. She is the heart of this book.
Purchase Naked at Amazon
Purchase Naked at IndieBound
View Naked on Goodreads
* * * *


Suicide Notes from Beautiful Girls
by Lynn Weingarten
Signed Hardcover Giveaway
U.S. Only
Simon Pulse
Released 7/7/2015
Gone Girl meets 13 Reasons Why in this stylish, sexy, and atmospheric story about friendship packed with twists and turns that will leave you breathless.
They say Delia burned herself to death in her stepfather's shed. They say it was suicide.
But June doesn't believe it.
June and Delia used to be closer than anything. Best friends in that way that comes before everyone else—before guys, before family. It was like being in love, but more. They had a billion secrets, tying them together like thin silk cords.
But one night a year ago, everything changed. June, Delia, and June's boyfriend Ryan were just having a little fun. Their good time got out of hand. And in the cold blue light of morning, June knew only this—things would never be the same again.
And now, a year later, Delia is dead. June is certain she was murdered. And she owes it to her to find out the truth…which is far more complicated than she ever could have imagined.
Sexy, dark, and atmospheric, Suicide Notes from Beautiful Girls will keep you guessing until the very last page.
Author Question: What is your favorite thing about Suicide Notes from Beautiful Girls?
As the writer of it, my favorite thing about this book is how hard I worked on it, which is very, very. At one point I had to throw away 142 pages and write them again even! I think I'm a little bit of a better writer than I was when I started it, which is a good feeling.
Also—although I can take zero credit for it—I absolutely love the cover. If I were a reading it, well…I can't tell you what my favorite thing would be because that would be a big spoiler.
Purchase Suicide Notes from Beautiful Girls at Amazon
Purchase Suicide Notes from Beautiful Girls at IndieBound
View Suicide Notes from Beautiful Girls on Goodreads
* * * *


You and Me and Him
by Kris Dinnison
Signed Hardcover Giveaway
U.S. Only
HMH Books for Young Readers
Released 7/7/2015
"Do not ignore a call from me when you know I am feeling neurotic about a boy. That is Best Friend 101." —Nash
Maggie and Nash are outsiders. She's overweight. He's out of the closet. The best of friends, they have seen each other through thick and thin, but when Tom moves to town at the start of the school year, they have something unexpected in common: feelings for the same guy. This warm, witty novel—with a clear, true voice and a clever soundtrack of musical references—sings a song of love and forgiveness.
Author Question: What is your favorite thing about You and Me and Him?
I think one of my favorite things about writing the book was getting to integrate music into it. The beginnings of the book was this fragment in my writing notebook: "a girl who works in a record store". So when I started thinking about that girl and that record store, I thought about what music she would be surrounded by and immersed in. Vinyl is making a bit of a comeback, but large scale production of vinyl started to fade around the mid-80s when cassette tapes really started to take over, I knew a lot of the music she listened to would be a lot of the music I grew up with. So it was fun to revisit those songs and groups that were important to me while also choosing music that would help enhance and move the story along. It was also fun to create an actual playlist of all the songs in the book, which can be found at http://krisdinnison.net/writing-2/.
Purchase You and Me and Him at Amazon
Purchase You and Me and Him at IndieBound
View You and Me and Him on Goodreads
YA BOOK GIVEAWAYS LAST WEEK: WINNERS
The Stars Never Rise by Rachel Vincent: Nicole S.
The Devil You Know by Trish Doller: Natalie S.
Off the Page by Jodi Picoult and Samantha van Leer: Nicole K.
MORE YOUNG ADULT FICTION IN STORES NEXT WEEK WITH AUTHOR INTERVIEWS
* * * *
Don't Ever Change
by M. Beth Bloom
Hardcover
HarperTeen
Released 7/7/2015
Sometimes the only way to learn about yourself is to try to change everything about you.
Eva has always wanted to write a modern classic—one that actually appeals to her generation. The only problem is that she's starting to realize she can't "write what she knows" because she hasn't really lived. So the summer before heading off to college, Eva is determined to live a life worth writing about.
But soon Eva's story starts to go in unexpected directions, like growing apart from her best friends, working at a job she is completely unqualified for, and even falling for the last person she would have ever imagined. Like anyone, though, it will be up to Eva to figure out how she wants this particular chapter in her story to end.
Perfect for fans of E. Lockhart, David Levithan, and Rainbow Rowell, Don't Ever Change is a witty, snarky, and thought-provoking coming-of-age novel about a teen who sets out to write better fiction and, ultimately, discovers the truth about herself.
Author Question: What is your favorite thing about Don't Ever Change?
My own teenage life! I spent a summer as a camp counselor and it was truly horrible, hilarious, and humbling. And I was sooo obnoxious as a writer and young woman, acted so pretentious and all-knowing, and yet was constantly fixated on self-improvement, growth, and sophistication. Eva is a major problem to everyone in her life who loves her, and I feel as though I was the same way.
Purchase Don't Ever Change at Amazon
Purchase Don't Ever Change at IndieBound
View Don't Ever Change on Goodreads
* * * *


Survive the Night
by Danielle Vega
Hardcover
Razorbill
Released 7/7/2015
We're all gonna die down here. . . .
Just back from rehab, Casey regrets letting her friends Shana, Julie, and Aya talk her into coming to Survive the Night, an all-night, underground rave in a New York City subway tunnel. Surrounded by frightening drugs and menacing strangers, Casey doesn't think Survive the Night could get any worse...
...until she comes across Julie's mutilated body in a dank, black subway tunnel, red-eyed rats nibbling at her fingers. Casey thought she was just off with some guy—no one could hear her getting torn apart over the sound of pulsing music. And by the time they get back to the party, everyone is gone.
Desperate for help, Casey and her friends find themselves running through the putrid subway tunnels, searching for a way out. But every manhole is sealed shut, and every noise echoes eerily in the dark, reminding them they're not alone.
They're being hunted.
Trapped underground with someone—or something—out to get them, Casey can't help but listen to Aya's terrified refrain: "We're all gonna die down here."
Author Question: What is your favorite thing about Survive the Night?
The cover ☺ Okay, I know that has nothing to do with writing the book, but come on. Sparkle skull! I die.
There were a lot of elements of the book that I loved, but I'm not sure any one thing stuck out as my favorite. I loved Shana's funky pink and blue hair, her snark and her complete disregard for other people. It was fun to weave in flashbacks to show just how complicated her and Casey's relationship was—how Shana could be magnetic and needy at the same time. I loved writing Julie—she had a kind of Eastern philosopher/burn-out way of looking at life that made her different from the other girls. But I think my favorite scenes are the ones that happen after the lights go out—when the teens are wandering through the dark, wondering if there's something waiting in the shadows. Watching them.
Purchase Survive the Night at Amazon
Purchase Survive the Night at IndieBound
View Survive the Night on Goodreads
* * * *


The Six
by Mark Alpert
Hardcover
Sourcebooks Fire
Released 7/7/2015
To save humanity, they must give up their own.
Adam's muscular dystrophy has stolen his mobility, his friends, and in a few short years, it will take his life. Virtual reality games are Adam's only escape from his wheelchair. In his alternate world, he can defeat anyone. Running, jumping, scoring touchdowns: Adam is always the hero.
Then an artificial intelligence program, Sigma, hacks into Adam's game. Created by Adam's computer-genius father, Sigma has gone rogue, threatening Adam's life-and world domination. Their one chance to stop Sigma is using technology Adam's dad developed to digitally preserve the mind of his dying son.
Along with a select group of other terminally ill teens, Adam becomes one of the Six who have forfeited their bodies to inhabit weaponized robots. But with time running short, the Six must learn to manipulate their new mechanical forms and work together to train for epic combat...before Sigma destroys humanity.
Author Question: What is your favorite thing about The Six?
My favorite thing about THE SIX is Adam, the novel's hero. He's a seventeen-year-old computer nerd and New York Giants fan who's confined to a wheelchair because he's dying of muscular dystrophy. His father is a computer-science researcher who figures out a way to scan Adam's brain in such detail that all of his memories and emotions and personality traits are digitally preserved. All this information is transferred to the circuits of a seven-foot-tall, 800-pound U.S. Army robot, enabling Adam's mind to survive even after his body dies.
The Army arranges and pays for the procedure because it needs human-machine hybrids to fight an artificial-intelligence program called Sigma, which has escaped from the lab where it was developed and taken control of a nuclear-missile base. Five other dying teenagers --- three girls and two boys -- also become robots, and they form a combat team called the Pioneers. But the story is told from Adam's point of view, and I loved writing in his voice. He's smart and observant and brave and kind. He enjoys exploring his new robotic abilities -- super strength and speed, amazing powers of calculation -- but he also mourns all the human qualities he's lost. He develops romantic feelings toward one of the other Pioneers and becomes locked in a bitter rivalry with another. He resents the Army's rules and criticizes its strategy, but he's not afraid to fight Sigma when the AI program threatens his father and his fellow Pioneers.
Purchase The Six at Amazon
Purchase The Six at IndieBound
View The Six on Goodreads
MORE YOUNG ADULT NOVELS NEW IN STORES NEXT WEEK
A Million Miles Away
by Lara Avery
Hardcover
Poppy
Released 7/7/2015
Twin sisters Kelsey and Michelle Maxfield look identical -- but they couldn't be more different. Kelsey is the captain of the dance team and loves her cute college boyfriend, Davis. Michelle is a free-spirited artist and flits from one guy to the next, the latest a soldier recently deployed to Afghanistan. Despite their differences, Kelsey and Michelle can't live without each other -- until, in an instant, everything changes.
When Michelle dies in a car crash, Kelsey is left without her other half. As the only one who knows about her sister's boyfriend, Peter, Kelsey takes it upon herself to find him and tell him what happened to Michelle. But when she finally connects with Peter online, he thinks that Kelsey is Michelle and says that seeing her is the one thing keeping him alive. Caught up in the moment, Kelsey can't bear to break his heart with the truth, so she lets Peter believe that she is Michelle.
Kelsey keeps up the act, pretending to be her sister, and soon she can't deny that she's falling, hard, for the one boy she shouldn't want.
Lara Avery delivers a breathtaking story of love and loss that is guaranteed to sweep you off your feet.
Purchase A Million Miles Away at Amazon
Purchase
A Million Miles Away at IndieBound
View A Million Miles Away on Goodreads
* * * *


Forever for a Year
by B. T. Gottfred
Hardcover
Henry Holt and Co.
Released 7/7/2015
When Carolina and Trevor meet on their first day of school, something draws them to each other. They gradually share first kisses, first touches, first sexual experiences. When they're together, nothing else matters. But one of them will make a choice, and the other a mistake, that will break what they thought was unbreakable. Both will wish that they could fall in love again for the first time . . . but first love, by definition, can't happen twice.
Told in Carolina and Trevor's alternating voices, this is an up-close-and-personal story of two teenagers falling in love for the first time, and discovering it might not last forever.
Purchase Forever for a Year at Amazon
Purchase Forever for a Year at IndieBound
View Forever for a Year on Goodreads
* * * *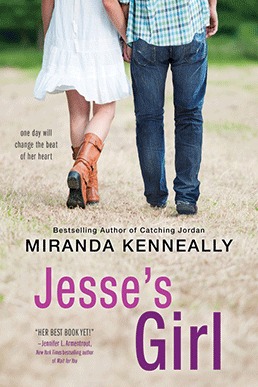 Jesse's Girl
by Miranda Kenneally
Hardcover
Sourcebooks Fire
Released 7/7/2015
Practice Makes Perfect.
Everyone at Hundred Oaks High knows that career mentoring day is a joke. So when Maya Henry said she wanted to be a rock star, she never imagined she'd get to shadow *the* Jesse Scott, Nashville's teen idol.
But spending the day with Jesse is far from a dream come true. He's as gorgeous as his music, but seeing all that he's accomplished is just a reminder of everything Maya's lost: her trust, her boyfriend, their band, and any chance to play the music she craves. Not to mention that Jesse's pushy and opinionated. He made it on his own, and he thinks Maya's playing back up to other people's dreams. Does she have what it takes to follow her heart—and go solo?
Purchase Jesse's Girl at Amazon
Purchase Jesse's Girl at IndieBound
View Jesse's Girl on Goodreads
* * * *


Mania
by J.R. Johansson
Paperback
Flux
Released 7/8/2015
Jack and his half-brother Parker have no time to mourn the loss of their father, Daniel Chipp. With an attack by the body-stealing Takers imminent, the pair must put aside their grief and track down the ingredients of Daniel's formula—one that will rein in the power-hungry Takers—to keep their family and friends out of danger.
Their only hope lies in a puzzle their father left behind, a riddle where each brother unknowingly possesses a piece of the solution. The puzzle sets them on a deadly path, spiraling between reality and the world of dreams where nothing and no one can be trusted entirely. And when Parker finds himself deep in the fray between the Takers and the other Night Walkers, it's up to Jack to complete the formula and save his brother's life.
Purchase Mania at Amazon
Purchase Mania at IndieBound
View Mania on Goodreads
* * * *


Our Song
by Elizabeth Lenhard and A. Destiny
Paperback
Simon Pulse
Released 7/7/2015
First crush, first love, first kiss—Nell finds summer romance and rediscovers her passion for music in this addition to the sweet and clean Flirt series.
Shipped off to camp for the summer, Nell isn't looking forward to campfires, (too many) sing-alongs, and a WiFi-free existence. And no matter how much she wants to keep a low profile, Nell knows it'll be impossible. Her family is folk music royalty, and she's the best fiddle player at the camp. With no other option, Nell jumps feet first into a world of music lessons, craft classes, and countless renditions of Kumbaya—exactly what she was hoping to escape.
But Jacob—a fellow musician at the camp—decides to remind Nell of her folk music–loving roots. He sees her talent and can't understand why she's pushing music and her family away. Jacob convinces Nell to go with him on a series of cliché camp adventures, in the hopes that she'll begin to see herself through his eyes.
As his plan starts to work, Nell slowly beings to fall back in love with music—and fall for Jacob—but is he falling for her, too?
Purchase Our Song at Amazon
Purchase Our Song at IndieBound
View Our Song on Goodreads
* * * *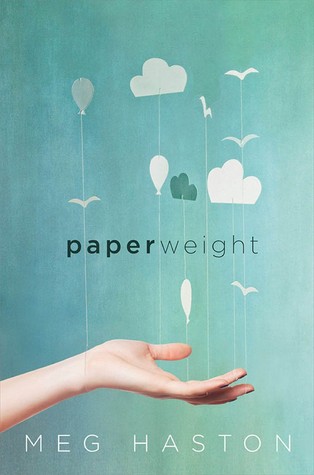 Paperweight
by Meg Haston
Hardcover
HarperTeen
Released 7/7/2015
Seventeen-year-old Stevie is trapped. In her life. In her body. And now in an eating-disorder treatment center on the dusty outskirts of the New Mexico desert.
Life in the center is regimented and intrusive, a nightmare come true. Nurses and therapists watch Stevie at mealtime, accompany her to the bathroom, and challenge her to eat the foods she's worked so hard to avoid.
Her dad has signed her up for sixty days of treatment. But what no one knows is that Stevie doesn't plan to stay that long. There are only twenty-seven days until the anniversary of her brother Josh's death—the death she caused. And if Stevie gets her way, there are only twenty-seven days until she too will end her life.
In this emotionally haunting and beautifully written young adult debut, Meg Haston delves into the devastating impact of trauma and loss, while posing the question: Why are some consumed by their illness while others embark on a path toward recovery?
Purchase Paperweight at Amazon
Purchase Paperweight at IndieBound
View Paperweight on Goodreads
* * * *


Renegade
by Kerry Wilkinson
Hardcover
St. Martin's Griffin
Released 7/7/2015
All she really wants is to be reunited with her family and friends but the time for thinking about herself has passed. Now the fates of eleven other teenagers are in her hands - and they are all looking to her for a plan.
With an entire country searching for the escaped Offerings, Silver is under pressure to keep them all from the clutches of the Minister Prime, King Victor and the Kingsmen. As expectations are piled upon the girl with the silver streak in her hair, she realizes that life will never be the same again.
Huge changes are on the horizon and Silver is in the thick of them...
Purchase Renegade at Amazon
Purchase Renegade at IndieBound
View Renegade on Goodreads
* * * *


Silver in the Blood
by Jessica Day George
Hardcover
Bloomsbury USA Childrens
Released 7/7/2015
As spoiled society girls from New York City circa 1890, Dacia and Lou never desired to know more about their lineage, instead preferring to gossip about their mysterious Romanian relatives, the Florescus. But upon turning seventeen, the girls must return to their homeland to meet their family, find proper husbands, and-most terrifyingly-learn the secrets of The Claw, The Wing, and The Smoke. The Florescus, after all, are shape-shifters, bound by a centuries-old tradition to do the bidding of the royal Dracula family and it is time for Dacia and Lou to take their place among the ranks. But when the devilish heir, Mihai Dracula sets his sights on Dacia as part of his plan to secure power over all of Europe, the girls choose to fight against this cruel inheritance with all their might. Only the dashing Lord Johnny Hardcastle and the mysterious Theophilus Arkady- members of a secret society charged with ridding the world of monsters-can help Dacia and Lou, but breaking the shackles of their upbringing will require more courage than the girls ever imagined.
The thrilling start to a richly drawn, romance-filled series, this epic adventure of two girls in a battle for their lives will have readers coming back for more.
Purchase Silver in the Blood at Amazon
Purchase Silver in the Blood at IndieBound
View Silver in the Blood on Goodreads
* * * *


The Escape
by Hannah Jayne
Paperback
Sourcebooks Fire
Released 7/7/2015
Not everyone who goes into the woods comes out....
It was supposed to be a short hike, a way for Fletcher and Adam to kill time one boring afternoon. But when day turns into night and neither boy returns home, their town is thrown into turmoil.
Search teams comb the forest. Then Avery, the police chief's daughter, stumbles on a body. It's Fletcher-disoriented, beaten, and covered in blood. He has no memory of the incident, and worse yet, he has no idea what happened to the still-missing Adam....
As danger and suspicion grow, one thing becomes very clear: No one can escape the truth.
Purchase
The Escape at Amazon
Purchase The Escape at IndieBound
View The Escape on Goodreads
* * * *


The Fixer
by Jennifer Lynn Barnes
Hardcover
Bloomsbury USA Childrens
Released 7/7/2015
When sixteen-year-old Tess Kendrick is sent to live with her older sister, Ivy, she has no idea that the infamous Ivy Kendrick is Washington D.C.'s #1 "fixer," known for making politicians' scandals go away for a price. No sooner does Tess enroll at Hardwicke Academy than she unwittingly follows in her sister's footsteps and becomes D.C.'s premier high school fixer, solving problems for elite teens.
Secrets pile up as each sister lives a double life. . . . until their worlds come crashing together and Tess finds herself in the middle of a conspiracy with one of her classmates and a client of Ivy's. Suddenly, there is much more on the line than good grades, money, or politics, and the price for this fix might be more than Tess is willing to pay.
Perfect for fans of Pretty Little Liars and Heist Society, readers will be clamoring for more in this exciting new series.
Purchase The Fixer at Amazon
Purchase The Fixer at IndieBound
View The Fixer on Goodreads
* * * *


The Heart of Betrayal
by Mary E. Pearson
Hardcover
Henry Holt and Co.
Released 7/7/2015
Held captive in the barbarian kingdom of Venda, Lia and Rafe have little chance of escape . . . and even less of being together.
Desperate to save her life, Lia's erstwhile assassin, Kaden, has told the Vendan Komisar that she has a magical gift, and the Komisar's interest in Lia is greater than either Kaden or Lia foresaw.
Meanwhile, the foundations of Lia's deeply-held beliefs are crumbling beneath her. Nothing is straightforward: there's Rafe, who lied to her, but has sacrificed his freedom to protect her; Kaden, who meant to assassinate her but has now saved her life; and the Vendans, whom she always believed to be barbarians but whom she now realizes are people who have been terribly brutalized by the kingdoms of Dalbreck and Morrighan. Wrestling with her upbringing, her gift, and her very sense of self, Lia will have to make powerful choices that affect her country, her people . . . and her own destiny.
Purchase The Heart of Betrayal at Amazon
Purchase The Heart of Betrayal at IndieBound
View The Heart of Betrayal on Goodreads
Win This Week's New Releases