There are so many great books releasing this week! Check out the eighteen new titles, with eleven author interviews, and seven giveaways of six of the titles. Then tell us in the comments which ones you're looking forward to reading.
Happy reading,
Jocelyn, Martina, Jan, Shelly, Susan, Lisa, and Erin
YA BOOK GIVEAWAYS THIS WEEK
* * * *
A Sense of the Infinite
by Hilary T. Smith
Signed Hardcover Giveaway

U.S. Only
Katherine Tegen Books
Released 5/19/2015
By the author of the critically acclaimed Wild Awake, a beautiful coming-of-age story about deep friendship, the weight of secrets, and the healing power of nature.
It's senior year of high school, and Annabeth is ready—ready for everything she and her best friend, Noe, have been planning and dreaming. But there are some things Annabeth isn't prepared for, like the constant presence of Noe's new boyfriend. Like how her relationship with her mom is wearing and fraying. And like the way the secret she's been keeping hidden deep inside her for years has started clawing at her insides, making it hard to eat or even breathe.
But most especially, she isn't prepared to lose Noe.
For years, Noe has anchored Annabeth and set their joint path. Now Noe is drifting in another direction, making new plans and dreams that don't involve Annabeth. Without Noe's constant companionship, Annabeth's world begins to crumble. But as a chain of events pulls Annabeth further and further away from Noe, she finds herself closer and closer to discovering who she's really meant to be—with her best friend or without.
Hilary T. Smith's second novel is a gorgeously written meditation on identity, loss, and the bonds of friendship.
Author Question: What is your favorite thing about A Sense of the Infinite?
If you read the book's plot description, it sounds pretty dark. There's depression, teen pregnancy, friendships dissolving. But it's actually a very bright, funny, and hopeful book. There's a real sense in which Annabeth's life gets better in spite (and possibly because) of the fact that hard things are happening. And I have the feeling that if she looked back on that year in her life as an adult, she would feel a lot of love and pride.

The darkest times in my life have always had the brightest moments nestled within them—those moments of beauty or poetry or humor that are made more radiant in the context of pain. And that's my favorite thing about A SENSE OF THE INFINITE: it could have been a relentlessly grim and depressing book, but it has that brightness instead.
Purchase A Sense of the Infinite at Amazon
Purchase A Sense of the Infinite at IndieBound
View A Sense of the Infinite on Goodreads
* * * *
Chantress Fury
by Amy Butler Greenfield
Hardcover Giveaway

U.S. Only
Margaret K. McElderry Books
Released 5/19/2015
The sea is coming. We are coming. And we will drown you all.
With a song, Lucy can control the wind and the water; she can bring castles and kingdoms to their feet. Since Lucy mastered her powers, King Henry has kept her close as he's rebuilt England. She's his best ally—and his workhorse. And now he's called her to investigate attempted murder: His men claim they were almost killed on the Thames…by a mermaid. All Lucy can glean from the creature they've captured is a warning: The sea is coming. We are coming. And we will drown you all.
And then the floods begin. Swaths of London are submerged as the people scramble to defend themselves against the water—and the monsters—that are flooding their streets. As mistrust of Lucy's magic grows, the king relies on Nat, Lucy's great love, to guide them through the storm. But Nat is cold and distant to Lucy. He swore his love only a year before, and now he calls her "stranger."
Lucy is determined to defeat this powerful new magic alone if she must. But then she hears an eerie song within the water…can it mean that she's not the last Chantress after all?
Sweepingly romantic and crackling with magic, Chantress Fury triumphantly concludes the powerful Chantress trilogy.
Author Question: What is your favorite thing about Chantress Fury?
After I sold the CHANTRESS trilogy, so many writers warned me about the horrors of drafting Book 3. They were right in some ways: The deadlines for CHANTRESS FURY were tough, and so was the pressure to pull everything together once and for all. Yet I truly loved writing about a Chantress at the height of her powers, facing head-on all the challenges that come with being a powerful woman in her world. It was glorious to let out all the stops on the magic – to write about uncanny floods and devious mermaids and ferocious sea serpents attacking London (and that's just for starters)! It was a wild ride that brings Lucy full circle, giving her a deeper sense of who she is, and where she ultimately belongs.
Purchase Chantress Fury at Amazon
Purchase Chantress Fury at IndieBound
View Chantress Fury on Goodreads
* * * *
Killer Within
by S.E. Green
Hardcover Giveaway
Simon Pulse
Released 5/19/2015
In the heart-pounding sequel to the "zippy, gripping psychological drama" (Kirkus Reviews) Killer Instinct, teen vigilante Lane must face the secrets and unexpected consequences that arise in the wake of her first kill.
It's been three months since Lane made her first kill—the sadistic Decapitator—and now she feels both closer and more alienated than ever from her united, grieving family. Haunted by conflicting memories of her mother, Lane resumes her role as the vigilante Masked Savior out of a feeling of obligation—but her heart just isn't in it anymore. Now that Lane has felt the rush of deeper, darker thrills, a growing part of her wants to revisit its seductive power, and she's not sure how long she can resist.
Meanwhile, the Masked Savior has inspired its own fan site, where groupies gather online to praise, document, and debate each delivered act of justice. But one of Lane's secret admirers is becoming a cunning copycat, exacting "justice" on defenseless innocents, increasing the violence with each attack.
Someone is watching Lane, edging closer to making contact. Someone who knows her darkest secrets. Will Lane be able to stop the copycat and keep her identity protected? Or will she give in to the thrills that tempt her?
Author Question: What is your favorite thing about Killer Within?
My favorite thing about KILLER WITHIN is my main character, Lane. She's just so badass!
Purchase Killer Within at Amazon
Purchase Killer Within at IndieBound
View Killer Within on Goodreads
* * * *
Lion Heart
by A.C. Gaughen
Hardcover Giveaway (2 Copies)

U.S. Only
Bloomsbury USA Childrens
Released 5/19/2015
The eagerly-awaited conclusion to the Scarlet trilogy delivers another action-packed and romance-filled adventure.
Scarlet has captured the hearts of readers as well as the heart of Robin Hood, and after ceaseless obstacles and countless threats, readers will finally find out the fate of the Lady Thief.
Only the greatest loves can survive great danger. . .
Imprisoned by Prince John for months, Scarlet finds herself a long way from Nottinghamshire. After a daring escape, she learns that King Richard's life is in jeopardy, and Eleanor of Aquitaine needs Scarlet's help to free him. For a lifelong thief, this newfound allegiance to the crown-her family-is a strange feeling.
Scarlet knows that helping Eleanor will put her and those she loves back in Prince John's sights. Desperate not to risk anyone's life but her own, Scarlet formulates a plan to help save the king on her own. But fate-and her heart-won't allow her to stay away from Nottinghamshire for long. Even if Scarlet and Rob can together stop Prince John from going through with his dark plans for England, will their love be enough to save them once and for all?
Author Question: What is your favorite thing about Lion Heart?
Well, I think my very favorite thing is *CHOCK FULL O SPOILERS*, but my second favorite thing was developing the relationship between Scarlet and Eleanor of Aquitaine. Eleanor has been one of my favorite characters of all time--she's complicated and strong; she wielded incredible power and yet also had to invest her power in both her sons and her two husbands. She was a woman of powerful paradoxes!

There's this moment in LION HEART when Eleanor is attacked, and Scarlet has to fight like hell to save Eleanor and the ladies in her service. When it's over, the ladies take refuge at an abbey to clean up and regroup. They're all dirty and need to bathe, and Scarlet is bleeding--not drastically, but enough to get the water really gross, and in those days, you shared bathwater. She waits until the others bathe, and when she gets in the bath, Eleanor washes her hair, and the other women help clean her. Scarlet starts crying--this moment of intense vulnerability--and she just lets the other women help her.

This was a huge moment for Scarlet, to let someone else help her, but it was also this really emotional moment for me to write--it felt like me honoring all the women in my life who are there to pick me up when I'm broken, to wash my hair and heal me. Considering this book, this series, this whole dream of being a writer is something I wouldn't have accomplished without a tremendous amount of love in my corner, that tiny little thank you means a lot to me.
Purchase Lion Heart at Amazon
Purchase Lion Heart at IndieBound
View Lion Heart on Goodreads
* * * *
Maximum Ride Forever
by James Patterson
Hardcover Giveaway

U.S. Only
Little, Brown and Company
Released 5/18/2015
THE NINTH AND ULTIMATE MAXIMUM RIDE STORY IS HERE! Legions of Max fans won't be disappointed by this encore episode in the beloved series about the incredible adventures of a teenage girl who can fly. As Maximum Ride boldly navigates a post-apocalyptic world, she and her broken flock are roaming the earth, searching for answers to what happened. All will be revealed in this last spectacular "ride"- a brand-new grand finale featuring all of the nonstop action, twists and turns that readers can rely on in a blockbuster Patterson page turner!
Purchase Maximum Ride Forever at Amazon
Purchase Maximum Ride Forever at IndieBound
View Maximum Ride Forever on Goodreads
* * * *
Sparks in Scotland
by A. Destiny and Rhonda Helms
Hardcover Giveaway
Simon Pulse
Released 5/19/2015
First crush, first love, first kiss—Ava learns about more than her heritage while vacationing in Scotland in this addition to the sweet and clean Flirt series!
Ava is going on vacation to Scotland, where she's supposed to learn more about her Scottish heritage. She's excited to see the castles, abbeys, and coastal hills—and maybe even catch a glimpse of Nessie herself—but Ava doesn't expect to meet Graham.
He's cute, sweet, and has the perfect Scottish accent…but does he like her as much as she likes him?
And if there is something of a mutual attraction there, Ava wonders, is it worth pursuing a crush when she'll be on the other side of the Atlantic in just two weeks?
Purchase Sparks in Scotland at Amazon
Purchase Sparks in Scotland at IndieBound
View Sparks in Scotland on Goodreads
YA BOOK GIVEAWAYS LAST WEEK: WINNERS
* * * *
A Matter of Heart
by Amy Fellner Dominy
Hardcover
Delacorte Press
Released 5/12/2015
Winner - Kathryn F.
Readers will happily sink into this emotionally grounded, contemporary young adult novel about the sudden end of one girl's Olympic swimming dreams and the struggles she endures before realizing there are many things that define who we are.
Sixteen-year-old Abby Lipman is on track to win the state swim championships and qualify for the Olympic trials when a fainting incident at a swim meet leads to the diagnosis of a deadly heart condition. Now Abby is forced to discover who she is without the one thing that's defined her entire life.
Author Question: What is your favorite thing about A Matter of Heart?
Here's a crazy story. When I started this book, it was going to a "funny tween" book for my editor at Walker. She wanted a middle grade book and of course I wanted to deliver. I had the idea of writing about a girl who fakes a heart condition to get on a reality show. Then I thought, "Hey, what if she actually has a heart condition—that would up the stakes." At which point I realized there was nothing funny at all about heart conditions. Soon after that, I learned about Hypertrophic Cardiomyopathy and though this was absolutely NOT the story my editor wanted (not funny, not tween) it's a story I wanted to tell. So I did. And that's my favorite thing now, looking back. How such a good idea could spring from one that initially was so bad!
Purchase A Matter of Heart at Amazon
Purchase A Matter of Heart at IndieBound
View A Matter of Heart on Goodreads
* * * *
Out of Control
by Sarah Alderson
Hardcover
Simon Pulse
Released 5/12/2015
Winner - Lauren J.
A girl looking to escape her past in New York City ends up on the run from a dangerous conspiracy in this sizzling, high-stakes novel.
When seventeen-year-old Liva came to New York City, all she wanted was to escape the painful memories of her past and finally find a fresh start. Her hopes for a new future were dashed the moment she became the sole witness to a brutal murder. When she's taken into police custody, supposedly for her own protection, she realizes something isn't right, but it's too late. Soon, bullets start flying, and Liva realizes that she is not just a witness, but the target and she needs to escape before it's too late.
With the help of a sexy car thief that she met at the station, Liva manages to get away from the massacre unharmed, but now the two of them are alone in New York, trying to outrun and outwit the two killers who will stop at nothing to find them. Liva and Jay are living on the edge, but when you're on the edge, there's a long way to fall.
Author Question: What is your favorite thing about Out of Control?
I've recently been pitching Out of Control around Hollywood (I'm a screenwriter too) and the first thing people say to me is 'wow, the pace on this is amazing.'

The story takes place in 36 hours and it is non-stop action. I love the two main characters - Liva who has grown up in the Middle East surrounded by money and bodyguards and Jay who's from the wrong side of the tracks and just trying to do the right thing. And they're thrown together into this nightmare where they have to learn to trust each other and rely on each other.

But my favourite thing about Out of Control is that it's a fun book to read but it's also got a very serious subject at its heart (which I won't reveal). I want to write fun stories that engage readers, but also books that have something to say about issues I think need to be addressed.
Purchase Out of Control at Amazon
Purchase Out of Control at IndieBound
View Out of Control on Goodreads
* * * *
The Cost of All Things
by Maggie Lehrman
Hardcover
Balzer + Bray
Released 5/12/2015
Winner - Christina C.
Eternal Sunshine of the Spotless Mind meets We Were Liars in this thought-provoking and brilliantly written debut that is part love story, part mystery, part high-stakes drama.
What would you pay to cure your heartbreak? Banish your sadness? Transform your looks? The right spell can fix anything…. When Ari's boyfriend Win dies, she gets a spell to erase all memory of him. But spells come at a cost, and this one sets off a chain of events that reveal the hidden—and sometimes dangerous—connections between Ari, her friends, and the boyfriend she can no longer remember.
Told from four different points of view, this original and affecting novel weaves past and present in a suspenseful narrative that unveils the truth behind a terrible tragedy.
Author Question: What is your favorite thing about The Cost of All Things?
My favorite thing about the book is the part that was hardest to get a handle on while writing -- how the four storylines intersect and influence each other, and how they come together at the end. I started with four individual stories, each influenced by a character's death and the spells that were cast on them (knowingly or unknowingly), and then once I understood who these people were, I had to weave their stories together. It's the type of challenge I love, and the type of storytelling I love reading. One of the things that I kept repeating to myself as I was writing was that the characters think they're solving one mystery, but they end up unraveling a completely different one. I hope I stayed true to that throughout the book.
Purchase The Cost of All Things at Amazon
Purchase The Cost of All Things at IndieBound
View The Cost of All Things on Goodreads
* * * *
The Messengers
by Edward Hogan
Hardcover
Candlewick
Released 5/12/2015
Winner - Natasha D.
If you could see the future, would you have the guts to change it? A new psychological thriller from the author of Daylight Saving.
Fifteen-year-old Frances is sent to her aunt's house for the summer to escape difficulties at home. Soon she meets Peter, a man unlike anyone she has ever known. Peter is a messenger—but his messages never bring good news. Peter believes that Frances is a messenger, too. In a compelling page-turner as complex as it is chilling, the author of Daylight Saving poses the provocative question: If you could change the future, where would you start?
Author Question: What is your favorite thing about The Messengers?
I'd have to say the two central characters. I really loved spending time with my troubled protagonist, Frances, and the (even more troubled) Peter Kennedy, who works on his weird pictures in a beach hut on Brighton seafront. Peter is much older than Frances, but I soon discovered that Frances was the more stable character. She's stronger, in lots of ways. I often start writing with just the characters in mind. I'm interested in people, mainly. And - as some reviewers have noticed - plot is not my strong point!

I also enjoyed doing research for The Messengers. One of my characters, Johnny, is a boxer. I spent some time training with professional boxer John Paul Temple. It was very scary (!) but also extremely interesting. He explained the idea of "the conditioned face" - that's what it's called when you've been punched so many times, your skin no longer cuts easily. John Paul was so generous with his time, and all writers need that kind of help.
Purchase The Messengers at Amazon
Purchase The Messengers at IndieBound
View The Messengers on Goodreads
MORE YOUNG ADULT FICTION IN STORES NEXT WEEK WITH AUTHOR INTERVIEWS
* * * *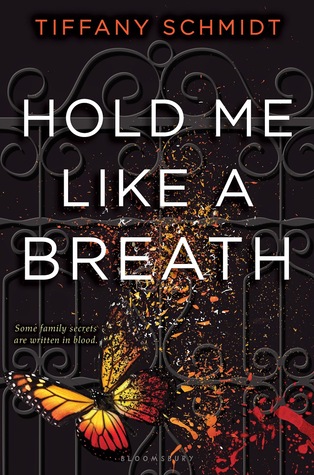 Hold Me Like a Breath
by Tiffany Schmidt
Hardcover
Bloomsbury USA Childrens
Released 5/19/2015
In Penelope Landlow's world, almost anything can be bought or sold. She's the daughter of one of the three crime families controlling the black market for organ transplants. Because of an autoimmune disorder that causes her to bruise easily, Penny is considered too "delicate" to handle the family business, or even to step foot outside their estate.
All Penelope has ever wanted is independence-until she's suddenly thrust into the dangerous world all alone, forced to stay one step ahead of her family's enemies. As she struggles to survive the power plays of rival crime families, she learns dreams come with casualties, betrayal hurts worse than bruises, and there's nothing she won't risk for the people she loves.
Perfect for fans of Holly Black and Kimberly Derting, this first book in the stunning new Once Upon a Crime Family series from acclaimed author Tiffany Schmidt will leave readers breathless.
Author Question: What is your favorite thing about Hold Me Like a Breath?
The main character of Hold Me Like a Breath, Penelope Landlow, is the daughter of one of the three crimes families that control the black market trade of human organs. Penny also has a bleeding disorder which cause her body to attack its own platelets and makes her prone to bruising and bleeding. These are the two facts that rule Penny's life—her Family is involved in a dangerous, dangerous business, and because she's seen as fragile, she's overprotected and sheltered from it.

No one, including Penny herself, would ever consider her to have the makings of a heroine. In real life, we've all faced times when we feel caged in by other expectations. We've faced situations when we can choose to believe those judging us, or prove them wrong. So, my favorite thing about this novel is Penelope's arc. She's tested in devastating and painful ways—but learns she's capable of so much more than than the limits others have placed upon her life.
Purchase Hold Me Like a Breath at Amazon
Purchase Hold Me Like a Breath at IndieBound
View Hold Me Like a Breath on Goodreads
* * * *
Illusionarium
by Heather Dixon
Hardcover
Greenwillow Books
Released 5/19/2015
What if the world holds more dangers—and more wonders—than we have ever known? And what if there is more than one world? From Heather Dixon, author of the acclaimed Entwined, comes a brilliantly conceived adventure that sweeps us from the inner workings of our souls to the far reaches of our imaginations.
Jonathan is perfectly ordinary. But then—as every good adventure begins—the king swoops into port, and Jonathan and his father are enlisted to find the cure to a deadly plague. Jonathan discovers that he's a prodigy at working with a new chemical called fantillium, which creates shared hallucinations—or illusions. And just like that, Jonathan is knocked off his path. Through richly developed parallel worlds, vivid action, a healthy dose of humor, and gorgeous writing, Heather Dixon spins a story that calls to mind The Night Circus and Pixar movies, but is wholly its own.
Author Question: What is your favorite thing about Illusionarium?
I really love the characters. And by love, I mean I love to kick the tar out of them throughout the story. I'm a sadist. But I love that they keep picking themselves up again to fight for what's important.

And they were buckets of fun. Jonathan's funny asides were my favorite thing to write.
Purchase Illusionarium at Amazon
Purchase Illusionarium at IndieBound
View Illusionarium on Goodreads
* * * *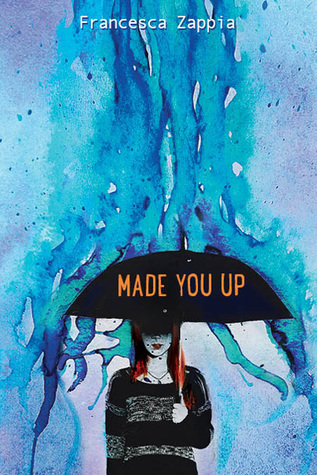 Made You Up
by Francesca Zappia
Hardcover
Greenwillow Books
Released 5/19/2015
Reality, it turns out, is often not what you perceive it to be—sometimes, there really is someone out to get you. Made You Up tells the story of Alex, a high school senior unable to tell the difference between real life and delusion. This is a compelling and provoking literary debut that will appeal to fans of Wes Anderson, Silver Linings Playbook, and Liar.
Alex fights a daily battle to figure out the difference between reality and delusion. Armed with a take-no-prisoners attitude, her camera, a Magic 8-Ball, and her only ally (her little sister), Alex wages a war against her schizophrenia, determined to stay sane long enough to get into college. She's pretty optimistic about her chances until classes begin, and she runs into Miles. Didn't she imagine him? Before she knows it, Alex is making friends, going to parties, falling in love, and experiencing all the usual rites of passage for teenagers. But Alex is used to being crazy. She's not prepared for normal.
Funny, provoking, and ultimately moving, this debut novel featuring the quintessential unreliable narrator will have readers turning the pages and trying to figure out what is real and what is made up.
Author Question: What is your favorite thing about Made You Up?
My favorite thing about MADE YOU UP is the characters. I've been working on the book for over a decade, and Alex and Miles are what kept me going. I grew up with them. I love all the secondary characters, too. A lot of reviewers have been saying that the characters are well-formed, and it makes sense--I've been hanging out with them for a VERY long time. They're real people to me. (And I'm kind of sad sometimes that I don't get to write them anymore, but their story has been told, so it's best if I let them go.)
Purchase Made You Up at Amazon
Purchase Made You Up at IndieBound
View Made You Up on Goodreads
* * * *
Off the Page
by Jodi Picoult and Samantha van Leer
Hardcover
Delacorte Press
Released 5/19/2015
From #1 New York Times bestselling authors Jodi Picoult and her daughter and coauthor, Samantha van Leer, comes OFF THE PAGE, a tender and appealing romantic YA novel filled with humor, adventure, and magical relationships.
Meet Oliver, a prince literally taken from the pages of a fairy tale and transported into the real world. Meet Delilah, the girl who wished Oliver into being. It's a miracle that seems perfect at first—but there are complications. To exist in Delilah's world, Oliver must take the place of a regular boy. Enter Edgar, who agrees to play Oliver's role in the pages of Delilah's favorite book. But just when it seems that the plan will work, everything gets turned upside down.
Full of humor and witty commentary about life, OFF THE PAGE is a stand-alone novel as well as the companion to the authors' bestseller Between the Lines, and is perfect for readers looking for a fairytale ending. Fans of Sarah Dessen and Meg Cabot are sure to appreciate this novel about love, romance, and relationships.
Author Question: What is your favorite thing about Off the Page?
We love raising the idea that you might get a happily ever after...but that there will be consequences. And if you've read BETWEEN THE LINES, you are probably dying (like we were) to know what happened to Oliver and Delilah.
Purchase Off the Page at Amazon
Purchase Off the Page at IndieBound
View Off the Page on Goodreads
* * * *
Scarlett Undercover
by Jennifer Latham
Hardcover
Little, Brown Books for Young Readers
Released 5/19/2015
Meet Scarlett, a smart, sarcastic fifteen-year-old, ready to take on crime in her hometown. When Scarlett agrees to investigate a local boy's suicide, she figures she's in for an easy case and a quick buck. But it doesn't take long for suicide to start looking a lot like murder.
As Scarlett finds herself deep in a world of cults, curses, and the seemingly supernatural, she discovers that her own family secrets may have more to do with the situation than she thinks...and that cracking the case could lead to solving her father's murder.
Jennifer Latham delivers a compelling story and a character to remember in this one-of-a-kind debut novel.
Author Question: What is your favorite thing about Scarlett Undercover?
That's easy – Scarlett!

See, I've always loved detectives. It started with Trixie Belden, Miss Marple, and Sherlock Holmes. Then in eighth grade, Spenser: For Hire came on TV, and I liked it so much I started reading the Robert Parker novels they'd based it on. From there, I developed a hardcore Philip Marlowe addiction that has never gone away.

So when I sat down to write a mystery for myself, I knew I wanted my detective to be just as hardboiled as Spenser and Marlowe. It was so much fun figuring out how to do that! Now I'm just crossing my fingers, hoping people will enjoy reading Scarlett's story as much as I enjoyed writing it.
Purchase Scarlett Undercover at Amazon
Purchase Scarlett Undercover at IndieBound
View Scarlett Undercover on Goodreads
* * * *
The Improbable Theory of Ana and Zak
by Brian Katcher
Hardcover
Katherine Tegen Books
Released 5/19/2015
The Improbable Theory of Ana and Zak is Stonewall Award-winning author Brian Katcher's hilarious he said/she said romance about two teens discovering themselves on an out-of-this-world accidental first date at a sci-fi convention.
When Ana Watson's brother ditches a high school trip to run wild at Washingcon, type-A Ana knows that she must find him or risk her last shot at freedom from her extra-controlling parents.
In her desperation, she's forced to enlist the last person she'd ever want to spend time with—slacker Zak Duquette—to help find her brother before morning comes.
But over the course of the night, while being chased by hordes of costumed Vikings and zombies, Ana and Zak begin to open up to each other. Soon, what starts as the most insane nerdfighter manhunt transforms into so much more. . . .
Author Question: What is your favorite thing about The Improbable Theory of Ana and Zak?
It's kind of a celebration of the nerd culture I grew up in. Almost all the book takes place one night at a science fiction/comic book convention. I've been going to cons for decades and they were some of the happiest experiences of my life.
Purchase The Improbable Theory of Ana and Zak at Amazon
Purchase The Improbable Theory of Ana and Zak at IndieBound
View The Improbable Theory of Ana and Zak on Goodreads
* * * *
Three Day Summer
by Sarvenaz Tash
Hardcover
Simon & Schuster Books for Young Readers
Released 5/19/2015
Boy meets girl...at the most amazing concert the world has ever seen.
Michael is unsure about most things. Go to college? Enlist in the military? Break up with his girlfriend? All big question marks. He is living for the moment and all he wants is a few days at the biggest concert of the summer.
Cora lives in the town hosting the music festival. She's volunteering in the medical tent. She's like that, always the good girl. But there is something in the air at this concert and suddenly Cora finds herself wanting to push her own boundaries.
When Michael and Cora meet, sparks fly, hearts race, and all the things songs are written about come true. And all the while, three days of the most epic summer await them...
Author Question: What is your favorite thing about Three Day Summer?
My favorite thing about THREE DAY SUMMER is that it allowed me to time travel back to Woodstock and—even better—fall in love at it via my characters. I've always loved the '60s and researching this book—from the music to the clothes—was a real joy.
Purchase Three Day Summer at Amazon
Purchase Three Day Summer at IndieBound
View Three Day Summer on Goodreads
MORE YOUNG ADULT NOVELS NEW IN STORES NEXT WEEK
* * * *
A School for Unusual Girls
by Kathleen Baldwin
Hardcover
Tor Teen
Released 5/19/2015
The launch of a captivating new YA series set in Regency England that #1 New York Times bestselling author Meg Cabot calls "completely original and totally engrossing."
It's 1814. Napoleon is exiled on Elba. Europe is in shambles. Britain is at war on four fronts. And Stranje House, a School for Unusual Girls, has become one of Regency England's dark little secrets. The daughters of the beau monde who don't fit high society's constrictive mold are banished to Stranje House to be reformed into marriageable young ladies. Or so their parents think. In truth, Headmistress Emma Stranje, the original unusual girl, has plans for the young ladies—plans that entangle the girls in the dangerous world of spies, diplomacy, and war.
After accidentally setting her father's stables on fire while performing a scientific experiment, Miss Georgiana Fitzwilliam is sent to Stranje House. But Georgie has no intention of being turned into a simpering, pudding-headed, marriageable miss. She plans to escape as soon as possible—until she meets Lord Sebastian Wyatt. Thrust together in a desperate mission to invent a new invisible ink for the English war effort, Georgie and Sebastian must find a way to work together without losing their heads—or their hearts...
Purchase A School for Unusual Girls at Amazon
Purchase A School for Unusual Girls at IndieBound
View A School for Unusual Girls on Goodreads
* * * *
Conviction
by Kelly Loy Gilbert
Hardcover
Disney-Hyperion
Released 5/19/2015
Ten years ago, God gave Braden a sign, a promise that his family wouldn't fall apart the way he feared.
But Braden got it wrong: his older brother, Trey, has been estranged from the family for almost as long, and his father, the only parent Braden has ever known, has been accused of murder. The arrest of Braden's father, a well-known Christian radio host has sparked national media attention. His fate lies in his son's hands; Braden is the key witness in his father's upcoming trial.
Braden has always measured himself through baseball. He is the star pitcher in his small town of Ornette, and his ninety-four mile per hour pitch already has minor league scouts buzzing in his junior year. Now the rules of the sport that has always been Braden's saving grace are blurred in ways he never realized, and the prospect of playing against Alex Reyes, the nephew of the police officer his father is accused of killing, is haunting his every pitch.
Braden faces an impossible choice, one that will define him for the rest of his life, in this brutally honest debut novel about family, faith, and the ultimate test of conviction.
Purchase Conviction at Amazon
Purchase Conviction at IndieBound
View Conviction on Goodreads
* * * *
Dangerous Deception
by Kami Garcia
Hardcover
Little, Brown Books for Young Readers
Released 5/19/2015
From the world of Beautiful Creatures--a dangerous new tale of love and magic continues in the sequel to Dangerous Creatures.
Love is ten kinds a crazy, right?
Let me put it to you this way: If you can get away, run. Don't walk.
Because once you're exposed, you'll never get a Siren outta your head.
Some loves are cursed. Others are...dangerous. Especially the love between wannabe rocker and quarter Incubus, Wesley "Link" Lincoln, and Dark Caster, Siren, and bonafide bad girl, Ridley Duchannes.
But now Ridley is missing, and Link was with her-right up until she vanished. Determined to find her, Link reunites with his New York bandmates and the mysterious Lennox Gates, who wants Rid for himself. Together they travel to the deep south, find the crossroads where blues guitarist Robert Johnson made his deal with the devil, discover a menagerie of Casters locked in cages, and uncover an evil in New Orleans that threatens to destroy them all.
This time, love might not be enough.
Purchase Dangerous Deception at Amazon
Purchase Dangerous Deception at IndieBound
View Dangerous Deception on Goodreads
* * * *
Eternity's Wheel
by Neil Gaiman, Michael Reaves, and Mallory Reaves
Hardcover
HarperTeen
Released 5/19/2015
The conclusion to the bestselling InterWorld series, from Neil Gaiman, Michael Reaves, and Mallory Reaves!
Joey Harker never wanted to be a leader. But he's the one everyone is looking to now that FrostNight looms, and he'll have to step up if he has any hope of saving InterWorld, the Multiverse, and everything in between.
Eternity's Wheel is the heart-pounding conclusion to the InterWorld series, full of time and space travel, magic, science, and the bravery of a young boy who must now face his destiny as a young man.
Purchase Eternity's Wheel at Amazon
Purchase Eternity's Wheel at IndieBound
View Eternity's Wheel on Goodreads
* * * *
The Last Good Day of the Year
by Jessica Warman
Hardcover
Bloomsbury USA Childrens
Released 5/19/2015
A new powerful thriller from the globally-embraced author of Between.
Ten years ago, in the early hours of New Year's Day, seven-year-old Samantha and her next door neighbor, Remy, watched as a man broke into Sam's home and took her younger sister, Turtle, from her sleeping bag. Remy and Sam, too afraid to intervene at the time, later identified the man as Sam's sister Gretchen's much older ex-boyfriend, Steven, who was sent to prison for Turtle's murder.
Now, Sam's shattered family is returning to her childhood home in an effort to heal. As long-buried memories begin to surface, Sam wonders if she and Remy accurately registered everything they saw. The more they re-examine the events of that fateful night, the more questions they discover about what really happened to Turtle.
Master storyteller Jessica Warman keeps readers guessing in this arresting page-turner that questions whether the potential for evil lurks within us all.
Purchase The Last Good Day of the Year at Amazon
Purchase The Last Good Day of the Year at IndieBound
View The Last Good Day of the Year on Goodreads
a Rafflecopter giveaway