We welcome author Melissa Grey today to share with us some of her inspiration for
The Girl at Midnight
, plus her insight into the writing process. Melissa has always been generous with her craft knowledge as she was a former First Five Pages workshop mentor here at AYAP. We have a brand new workshop starting
tomorrow -- don't forget to enter! Also, be sure to check the giveaway of
The Girl at Midnight
at the end of Melissa's interview below.
Interview with Melissa Grey, author of THE GIRL AT MIDNIGHT -- A Craft of Writing Post
What was your inspiration for writing THE GIRL AT MIDNIGHT?
I was really inspired by the Firebird ballet and Stravinsky's music. It comes from a fascinating bit of folklore that you see elements of pop up in cultures all over the world. I've always loved quest narratives, so building a story around that structure was something I've wanted to do for a long time.
What did this book teach you about writing or about yourself?
I've always known that I'm my harshest critic and while the ability to tear your own work apart can be a useful skill to have, I learned that I also had to be kind to myself. I have a habit of pushing myself to the brink when I'm working on something I'm passionate about and balancing my desire to write the best book I can while still taking care of myself mentally was definitely a challenge. But I'm getting better at it!
What do you hope readers will take away from THE GIRL AT MIDNIGHT?
I mostly just want people to have a great time reading the book. I want you to feel like you've gone on an adventure with this ragtag group of misfits. If readers take away any greater meaning, I hope it's the understanding that it's our choices that define us, not necessarily our pasts. Even when things seem dire, there's always a choice. A choice to be brave or kind or selfish or loyal.
What advice would you most like to pass along to other writers?
Don't be precious about your writing. Learn to move on from stories that aren't working. Be critical of your work and take criticism gracefully. Sometimes what you write won't be the greatest thing in the world, so take a page out of Elsa's book and let it go!
What are you working on now?
I'm currently working on the third book in The Girl at Midnight trilogy.
a Rafflecopter giveaway
ABOUT THE BOOK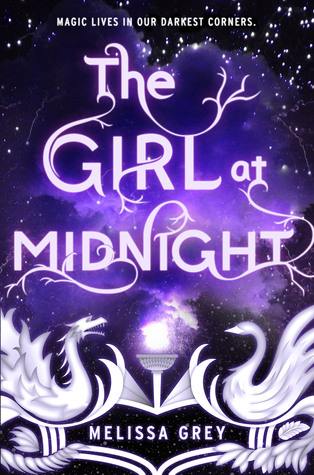 The Girl at Midnight
by Melissa Grey
Hardcover
Delacorte Press
Released 4/28/2015
For readers of Cassandra Clare's City of Bones and Leigh Bardugo's Shadow and Bone, The Girl at Midnight is the story of a modern girl caught in an ancient war.
Beneath the streets of New York City live the Avicen, an ancient race of people with feathers for hair and magic running through their veins. Age-old enchantments keep them hidden from humans. All but one. Echo is a runaway pickpocket who survives by selling stolen treasures on the black market, and the Avicen are the only family she's ever known.
Echo is clever and daring, and at times she can be brash, but above all else she's fiercely loyal. So when a centuries-old war crests on the borders of her home, she decides it's time to act.
Legend has it that there is a way to end the conflict once and for all: find the Firebird, a mythical entity believed to possess power the likes of which the world has never seen. It will be no easy task, but if life as a thief has taught Echo anything, it's how to hunt down what she wants . . . and how to take it.
But some jobs aren't as straightforward as they seem. And this one might just set the world on fire.
Purchase The Girl at Midnight at Amazon
Purchase The Girl at Midnight at IndieBound
View The Girl at Midnight on Goodreads
ABOUT THE AUTHOR
Melissa Grey penned her first short story at the age of twelve and hasn't stopped writing since. As an undergrad at Yale, she learned how ride a horse and shoot a bow and arrow at the same time, but hasn't had much use for that skill since graduating in 2008.
Her debut novel, THE GIRL AT MIDNIGHT, will be published by Delacorte/Random House in spring 2015.
To learn more about Melissa, visit
melissa-grey.com
and follow her on Twitter
@meligrey
.
What did you think of our interview with Melissa Grey, author of THE GIRL AT MIDNIGHT? Did you learn any great writing tips? Let us know in the comments!
Martina, Jocelyn, Shelly, Jan, Lisa, Susan, and Erin