Ready for some great new books? We've got nineteen new YA books to share with you this week, seven author interviews, and four giveaways for hot new releases. See below and enter to win.
Happy reading,
Martina, Jocelyn, Shelly, Jan, Lisa, Susan, and Erin
YA BOOK GIVEAWAYS THIS WEEK
Eden West
by Pete Hautman
Signed Hardcover Giveaway
Candlewick
Released 4/14/2015
Tackling faith, doubt, and transformation, National Book Award winner Pete Hautman explores a boy's unraveling allegiance to an insular cult.
Twelve square miles of paradise, surrounded by an eight-foot-high chain-link fence: this is Nodd, the land of the Grace. It is all seventeen-year-old Jacob knows. Beyond the fence lies the World, a wicked, terrible place, doomed to destruction. When the Archangel Zerachiel descends from Heaven, only the Grace will be spared the horrors of the Apocalypse. But something is rotten in paradise. A wolf invades Nodd, slaughtering the Grace's sheep. A new boy arrives from outside, and his scorn and disdain threaten to tarnish Jacob's contentment. Then, while patrolling the borders of Nodd, Jacob meets Lynna, a girl from the adjoining ranch, who tempts him to sample the forbidden Worldly pleasures that lie beyond the fence. Jacob's faith, his devotion, and his grip on reality are tested as his feelings for Lynna blossom into something greater and the End Days grow ever closer. Eden West is the story of two worlds, two hearts, the power of faith, and the resilience of the human spirit.
Author Question: What is your favorite thing about Eden West?
I really like the cover—the red, three-quarter jacket with the case art peeking up over the top is awesome! I love a book that still looks good after your dog eats the jacket. Candlewick publishes beautiful books.

I also like the fact that I finally finished writing it! It took twelve years. One question many authors ask themselves is, "Am I good enough to write this story?" With every new book I set out to write that question hangs over me. With Eden West it was a dark, low-hanging cloud that took years to lift. I think the main reason it took so long to write was that fog of doubt. But eventually hubris won out over apprehension, the book came together, and here we are. I am now free to fight my way through the next crisis of confidence!
Purchase Eden West at Amazon
Purchase Eden West at IndieBound
View Eden West on Goodreads
* * * *
Hit
by Delilah S. Dawson
Hardcover Giveaway
Simon Pulse
Released 4/14/2015
U.S. Only
NO ONE READS THE FINE PRINT.
The good news is that the USA is finally out of debt. The bad news is that we were bought out by Valor National Bank, and debtors are the new big game, thanks to a tricky little clause hidden deep in the fine print of a credit card application. Now, after a swift and silent takeover that leaves 9-1-1 calls going through to Valor voicemail, they're unleashing a wave of anarchy across the country.
Patsy didn't have much of a choice. When the suits showed up at her house threatening to kill her mother then and there for outstanding debt unless Patsy agreed to be an indentured assassin, what was she supposed to do? Let her own mother die?
Patsy is forced to take on a five-day mission to complete a hit list of ten names. Each name on Patsy's list has only three choices: pay the debt on the spot, agree to work as a bounty hunter, or die. And Patsy has to kill them personally, or else her mom takes a bullet of her own.
Since yarn bombing is the only rebellion in Patsy's past, she's horrified and overwhelmed, especially as she realizes that most of the ten people on her list aren't strangers. Things get even more complicated when a moment of mercy lands her with a sidekick: a hot rich kid named Wyatt whose brother is the last name on Patsy's list. The two share an intense chemistry even as every tick of the clock draws them closer to an impossible choice.
Delilah S. Dawson offers an absorbing, frightening glimpse at a reality just steps away from ours—a taut, suspenseful thriller that absolutely mesmerizes from start to finish.
Author Question: What is your favorite thing about Hit?
Besides the cover, which I love? ;) My favorite thing about HIT is the hero, Patsy. She's not someone who was destined to be great. She's not royal, she doesn't command magic, she doesn't take a test and score off the charts. She's just a normal girl from the Atlanta suburbs who has to face an impossible task or die, along with her mom. She's brave enough to do what has to be done but real enough to hate it, every step of the way. I feel like a lot of the heroines we see in dystopian books are written to be special saviors, but Patsy is no one and nothing. And she stays that way. But she has to learn how to live with herself and what she's become, not to mention how to move through the world with no road map.
Purchase Hit at Amazon
Purchase Hit at IndieBound
View Hit on Goodreads
* * * *
The Pretty App
by Katie Sise
Handmade earrings Giveaway

U.S. Only
Balzer + Bray
Released 4/14/2015
Poor Blake Dawkins! She's rich, she's gorgeous, and she's the queen bee of Harrison High. The girls want to be her; the boys want to—okay, enough said. But it turns out Blake's life is not so perfect—just talk to her dad, who constantly reminds her that she's not up to par, or to her ex-bff, Audrey, who doesn't even look her in the eye.
Then Harrison—and every other high school in America—becomes obsessed with posting selfies on the ubiquitous Pretty App. Next: Leo, an adorable transfer student, arrives at Harrison and begins to show Blake that maybe being a queen bee doesn't mean being a queen bitch. And though Audrey suspects somebody's playing foul, Blake finds herself catapulted to internet fame after being voted one of the prettiest girls in the country. She's whisked away to star in a reality show—in Hollywood, on live TV. But she doesn't know who to trust. Because everybody on the show wants to win.
And nobody is there to make friends.
The Boyfriend App author Katie Sise spins another irresistible tale of technology, secrets, and big-time romance in this story of what it takes to be #trulybeautiful.
Author Question: What is your favorite thing about The Pretty App?
My favorite thing about THE PRETTY APP is that the book balances a discussion on beauty and inner beauty without seeming too preachy. At least, I hope so! And I like that it's a feel-good read. Those are my favorite kinds of books and movies, so I'm hoping readers will feel the same way. If the book is page-turning and makes you laugh, then I'll have done my job. It was also so much fun to bring back the characters from THE BOYFRIEND APP. I loved writing from Blake's point of view, and seeing her take on the characters who'd I'd loved so much the first time around.
Purchase The Pretty App at Amazon
Purchase The Pretty App at IndieBound
View The Pretty App on Goodreads
* * * *
The Truth Commission
by Susan Juby
Hardcover Giveaway

U.S. Only
Viking Books for Young Readers
Released 4/14/2015
Open secrets are the heart of gossip -- the obvious things that no one is brave or tactless enough to ask. Except for Normandy Pale and her friends. They are juniors at a high school for artists, and have no fear. They are the Truth Commission. Then, one of their truth targets says to Normandy: "If you want to know about the truth, you might want to look a little closer to home." This dryly funny, knife-sharp novel, written as "narrative nonfiction" by Normandy herself, features footnotes, illustrations and a combination mystery/love story that will capture readers from the first page.
Purchase The Truth Commission at Amazon
Purchase The Truth Commission at IndieBound
View The Truth Commission on Goodreads
YA BOOK GIVEAWAYS LAST WEEK: WINNERS
Don't Stay Up Late
by R.L. Stine
Hardcover
St. Martin's Griffin; First Edition edition
Released 4/7/2015
Winner - Alisha
Sienkiel
R.L. Stine's hugely successful young adult horror series Fear Street is back after almost 2 decades. Fear Street is a worldwide phenomenon and helped to kick off the young adult craze which is still going strong today. In the second new book in this series, Don't Stay Up Late, Stine explores the unbridled terror of a damaged young lady sent on a doomed babysitting job.
Ever since a car accident killed her father and put Lisa and her mother into the hospital, Lisa can't think straight. She's plagued by nightmares and hallucinations that force her to relive the accident over and over again in vivid detail. When Lisa finds out that a neighbor is looking for a babysitter for her young son, she takes the job immediately, eager to keep busy and shake these disturbing images from her head.
But what promised to be an easy gig turns terrifying when Lisa begins to question exactly who — or what — she is babysitting.
Purchase Don't Stay Up Late at Amazon
Purchase Don't Stay Up Late at IndieBound
View Don't Stay Up Late on Goodreads
* * * *
Empire of Night
by Kelley Armstrong
Hardcover
HarperCollins
Released 4/7/2015
Winner - Lauren Jones
Sisters Moria and Ashyn are the Keeper and Seeker of Edgewood. Or at least they were. Their village is gone. Their friends have betrayed them. And now, the emperor has sent them on a mission to rescue the captured children of Edgewood—accompanied by Prince Tyrus and a small band of imperial warriors. But the journey proves more perilous than any of them could have imagined. And with treachery and unrest mounting in the empire, the girls are running out of places to turn.
With all the pulse-pounding action and romance that have made her a #1 New York Times bestselling author, this second book in the Age of Legends trilogy will appeal to Kelley Armstrong's legions of fans around the world and win her many new ones.
Author Question: What is your favorite thing about Empire of Night?
When I speak to other writers who do trilogies, they often lament the middle book. To them, it's like act 2 of a regular book, which is often the hardest part to write—you know the setup and the conclusion, but then you need to keep a story interesting for 200 or so pages between them! To me, though, book 2 of a trilogy is my favourite. I've established the characters, setting and situation in book 1. I don't need to actually resolve anything major until book 3. So the second book is total play-time for me. It's where I can get creative and add anything I want, from action to mystery to romance, and just have fun with the characters. Of course, for me "having fun" with the characters is usually "making things steadily worse for them" but that's what makes a story interesting! EMPIRE OF NIGHT was pure rising action and rising tension, taking the characters from bad to worse, and seeing them grow and develop because of it. It's probably my favourite book in the Age of Legends trilogy, as is THE AWAKENING in Darkest Powers and THE CALLING in Darkness Rising.
Purchase Empire of Night at Amazon
Purchase Empire of Night at IndieBound
View Empire of Night on Goodreads
* * * *
None of the Above
by I. W. Gregorio
Hardcover
Balzer + Bray
Released 4/7/2015
Winner - Rosi Hollinbeck
A groundbreaking story about a teenage girl who discovers she was born intersex . . . and what happens when her secret is revealed to the entire school. Incredibly compelling and sensitively told, None of the Above is a thought-provoking novel that explores what it means to be a boy, a girl, or something in between.
What if everything you knew about yourself changed in an instant?
When Kristin Lattimer is voted homecoming queen, it seems like another piece of her ideal life has fallen into place. She's a champion hurdler with a full scholarship to college and she's madly in love with her boyfriend. In fact, she's decided that she's ready to take things to the next level with him.
But Kristin's first time isn't the perfect moment she's planned--something is very wrong. A visit to the doctor reveals the truth: Kristin is intersex, which means that though she outwardly looks like a girl, she has male chromosomes, not to mention boy "parts."
Dealing with her body is difficult enough, but when her diagnosis is leaked to the whole school, Kristin's entire identity is thrown into question. As her world unravels, can she come to terms with her new self?
Author Question: What is your favorite thing about None of the Above?
This book will always hold a special place in my heart because of how intimately it's intertwined with my day job as a doctor. Because it was inspired by a patient I treated and I felt a deep sense of responsibility re: the subject matter, it was a tricky book to write. I felt like I was constantly walking a tightrope between explaining too much, and not enough. I didn't want to sound didactic, so I made sure to pace the plot well, but at the same time I did want people to learn from the book. I'm sure there will be some people who think I threaded the needle, and others who don't! And it doesn't sound very sexy, but the proudest moments of my debut year so far have been when readers say that it's opened their mind - and that they read it in one sitting.
Purchase None of the Above at Amazon
Purchase None of the Above at IndieBound
View None of the Above on Goodreads
* * * *
One Thing Stolen
by Beth Kephart
Hardcover
Chronicle Books
Released 4/7/2015
Winner - Traci Kenworth
Something is not right with Nadia Cara. While spending a year in Florence, Italy, she's become a thief. She has secrets. And when she tries to speak, the words seem far away. Nadia finds herself trapped by her own obsessions and following the trail of an elusive Italian boy whom only she has seen. Can Nadia be rescued or will she simply lose herself altogether? Set against the backdrop of a glimmering city, One Thing Stolen is an exploration of obsession, art, and a rare neurological disorder. It is a celebration of language, beauty, imagination, and the salvation of love.
Purchase One Thing Stolen at Amazon
Purchase One Thing Stolen at IndieBound
View One Thing Stolen on Goodreads
* * * *
Simon vs. the Homo Sapiens Agenda
by Becky Albertalli
Hardcover
Balzer + Bray
Released 4/7/2015
Winner - Kate Foley
Sixteen-year-old and not-so-openly gay Simon Spier prefers to save his drama for the school musical. But when an email falls into the wrong hands, his secret is at risk of being thrust into the spotlight. Now Simon is actually being blackmailed: if he doesn't play wingman for class clown Martin, his sexual identity will become everyone's business. Worse, the privacy of Blue, the pen name of the boy he's been emailing, will be compromised.
With some messy dynamics emerging in his once tight-knit group of friends, and his email correspondence with Blue growing more flirtatious every day, Simon's junior year has suddenly gotten all kinds of complicated. Now, change-averse Simon has to find a way to step out of his comfort zone before he's pushed out—without alienating his friends, compromising himself, or fumbling a shot at happiness with the most confusing, adorable guy he's never met.
Author Question: What is your favorite thing about Simon vs. the Homo Sapiens Agenda?
This is actually a hard question to answer, since I feel so close to the entire book. Every day, I change my mind about what I think is the heart of the story. That being said, I think my favorite moments are the emails exchanged between Simon and Blue. I loved writing them – sometimes, it almost felt like they wrote themselves. One of my favorite things about writing in that epistolary format is that it gives another character (Blue) a direct voice. He has a slightly different perspective than Simon, and I loved having the opportunity to show that. It also gave me a chance to play around with the differences between Simon's unfiltered thoughts (in the narrative) and the way he presents himself to others (in the emails). Simon admits that he edits his emails to impress Blue, and he's definitely, deliberately flirtatious. I loved showing those two sides of Simon, and it was interesting to explore what we do and don't share with others, even when we think we're being very open.
Purchase Simon vs. the Homo Sapiens Agenda at Amazon
Purchase Simon vs. the Homo Sapiens Agenda at IndieBound
View Simon vs. the Homo Sapiens Agenda on Goodreads
MORE YOUNG ADULT FICTION IN STORES NEXT WEEK WITH AUTHOR INTERVIEWS
* * * *
Forged
by Erin Bowman
Hardcover
HarperTeen
Released 4/14/2015
Gray Weathersby and his group of rebels must make their final stand in the epic conclusion to the Taken trilogy, which New York Times bestselling author Marie Lu called "an action-packed thrill ride from beginning to end."
The Order is building an unstoppable army, with every generation of Forgeries harder to detect and deadlier than the one before. It's time for Gray and his fellow rebels to end the Order's world of lies. But when the most familiar faces—and even the girl he loves—can't be trusted, Gray will have to tread carefully if he wants to succeed. Or survive.
Author Question: What is your favorite thing about Forged?
FORGED is the conclusion to the Taken trilogy, and while it is bittersweet to say goodbye to these characters and world, wrapping everything up was was my favorite part. I think I've done Gray's story justice, and I can only hope that readers agree!
Purchase Forged at Amazon
Purchase Forged at IndieBound
View Forged on Goodreads
* * * *
Shredder
by Niall Leonard
Hardcover
Delacorte Press
Released 4/14/2015
In the gut-wrenching third and final novel in Niall Leonard's Crusher series, Finn Maguire is lured back into the warring factions of the underworld by way of blackmail.
Finn "Crusher" Maguire has one simple task: to set up a meeting. But when that meeting is between the Guvnor and the Turk, two psychotic criminals vying for control of London's underworld, Finn's task proves to be anything but simple. As the city cracks under a blistering heatwave and the UK is rocked by a series of terrorist outrages, Crusher finds himself caught up in a gang war full of carnage, corruption and treachery. To save himself and the girl he loves from being shredded to a bloody pulp between opposing factions, Finn faces horrifying risks and impossible choices.
Author Question: What is your favorite thing about Shredder?
My favorite thing about Shredder must be the way it ends. It's not what even I was expecting.
Purchase Shredder at Amazon
Purchase Shredder at IndieBound
View Shredder on Goodreads
* * * *
The Bridge
by Jane Higgins
Paperback
Tundra Books
Released 4/14/2015
The City is divided. The bridges gated. In Southside, the hostiles live in squalor and desperation, waiting for a chance to overrun the residents of Cityside.
Nik is still in high school but is destined for a great career with the Internal Security and Intelligence Services, the brains behind the war. But when ISIS comes recruiting, everyone is shocked when he isn't chosen. There must be an explanation, but no one will talk about it. Then the school is bombed and the hostiles take the bridges. Buildings are burning, kids are dead, and the hostiles have kidnapped Sol. Now ISIS is hunting for Nik.
But Nik is on the run, with Sol's sister Fyffe and ISIS hot on their trail. They cross the bridge in search of Sol, and Nik finds answers to questions he had never dared to ask.
The Bridge is a gritty adventure set in a future world where fear of outsiders pervades everything. A heart-stopping novel about friendship, identity, and courage from an exciting new voice in young-adult fiction.
Author Question: What is your favorite thing about The Bridge?
When THE BRIDGE was first published people asked me about my inspiration for it. I didn't have an immediate answer, but then I remembered this.

In 1981/82, I was 20 years old and working at the monastic community of Taizé in France. The Berlin Wall still stood, a powerful symbol of the Cold War division between Eastern and Western Europe. This was my first experience of nations seriously engaged in readiness for war.

Just before Christmas, 1981, martial law was declared in Poland in Eastern Europe, which meant that the army was taking over that country and closing its borders: no-one in, no-one out. I remember there was a young Polish guy visiting Taizé then. He had to decide what to do and he had to decide fast – overnight, in fact. His choice was stark: go home, get there before the borders close, and perhaps be trapped there for years. Or, stay out, in relative freedom, but maybe not see his family for years. He spent the night thinking about it. Then he went home.

The choice that night was a 'future-defining' moment for that young guy. For me, who had never known martial law or war of any kind, it was a glimpse into the lives of people who have no choice but to deal with the realities of war. That moment stayed with me and I think it emerged in the story of THE BRIDGE in the character of Nik, who has to work out where he belongs in the midst of war.

I love that a memory like that can lie dormant and all but forgotten, and then emerge indirectly in a story years later.
Purchase The Bridge at Amazon
Purchase The Bridge at IndieBound
View The Bridge on Goodreads
MORE YOUNG ADULT NOVELS NEW IN STORES NEXT WEEK
* * * *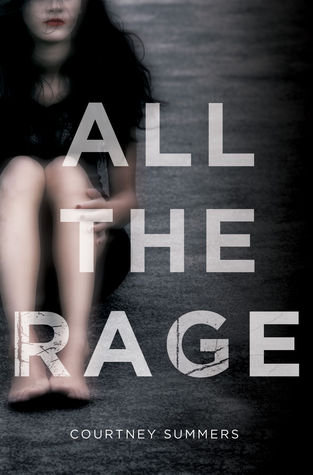 All the Rage
by Courtney Summers
Hardcover
St. Martin's Griffin
Released 4/14/2015
The sheriff's son, Kellan Turner, is not the golden boy everyone thinks he is, and Romy Grey knows that for a fact. Because no one wants to believe a girl from the wrong side of town, the truth about him has cost her everything—friends, family, and her community. Branded a liar and bullied relentlessly by a group of kids she used to hang out with, Romy's only refuge is the diner where she works outside of town. No one knows her name or her past there; she can finally be anonymous. But when a girl with ties to both Romy and Kellan goes missing after a party, and news of him assaulting another girl in a town close by gets out, Romy must decide whether she wants to fight or carry the burden of knowing more girls could get hurt if she doesn't speak up. Nobody believed her the first time—and they certainly won't now — but the cost of her silence might be more than she can bear. 
With a shocking conclusion and writing that will absolutely knock you out, All the Rage examines the shame and silence inflicted upon young women after an act of sexual violence, forcing us to ask ourselves: In a culture that refuses to protect its young girls, how can they survive?
Purchase All the Rage at Amazon
Purchase All the Rage at IndieBound
View All the Rage on Goodreads
* * * *
Andreo's Race
by Pam Withers
Paperback
Tundra Books
Released 4/14/2015
Just as sixteen-year-old Andreo, skilled in death-defying ironman events in wilderness regions, is about to compete in rugged Bolivia, he and his friend Raul (another Bolivian adoptee) begin to suspect that their adoptive parents have unwittingly acquired them illegally. Plotting to use the upcoming race to pursue the truth, they veer on an epic journey to locate Andreo's birth parents, only to find themselves hazardously entangled with a gang of baby traffickers. Never suspecting that attempting to bring down the ring would endanger their very lives, the boys plunge ahead. Compelling, poignant, and heart-stopping, Andreo's Race takes readers on a perilous quest to discover the true meaning of family.
Purchase Andreo's Race at Amazon
Purchase Andreo's Race at IndieBound
View Andreo's Race on Goodreads
* * * *
Bloodkin
by Amelia Atwater-Rhodes
Hardcover
Delacorte Press
Released 4/14/2015
Fans of Laini Taylor's Daughter of Smoke and Bone will love this second book in the Ma'evra trilogy by Amelia Atwater-Rhodes about loyalty, power, and the rules of survival.
Some lines should never be crossed.
Sixteen-year-old Kadee is proud to be a part of the Obsidian guild, whose members refuse to bow to anyone in Midnight-including the vampires who claim to rule this world and the shapeshifter royals who obey them. She knows firsthand what it's like to live with the Shantel and serpiente, and she'll never forgive these shapeshifters for taking her from her real father as a sick and frightened human child. Fortunately, Kadee is the master of her own life and decisions now, but some of the choices she's made to protect her Obsidian family-and one of her peers in the guild-have begun to haunt her.
How much is one life worth, and when is the price too much to pay?
Purchase Bloodkin at Amazon
Purchase Bloodkin at IndieBound
View Bloodkin on Goodreads
* * * *
Denton Little's Deathdate
by Lance Rubin
Hardcover
Knopf Books for Young Readers
Released 4/14/2015
Fans of John Green and Matthew Quick: Get ready to die laughing.
Denton Little's Deathdate takes place in a world exactly like our own except that everyone knows the day they will die. For 17-year-old Denton Little, that's tomorrow, the day of his senior prom.
Despite his early deathdate, Denton has always wanted to live a normal life, but his final days are filled with dramatic firsts. First hangover. First sex. First love triangle (as the first sex seems to have happened not with his adoring girlfriend, but with his best friend's hostile sister. Though he's not totally sure. See: first hangover.) His anxiety builds when he discovers a strange purple rash making its way up his body. Is this what will kill him? And then a strange man shows up at his funeral, claiming to have known Denton's long-deceased mother, and warning him to beware of suspicious government characters…. Suddenly Denton's life is filled with mysterious questions and precious little time to find the answers.
Debut author Lance Rubin takes us on a fast, furious, and outrageously funny ride through the last hours of a teenager's life as he searches for love, meaning, answers, and (just maybe) a way to live on.
Purchase Denton Little's Deathdate at Amazon
Purchase Denton Little's Deathdate at IndieBound
View Denton Little's Deathdate on Goodreads
* * * *
Dream a Little Dream
by Kerstin Gier
Hardcover
Henry Holt and Co.
Released 4/14/2015
Mysterious doors with lizard-head knobs. Talking stone statues. A crazy girl with a hatchet. Yes, Liv's dreams have been pretty weird lately. Especially the one where she's in a graveyard at night, watching four boys conduct dark magic rituals.
The strangest part is that Liv recognizes the boys in her dream. They're classmates from her new school in London, the school where she's starting over because her mom has moved them to a new country (again). But what's really scaring Liv is that the dream boys seem to know things about her in real life, things they couldn't possibly know—unless they actually are in her dreams? Luckily, Liv never could resist a good mystery, and all four of those boys are pretty cute....
Purchase Dream a Little Dream at Amazon
Purchase Dream a Little Dream at IndieBound
View Dream a Little Dream on Goodreads
* * * *
First There Was Forever
by Juliana Romano
Hardcover
Dial Books
Released 4/14/2015
Perfect for fans of Jenny Han's The Summer I Turned Pretty and Huntley Fitzpatrick's My Life Next Door, Juliana Romano's expressive debut is an absorbing and bittersweet story about first love, first loss, and the friends that carry us through it all.
Lima and Hailey have always been best friends: Lima shy and sensitive, Hailey funny and free-spirited. But Hailey abandons Lima to party with the popular kids and pursue Nate, her disinterested crush. As their friendship falters, Lima and Nate begin spending more time together. And before Lima knows what she's feeling, she and Nate do something irreversible. Something that would hurt Hailey....if she knew it happened.
Lima thinks she's saving her friendship by lying, but she's only buying time. As the secrets stack up, Lima is forced to make a choice: between her best friend forever, and the boy who wasn't meant to be hers.
Purchase First There Was Forever at Amazon
Purchase First There Was Forever at IndieBound
View First There Was Forever on Goodreads
* * * *
Mapmaker
by Mark Bomback and Galaxy Craze
Hardcover
Soho Teen
Released 4/14/2015
When Tanya Barrett takes an internship at MapOut, she expects emotional landmines. Her father cofounded the digital mapping company, and he died for it—on a cartographic expedition he didn't even need to take. Her father's business partner and his son, Connor, welcome her to the job with open arms. And being with Connor, an old childhood friend, turns out to be the only thing that makes Tanya feel normal again.
Soon she's spending every moment she can with Connor. But when they sneak into her father's old office late one night, they stumble across a deadly secret. The next day Connor disappears.
Tanya isn't just bereft; she's terrified. It's clear that people at MapOut are willing to kill for what she and Connor discovered. Alone again—and on the run—Tanya must rely on her wits to find out what happened to him and stay a step ahead of MapOut. But in the world they envision, no one stays lost for long.
Purchase Mapmaker at Amazon
Purchase Mapmaker at IndieBound
View Mapmaker on Goodreads
* * * *
The Fearless
by Emma Pass
Hardcover
Delacorte Press
Released 4/14/2015
For fans of The Hunger Games, Matched, Divergent, and The Fifth Wave, this fast-paced futuristic thriller tells the story of seventeen-year-old Cass and her fight to protect her younger brother from an unimaginably terrifying enemy.
The Deadliest Enemy feels no fear.
When the Fearless invaded, they injected everyone in their path with the same serum that stripped them of humanity.
Life became a waking nightmare.
Cass has the invasion seared in her memory. Seven years later, she and her brother, Jori, are living on Hope Island in a community of survivors. No one can enter, and no one can leave.
It's the only way to stay safe.
But when Hope Island's security is breeched and Jori is taken by the Fearless, Cass will risk everything to get him back.
Purchase The Fearless at Amazon
Purchase The Fearless at IndieBound
View The Fearless on Goodreads
* * * *
The Prom Goer's Interstellar Excursion
by Chris McCoy
Hardcover
Knopf Books for Young Readers
Released 4/14/2015
It's Superbad meets Spaceballs in this hilarious extraterrestrial road trip!
Just a few days before prom, Bennett pulls off something he never imagined possible: his dream girl, Sophie, agrees to be his date. Moments afterward, however, he watches Sophie get abducted by aliens in the middle of the New Mexico desert.
Faced with a dateless prom (and likely kidnapping charges), Bennett does the only thing he can think of: he catches a ride into outer space with a band of extraterrestrial musicians to bring her back.
Can he navigate alien concert venues, an extraterrestrial reality show, and the band's outlandish egos to rescue his date in time for the big dance? Fans of King Dork and Winger won't want to miss this!
Purchase The Prom Goer's Interstellar Excursion at Amazon
Purchase The Prom Goer's Interstellar Excursion at IndieBound
View The Prom Goer's Interstellar Excursion on Goodreads
* * * *
The Revelation of Louisa May
by Michaela MacColl
Hardcover
Chronicle Books
Released 4/14/2015
Louisa May Alcott can't believe it—her mother is leaving for the summer to earn money for the family and Louisa is to be in charge of the household. How will she find the time to write her stories, much less have any adventures of her own? But before long, Louisa finds herself juggling her temperamental father, a mysterious murder, a fugitive seeking refuge along the Underground Railroad, and blossoming love. Intertwining fact, fiction, and quotes from Little Women, Michaela MacColl has crafted another spunky heroine whose story will keep readers turning pages until the very end.
Purchase The Revelation of Louisa May at Amazon
Purchase The Revelation of Louisa May at IndieBound
View The Revelation of Louisa May on Goodreads
* * * *
The Wondrous and the Wicked
by Page Morgan
Hardcover
Delacorte Press
Released 4/14/2015
For fans of Lauren Kate's Fallen series comes the exciting conclusion to the trilogy that includes The Beautiful and the Cursed and The Lovely and the Lost. The Waverly sisters must save themselves before all is lost.
Since the Waverlys arrived in Paris, the streets have grown more fearsome by the day. As Ingrid learns to master her lectrux gift, she must watch Axia's power grow strong enough to extend beyond her Underneath hive. By all indications, the fallen angel's Harvest is near-and the timing couldn't be worse.
Targeted by vengeful gargoyles, Gabby has been exiled to London for her own protection. Meanwhile, the gargoyle castes are in disarray, divided between those who want Luc to lead them and those who resent him and his fondness for humans. The Alliance is crumbling from the inside as well, its members turning against one another, and possibly against the Waverlys, too.
Axia has promised that the world will burn. And now, unable to trust the Alliance, separated from Luc, Gabby, and her twin, Grayson, Ingrid is left to face the demon uprising alone.
Purchase The Wondrous and the Wicked at Amazon
Purchase The Wondrous and the Wicked at IndieBound
View The Wondrous and the Wicked on Goodreads
* * * *
The World Forgot
by Martin Leicht and Isla Neal
Hardcover
Simon & Schuster Books for Young Readers
Released 4/14/2015
In this hilarious, action-packed conclusion to The Ever-Expanding Universe trilogy, teen mom Elvie Nara is on a quest across the universe to save her daughter (and maybe stop an alien race war in the process).
After dealing with killer whales, evil scientists, the return of her long-lost mother and, certainly not least of all, the challenges of breastfeeding, Elvie Nara has just about had it. And then the Jin'Kai (along with the aforementioned estranged mom) kidnap her baby.
And before she knows it, another Jin'Kai attack puts her on the run again, but not before discovering that Olivia was implanted with a genetic tracking device. So along with Cole, Ducky, and her dad, Elvie goes back out into space to follow the signal. There she finds evil Dr. Marsden up to some evil tricks and realizes that Mars may hold the secret to defeating her enemies once and for all. So, off to Mars she goes. Because alien race war aside, Elvie really wants to be back with her daughter. For a kid she wasn't even sure she wanted, Olivia has come to mean the world to Elvie—and she'll search the universe to be with her again.
Purchase The World Forgot at Amazon
Purchase The World Forgot at IndieBound
View The World Forgot on Goodreads
a Rafflecopter giveaway