~ The ladies of AYAP
Martina, Jocelyn, Jan, Shelly, Erin, Lisa, and Susan
YA BOOK GIVEAWAYS THIS WEEK
* * * *
Terminal
by Kathy Reichs and Brendan Reichs
Signed Hardcover Giveaway (2 Copies)

International
Putnam Juvenile
Released 3/3/2015
The gripping finale to Kathy and Brendan Reichs' New York Times bestselling VIRALS series
The Virals are back—but they're not the only pack in town anymore. Terminal finds Tory Brennan and the rest of the Morris Island gang tracking a pack of rogue Virals who call themselves the Trinity. The new pack was infected by a strain of supervirus created by Tory's nemesis and sometimes-crush, Chance Clayborne, who accidentally infected himself, too.
These red-eyed Virals have openly challenged Tory's pack for domination of Charleston, and they'll stop at nothing to bring their rivals down—even if that means giving them up to a shadowy government agency intent on learning the secret to the Virals' powers. Surviving it all is going to test the limits of the gang's abilities.
In the riveting conclusion to the Virals series, Tory and the others are nearing an impossible choice—and the ultimate showdown.
Author Question: What is your favorite thing about Terminal?
My favorite thing about TERMINAL is that I finally get to answer the burning questions readers have been focused on since the Virals series began. This will be the last full book in this chapter of the Virals' lives, so I made sure we didn't leave anything out that would drive our loyal fans crazy. In TERMINAL, Tory finally makes some hard decisions where her heart is concerned. The gang has to come to grips with what they want from the rest of their lives. Plus, they're in more trouble--and danger--than they've ever been before. I think our fans are going to like it!
Purchase Terminal at Amazon
Purchase Terminal at IndieBound
View Terminal on Goodreads
* * * *
The Dead I Know
by Scot Gardner
Signed Hardcover Giveaway

International
HMH Books for Young Readers
Released 3/3/2015
Aaron Rowe walks in his sleep and haunted by dreams he can't explain and memories he can't recover. Death doesn't scare him—his new job with a funeral director may even be his salvation. But if he doesn't discover the truth about his hidden past soon, he may fall asleep one night and never wake up. In this dark and witty psychological drama about survival, Aaron finds that making peace with the dead may be easier than coming to terms with the living.
"I have never read a book more gripping, nor a book more triumphantly alive. I love how it haunts me still. I swear, I will never forget The Dead I Know." -- John Marsden, author of Tomorrow When the War Began.
Author Question: What is your favorite thing about The Dead I Know?
It's a deeply layered story. There were times when the layers came together in ways I hadn't anticipated while I was planning it out and that is pleasing in hindsight, but my favourite thing about the book is the volume of raw material that made it into the manuscript that I gleaned from my daily life. My godparents are funeral directors and spending time with them gave me intimacy with the setting and provided the inspiration for John Barton, the owner of the establishment where the protagonist (Aaron) works. Aaron's nightmares and sleep-walking look a lot like those my younger daughter battled with as she approached her teens. My wife's mother lived with us while she was in decline with dementia and gave me way too much information about how insidious that disease is. All these things represent experiences that power narrative.
Purchase The Dead I Know at Amazon
Purchase The Dead I Know at IndieBound
View The Dead I Know on Goodreads
* * * *
Deviate
by Tracy Clark
Signed Paperback Giveaway

U.S. Only
Entangled: Teen
Released 3/3/2015
Tormented after a daring escape, Cora Sandoval must find a way to stop the Arrazi from murdering innocent people and from violating, using, and killing the Scintilla for their powers. She must also accept one bitter betrayal: Finn Doyle—the Irish boy who has both a piece of Cora's heart and soul—is Arrazi...
On the verge of extinction and sought by those who would either consume or destroy them, Cora and the remaining Scintilla survivors must solve the mystery of The Light Key. If they fail, the truth will stay buried forever and mankind will pay the ultimate price.
No longer will she hide.
No longer will her loved ones be hunted.
And she will have her vengeance...even if she shatters her heart in the process.
Author Question: What is your favorite thing about Deviate?
I'm excited that DEVIATE introduces the pov of Finn Doyle, the Arrazi that Cora loves but cannot be with. It was fascinating to explore the tortured psyche of being someone who is a really good person but who must kill in order to survive.

I think that the juxtaposition of Cora's chapters revealing her deepening relationship with Giovanni and her quest for answers about how to stop the Arrazi, offset against Finn's chapters, which may give readers a new way of looking at Finn, is wonderful, heart-wrenching stuff that good romances are made of. I sure hope so!
Purchase Deviate at Amazon
Purchase Deviate at IndieBound
View Deviate on Goodreads
* * * *
Positively Beautiful
by Wendy Mills
Hardcover Giveaway
Bloomsbury USA Childrens
Released 3/3/2015
Erin Bailey's life changes forever the day her mom is diagnosed with breast cancer. It's always just been Erin and Mom, so living without her is not an option. Life takes another turn when the cancer is linked to a rare genetic mutation, and Erin must grapple with the decision of whether or not to have her own DNA tested. Her only outlets are flying lessons, where looking to the horizon calms her deepest fears, and her new friend Ashley, a girl she met in an online support group. But when a flash decision has Erin flying away to find her new friend, she embarks on a journey from the depths of despair to new love and a better understanding of the true meaning of beauty.
This thought-provoking story brings readers to the emotional brink and back again, as they experience Erin's fear, her frustration, and ultimately . . . her freedom.
Author Question: What is your favorite thing about Positively Beautiful?
My mom and I talk every day. My mom and I fight every day. ("The sky sure is blue today-" "Really? Are you insane??")
But when all is said and done, my mom is my ultimate sounding board for my books, and I don't think I could do it without her. Oh, I know there are times when we are in a five-hour marathon session about the oh-so-very-important (to me) motivations of some insignificant character that she has me on mute while she vacuums the house, but it doesn't matter. Having someone on the other end of the line who cares enough to listen, who is invested enough to stay on the phone with me as I go through my daily panic-attacks ("but, Mom, what in the heck would she WEAR to the FAA hearing?!") gives me the confidence to make the hard decisions and make the big leaps.

My mom was with my grandmother when she died. Years later when I was writing Positively Beautiful, I knew I had to use her story, though it was a scene I dreaded writing. With a vengeance. I mean, like no, no, no, I DO NOT WANT TO WRITE THAT. Because my mom lost her mother, and someday I will lose mine, and I really, really don't want to think about it.

Erin's relationship with her mother is my favorite aspect of Positively Beautiful. Erin's mother is nothing like my mother. I am nothing like Erin. But the relationship between a mother and daughter is something precious and sacred and universal, and my mother's fingerprints are all over this book.

As they should be.
Purchase Positively Beautiful at Amazon
Purchase Positively Beautiful at IndieBound
View Positively Beautiful on Goodreads
* * * *
The Dark Water
by Seth Fishman
Hardcover Giveaway

U.S. Only
Putnam Juvenile
Released 3/3/2015
To escape Blake Sutton's army at the end of the enthralling The Well's End, Mia and her friends jump into the newly gurgling fountain of youth and swim to its very bottom. When they resurface, an astounding world awaits them—an entire underground civilization of humans, the Keepers of the Well.
But instead of finding a safe haven, Mia and her gang are quickly embroiled in a dangerous, high-stakes battle royale. If Mia wants to save everyone she loves and make it back home alive, she's got to get to the water's Source before Sutton and his troops, who are still hot on her trail.
With new characters and new threats, Seth Fishman has upped the ante fantastically and delivers another tense, fast-paced adventure in a richly imagined world just below our feet.
Author Question: What is your favorite thing about The Dark Water?
The true answer to this question is a major spoiler so, sadly, I'll have to give you my runner-up. What I'm most happy with is the difference between this book and The Well's End. I set out, on purpose, to write two very different books with the same overarching theme and characters, and while I'm sure some people won't be too pleased about that, I wanted to do something really different, and it took so much work to do; I'm very pleased in how it turns out. I hope readers have fun too.
Purchase The Dark Water at Amazon
Purchase The Dark Water at IndieBound
View The Dark Water on Goodreads
YA BOOK GIVEAWAYS LAST WEEK: WINNERS
* * * *
Chaos
by Lanie Bross
Hardcover
Delacorte Press
Released 2/27/2015
Winner - Samantha Huff
They kissed only once—and it was electric, like the air before a storm. But Corinthe and Luc broke the rules of the universe, and learned too late that their love would have consequences. In the dizzying aftermath, Luc refuses to accept his destiny—not if it means a life without Corinthe. As a fire rages through the Crossroads that connect worlds, Luc must find a way to turn back time and save Corinthe once and for all.
Meanwhile, Luc's 15-year-old sister Jasmine starts to realize things are not as they seem when time begins stuttering, sending her everyday life in San Francisco spinning into chaos. She's thrown into the path of Ford, a troubled soul with a secret past, who helps her unravel the mysterious threads that connect them all.
Two breathtaking romances interweave across time in this story of what lies on the other side of Fate, as both Jas and Luc discover the incredible lengths they will go for love.
Author Question: What is your favorite thing about Chaos?
I think my favorite thing about CHAOS was getting to know Jasmine. I haven't made it a secret that she is my favorite character in this series and in CHAOS she has a lot of page time. If I had to choose a second thing, it would be the world building. Creating fantastical places for all of them to go throughout both books was challenging but so much fun. This is where you are limited only by your own imagination!
Purchase Chaos at Amazon
Purchase Chaos at IndieBound
View Chaos on Goodreads
* * * *
Haunted
by Lynn Carthage
Paperback
Kensington
Released 2/24/2015
Winner - Alisha Sienkiel
Sixteen-year-old Phoebe Irving has traded life in San Francisco for her stepfather's ancestral mansion in rural England. It's supposed to be the new start her family needs. But from the moment she crosses the threshold into the ancient estate, Phoebe senses something ominous. Then again, she's a little sensitive lately—not surprising when her parents are oblivious to her, her old life is six thousand miles away, and the only guy around is completely gorgeous but giving her mixed messages.
But at least Miles doesn't laugh at Phoebe's growing fears. And she can trust him…maybe. The locals whisper about the manor's infamous original owner, Madame Arnaud, and tell grim stories of missing children and vengeful spirits. Phoebe is determined to protect her loved ones—especially her little sister, Tabby. But even amidst the manor's dark shadows, the deepest mysteries may involve Phoebe herself…
Author Question: What is your favorite thing about Haunted?
My favorite thing is Phoebe's personality. She's someone I'd like to be, and maybe this book is a little bit of wish fulfillment. Although Phoebe is vulnerable (she freely admits that it hurts that her sister gets more attention from their parents), she's also really strong. I admire her for putting herself in danger to protect her sister. I come from a family of four girls, so I have lots of emotion around sisters and their bond.

I also admire Phoebe for being an athlete—a swimmer—as well as a bookish person (she jokes in the book that she can be a "literary mermaid.") It was only after my teen years that I discovered the joy of exercise, endorphins, the sense of fulfillment for feeling my heart and lungs give their utmost and for my skin developing a sheen of sweat. Yea right: I'm going with "sheen…" I've always been a voracious reader and happily books have always been a part of my life; I just wish I had earlier balanced that out with putting my body through its paces.

People always say there's something of the author in each character they create. Although I'm very different from Phoebe, she does carry something literal on her body that I used to have: a mole in her cleavage. I always loved this tiny emblem hidden by my bra or just under the edges if it was low-cut. Alas, in college it changed temperament somewhat and in the health center they carved it out. It was completely benign, thank goodness. But now there is a miniscule white scar where the saucy spot used to be, and I miss it. But I resurrected it on Phoebe's chest, and you may see it play a role further on in the trilogy as well!
Purchase Haunted at Amazon
Purchase Haunted at IndieBound
View Haunted on Goodreads
* * * *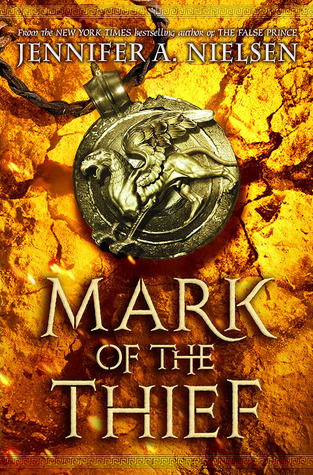 Mark of the Thief
by Jennifer A. Nielsen
Hardcover
Scholastic Press
Released 2/24/2015
Winner - Karen Stern
Jennifer A. Nielsen, author of the NYT and USA TODAY bestselling Ascendance Trilogy, has woven an electrifying tale of greed and power, magic and destiny, and one boy's courage at the heart of it all.
When Nic, a slave in the mines outside of Rome, is forced to enter a sealed cavern containing the lost treasures of Julius Caesar, he finds much more than gold and gemstones: He discovers an ancient bulla, an amulet that belonged to the great Caesar and is filled with a magic once reserved for the Gods -- magic some Romans would kill for.
Now, with the deadly power of the bulla pulsing through his veins, Nic is determined to become free. But instead, he finds himself at the center of a ruthless conspiracy to overthrow the emperor and spark the Praetor War, a battle to destroy Rome from within. Traitors and spies lurk at every turn, each more desperate than the next to use Nic's newfound powers for their own dark purposes.
In a quest to stop the rebellion, save Rome, and secure his own freedom, Nic must harness the magic within himself and defeat the empire's most powerful and savage leaders.
Author Question: What is your favorite thing about Mark of the Thief?
I love the way Nic evolves during this book. He begins the story, not only as a slave in Ancient Rome, but as the lowest form of a slave - in the mines. Because he remembers freedom, he resents his life in captivity and loathes his cruel master. But over the course of the story, he claims his life back and begins to take his first steps toward true freedom. I love watching his growing confidence and decisiveness.
Purchase Mark of the Thief at Amazon
Purchase Mark of the Thief at IndieBound
View Mark of the Thief on Goodreads
* * * *
Quake
by Patrick Carman
Hardcover
Katherine Tegen Books
Released 2/24/2015
Winner - Heather Langston
Fans of I Am Number Four and The Maze Runner will clamor for Quake, the climactic finale to the Pulse trilogy by Patrick Carman—an epic dystopian story of love and revenge.
Faith Daniels and Dylan Gilmore have a special ability called a pulse: they can move things with their minds. They're caught in the middle of a deadly war with two other pulses: Clara and Wade Quinn, who have joined forces with Hotspur Chance, the most wanted man in the world. Outnumbered, it will take more than Faith's and Dylan's pulses to save them—it will take a miracle.
But this isn't just about the States anymore; it is about finishing what they started. In a series of hair-raising battles, they discover an even greater strength: the power of their combined love. Together, Faith and Dylan might just be able to save the world with a quake that is big enough to change the course of history.
Author Question: What is your favorite thing about Quake?
I always love the last book in a series, and that's particularly true of QUAKE. I've been holding on to so many secrets for so long! The last book in the PULSE series finally allowed me to pay off so many story threads and reveal things I've been thinking about for years. I also love the way these characters have grown and changed, and I'm happy to bring them to the end of a life altering journey. And we get to see one of my favorite villains - Hotspur Chance - go toe to toe with one of my favorite heroins - Faith Daniels.
Purchase Quake at Amazon
Purchase Quake at IndieBound
View Quake on Goodreads
* * * *
Remember
by Eileen Cook
Hardcover
Simon Pulse
Released 2/24/2015
Winner - Lisa Trinh
A thrilling tale about what a girl will do to get back a memory she lost…or remove what she wants to forget.
Harper is used to her family being hounded by protestors. Her father runs the company that trademarked the "Memtex" procedure to wipe away sad memories, and plenty of people think it shouldn't be legal. Then a new demonstrator crosses her path, Neil, who's as persistent as he is hot. Not that Harper's noticing, since she already has a boyfriend.
When Harper suffers a loss, she's shocked her father won't allow her to get the treatment, so she finds a way to get it without his approval. Soon afterward, she's plagued with strange symptoms, including hallucinations of a woman who is somehow both a stranger, yet incredibly familiar. Harper begins to wonder if she is delusional, or if these are somehow memories.
Together with Neil, who insists he has his own reasons for needing answers about the real dangers of Memtex, Harper begins her search for the truth. What she finds could uproot all she's ever believed about her life…
Author Question: What is your favorite thing about Remember?
I love books where you aren't always sure what is true and what isn't. In this book the main character, Harper, begins to have something that might be a memory, or a hallucination, or something that feels like a memory, but is actually made up. She has to figure out what is real and what isn't and determine if it is real- what does that mean for the rest of her life?
Purchase Remember at Amazon
Purchase Remember at IndieBound
View Remember on Goodreads
* * * *
Stone in the Sky
by Cecil Castellucci
Hardcover
Roaring Brook Press
Released 2/24/2015
Winner - Sean Chou
In this thrilling follow-up to Tin Star, Tula will need to rely on more than just her wits to save her only home in the sky.
After escaping death a second time, Tula Bane is now even thirstier for revenge. She spends much of her time in the Tin Star Café on the Yertina Feray—the space station she calls home. But when it's discovered that the desolate and abandoned planet near the station has high quantities of a precious resource, the once sleepy space station becomes a major player in intergalactic politics. In the spirit of the Gold Rush, aliens from all over the galaxy race to cash in—including Tula's worst enemy.
Author Question: What is your favorite thing about Stone in the Sky?
It's no secret since it's right on the cover, that Tula leaves the space station. So I'm going to say that one of my favorite parts about STONE IN THE SKY was her adventure and the places that she goes to. Planets, space ships, stations, bases. It was great to get out in space and explore.
Purchase Stone in the Sky at Amazon
Purchase Stone in the Sky at IndieBound
View Stone in the Sky on Goodreads
* * * *
Unchanged
by Jessica Brody
Hardcover
Farrar, Straus and Giroux
Released 2/24/2015
Winner - Danielle Degis
In this mesmerizing conclusion to the Unremembered trilogy, Sera will fight those who have broken her.
After returning to the Diotech compound and receiving a successful memory transplant, Seraphina is now living a happy life with another synthetically engineered human like herself, with whom she is deeply in love. She has no recollection of Zen. But the nagging feeling that something is missing from her life continues to plague her. Diotech's newest product is about to be revealed—a line of genetic modifications that will allow people to live longer, fight disease, and change any unfavorable physical attribute they desire.
As more secrets are revealed, more enemies are uncovered, and the reality of a Diotech-controlled world grows closer every day, Sera and Zen must find a way to destroy the company that created her, or they'll be separated forever.
Purchase Unchanged at Amazon
Purchase Unchanged at IndieBound
View Unchanged on Goodreads
* * * *
Vendetta
by Catherine Doyle
Hardcover
Chicken House
Released 2/24/2015
Winner - Alicia Guerrero
Blood Will Spill, Hearts Will Break: With a fierce rivalry raging between two warring families, falling in love is the deadliest thing Sophie could do. An epic debut set outside modern-day Chicago.
For Sophie, it feels like another slow, hot summer in Cedar Hill, waitressing at her family's diner and hanging out with her best friend Millie. But then someone moves into the long-abandoned mansion up the block--a family of five Italian brothers, each one hotter than the last. Unable to resist caramel-eyed Nicoli, Sophie finds herself falling for him -- and willfully ignoring the warning signs. Why are Nic's knuckles cut and bruised? Why does he carry an engraved switchblade? And why does his arrogant and infuriating older brother, Luca, refuse to let her see him? As the boys' dark secrets begin to come to light, Sophie is confronted with stinging truths about her own family, too. Suddenly, she's torn between two warring dynasties: the one she's related to and the one she's now in love with. She'll have to choose between loyalty and passion. When she does, blood will spill, hearts will break. Because in this twisted underworld, dishonor can be the difference between life and death.
Author Question: What is your favorite thing about Vendetta?
My favourite thing about VENDETTA is the relationships between the five brothers and how they are affected by their places in the hierarchy of their criminal family. While the boys can be relaxed with each other, joking and sparring as brothers often do, the reality of their sinister professional roles is never far from their minds, which makes for darker interactions in some scenes and joviality in others. Of course this gets even more interesting after they meet Sophie, when the stakes get higher and higher.
Purchase Vendetta at Amazon
Purchase Vendetta at IndieBound
View Vendetta on Goodreads
* * * *
Zom-B Bride
by Darren Shan
Hardcover
Little, Brown Books for Young Readers
Released 2/24/2015
Winner - Lisa Vazquezanzua
B Smith has been reunited with the murderous maniac clown, Mr. Dowling. To her shock and consternation, he's desperate to make B his partner in crime. Mr. Dowling disgusts her, but B thinks she can see a way to control him and maybe even save the world. But it will involve a sacrifice far greater and more surreal than any she has contemplated before...
Author Question: What is your favorite thing about Zom-B Bride?
The big wedding, of course! Given their grisly nature, my books don't feature a lot of weddings, so this is something of a rarity for me. Of course it's no ordinary wedding – it's a strange, dark, highly dubious affair – indeed, it might very well be the weirdest wedding of the century! But, for all the twisted angles, it IS still a wedding, and I'd be lying if I said there wasn't a tear in my eye when the Bride started up the aisle...
Purchase Zom-B Bride at Amazon
Purchase Zom-B Bride at IndieBound
View Zom-B Bride on Goodreads
MORE YOUNG ADULT FICTION IN STORES NEXT WEEK WITH AUTHOR INTERVIEWS
* * * *
Charisma
by Jeanne Ryan
Hardcover
Dial
Released 3/3/2015
A chance at the ultimate makeover means deadly consequences in this Sarah Dessen-meets-Robin Cook thriller
Aislyn suffers from crippling shyness—that is, until she's offered a dose of Charisma, an underground gene therapy drug guaranteed to make her shine. The effects are instant. She's charming, vivacious, and popular. But strangely, so are some other kids she knows. The media goes into a frenzy when the disease turns contagious, and then deadly, and the doctor who gave it to them disappears. Aislyn must find a way to stop it, before it's too late.
Part medical thriller, part social justice commentary, Charisma will have readers on the edge of their seats.
Author Question: What is your favorite thing about Charisma?
My favorite thing about Charisma is that even though it sounds terribly far-fetched, it has a basis in science, and could possibly occur someday, maybe sooner than we think. This made researching the novel incredibly fun, and sparked an interest in science I never had before. (To my regret, I dropped out of high school biology and never took chemistry.) Thanks to an abundance of internet resources, some with cool teaching videos, as well as geneticists willing to share their expertise with me, I've learned enough about gene therapy over the past few years to appreciate the magnitude of recent breakthroughs, including the announcement that the British House of Commons has approved a law to allow the genetic modification of embryos to circumvent dangerous disorders. The slippery slope has begun whether or not we're ready for the ride. I find this both exciting and scary.
Purchase Charisma at Amazon
Purchase Charisma at IndieBound
View Charisma on Goodreads
* * * *
Death Marked
by Leah Cypess
Hardcover
Greenwillow Books
Released 3/3/2015
A young sorceress's entire life has been shaped to destroy the empire controlling her world. But if everything she knows is a lie, will she even want to fulfill her destiny? The sequel to Death Sworn is just as full of magic and surprising revelations, and will thrill fans of Leigh Bardugo and Robin LaFevers.
At seventeen, Ileni lost her magical power and was exiled to the hidden caves of the assassins. She never thought she would survive long. But she discovered she was always meant to end up, powerless, in the caves as part of an elder sorcerer's plan to destroy the evil Empire they'd battled so long. Except that Ileni is not an assassin, and she doesn't want to be a weapon. And, after everything, she's not even sure she knows the truth. Now, at the very heart of the Empire—its academy for sorcerers—the truth is what she seeks. What she finds challenges every belief she holds dear—and it threatens her fledgling romance with the young master of assassins.
Leah Cypess spins an intricate and beautiful conclusion to Ileni's story. In the end, it may not be the epic decisions that bring down an empire, but the small ones that pierce the heart.
Author Question: What is your favorite thing about Death Marked?
My favorite thing about Death Marked is the new characters I get to introduce -- especially Cyn, Lis, and Evin. In Death Sworn, Ileni was surrounded by single-minded assassins, which was great for tension but also kind of grim to write. In Death Marked, I got to mix it up a bit and show how characters in a less controlled society might react to the pressures and moral dilemmas placed on them. Plus, they get to have senses of humor! And it was an interesting challenge to show how Ileni -- who grew up in a pretty single-minded society herself -- would react to that. (Hint: Not always well.)
Purchase Death Marked at Amazon
Purchase Death Marked at IndieBound
View Death Marked on Goodreads
* * * *
My Best Everything
by Sarah Tomp
Hardcover
Little, Brown Books for Young Readers
Released 3/3/2015
An Appalachian summer walks the line between toxic and intoxicating in this debut novel about first loves, broken hearts, and moonshine.
Luisa "Lulu" Mendez has just finished her final year of high school in a small Virginia town, determined to move on and leave her job at the local junkyard behind. So when her father loses her college tuition money, Lulu needs a new ticket out.
Desperate for funds, she cooks up the (illegal) plan to make and sell moonshine with her friends. Quickly realizing they're out of their depth, they turn to Mason, a local boy who's always seemed like a dead end. As Mason guides Lulu through the secret world of moonshine, it looks like her plan might actually work. But can she leave town before she loses everything?
My Best Everything is Lulu's letter to Mason--but it a love letter, an apology, or a good-bye?
Author Question: What is your favorite thing about My Best Everything?
The friendships!

Although the title has a couple of different meanings within the context of the story, its genesis is in Lulu talking about her best friend Roni. I adore their relationship. They love each other truly and passionately—enough that they call each other out and fight and bicker along the way. Each one of them is changing during this last summer together, but their love for one another is steady and reliable.

But, really, all four of my star characters—Lulu, Roni, Mason and Bucky—are incredibly close and connected with one another. Lulu and Bucky have known each other all their lives and are so much alike in some ways—which is exactly why they'd never be a romantic couple. I also love the friendship that develops between Bucky and Mason, there's a definite bro-mance going on. And then, when Roni is at a low point, Mason is the one she goes to for needed help and support. It's clear they have a friendship separate from Lulu and Bucky. All four of them are tightly enmeshed and invested in their relationships—and the trouble they've gotten into!

At one point Lulu realizes "We couldn't call the police or our parents or Sal or anyone at all. There was no backup. No rescue party. No one in the whole wide world could know what we'd been up to. The four of us had to stick together because there wasn't anyone else."
Purchase My Best Everything at Amazon
Purchase My Best Everything at IndieBound
View My Best Everything on Goodreads
* * * *
The Storyspinner
by Becky Wallace
Hardcover
Margaret K. McElderry Books
Released 3/3/2015
Drama and danger abound in this fantasy realm where dukes play a game for the throne, magical warriors race to find the missing heir, and romance blossoms where it is least expected.
In a world where dukes plot their way to the throne, a Performer's life can get tricky. And in Johanna Von Arlo's case, it can be fatal. Expelled from her troupe after her father's death, Johanna is forced to work for the handsome Lord Rafael DeSilva. Too bad they don't get along. But while Johanna's father's death was deemed an accident, the Keepers aren't so sure.
The Keepers, a race of people with magical abilities, are on a quest to find the princess—the same princess who is supposed to be dead and whose throne the dukes are fighting over. But they aren't the only ones looking for her. And in the wake of their search, murdered girls keep turning up—girls who look exactly like the princess, and exactly like Johanna.
With dukes, Keepers, and a killer all after the princess, Johanna finds herself caught up in political machinations for the throne, threats on her life, and an unexpected romance that could change everything.
Author Question: What is your favorite thing about The Storyspinner?
THE STORYSPINNER is a story I wanted my children to read. It's about a girl who -- despite the hard circumstances of her life -- pursues her dreams, takes care of her family, and stands up for herself. She's not magical, she's not a genius. She could be anyone's sister, daughter, or friend. I think a lot of people will relate to Johanna and her situation, and pull for her to succeed.
Purchase The Storyspinner at Amazon
Purchase The Storyspinner at IndieBound
View The Storyspinner on Goodreads
MORE YOUNG ADULT NOVELS NEW IN STORES NEXT WEEK
* * * *
Bone Gap
by Laura Ruby
Hardcover
Balzer + Bray
Released 3/3/2015
Everyone knows Bone Gap is full of gaps—gaps to trip you up, gaps to slide through so you can disappear forever. So when young, beautiful Roza went missing, the people of Bone Gap weren't surprised. After all, it wasn't the first time that someone had slipped away and left Finn and Sean O'Sullivan on their own. Just a few years before, their mother had high-tailed it to Oregon for a brand new guy, a brand new life. That's just how things go, the people said. Who are you going to blame?
Finn knows that's not what happened with Roza. He knows she was kidnapped, ripped from the cornfields by a dangerous man whose face he cannot remember. But the searches turned up nothing, and no one believes him anymore. Not even Sean, who has more reason to find Roza than anyone, and every reason to blame Finn for letting her go.
As we follow the stories of Finn, Roza, and the people of Bone Gap—their melancholy pasts, their terrifying presents, their uncertain futures—acclaimed author Laura Ruby weaves a heartbreaking tale of love and loss, magic and mystery, regret and forgiveness—a story about how the face the world sees is never the sum of who we are.
Purchase Bone Gap at Amazon
Purchase Bone Gap at IndieBound
View Bone Gap on Goodreads
* * * *
Dead to Me
by Mary McCoy
Hardcover
Disney-Hyperion
Released 3/3/2015
"Don't believe anything they say."
Those were the last words that Annie spoke to Alice before turning her back on their family and vanishing without a trace. Alice spent four years waiting and wondering when the impossibly glamorous sister she idolized would return to her--and what their Hollywood-insider parents had done to drive her away.
When Annie does turn up, the blond, broken stranger lying in a coma has no answers for her. But Alice isn't a kid anymore, and this time she won't let anything stand between her and the truth, no matter how ugly. The search for those who beat Annie and left her for dead leads Alice into a treacherous world of tough-talking private eyes, psychopathic movie stars, and troubled starlets--and onto the trail of a young runaway who is the sole witness to an unspeakable crime. What this girl knows could shut down a criminal syndicate and put Annie's attacker behind bars--if Alice can find her first. And she isn't the only one looking
Evoking classic film noir, debut novelist Mary McCoy brings the dangerous glamour of Hollywood's Golden Age to life, where the most decadent parties can be the deadliest, and no drive into the sunset can erase the crimes of past.
Purchase Dead to Me at Amazon
Purchase Dead to Me at IndieBound
View Dead to Me on Goodreads
* * * *
How to Win at High School
by Owen Matthews
Hardcover
HarperTeen
Released 3/3/2015
Adam Higgs is a loser, and he's not okay with it.
But starting as a junior in a new high school seems like exactly the right time to change things. He brainstorms with his best friend, Brian: What will it take for him to take over Nixon Collegiate? Adam searches for the A-listers' weak spot and strikes gold when he gets queen bee Sara Bryant to pay him for doing her physics homework. One part nerd, two parts badass, Adam ditches his legit job and turns to full-time cheating. His clients? All the Nixon Collegiate gods and goddesses.
But soon his homework business becomes a booze business, which becomes a fake ID business. Adam's popularity soars as he unlocks high school achievements left and right, from his first kiss to his first rebound hookup. But something else is haunting him—a dark memory from his past, driving him to keep climbing. What is it? And will he go too far?
How to Win at High School's honest picture of high school hierarchy combines with an over-the-top, adrenaline-charged story line, and Adam's rocket ride to the top of the social order (and his subsequent flameout) is by turns bawdy and sweetly emotional.
Purchase How to Win at High School at Amazon
Purchase How to Win at High School at IndieBound
View How to Win at High School on Goodreads
* * * *
Kin
by Lili St. Crow
Paperback
Razorbill
Released 3/3/2015
Dreamily dark and spellbinding with a hint of horror, New York Times bestselling author Lili St. Crow stuns with this toothsome retelling of Little Red Riding Hood.
Full moon. Glowing eyes. Red lips. And such sharp, sharp teeth…
In the kin world, girls Ruby de Varre's age are expected to play nice, get betrothed, and start a family—especially if they're rootkin, and the fate of the clan is riding on them. But after a childhood of running wild in the woods, it's hard to turn completely around and be demure. Even if your Gran is expecting it.
Then Conrad, handsome and charming, from a clan across the Waste, comes to New Haven to seal alliance between their two families. The sparks fly immediately. Conrad is smart, dominant, and downright gorgeous. Yet as Ruby gets to know him more, she starts to realize something's...off.
Then, the murders start. A killer stalks the city streets, and just when Ruby starts to suspect the unimaginable, she becomes the next target. Now Ruby's about to find out that Conrad's secrets go deeper than she ever could have guessed—and it's up to Ruby to save her Gran, her clan, and maybe even herself....
Prepare to become thrillingly lost in the third, final, and simply mesmerizing installment of Lili St. Crow's Tales of Beauty and Madness series.
Purchase Kin at Amazon
Purchase Kin at IndieBound
View Kin on Goodreads
* * * *
Not Otherwise Specified
by Hannah Moskowitz
Hardcover
Simon Pulse
Released 3/3/2015
From the award-winning author of Break and Teeth comes a raw and honest exploration of complicated identities in a novel about a girl living on the fringe of every fringe group in her small town.
Etta is tired of dealing with all of the labels and categories that seem so important to everyone else in her small Nebraska hometown.
Everywhere she turns, someone feels she's too fringe for the fringe. Not gay enough for the Dykes, her ex-clique, thanks to a recent relationship with a boy; not tiny and white enough for ballet, her first passion; not sick enough to look anorexic (partially thanks to recovery). Etta doesn't fit anywhere—until she meets Bianca, the straight, white, Christian, and seriously sick girl in Etta's therapy group. Both girls are auditioning for Brentwood, a prestigious New York theater academy that is so not Nebraska. Bianca might be Etta's salvation…but can Etta be saved by a girl who needs saving herself?
Purchase Not Otherwise Specified at Amazon
Purchase Not Otherwise Specified at IndieBound
View Not Otherwise Specified on Goodreads
* * * *
Razorhurst
by Justine Larbalestier
Hardcover
Soho Teen
Released 3/3/2015
The notoriously bloody history of a mob-run Sydney, Australia neighborhood is fertile ground for this historical thriller with a paranormal twist: two girls' ability to see the many ghosts haunting Razorhurst.
Sydney's deadly Razorhurst neighborhood, 1932. Gloriana Nelson and Mr. Davidson, two ruthless mob bosses, have reached a fragile peace—one maintained by "razor men." Kelpie, orphaned and homeless, is blessed (and cursed) with the ability to see Razorhurst's many ghosts. They tell her secrets the living can't know about the cracks already forming in the mobs' truce.
Then Kelpie meets Dymphna Campbell, a legendary beauty and prized moll of Gloriana Nelson. She's earned the nickname "Angel of Death" because none of her beaus has ever survived knowing her. Unbeknownst to Kelpie, Dymphna can see ghosts, too, and she knows that Gloriana's hold is crumbling one henchman at a time. As loyalties shift and betrayal threatens the two girls at every turn, Dymphna is determined not only to survive, but to rise to the top with Kelpie at her side.
Purchase Razorhurst at Amazon
Purchase Razorhurst at IndieBound
View Razorhurst on Goodreads
* * * *
Sorceress
by Claudia Gray
Hardcover
HarperTeen
Released 3/3/2015
The triumphant conclusion to New York Times bestselling author Claudia Gray's dazzling Spellcaster series.
To save the lives of countless people in Captive's Sound, Nadia swore herself to the One Beneath—to black magic. Her plan, and the town's only hope, is for Nadia to learn enough sorcery to strike back against the forces of evil. But now that she's separated from her friends, her family, and her Steadfast, Mateo, Nadia is more vulnerable than ever to the growing darkness.
The final battle lines are drawn, surprising alliances are made, and true love is tested in the action-packed conclusion to the breathtaking Spellcaster series.
Purchase Sorceress at Amazon
Purchase Sorceress at IndieBound
View Sorceress on Goodreads
* * * *
The Memory Key
by Liana Liu
Hardcover
HarperTeen
Released 3/3/2015
In a five-minutes-into-the-future world, a bereaved daughter must choose between losing memories of her mother to the haze of time and the reality-distorting, visceral pain of complete, perfect recall.
Lora Mint is determined not to forget.
Though her mother's been dead for five years, Lora struggles to remember every detail about her—most importantly, the specific events that occurred the night she sped off in her car, never to return.
But in a world ravaged by Vergets disease, a viral form of Alzheimer's, that isn't easy. Usually Lora is aided by her memory key, a standard-issue chip embedded in her brain that preserves memories just the way a human brain would. Then a minor accident damages Lora's key, and her memories go haywire. Suddenly Lora remembers a moment from the night of her mother's disappearance that indicates her death was no accident. Can she trust these formerly forgotten memories? Or is her ability to remember every painful part of her past driving her slowly mad—burying the truth forever?
Lora's longing for her lost mother and journey to patch up her broken memories is filled with authentic and poignant emotion. Her race to uncover the truth is a twisty ride. In the end, Liana Liu's story will spark topical conversations about memory and privacy in a world that is reliant on increasingly invasive forms of technology.
Purchase The Memory Key at Amazon
Purchase The Memory Key at IndieBound
View The Memory Key on Goodreads
* * * *
The Tragic Age
by Stephen Metcalfe
Hardcover
St. Martin's Griffin
Released 3/3/2015
This is the story of Billy Kinsey, heir to a lottery fortune, part genius, part philosopher and social critic, full time insomniac and closeted rock drummer. Billy has decided that the best way to deal with an absurd world is to stay away from it. Do not volunteer. Do not join in. Billy will be the first to tell you it doesn't always work— not when your twin sister, Dorie, has died, not when your unhappy parents are at war with one another, not when frazzled soccer moms in two ton SUVs are more dangerous than atom bombs, and not when your guidance counselor keeps asking why you haven't applied to college. 
Billy's life changes when two people enter his life. Twom Twomey is a charismatic renegade who believes that truly living means going a little outlaw. Twom and Billy become one another's mutual benefactor and friend. At the same time, Billy is reintroduced to Gretchen Quinn, an old and adored friend of Dorie's. It is Gretchen who suggests to Billy that the world can be transformed by creative acts of the soul. 
With Twom, Billy visits the dark side. And with Gretchen, Billy experiences possibilities.
Billy knows that one path is leading him toward disaster and the other toward happiness. The problem is—Billy doesn't trust happiness. It's the age he's at. The tragic age.
Stephen Metcalfe's brilliant, debut coming-of-age novel, The Tragic Age, will teach you to learn to love, trust and truly be alive in an absurd world.
Purchase The Tragic Age at Amazon
Purchase The Tragic Age at IndieBound
View The Tragic Age on Goodreads
* * * *
The Winner's Crime
by Marie Rutkoski
Hardcover
Farrar, Straus and Giroux
Released 3/3/2015
Book two of the dazzling Winner's Trilogy is a fight to the death as Kestrel risks betrayal of country for love.
The engagement of Lady Kestrel to Valoria's crown prince means one celebration after another. But to Kestrel it means living in a cage of her own making. As the wedding approaches, she aches to tell Arin the truth about her engagement…if she could only trust him. Yet can she even trust herself? For—unknown to Arin—Kestrel is becoming a skilled practitioner of deceit: an anonymous spy passing information to Herran, and close to uncovering a shocking secret.
As Arin enlists dangerous allies in the struggle to keep his country's freedom, he can't fight the suspicion that Kestrel knows more than she shows. In the end, it might not be a dagger in the dark that cuts him open, but the truth. And when that happens, Kestrel and Arin learn just how much their crimes will cost them.
Purchase The Winner's Crime at Amazon
Purchase The Winner's Crime at IndieBound
View The Winner's Crime on Goodreads
a Rafflecopter giveaway