And check back tomorrow to see the GIANT giveaway from our very own Lisa Gail Green, whose delicious SOUL CROSSED releases on Wednesday!!! : ) (Squeeeeee!)
~ the Ladies of AYAP
Martina, Jocelyn, Erin, Susan, Shelly, Lisa, and Jan
YA BOOK GIVEAWAYS THIS WEEK
Unchanged
by Jessica Brody
Signed copy of Unremembered Giveaway

International
Farrar, Straus and Giroux
Released 2/24/2015
In this mesmerizing conclusion to the Unremembered trilogy, Sera will fight those who have broken her.
After returning to the Diotech compound and receiving a successful memory transplant, Seraphina is now living a happy life with another synthetically engineered human like herself, with whom she is deeply in love. She has no recollection of Zen. But the nagging feeling that something is missing from her life continues to plague her. Diotech's newest product is about to be revealed—a line of genetic modifications that will allow people to live longer, fight disease, and change any unfavorable physical attribute they desire.
As more secrets are revealed, more enemies are uncovered, and the reality of a Diotech-controlled world grows closer every day, Sera and Zen must find a way to destroy the company that created her, or they'll be separated forever.
Purchase Unchanged at Amazon
Purchase Unchanged at IndieBound
View Unchanged on Goodreads
* * * *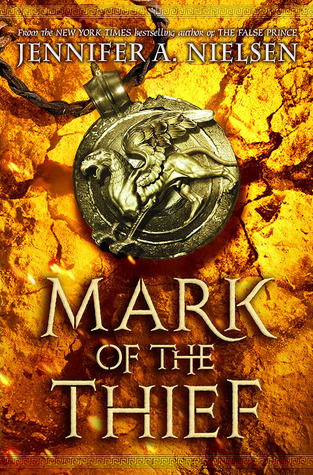 Mark of the Thief
by Jennifer A. Nielsen
Signed Hardcover Giveaway

International
Scholastic Press
Released 2/24/2015
Jennifer A. Nielsen, author of the NYT and USA TODAY bestselling Ascendance Trilogy, has woven an electrifying tale of greed and power, magic and destiny, and one boy's courage at the heart of it all.
When Nic, a slave in the mines outside of Rome, is forced to enter a sealed cavern containing the lost treasures of Julius Caesar, he finds much more than gold and gemstones: He discovers an ancient bulla, an amulet that belonged to the great Caesar and is filled with a magic once reserved for the Gods -- magic some Romans would kill for.
Now, with the deadly power of the bulla pulsing through his veins, Nic is determined to become free. But instead, he finds himself at the center of a ruthless conspiracy to overthrow the emperor and spark the Praetor War, a battle to destroy Rome from within. Traitors and spies lurk at every turn, each more desperate than the next to use Nic's newfound powers for their own dark purposes.
In a quest to stop the rebellion, save Rome, and secure his own freedom, Nic must harness the magic within himself and defeat the empire's most powerful and savage leaders.
Author Question: What is your favorite thing about Mark of the Thief?
I love the way Nic evolves during this book. He begins the story, not only as a slave in Ancient Rome, but as the lowest form of a slave - in the mines. Because he remembers freedom, he resents his life in captivity and loathes his cruel master. But over the course of the story, he claims his life back and begins to take his first steps toward true freedom. I love watching his growing confidence and decisiveness.
Purchase Mark of the Thief at Amazon
Purchase Mark of the Thief at IndieBound
View Mark of the Thief on Goodreads
* * * *
Stone in the Sky
by Cecil Castellucci
Signed Hardcover Giveaway
U.S. and Canada only
Roaring Brook Press
Released 2/24/2015
In this thrilling follow-up to Tin Star, Tula will need to rely on more than just her wits to save her only home in the sky.
After escaping death a second time, Tula Bane is now even thirstier for revenge. She spends much of her time in the Tin Star Café on the Yertina Feray—the space station she calls home. But when it's discovered that the desolate and abandoned planet near the station has high quantities of a precious resource, the once sleepy space station becomes a major player in intergalactic politics. In the spirit of the Gold Rush, aliens from all over the galaxy race to cash in—including Tula's worst enemy.
Author Question: What is your favorite thing about Stone in the Sky?
It's no secret since it's right on the cover, that Tula leaves the space station. So I'm going to say that one of my favorite parts about STONE IN THE SKY was her adventure and the places that she goes to. Planets, space ships, stations, bases. It was great to get out in space and explore.
Purchase Stone in the Sky at Amazon
Purchase Stone in the Sky at IndieBound
View Stone in the Sky on Goodreads
* * * *
Zom-B Bride
by Darren Shan
Signed Hardcover Giveaway

International
Little, Brown Books for Young Readers
Released 2/24/2015
B Smith has been reunited with the murderous maniac clown, Mr. Dowling. To her shock and consternation, he's desperate to make B his partner in crime. Mr. Dowling disgusts her, but B thinks she can see a way to control him and maybe even save the world. But it will involve a sacrifice far greater and more surreal than any she has contemplated before...
Author Question: What is your favorite thing about Zom-B Bride?
The big wedding, of course! Given their grisly nature, my books don't feature a lot of weddings, so this is something of a rarity for me. Of course it's no ordinary wedding – it's a strange, dark, highly dubious affair – indeed, it might very well be the weirdest wedding of the century! But, for all the twisted angles, it IS still a wedding, and I'd be lying if I said there wasn't a tear in my eye when the Bride started up the aisle...
Purchase Zom-B Bride at Amazon
Purchase Zom-B Bride at IndieBound
View Zom-B Bride on Goodreads
* * * *
Chaos
by Lanie Bross
Signed set of FATES and CHAOS Giveaway

U.S. Only
Delacorte Press
Released 2/27/2015
They kissed only once—and it was electric, like the air before a storm. But Corinthe and Luc broke the rules of the universe, and learned too late that their love would have consequences. In the dizzying aftermath, Luc refuses to accept his destiny—not if it means a life without Corinthe. As a fire rages through the Crossroads that connect worlds, Luc must find a way to turn back time and save Corinthe once and for all.
Meanwhile, Luc's 15-year-old sister Jasmine starts to realize things are not as they seem when time begins stuttering, sending her everyday life in San Francisco spinning into chaos. She's thrown into the path of Ford, a troubled soul with a secret past, who helps her unravel the mysterious threads that connect them all.
Two breathtaking romances interweave across time in this story of what lies on the other side of Fate, as both Jas and Luc discover the incredible lengths they will go for love.
Author Question: What is your favorite thing about Chaos?
I think my favorite thing about CHAOS was getting to know Jasmine. I haven't made it a secret that she is my favorite character in this series and in CHAOS she has a lot of page time. If I had to choose a second thing, it would be the world building. Creating fantastical places for all of them to go throughout both books was challenging but so much fun. This is where you are limited only by your own imagination!
Purchase Chaos at Amazon
Purchase Chaos at IndieBound
View Chaos on Goodreads
* * * *
Haunted
by Lynn Carthage
Signed Paperback Giveaway
U.S. and England only
Kensington
Released 2/24/2015
Sixteen-year-old Phoebe Irving has traded life in San Francisco for her stepfather's ancestral mansion in rural England. It's supposed to be the new start her family needs. But from the moment she crosses the threshold into the ancient estate, Phoebe senses something ominous. Then again, she's a little sensitive lately—not surprising when her parents are oblivious to her, her old life is six thousand miles away, and the only guy around is completely gorgeous but giving her mixed messages.
But at least Miles doesn't laugh at Phoebe's growing fears. And she can trust him…maybe. The locals whisper about the manor's infamous original owner, Madame Arnaud, and tell grim stories of missing children and vengeful spirits. Phoebe is determined to protect her loved ones—especially her little sister, Tabby. But even amidst the manor's dark shadows, the deepest mysteries may involve Phoebe herself…
Author Question: What is your favorite thing about Haunted?
My favorite thing is Phoebe's personality. She's someone I'd like to be, and maybe this book is a little bit of wish fulfillment. Although Phoebe is vulnerable (she freely admits that it hurts that her sister gets more attention from their parents), she's also really strong. I admire her for putting herself in danger to protect her sister. I come from a family of four girls, so I have lots of emotion around sisters and their bond.

I also admire Phoebe for being an athlete—a swimmer—as well as a bookish person (she jokes in the book that she can be a "literary mermaid.") It was only after my teen years that I discovered the joy of exercise, endorphins, the sense of fulfillment for feeling my heart and lungs give their utmost and for my skin developing a sheen of sweat. Yea right: I'm going with "sheen…" I've always been a voracious reader and happily books have always been a part of my life; I just wish I had earlier balanced that out with putting my body through its paces.

People always say there's something of the author in each character they create. Although I'm very different from Phoebe, she does carry something literal on her body that I used to have: a mole in her cleavage. I always loved this tiny emblem hidden by my bra or just under the edges if it was low-cut. Alas, in college it changed temperament somewhat and in the health center they carved it out. It was completely benign, thank goodness. But now there is a miniscule white scar where the saucy spot used to be, and I miss it. But I resurrected it on Phoebe's chest, and you may see it play a role further on in the trilogy as well!
Purchase Haunted at Amazon
Purchase Haunted at IndieBound
View Haunted on Goodreads
* * * *
Quake
by Patrick Carman
Signed Hardcover Giveaway

U.S. Only
Katherine Tegen Books
Released 2/24/2015
Fans of I Am Number Four and The Maze Runner will clamor for Quake, the climactic finale to the Pulse trilogy by Patrick Carman—an epic dystopian story of love and revenge.
Faith Daniels and Dylan Gilmore have a special ability called a pulse: they can move things with their minds. They're caught in the middle of a deadly war with two other pulses: Clara and Wade Quinn, who have joined forces with Hotspur Chance, the most wanted man in the world. Outnumbered, it will take more than Faith's and Dylan's pulses to save them—it will take a miracle.
But this isn't just about the States anymore; it is about finishing what they started. In a series of hair-raising battles, they discover an even greater strength: the power of their combined love. Together, Faith and Dylan might just be able to save the world with a quake that is big enough to change the course of history.
Author Question: What is your favorite thing about Quake?
I always love the last book in a series, and that's particularly true of QUAKE. I've been holding on to so many secrets for so long! The last book in the PULSE series finally allowed me to pay off so many story threads and reveal things I've been thinking about for years. I also love the way these characters have grown and changed, and I'm happy to bring them to the end of a life altering journey. And we get to see one of my favorite villains - Hotspur Chance - go toe to toe with one of my favorite heroins - Faith Daniels.
Purchase Quake at Amazon
Purchase Quake at IndieBound
View Quake on Goodreads
* * * *
Remember
by Eileen Cook
Hardcover Giveaway
Simon Pulse
Released 2/24/2015
A thrilling tale about what a girl will do to get back a memory she lost…or remove what she wants to forget.
Harper is used to her family being hounded by protestors. Her father runs the company that trademarked the "Memtex" procedure to wipe away sad memories, and plenty of people think it shouldn't be legal. Then a new demonstrator crosses her path, Neil, who's as persistent as he is hot. Not that Harper's noticing, since she already has a boyfriend.
When Harper suffers a loss, she's shocked her father won't allow her to get the treatment, so she finds a way to get it without his approval. Soon afterward, she's plagued with strange symptoms, including hallucinations of a woman who is somehow both a stranger, yet incredibly familiar. Harper begins to wonder if she is delusional, or if these are somehow memories.
Together with Neil, who insists he has his own reasons for needing answers about the real dangers of Memtex, Harper begins her search for the truth. What she finds could uproot all she's ever believed about her life…
Author Question: What is your favorite thing about Remember?
I love books where you aren't always sure what is true and what isn't. In this book the main character, Harper, begins to have something that might be a memory, or a hallucination, or something that feels like a memory, but is actually made up. She has to figure out what is real and what isn't and determine if it is real- what does that mean for the rest of her life?
Purchase Remember at Amazon
Purchase Remember at IndieBound
View Remember on Goodreads
* * * *
Vendetta
by Catherine Doyle
Hardcover Giveaway
U.S. and Canada only
Chicken House
Released 2/24/2015
Blood Will Spill, Hearts Will Break: With a fierce rivalry raging between two warring families, falling in love is the deadliest thing Sophie could do. An epic debut set outside modern-day Chicago.
For Sophie, it feels like another slow, hot summer in Cedar Hill, waitressing at her family's diner and hanging out with her best friend Millie. But then someone moves into the long-abandoned mansion up the block--a family of five Italian brothers, each one hotter than the last. Unable to resist caramel-eyed Nicoli, Sophie finds herself falling for him -- and willfully ignoring the warning signs. Why are Nic's knuckles cut and bruised? Why does he carry an engraved switchblade? And why does his arrogant and infuriating older brother, Luca, refuse to let her see him? As the boys' dark secrets begin to come to light, Sophie is confronted with stinging truths about her own family, too. Suddenly, she's torn between two warring dynasties: the one she's related to and the one she's now in love with. She'll have to choose between loyalty and passion. When she does, blood will spill, hearts will break. Because in this twisted underworld, dishonor can be the difference between life and death.
Author Question: What is your favorite thing about Vendetta?
My favourite thing about VENDETTA is the relationships between the five brothers and how they are affected by their places in the hierarchy of their criminal family. While the boys can be relaxed with each other, joking and sparring as brothers often do, the reality of their sinister professional roles is never far from their minds, which makes for darker interactions in some scenes and joviality in others. Of course this gets even more interesting after they meet Sophie, when the stakes get higher and higher.
Purchase Vendetta at Amazon
Purchase Vendetta at IndieBound
View Vendetta on Goodreads
YA BOOK GIVEAWAYS LAST WEEK: WINNERS
* * * *
Better Than Perfect
by Melissa Kantor
Hardcover
HarperTeen
Released 2/17/2015
Winner - Karina Hernandez
Juliet Newman has it all. A picture-perfect family; a handsome, loving boyfriend; and a foolproof life plan: ace her SATs, get accepted into Harvard early decision, and live happily ever after.
But when her dad moves out and her mom loses it, Juliet begins questioning the rules she's always lived by. And to make everything even more complicated there's Declan, the gorgeous boy who makes her feel alive and spontaneous—and who's totally off-limits. Torn between the life she always thought she wanted and one she never knew was possible, Juliet begins to wonder: What if perfect isn't all it's cracked up to be?
Melissa Kantor once again delivers a tale that is equal parts surprising, humorous, heartbreaking, and romantic. Powerful and honest, Juliet's story brilliantly portrays the highs and lows of life in high school and will resonate with any reader who has experienced either.
Author Question: What is your favorite thing about Better Than Perfect?
My favorite thing about Better Than Perfect is that the narrator is far (very far) from perfect. She makes a number of stupid decisions and dumb mistakes. These mistakes are painful (for her and for people around her), but they're part of a major change in how she sees the world, and in the end, she's better for having made them. I don't think I would have had the courage to do some of the things she does, and I enjoyed living vicariously through her.
Purchase Better Than Perfect at Amazon
Purchase Better Than Perfect at IndieBound
View Better Than Perfect on Goodreads
* * * *
The Bargaining
by Carly Anne West
Hardcover
Simon Pulse
Released 2/17/2015
Winner - Anne VanLoon
The fact that neither of her parents wants to deal with her is nothing new to Penny. She's used to being discussed like a problem, a problem her mother has finally passed on to her father. What she hasn't gotten used to is her stepmother…especially when she finds out that she'll have to spend the summer with April in the remote woods of Washington to restore a broken-down old house.
Set deep in a dense forest, the old Carver House is filled with abandoned antique furniture, rich architectural details, and its own chilling past. The only respite Penny can find away from April's renovations is in Miller, the young guy who runs the local general store. He's her only chance at a normal, and enjoyable, summer.
But Miller has his own connection to the Carver House, and it's one that goes beyond the mysterious tapping Penny hears at her window, the handprints she finds smudging the glass panes, and the visions of children who beckon Penny to follow them into the dark woods. Miller's past just might threaten to become the terror of Penny's future….
Author Question: What is your favorite thing about The Bargaining?
For this novel, I tried very hard to create a contemporary novel set in horror. I actually always try to do that, as literary horror is without question one of my favorite genres. In THE BARGAINING, I wanted to layer Penny's emotional journey in with the frightening setting in which she finds herself for the summer. I felt that her struggle was inextricably linked to the struggles faced by the inhabitants of Point Finney and the North Woods, which means at times, we don't know if Penny is manufacturing the evil, or if the evil really exists. It makes for a novel that's difficult to call horror or contemporary or gothic or psychological thriller, but I'm comfortable with that discomfort. I hope readers are, too.
Purchase The Bargaining at Amazon
Purchase The Bargaining at IndieBound
View The Bargaining on Goodreads
MORE YOUNG ADULT FICTION IN STORES NEXT WEEK WITH AUTHOR INTERVIEWS
* * * *
Salt & Stone
by Victoria Scott
Hardcover
Scholastic Press
Released 2/24/2015
What would you do to save someone you love?
In Fire & Flood, Tella Holloway faced a dangerous trek through the jungle and across the desert, all to remain a Contender in the Brimstone Bleed for a chance at obtaining the Cure for her brother. She can't quit--she has to win the race, save Cody, and then fight to make sure the race stops before it can claim any more lives. In the next legs of the race, across the ocean and over mountains, Tella will face frostbite, sharks, avalanche, and twisted new rules in the race.
But what if the danger is deeper than that? How do you know who to trust when everyone's keeping secrets? What do you do when the person you'd relied on most suddenly isn't there for support? How do you weigh one life against another?
The race is coming to an end, and Tella is running out of time, resources, and strength. At the start of the race there were one hundred twenty-two Contenders. As Tella and her remaining friends start the final part of the race, just forty-one are left--and only one can win.
Author Question: What is your favorite thing about Salt & Stone?
My favorite thing about SALT & STONE is how much Tella changes during this book in comparison to the first, FIRE & FLOOD. Tella is a girly-girl, and isn't cut out to compete in a dangerous race, and though she digs deep into herself in the first book in order to persevere for her brother, in SALT & STONE, Tella becomes brave, confident, and a leader. It's a gradual transition over two books, but I intended it to be that way. Because she started as a normal, everyday teen living in Boston, and we wouldn't expect a character that's never been exposed to life or death situations to not initially show fear and hesitation. But we could also assume that later, she could grow into someone almost unrecognizable.
Purchase Salt & Stone at Amazon
Purchase Salt & Stone at IndieBound
View Salt & Stone on Goodreads
* * * *
The Cipher
by John C. Ford
Hardcover
Viking Juvenile
Released 2/24/2015
You think your emails are private?
Your credit card number is secure?
That stock trades, government secrets, and nuclear codes are safe?
...th1nk aga1n.
Robert "Smiles" Smylie is not a genius. He feels like he's surrounded by them, though, from his software mogul dad to his brainy girlfriend to his oddball neighbor Ben, a math prodigy. When Ben cracks an ancient, real-life riddle central to modern data encryption systems, he suddenly holds the power to unlock every electronic secret in the world—and Smiles finally has a chance to prove his own worth.
Smiles hatches a plan to protect Ben from the government agents who will stop at nothing to get their hands on his discovery. But as he races from a Connecticut casino to the streets of Boston, enlisting the help of an alluring girl, Smiles comes to realize the most explosive secrets don't lie between the covers of Ben's notebook—they're buried in his own past.
Eerily close to reality and full of shocking twists, this techno-thriller reveals how easily the private can become public, and just how dangerous it can be to encrypt our personal histories.
Author Question: What is your favorite thing about The Cipher?
This is a tough one because there are so many aspects of this book that I love, if I do say so myself. One, I love that it feels so current right now. Back when I started writing this book (like, eons ago), writing a novel that touched on NSA surveillance seemed . . . well, a little esoteric. Then a guy named Edward Snowden hit the news, and suddenly the NSA, computer encryption, and electronic eavesdropping became front page news for an entire year. Now, just as The Cipher is coming out, another code-breaking story--the movie The Imitation Game--is in theaters and was just up for 8 Oscar awards. And a documentary about Edward Snowden (Citizen Four) is still around as well. So, with all this stuff going on in the news, I hope readers have worked up an appetite for a fun code-breaking story.

Second, I really enjoyed writing from multiple perspectives. In The Cipher, certain chapters come from the point of view of the main character, Smiles, and others are told from the point of view of his on-and-off girlfriend, Melanie. After writing a book in the first person from a single perspective (The Morgue and Me), the different approach of The Cipher was a fun experiment that I think worked well.

And three, the cover! It's pretty sweet guys.
Purchase The Cipher at Amazon
Purchase The Cipher at IndieBound
View The Cipher on Goodreads
MORE YOUNG ADULT NOVELS NEW IN STORES NEXT WEEK
* * * *
A Wicked Thing
by Rhiannon Thomas
Hardcover
HarperTeen
Released 2/24/2015
Rhiannon Thomas's dazzling debut novel is a spellbinding reimagining of Sleeping Beauty and what happens after happily ever after.
One hundred years after falling asleep, Princess Aurora wakes up to the kiss of a handsome prince and a broken kingdom that has been dreaming of her return. All the books say that she should be living happily ever after. But as Aurora understands all too well, the truth is nothing like the fairy tale.
Her family is long dead. Her "true love" is a kind stranger. And her whole life has been planned out by political foes while she slept.
As Aurora struggles to make sense of her new world, she begins to fear that the curse has left its mark on her, a fiery and dangerous thing that might be as wicked as the witch who once ensnared her. With her wedding day drawing near, Aurora must make the ultimate decision on how to save her kingdom: marry the prince or run.
Rhiannon Thomas weaves together vivid scenes of action, romance, and gorgeous gowns to reveal a richly imagined world … and Sleeping Beauty as she's never been seen before.
Purchase A Wicked Thing at Amazon
Purchase A Wicked Thing at IndieBound
View A Wicked Thing on Goodreads
* * * *
All That Glitters
by Holly Smale
Hardcover
HarperTeen
Released 2/26/2015
"My name is Harriet Manners, and I am still a geek." The fourth book in the award-winning GEEK GIRL series. Harriet Manners has high hopes for the new school year: she's a Sixth Former now, and things are going to be different. But with Nat busy falling in love at college and Toby preoccupied with a Top Secret project, Harriet soon discovers that's not necessarily a good thing...
Purchase All That Glitters at Amazon
Purchase All That Glitters at IndieBound
View All That Glitters on Goodreads
* * * *
Breakout
by Kevin Emerson
Hardcover
Crown Books for Young Readers
Released 2/24/2015
When Anthony's angst-ridden rock 'n' roll lyrics go viral, he's unwittingly cast as the school rebel. The truth is, he's not trying to be anyone's hero.
Anthony Castillo needs a new life. His teachers are clueless autocrats except for Mr. Darren, who's in charge of the rock band program. The girls at school are either shallow cutebots or out of his league. And his parents mean well, but they just make things worse. It's as if Anthony is stuck on the bottom level of his favorite video game, Liberation Force 4.5. Except there is no secret escape tunnel and definitely no cheat code.
Fed up, pissed off, and feeling trapped, Anthony writes his first song for his rock band, the Rusty Soles. His only problem: Arts Night. If he exercises his right to free speech and sings his original lyrics—where his own bombs will drop—he and his band will be through.
The clock is ticking. Time for Anthony to pick his battles and decide what's really worth fighting for.
Purchase Breakout at Amazon
Purchase Breakout at IndieBound
View Breakout on Goodreads
* * * *
Dove Arising
by Karen Bao
Hardcover
Viking Juvenile
Released 2/24/2015
Phaet Theta has lived her whole life in a colony on the Moon. She's barely spoken since her father died in an accident nine years ago. She cultivates the plants in Greenhouse 22, lets her best friend talk for her, and stays off the government's radar.
Then her mother is arrested.
The only way to save her younger siblings from the degrading Shelter is by enlisting in the Militia, the faceless army that polices the Lunar bases and protects them from attacks by desperate Earth-dwellers. Training is brutal, but it's where Phaet forms an uneasy but meaningful alliance with the preternaturally accomplished Wes, a fellow outsider.
Rank high, save her siblings, free her mom: that's the plan. Until Phaet's logically ordered world begins to crumble...
Suspenseful, intelligent, and hauntingly prescient, Dove Arising stands on the shoulders of our greatest tales of the future to tell a story that is all too relevant today.
Purchase Dove Arising at Amazon
Purchase Dove Arising at IndieBound
View Dove Arising on Goodreads
* * * *
Dreamfire
by Kit Alloway
Hardcover
St. Martin's Griffin
Released 2/24/2015
Unlike most 17-year-olds, Joshlyn Weaver has a sacred duty. She's the celebrated daughter of the dream walkers, a secret society whose members enter the Dream universe we all share and battle nightmares. If they fail, the emotional turmoil in the Dream could boil over and release nightmares into the World.
Despite Josh's reputation as a dream walking prodigy, she's haunted by her mistakes. A lapse in judgment and the death of someone she loved have shaken her confidence. Now she's been assigned an apprentice, a boy whose steady gaze sees right through her, and she's almost as afraid of getting close to him as she is of getting him killed.
But when strangers with impossible powers begin appearing in the Dream, it isn't just Will that Josh has to protect--it's the whole World.
Experience the dangers of the dream world in Dreamfire, a riveting, young adult debut novel by Kit Alloway.
Purchase Dreamfire at Amazon
Purchase Dreamfire at IndieBound
View Dreamfire on Goodreads
* * * *
Kalahari
by Jessica Khoury
Hardcover
Razorbill
Released 2/24/2015
Deep in the Kalahari Desert, a Corpus lab protects a dangerous secret…
But what happens when that secret takes on a life of its own?
When an educational safari goes wrong, five teens find themselves stranded in the Kalahari Desert without a guide. It's up to Sarah, the daughter of zoologists, to keep them alive and lead them to safety, calling on survival know-how from years of growing up in remote and exotic locales. Battling dehydration, starvation and the pangs of first love, she does her best to hold it together, even as their circumstances grow increasingly desperate.
But soon a terrifying encounter makes Sarah question everything she's ever known about the natural world. A silver lion, as though made of mercury, makes a vicious, unprovoked attack on the group. After a narrow escape, they uncover the chilling truth behind the lion's silver sheen: a highly contagious and deadly virus that threatens to ravage the entire area—and eliminate life as they know it.
In this breathtaking new novel by the acclaimed author of Origin and Vitro, Sarah and the others must not only outrun the virus, but its creators, who will stop at nothing to wipe every trace of it.
Purchase Kalahari at Amazon
Purchase Kalahari at IndieBound
View Kalahari on Goodreads
* * * *
No Parking at the End Times
by Bryan Bliss
Hardcover
Greenwillow Books
Released 2/24/2015
Abigail's parents believed the world was going to end. And—of course—it didn't. But they've lost everything anyway. And she must decide: does she still believe in them? Or is it time to believe in herself? Fans of Sara Zarr, David Levithan, and Rainbow Rowell will connect with this moving debut.
Abigail's parents never should have made that first donation to that end-of-times preacher. Or the next, or the next. They shouldn't have sold their house. Or packed Abigail and her twin brother, Aaron, into their old van to drive across the country to San Francisco, to be there for the "end of the world." Because now they're living in their van. And Aaron is full of anger, disappearing to who-knows-where every night. Their family is falling apart. All Abigail wants is to hold them together, to get them back to the place where things were right.
But maybe it's too big a task for one teenage girl. Bryan Bliss's thoughtful debut novel is about losing everything—and about what you will do for the people you love.
Purchase No Parking at the End Times at Amazon
Purchase No Parking at the End Times at IndieBound
View No Parking at the End Times on Goodreads
* * * *
The Sin Eater's Daughter
by Melinda Salisbury
Paperback
Scholastic Press
Released 2/24/2015
Seventeen-year-old Twylla lives in the castle. But although she's engaged to the prince, Twylla isn't exactly a member of the court.
She's the executioner.
As the Goddess embodied, Twylla instantly kills anyone she touches. Each month she's taken to the prison and forced to lay her hands on those accused of treason. No one will ever love a girl with murder in her veins. Even the prince, whose royal blood supposedly makes him immune to Twylla's fatal touch, avoids her company.
But then a new guard arrives, a boy whose easy smile belies his deadly swordsmanship. And unlike the others, he's able to look past Twylla's executioner robes and see the girl, not the Goddess. Yet Twylla's been promised to the prince, and knows what happens to people who cross the queen.
However, a treasonous secret is the least of Twylla's problems. The queen has a plan to destroy her enemies, a plan that requires a stomach-churning, unthinkable sacrifice. Will Twylla do what it takes to protect her kingdom? Or will she abandon her duty in favor of a doomed love?
Purchase The Sin Eater's Daughter at Amazon
Purchase The Sin Eater's Daughter at IndieBound
View The Sin Eater's Daughter on Goodreads
* * * *
The Third Twin
by C.J. Omololu
Hardcover
Delacorte Books for Young Readers
Released 2/24/2015
Identical twins. Identical DNA. Identical suspects. It's Pretty Little Liars meets Revenge in this edge-of-your-seat thriller with a shocking twist.
When they were little, Lexi and her identical twin, Ava, made up a third sister, Alicia. If something broke? Alicia did it. Cookies got eaten? Alicia's guilty. Alicia was always to blame for everything.
The game is all grown up now that the girls are seniors. They use Alicia as their cover to go out with boys who are hot but not exactly dating material. Boys they'd never, ever be with in real life.
Now one of the guys Alicia went out with has turned up dead, and Lexi wants to stop the game for good. As coincidences start piling up, Ava insists that if they follow the rules for being Alicia, everything will be fine. But when another boy is killed, the DNA evidence and surveillance photos point to only one suspect—Alicia. The girl who doesn't exist.
As she runs from the cops, Lexi has to find the truth before another boy is murdered. Because either Ava is a killer . . . or Alicia is real.
Purchase The Third Twin at Amazon
Purchase The Third Twin at IndieBound
View The Third Twin on Goodreads
* * * *
Unleashed
by Sophie Jordan
Hardcover
HarperTeen
Released 2/24/2015
Unleashed, the romantic, high-stakes sequel to New York Times bestselling author Sophie Jordan's Uninvited, is perfect for fans of James Patterson's Confessions of a Murder Suspect.
Davy has spent the last few months trying to come to terms with the fact that she tested positive for the kill gene HTS (also known as Homicidal Tendency Syndrome). She swore she would not let it change her, and that her DNA did not define her . . . but then she killed a man.
Now on the run, Davy must decide whether she'll be ruled by the kill gene or if she'll follow her heart and fight for her right to live free. But with her own potential for violence lying right beneath the surface, Davy doesn't even know if she can trust herself.
Purchase Unleashed at Amazon
Purchase Unleashed at IndieBound
View Unleashed on Goodreads
* * * *
When My Heart Was Wicked
by Tricia Stirling
Hardcover
Scholastic Press
Released 2/24/2015
"I used to be one of those girls. The kind who loved to deliver bad news. When I colored my hair, I imagined it seeping into my scalp, black dye pooling into my veins.
But that was the old Lacy. Now, when I cast spells, they are always for good."
16-year-old Lacy believes that magic and science can work side by side. She's a botanist who knows how to harness the healing power of plants. So when her father dies, Lacy tries to stay with her step-mother in Chico, where her magic is good and healing. She fears the darkness that her real mother, Cheyenne, brings out, stripping away everything that is light and kind.
Yet Cheyenne never stays away for long. Beautiful, bewitching, unstable Cheyenne who will stop at nothing, not even black magic, to keep control of her daughter's heart. She forces Lacy to accompany her to Sacramento, and before long, the "old" Lacy starts to resurface.
But when Lacy survives a traumatic encounter, she finds herself faced with a choice. Will she use her powers to exact revenge and spiral into the darkness forever? Or will she find the strength to embrace the light?
Purchase When My Heart Was Wicked at Amazon
Purchase When My Heart Was Wicked at IndieBound
View When My Heart Was Wicked on Goodreads
a Rafflecopter giveaway