~The ladies of AYAP
Martina, Alyssa, Lisa, Susan, Shelly, Jocelyn, Becca, and Jan
YA BOOK GIVEAWAYS THIS WEEK
* * * *
Now That You're Here
by Amy K. Nichols
Signed Hardcover Giveaway
Knopf Books for Young Readers
Released 12/9/2014
In a parallel universe, the classic bad boy falls for the class science geek.
One minute Danny was running from the cops, and the next, he jolted awake in an unfamiliar body - his own, but different. Somehow, he's crossed into a parallel universe. Now his friends are his enemies, his parents are long dead, and studious Eevee is not the mysterious femme fatale he once kissed back home. Then again, this Eevee - a girl who'd rather land an internship at NASA than a date to the prom--may be his only hope of getting home.
Eevee tells herself she's only helping him in the name of quantum physics, but there's something undeniably fascinating about this boy from another dimension... a boy who makes her question who she is, and who she might be in another place and time.
Purchase Now That You're Here at Amazon
Purchase Now That You're Here at IndieBound
View Now That You're Here on Goodreads
* * * *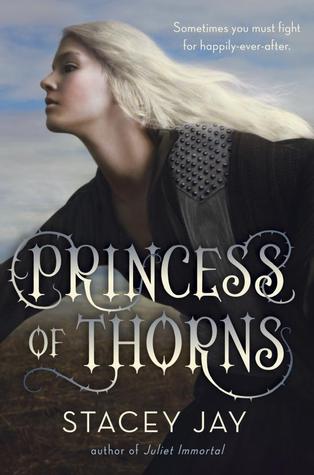 Princess of Thorns
by Stacey Jay
Hardcover Giveaway
Delacorte Press
Released 12/9/2014
Game of Thrones meets the Grimm's fairy tales in this twisted, fast-paced romantic fantasy-adventure about Sleeping Beauty's daughter, a warrior princess who must fight to reclaim her throne.
Though she looks like a mere mortal, Princess Aurora is a fairy blessed with enhanced strength, bravery, and mercy yet cursed to destroy the free will of any male who kisses her. Disguised as a boy, she enlists the help of the handsome but also cursed Prince Niklaas to fight legions of evil and free her brother from the ogre queen who stole Aurora's throne ten years ago.
Will Aurora triumph over evil and reach her brother before it's too late? Can Aurora and Niklaas break the curses that will otherwise forever keep them from finding their one true love?
Author Question: What is your favorite thing about Princess of Thorns?
I'm a sucker for the "girl disguised as a boy" trope in fantasy. I've been wanting to write that into one of my novels for a long time, but PRINCESS OF THORNS was the first time it fit organically into the story. Having Aurora disguised for half the novel ended up being a wonderful challenge and also added a layer of sweetness to the love story. Having Aurora and Niklaas come to love each other as friends first made me root so much harder for them in the end. I just love both of these characters—feisty Aurora and heroic, handsome, funny Niklaas—and I hope my readers love them too.

Purchase Princess of Thorns at Amazon
Purchase Princess of Thorns at IndieBound
View Princess of Thorns on Goodreads
* * * *
Little White Lies
by Katie Dale
Hardcover Giveaway
Delacorte Press
Released 12/9/2014
Fans of
Pretty Little Liars
will be ensnared in this tale of deceit. Christian is hiding terrible secrets from his girlfriend, Lou. But Lou has told lies as well. What if their accidental meeting wasn't an accident?
The first time Lou meets mysterious Christian, she knows he is The One. But Christian is hiding a terrible secret. Why does he clam up every time Lou asks about his past? Why doesn't he have any family photos, and why does he dye his blond hair black? When Christian's house goes up in flames, his tires are slashed, and he flees for his life, Lou insists on going with him. But as Christian's secret is unveiled in front of the whole world, it seems everything he's ever told Lou is a lie. Can what the media are saying about him really be true? Should Lou trust him? Or is she in grave danger?
But Christian isn't the only one keeping secrets. For what if their accidental meeting was no accident at all?
Purchase Little White Lies at Amazon
Purchase Little White Lies at IndieBound
View Little White Lies on Goodreads
* * * *
Suspicion
by Alexandra Monir
Hardcover Giveaway
Delacorte Press
Released 12/9/2014
"There's something hidden in the Maze." Seventeen-year-old Imogen has never forgotten the last words her father said to her seven years ago, before the blazing fire that consumed him, her mother, and the gardens of her family's English country manor.
Haunted by her parents' deaths, Imogen moves to New York City with her new guardians. But when a letter arrives with the news of her cousin's untimely death, revealing that Imogen is now the only heir left to run the estate, she returns to England and warily accepts her role as duchess.
All is not as it seems at Rockford, and Imogen quickly learns that dark secrets lurk behind the mansion's aristocratic exterior, hinting that the spate of deaths in her family were no accident. And at the center of the mystery is Imogen herself--and Sebastian, the childhood friend she has secretly loved for years. Just what has Imogen walked into?
Combining a fresh twist on the classic REBECCA with a spine-tingling mystery and powerful romance, SUSPICION is an action-packed thrill ride.
Purchase Suspicion at Amazon
Purchase Suspicion at IndieBound
View Suspicion on Goodreads
YA BOOK GIVEAWAYS LAST WEEK: WINNERS
* * * *
Black Knight
by Christopher Pike
Hardcover
Simon Pulse
Released 12/2/2014
Winner - Katherine Ivan
The thrilling Witch World saga continues in this suspenseful paranormal sequel to
Red Queen
, from
#1
New York Times
bestselling author Christopher Pike.Jessica Ralle thought the worst was over. The mindblowing revelations. The terrifying danger.
The heartbreaking loss.
Turns out, discovering Witch World was just the beginning.
The riveting Witch World saga continues in a sequel packed with even more shocking twists and sexy suspense than Book One…
Purchase Black Knight at Amazon
Purchase Black Knight at IndieBound
View Black Knight on Goodreads
* * * *
Rebels by Accident
by Patricia Dunn
Paperback
Sourcebooks Fire
Released 12/2/2014
Winner - Lisa Trinh
What she wanted was a vacation. What she got was a revolution.
After attending her first high school party lands her in jail, Mariam thinks things can't possibly get worse. So when her parents send her to live with her grandmother in Cairo, she is sure her life is over. Her Sittu is Darth Vader's evil sister, and Mariam is convinced that the only sights she'll get to see in Egypt are the rooms in her grandmother's apartment.
Then a girl named Asmaa calls the people of Egypt to protest against their president, and Mariam finds herself in the middle of a revolution, running from teargas and falling in love for the first time, and having her first kiss.
Author Question: What is your favorite thing about Rebels by Accident?
Rebels by Accident is a book written about a time when the teens in Egypt were using social media like Facebook to organize and speak up against the injustices they saw in their society. Yes, they were talking about music and clothing and other things that teens talk to each other about, but they were also talking about protesting in support of workers rights, and against government corruption, and the horror of people starving while waiting in line for bread, and against censorship, some of the same struggles we have here in our own country. These are issues I care deeply about, but writing a book about this time which led to the Arab Spring didn't start off as a choice. I think the most difficult thing a writer faces, or this writer faces, is deciding what to write, so I took a class, and through a series of writing prompts the voice of Mariam started to come through. Someone in the class said it sounded like I was channeling her. And I must have been, because I'd never have consciously written in the voice of a teenager. Teens are tough. But whenever I tried to go back to a more adult narrator Mariam kept fighting her way through until she won.

I don't know if I would have written a story about the journey of an Egyptian-Muslim-American teen who, in our post 9-11 world, is very disconnected from her culture, and how she finally figures out what it means to be Egyptian and American, had Mariam not been so pushy. Her story is about self-discovery and change. In a sense, it's a story about revolution, and not just the kind that happen on the outside, but also the ones that can happen within. Once I wrote her story, or maybe as I was writing it, it was clear that this was the story I had to write for myself and my son. Really, what I love most about this story is that it chose me and gave me no choice but to write it.
Purchase Rebels by Accident at Amazon
Purchase Rebels by Accident at IndieBound
View Rebels by Accident on Goodreads
* * * *
The Boy with the Hidden Name
by Skylar Dorset
Paperback
Sourcebooks Fire
Released 12/2/2014
Winner - Rabiah
Rowther
This is not your average trip to Fairyland...
Selkie Stewart has just saved her quasi-boyfriend, Ben, from a fairy prison run by the Seelie Court. If they weren't the two most-wanted individuals in the Otherworld before, they definitely are now. Along with Ben and the rest of their ragtag group of allies-Selkie's ogre aunts; a wizard named Will; Ben's cousin Safford; and Kelsey, Selkie's best friend-Selkie is ready to embrace her destiny and bring the Court down. Until she hears the rest of her prophecy: Benedict le Fay will betray you, and then he will die.
Author Question: What is your favorite thing about The Boy with the Hidden Name?
It's so hard to pick a favorite thing! Because I can't say "everything," can I?

I think my favorite thing about it is getting to know all of the characters a little bit better. We get to learn a lot about the goblins, and I'm hoping you all love the Goblin King as much as I do! And we get to learn a lot more about Will, and about Ben's mother, and about Selkie's mother. I also love how much this book gets to delve into Selkie and Ben's relationship. You thought there was drama in the first book? Just wait until you read this one!

But I guess, if I had to pick just one favorite thing, it would be the ending.

And the Goblin King.

And the ending.

Yes.
Purchase The Boy with the Hidden Name at Amazon
Purchase The Boy with the Hidden Name at IndieBound
View The Boy with the Hidden Name on Goodreads
MORE YOUNG ADULT FICTION IN STORES NEXT WEEK WITH AUTHOR INTERVIEWS
* * * *
No Place to Fall
by Jaye Robin Brown
Hardcover
HarperTeen
Released 12/9/2014
Amber Vaughn is a good girl. She sings solos at church, babysits her nephew after school, and spends every Friday night hanging out at her best friend Devon's house. It's only when Amber goes exploring in the woods near her home, singing camp songs with the hikers she meets on the Appalachian Trail, that she feels free—and when the bigger world feels just a little bit more in reach.
When Amber learns about an audition at the North Carolina School of the Arts, she decides that her dream—to sing on bigger stages—could also be her ticket to a new life. Devon's older (and unavailable) brother, Will, helps Amber prepare for her one chance to try out for the hypercompetitive arts school. But the more time Will and Amber spend together, the more complicated their relationship becomes . . . and Amber starts to wonder if she's such a good girl, after all.
Then, in an afternoon, the bottom drops out of her family's world—and Amber is faced with an impossible choice between her promise as an artist and the people she loves. Amber always thought she knew what a good girl would do. But between "right" and "wrong," there's a whole world of possibilities.
Author Question: What is your favorite thing about No Place to Fall?
I really love Amber Vaughn, my main character. She's caring and kind. A little bit funny, and a lot feisty. She knows what she wants in the world but she's not selfish about getting it. Plus, she's a mountain girl through and through, from her love of the old-time ballads, to her physical need to get out in the woods and hike up to the ridge when things are clogging her brain. I loved being gifted with her story and having her let me bring her to life.
Purchase No Place to Fall at Amazon
Purchase No Place to Fall at IndieBound
View No Place to Fall on Goodreads
* * * *
Zodiac
by Romina Russell
Hardcover
Razorbill
Released 12/9/2014
At the dawn of time, there were 13 Houses in the Zodiac Galaxy. Now only 12 remain….
Rhoma Grace is a 16-year-old student from House Cancer with an unusual way of reading the stars. While her classmates use measurements to make accurate astrological predictions, Rho can't solve for 'x' to save her life—so instead, she looks up at the night sky and makes up stories.
When a violent blast strikes the moons of Cancer, sending its ocean planet off-kilter and killing thousands of citizens—including its beloved Guardian—Rho is more surprised than anyone when she is named the House's new leader. But, a true Cancrian who loves her home fiercely and will protect her people no matter what, Rho accepts.
Then, when more Houses fall victim to freak weather catastrophes, Rho starts seeing a pattern in the stars. She suspects Ophiuchus—the exiled 13th Guardian of Zodiac legend—has returned to exact his revenge across the Galaxy. Now Rho—along with Hysan Dax, a young envoy from House Libra, and Mathias, her guide and a member of her Royal Guard—must travel through the Zodiac to warn the other Guardians.
But who will believe anything this young novice says? Whom can Rho trust in a universe defined by differences? And how can she convince twelve worlds to unite as one Zodiac?
Author Question: What is your favorite thing about Zodiac?
My favorite thing of all is that everyone has a Zodiac sign, so every reader can find a home on the page.
Purchase Zodiac at Amazon
Purchase Zodiac at IndieBound
View Zodiac on Goodreads
MORE YOUNG ADULT NOVELS NEW IN STORES NEXT WEEK
* * * *
Boundary
by Heather Terrell
Hardcover
Soho Teen
Released 12/9/2014
After surviving the Hunger Games-like Testing, Eva becomes the Aerie's first female Archon. The second installment of the Books of Eva continue the harrowing struggle between past and present, Aerie and Boundary.
Eva is the first Maiden in Aerie history to train as an Archon: a sacred leader of the New North. All eyes are watching as she prepares to uncover the Relics of the evil past. Wounds remain: both from the harrowing Testing and the murder of her brother, Eamon. But she has learned to feign grace. And although she is betrothed to Jasper, she carries a secret. Lukas, a Boundary dweller and former servant, still visits her in the dead of night. And he alone may know who killed her twin brother.
Her feelings for Lukas are forbidden. Even more troubling is his conviction that she is the Angakkuq, a mystical figure destined to destroy the Aerie. Eva tries to focus on finding Eamon's killer, but on her very first Archon expedition, she uncovers the Genesis: the legendary ship that brought the Founders to the New North. What they find in the Genesis upsets the fragile balance between the Aerie and the Boundary, and threatens to destroy their entire civilization. Eva's world is shattered, but she may be the only one who can—as both Archon and Angakkuq—prevent a war that would take everything from her.
Purchase Boundary at Amazon
Purchase Boundary at IndieBound
View Boundary on Goodreads
* * * *
For Real
by Alison Cherry
Hardcover
Delacorte Press
Released 12/9/2014
From Alison Cherry, author of
Red,
a novel
PW
declares "sparkles with wit," comes a terrific new book about two sisters and one big question: how do you know who's for real?
No parents. No limits. No clue what they're in for.
Shy, cautious Claire has always been in her confident older sister's shadow. While Miranda's life is jam-packed with exciting people and whirlwind adventures, Claire gets her thrills vicariously by watching people live large on reality television.
When Miranda discovers her boyfriend, Samir, cheating on her just after her college graduation, it's Claire who comes up with the perfect plan. They'll outshine Miranda's fame-obsessed ex while having an amazing summer by competing on
Around the World,
a race around the globe for a million bucks. Revenge + sisterly bonding = awesome.
But the show has a twist, and Claire is stunned to find herself in the middle of a reality-show romance that may be just for the cameras. This summer could end up being the highlight of her life . . . or an epic fail forever captured on film. In a world where drama is currency and manipulation is standard, how can you tell what's for real?
Purchase For Real at Amazon
Purchase For Real at IndieBound
View For Real on Goodreads
* * * *
Gathering Darkness
by Morgan Rhodes
Hardcover
Razorbill
Released 12/9/2014
Love, vengeance, and greed spark a deadly quest for magic in the third book of the Falling Kingdoms series
Prince Magnus has just witnessed torture, death, and miracles during the bloody confrontation that decimated the rebel forces. Now he must choose between family and justice as his father, the cruel King Gaius, sets out to conquer all of Mytica. All Gaius needs now are the Kindred—the four elemental crystals that give godlike powers to their owner. But the King of Blood is not the only one hunting for this ancient, storied magic. . . .
THE KRAESHIANS join the hunt. Ashur and Amara, the royal siblings from the wealthy kingdom across the Silver Sea, charm and manipulate their way to the Kindred, proving to be more ruthless than perhaps even the King of Blood himself.
THE REBELS forge ahead. Princess Cleo and vengeful Jonas lead them, slaying with sweetness, skill, and a secret that can control Lucia's overpowering magic—all so they can use the Kindred to win back their fallen kingdoms.
THE WATCHERS follow Melenia out of the Sanctuary. They ally in the flesh with King Gaius, who vows to use Lucia's powers to unveil the Kindred.
The only certainty in these dark times is that whoever finds the magic first will control the fate of Mytica. . . . but the four element gods of the Kindred have other plans.
Purchase Gathering Darkness at Amazon
Purchase Gathering Darkness at IndieBound
View Gathering Darkness on Goodreads
* * * *
King Dork Approximately
by Frank Portman
Hardcover
Delacorte Press; Advance Reader's Copy edition
Released 12/9/2014
From Frank Portman comes the long-awaited sequel to the beloved cult classic
King Dork
, of which John Green, author of
The Fault in Our Stars
, said, "Basically, if you are a human being with even a vague grasp of the English language,
King Dork
will rock your world."
Aside from the stitches and the head wound, Tom Henderson is the same old King Dork. He's still trying to work out who to blame for the new scar on his forehead, the memory loss, and his father's mysterious death. But illicit female hospital visitations,
The Catcher in the Rye
, and the Hillmont High sex-pocalypse have made him a new man.
What doesn't make you stronger can kill you, though, and tenth grade, act two, promises to be a killer. Tom's down one bloodstained army coat, one Little Big Tom, and two secret semi-imaginary girlfriends. Now his most deeply held beliefs about alphabetical-order friendship, recycling, school spirit, girls, rock and roll, the stitching on jeans, the Catcher Code, and the structure of the universe are about to explode in his face. If only a female robot's notes could solve the world's problems, he'd have a chance. But how likely is that?
King Dork Approximately
--it feels like the first time. Like the very first time.
Purchase King Dork Approximately at Amazon
Purchase King Dork Approximately at IndieBound
View King Dork Approximately on Goodreads
* * * *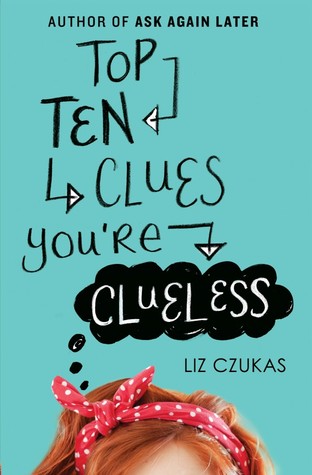 Top Ten Clues You're Clueless
by Liz Czukas
Hardcover
HarperTeen
Released 12/9/2014
Top Five Things That Are Ruining Chloe's Day
5) Working the 6:30 a.m. shift at GoodFoods Market
4) Crashing a cart into a customer's car right in front of her snarky coworker Sammi
3) Trying to rock the "drowned rat" look after being caught in a snowstorm
2) Making zero progress with her crush, Tyson (see #3)
1) Being accused—along with her fellow teenage employees—of stealing upwards of $10,000
Chloe would rather be anywhere than locked in work jail (aka the break room) with five of her coworkers . . . even if one of them is Tyson. But if they can band together to clear their names, what looks like a total disaster might just make Chloe's list of Top Ten Best Moments.
Purchase Top Ten Clues You're Clueless at Amazon
Purchase Top Ten Clues You're Clueless at IndieBound
View Top Ten Clues You're Clueless on Goodreads
a Rafflecopter giveaway