What is your favorite thing about THE BOOK OF IVY?
Oh, that's a difficult question! Can I cheat and give you my two favorite things? One of the things I love most about the book is the relationship between Ivy and Bishop. It was such a pleasure to write and I love how their romance takes its time developing. It wouldn't be realistic in this story for them to fall instantly in love. A friendship, and trust, have to be established first, before their relationship can evolve into something more. My other favorite thing about THE BOOK OF IVY is the difficulty of discerning who is "good" and who is "bad." Don't get me wrong, I love a book with an easily defined "big bad," but I wanted to do something different with IVY. Just as Ivy struggles with who to believe, who to trust, and balancing individual desire versus the greater good, I wanted the reader to question those things as well and I hope I was able to accomplish that.
How long did you work on THE BOOK OF IVY?
It took me about eight weeks to write the first draft of IVY. When I'm writing, I'm all in: I don't sleep much, can't concentrate on anything else, and tune out the world. Generally, I write a pretty clean first draft, so it was another two weeks of self-editing and then I was able to begin sending out queries.
What's your writing ritual like?
I always write at home, never in public. I get too distracted if I have strangers to stare at! I don't write at a desk. I have a comfy chair and ottoman in the corner of the living room and I write there, even when the kids are playing the Xbox or my husband is watching sports. I just pop in my ear buds, click on my writing playlist (songs that I've listened to so often I don't even really hear them anymore, but they block sound and somehow tell my brain it's time to start writing), and start typing on my laptop. I've learned that if I wait for the perfect time to write, I'll never write, so I just dive in no matter how chaotic it may be in the house. I can get a lot done in fifteen minute spurts, if push comes to shove.
What are you working on now?
I am doing clean up on the sequel, THE REVOLUTION OF IVY, right now in preparation for turning it in to my editors. I've had the best time getting back into Ivy's world and writing about her again. I have a couple of ideas for other YA novels, and I'm batting those around right now. I'm sure it won't be too long before I start something new; I'm always happier when I'm writing.
ABOUT THE BOOK
The Book of Ivy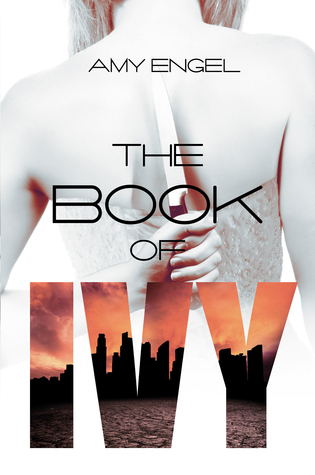 by Amy Engel
Paperback
Entangled: Teen
Released 11/11/2014
What would you kill for?
After a brutal nuclear war, the United States was left decimated. A small group of survivors eventually banded together, but only after more conflict over which family would govern the new nation. The Westfalls lost. Fifty years later, peace and control are maintained by marrying the daughters of the losing side to the sons of the winning group in a yearly ritual.
This year, it is my turn.
My name is Ivy Westfall, and my mission is simple: to kill the president's son—my soon-to-be husband—and return the Westfall family to power.
But Bishop Lattimer is either a very skilled actor or he's not the cruel, heartless boy my family warned me to expect. He might even be the one person in this world who truly understands me. But there is no escape from my fate. I am the only one who can restore the Westfall legacy.
Because Bishop must die. And I must be the one to kill him…
Purchase The Book of Ivy at Amazon
Purchase The Book of Ivy at IndieBound
View The Book of Ivy on Goodreads
ABOUT THE AUTHOR
Amy Engel was born in Kansas and after a childhood spent bouncing between countries (Iran, Taiwan) and states (Kansas, California, Missouri, Washington, D.C.), she settled in Kansas City, Missouri where she lives with her husband and two kids. Before devoting herself full time to motherhood and writing, Amy was a criminal defense attorney, which is not quite as exciting as it looks on television. When Amy has a free moment, she can usually be found reading, running, or shoe shopping.