Can you believe the summer is just about over? But just in case you still have a few more days to catch up on summer reading, we've got a great batch of four giveaways for you! Not to mention the usual round-up of all the new YA releases coming up this week...
Enjoy and happy reading!
All best,
Martina, Alyssa, Katharyn, Jan, Lisa, and Clara
YA BOOK GIVEAWAYS THIS WEEK
Can't Look Away
by Donna Cooner
Signed Hardcover Giveaway
Point
Released 8/26/2014
Donna Cooner establishes herself as our own Jodi Picoult in this timely tale of sisters, loss, and redemption.
Torrey Grey is famous. At least, on the internet. Thousands of people watch her popular videos on fashion and beauty. But when Torrey's sister is killed in an accident -- maybe because of Torrey and her videos -- Torrey's perfect world implodes.
Now, strangers online are bashing Torrey. And at her new school, she doesn't know who to trust. Is queen bee Blair only being sweet because of Torrey's internet infamy? What about Raylene, who is decidedly unpopular, but seems accepts Torrey for who she is? And then there's Luis, with his brooding dark eyes, whose family runs the local funeral home. Torrey finds herself drawn to Luis, and his fascinating stories about El dio de los Muertos, the Day of the Dead.
As the Day of the Dead draws near, Torrey will have to really look at her own feelings about death, and life, and everything in between. Can she learn to mourn her sister out of the public eye?
Author Question: What is your favorite thing about Can't Look Away?
My favorite part in writing CAN'T LOOK AWAY was exploring the interaction between memory and grief. When I started writing this book, my mother had just passed away after a long illness. I missed her so much. Every day was filled with memory triggers embedded in smells and sounds. It was intensely bittersweet. On one hand, I was so grateful for the wonderful memories of such a funny, loving woman. At the same time, I was also painfully realizing the huge loss of her in my life. Creating the sisters in CAN'T LOOK AWAY was a way to express that grieving process and to share hope with those who have experienced loss.
I also had a great deal of fun immersing myself in the world of teen beauty vloggers. I watched tons of make-up tutorials and even tried some of them out. Unfortunately, I'm still working on my "Smokey Eye Look." Mine sort of looks like a "Black Smudged Eye Look." Even though my makeup skills did not improve, I did gain a huge respect for these talented teens. They put themselves on the internet every day to deliver creative content to thousands of viewers and to hear the constant comments. From my small glimpse into internet buzz, that takes a lot of courage.
Purchase Can't Look Away at Amazon
Purchase Can't Look Away at IndieBound
View Can't Look Away on Goodreads
* * * *
Six Feet Over It
by Jennifer Longo
Signed Hardcover Giveaway
Random House Books for Young Readers
Released 8/26/2014
Home is where the bodies are buried.
Darkly humorous and heart-wrenchingly beautiful, Jennifer Longo's YA debut about a girl stuck living in a cemetery will change the way you look at life, death, and love.
Leigh sells graves for her family-owned cemetery because her father is too lazy to look farther than the dinner table when searching for employees. Working the literal graveyard shift, she meets two kinds of customers:
Pre-Need:
They know what's up. They bought their graves a long time ago, before they needed them.
At Need:
They are in shock, mourning a loved one's unexpected death. Leigh avoids sponging their agony by focusing on things like guessing the headstone choice (mostly granite).
Sarcastic and smart, Leigh should be able to stand up to her family and quit. But her world's been turned upside down by the sudden loss of her best friend and the appearance of Dario, the slightly-too-old-for-her grave digger. Surrounded by death, can Leigh move on, if moving on means it's time to get a life?
Author Question: What is your favorite thing about Six Feet Over It?
The dialogue. Dialogue is my very favorite part of writing prose. I love listening to people talk in public, word choice and speech patterns and how groups of people tend to subconsciously mirror one another's speaking habits. My education background is in playwriting and acting, which are essentially both studies in dialogue, in listening and responding. As I worked on the book I would write a conversation and sit there alone laughing or feeling lonely or loved depending on the words the characters were saying to one another. The dialogue in SFOI is the part of the writing I'm most proud of, I think.
Purchase Six Feet Over It at Amazon
Purchase Six Feet Over It at IndieBound
View Six Feet Over It on Goodreads
* * * *
Beauty of the Broken
by Tawni Waters
Hardcover Giveaway
Simon Pulse
Released 9/30/2014
In this lyrical, heartwrenching story about a forbidden first love, a teen seeks the courage to care for another girl despite her small town's bigotry and her father's violent threats.
Growing up in conservative small-town New Mexico, fifteen-year-old Mara was never given the choice to be different. Her parents—an abusive, close-minded father and a detached alcoholic mother—raised Mara to be like all the other girls in Barnaby: God-fearing, churchgoing, and straight. Mara wants nothing to do with any of it. She feels most at home with her best friend and older brother, Iggy, but Iggy hasn't been the same since their father beat him and put him in the hospital with a concussion.
As Mara's mother feeds her denial with bourbon and Iggy struggles with his own demons, Mara finds an escape with her classmate Xylia. A San Francisco transplant, Xylia is everything Mara dreams of being: free-spirited, open, wild. The closer Mara and Xylia become, the more Mara feels for her—even though their growing relationship is very much forbidden in Barnaby. Just as Mara begins to live a life she's only imagined, the girls' secret is threatened with exposure and Mara's world is thrown into chaos.
Mara knows she can't live without Xylia, but can she live with an entire town who believes she is an abomination worse than the gravest sin?
Author Question: What is your favorite thing about Beauty of the Broken?
I'm deeply in love with the characters, at least the good ones. I resent the bad ones in a wholehearted, obsessive sort of way that may be unhealthy. I hope the characters are as rich and alive for readers as they are for me.

Mara is one of those characters that felt like she "came" to me, rather than like I invented her. I sat down to write one day and did this thing I often do as an exercise, which is to say, "Anyone who wants to talk to me, start talking," and then write the first words that come into my head. Whether this is an exercise in spirituality, insanity, or the power of suggestion is anyone's guess. All I know is that it works for me. Words always leap into my head when I prompt myself like this.

That day, I heard, "Momma and Willy Macyntire made Iggy in a barn." I wrote it down, and more words came. Within a couple of hours, I had this beautiful, broken character and twenty pages that would eventually become the outline for Beauty of the Broken. With this novel, I've always felt like the characters were writing the novel, and I was transcribing their story for them. I was as surprised by the events of the book as any reader. I had no idea what was going to happen next.

Early readers of Beauty of the Broken have been furious with me about the death of one of the characters. "You traumatized me," they say, and I can only say that I traumatized myself too. Every time I read that book, I die a little.

I don't know. Maybe I just refuse to take responsibility for my actions. I feel this perhaps alarming lack of culpability for the way the book turned out. I think I'll get a T-shirt that says, "Don't blame me. I just wrote it."

Purchase Beauty of the Broken at Amazon
Purchase Beauty of the Broken at IndieBound
View Beauty of the Broken on Goodreads
* * * *
Feral
by Holly Schindler
Hardcover Giveaway
HarperTeen
Released 8/26/2014
The Lovely Bones meets Black Swan in this haunting psychological thriller with twists and turns that will make you question everything you think you know.
It's too late for you. You're dead. Those words continue to haunt Claire Cain months after she barely survived a brutal beating in Chicago. So when her father is offered a job in another state, Claire is hopeful that getting out will offer her a way to start anew.
But when she arrives in Peculiar, Missouri, Claire feels an overwhelming sense of danger, and her fears are confirmed when she discovers the body of a popular high school student in the icy woods behind the school, surrounded by the town's feral cats. While everyone is quick to say it was an accident, Claire knows there's more to it, and vows to learn the truth about what happened.
But the closer she gets to uncovering the mystery, the closer she also gets to realizing a frightening reality about herself and the damage she truly sustained in that Chicago alley….
Holly Schindler's gripping story is filled with heart-stopping twists and turns that will keep readers guessing until the very last page.
Author Question: What is your favorite thing about Feral?
That it's a bit unusual, in terms of genre. It's a classic psychological thriller, which we don't see all that often anymore, especially at the box office. Like all psychological thrillers, FERAL incorporates elements of other genres: mystery, horror, even paranormal, but the emphasis is on the "psychological" rather than thriller / action. The novel features a Hitchcockian pace and focus on character development (here, we're exploring the inner workings of the main character, Claire Cain). Essentially, every aspect of FERAL is used to explore Claire's inner workings—that includes the wintry Ozarks setting. The water metaphor is employed frequently in psychological thrillers to represent the subconscious, and here is incorporated in the form of a brutal ice storm (that represents Claire's "frozen" inner state). The attempt to untangle what is real from what is unreal (also a frequently-used aspect of the psychological thriller) also begins to highlight the extent to which Claire was hurt in that Chicago alley. Even the explanation of the odd occurrences in the town of Peculiar offers an exploration into and portrait of Claire's psyche. Ultimately, FERAL is a book about the frightening aspect of dealing with the aftermath of a violent act.
Purchase Feral at Amazon
Purchase Feral at IndieBound
View Feral on Goodreads
YA BOOK GIVEAWAYS LAST WEEK: WINNERS
Sea of Shadows
by Kelley Armstrong
Signed Hardcover
HarperCollins
Released 4/8/2014
WINNER: Mariah Ellis
Kelley Armstrong, #1
New York Times
bestselling author, takes an exciting new direction with this big, breathtaking blend of fantasy, romance, horror, and pulse-pounding action, perfect for fans of
Graceling
and
Game of Thrones
.
Twin sisters Moria and Ashyn were marked at birth to become the Keeper and the Seeker of Edgewood, beginning with their sixteenth birthday. Trained in fighting and in the secret rites of the spirits, they lead an annual trip into the Forest of the Dead. There, the veil between the living world and the beyond is thinnest, and the girls pay respect to the spirits who have passed.
But this year, their trip goes dreadfully wrong.
With all the heart-stopping romance and action that have made her a #1
New York Times
bestselling author, and set in an unforgettably rich and dangerous world, this first epic book in the Age of Legends trilogy will appeal to Kelley Armstrong's legions of fans around the world and win her many new ones.
Purchase Sea of Shadows at Amazon
Purchase Sea of Shadows at IndieBound
View Sea of Shadows on Goodreads
MORE YOUNG ADULT FICTION IN STORES NEXT WEEK WITH AUTHOR INTERVIEWS
Don't Let Go
by Michelle Gagnon
Hardcover
HarperCollins
Released 8/26/2014
In this pulse-pounding final installment of the Don't Turn Around trilogy, which in a starred review Kirkus called "The Girl with the Dragon Tattoo for teens," Noa and Peter race across the country in their search to destroy Project Persephone before time runs out.
After a devastating loss, Noa Torson is out of options. On the run with the three remaining teens of Persephone's Army, she is up against immeasurable odds. The group is outnumbered, outsmarted, and outrun. But they are not giving up.
When Noa and Peter realize they can't run anymore, and that Noa's health is failing, they know they must go back to where this began. But when they come face-to-face with the man who started it all, the question becomes, can they win?
This riveting final book in the Don't Turn Around trilogy ratchets up the action as Noa and Peter confront the evil that has chased them and won't let them go.
Author Question: What is your favorite thing about Don't Let Go?
There's a new character introduced in Don't Let Go who might be my favorite of the series--well, new-ish, since technically Loki has an offscreen role in DON'T TURN AROUND. It's funny, frequently the secondary characters sneak up and steal my heart, and this is a perfect case in point. Loki is a hacker who helps Peter and Noa out in book one, then ends up playing a much larger role in DON'T LET GO. I don't want to say too much about it, since I hate spoilers, but he's a lot of fun. In the first book, Cody proved to be the fan favorite; I'll be shocked if Loki doesn't win that title this time around.

I don't know that I have a favorite thing about the book itself--although I'm happy with how the ending turned out. I've read trilogies where the conclusion left me thinking, "Man, I hung in there for three books, and this is what I get?" I really, really don't want any of my readers feeling that way; so hopefully I succeeded!
Purchase Don't Let Go at Amazon
Purchase Don't Let Go at IndieBound
View Don't Let Go on Goodreads
* * * *
Play Me Backwards
by Adam Selzer
Hardcover
Simon & Schuster Books for Young Readers
Released 8/26/2014
A committed slacker enlists the help of his best friend (who may or may not be the devil) to get his act together in this novel filled with humor, awkwardness, and honesty, ideal for fans of
The Perks of Being a Wallflower
.
Leon Harris isn't exceptional and he isn't popular. He's the kind of guy that peaked in middle school, when once upon a time he was in the "gifted" program and on the fast track to Ivy League glory.
Now, a high school senior, he's a complete slacker who spends his time hanging out in a third-rate ice cream parlor with his best friend, Stan, a guy who (jokingly, Leon thinks) claims to be Satan. Committed to his sloth, Leon panics when he finds out that Anna, the love of his life aka middle school girlfriend, might be moving back to town.
Determined to get his act together, Leon asks Stan for help. Stan gives him a few seemingly random and mysterious assignments. Date a popular girl. Listen to
Moby-Dick
, the audiobook. Find the elusive white grape slushee. Join the yearbook committee.
As each task brings Leon one step away from slacker city and one step closer to Anna, he starts to wonder if maybe he shouldn't have promised Stan his soul after all…
Author Question: What is your favorite thing about Play Me Backwards?
The fact that it gives me such an opportunity to corrupt young minds and set them on a wayward path to the depths of degradation! First they read PLAY ME BACKWARDS and the next thing you know they'll be getting kicked out of pool halls, loafing around race tracks, and listening to true Norwegian black metal. Spending their weekends in strange basements on couches that have been spray-painted black, covering stains on their jeans with duct tape, and accumulating unpaid parking tickets that will ruin their credit. Mass-teria!
Purchase Play Me Backwards at Amazon
Purchase Play Me Backwards at IndieBound
View Play Me Backwards on Goodreads
* * * *
Rumble
by Ellen Hopkins
Hardcover
Margaret K. McElderry Books
Released 8/26/2014
Can an atheist be saved? The New York Times bestselling author of Crank and Tricks explores the highly charged landscapes of faith and forgiveness with brilliant sensitivity and emotional resonance.
"There is no God, no benevolent ruler of the earth, no omnipotent grand poobah of countless universes. Because if there was...my little brother would still be fishing or playing basketball instead of fertilizing cemetery vegetation."
Matthew Turner doesn't have faith in anything.
Not in family—his is a shambles after his younger brother was bullied into suicide. Not in so-called friends who turn their backs when things get tough. Not in some all-powerful creator who lets too much bad stuff happen. And certainly not in some "It Gets Better" psychobabble.
No matter what his girlfriend Hayden says about faith and forgiveness, there's no way Matt's letting go of blame. He's decided to "live large and go out with a huge bang," and whatever happens happens. But when a horrific event plunges Matt into a dark, silent place, he hears a rumble…a rumble that wakes him up, calling everything he's ever disbelieved into question.
Author Question: What is your favorite thing about Rumble?
The main character's voice. Incredible. Not sure where Matt came from, but he's darkly funny and blunt and smart, smart, smart.
Purchase Rumble at Amazon
Purchase Rumble at IndieBound
View Rumble on Goodreads
MORE YOUNG ADULT NOVELS NEW IN STORES NEXT WEEK
* * * *
Amity
by Micol Ostow
Hardcover
EgmontUSA
Released 8/26/2014
For fans of Stephen King and American Horror Story, a gruesome thriller suggested by the events of the Amityville Horror.
Connor's family moves to Amity to escape shady business deals. Ten years later, Gwen's family moves to Amity for a fresh start after she's recovered from a psychotic break.
But something is not right about this secluded house. Connor's nights are plagued with gore-filled dreams of demons and destruction. Dreams he kind of likes. Gwen has lurid visions of corpses that aren't there and bleeding blisters that disappear in the blink of an eye. She knows Amity is evil and she must get her family out, but who would ever believe her?
Amity isn't just a house. She is a living force, bent on manipulating her inhabitants to her twisted will. She will use Connor and Gwen to bring about a bloody end as she's done before. As she'll do again.
Alternating between parallel narratives, Amity is a tense and terrifying tale suggested by true-crime events that will satisfy even the most demanding horror fan.
Purchase Amity at Amazon
Purchase Amity at IndieBound
View Amity on Goodreads
* * * *
Astray
by Amy Christine Parker
Hardcover
Random House Books for Young Readers
Released 8/26/2014
Lyla is caught between two worlds. The isolated Community that she grew up in and the outside world that she's navigating for the very first time. The outsiders call the Community a cult, but Pioneer miraculously survived a shooting that should have killed him. Are the faithful members right to stay true to his message? Is this just a test of faith? One thing is for sure: the Community will do
anything
to bring Lyla back to the fold. Trapped in a spider's web of deception, will Lyla detect the sticky threads tightening around her before it's too late? She'll have to unravel the mystery of what Pioneer and the Community are truly up to if she wants to survive.
Suspenseful and chilling,
Astray
is Amy Christine Parker's nerve-fraying sequel to
Gated
. This fast-paced psychological thriller is masterfully plotted and sure to leave goose bumps. Perfect for fans of creepy YA thrillers and contemporary fiction alike.
Purchase Astray at Amazon
Purchase Astray at IndieBound
View Astray on Goodreads
* * * *
Breaking Butterflies
by M. Anjelais
Hardcover
Chicken House
Released 8/26/2014
The closest he will ever come to happiness is when he's hurting her. Will she let him? A beautiful and twisted story of first love and innocence lost -- written when the author was just eighteen.
Sphinxie and Cadence. Promised to each other in childhood. Drawn together again as teens. Sphinxie is sweet, compassionate, and plain. Cadence is brilliant, charismatic. Damaged. And diseased. When they were kids, he scarred her with a knife. Now, as his illness progresses, he becomes increasingly demanding. She wants to be loyal -- but fears for her life. Only the ultimate sacrifice will give this love an ending.
Purchase Breaking Butterflies at Amazon
Purchase Breaking Butterflies at IndieBound
View Breaking Butterflies on Goodreads
* * * *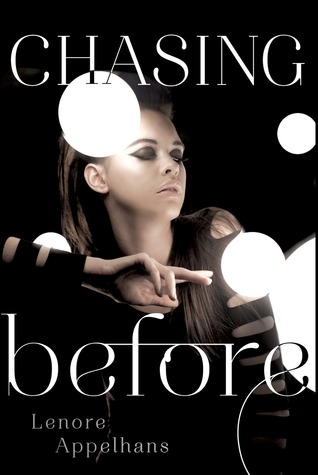 Chasing Before
by Lenore Appelhans
Hardcover
Simon & Schuster Books for Young Readers
Released 8/26/2014
Since her untimely death the day before her eighteenth birthday, Felicia Ward has been trapped in Level 2, a stark white afterlife located between our world and the next. Along with her fellow drones, Felicia passes the endless hours reliving memories of her time on Earth and mourning what she's lost-family, friends, and Neil, the boy she loved.
Then a girl in a neighboring chamber is found dead, and nobody but Felicia recalls that she existed in the first place. When Julian-a dangerously charming guy Felicia knew in life-comes to offer Felicia a way out, Felicia learns the truth: If she joins the rebellion to overthrow the Morati, the angel guardians of Level 2, she can be with Neil again.
Purchase Chasing Before at Amazon
Purchase Chasing Before at IndieBound
View Chasing Before on Goodreads
* * * *
Deliverance
by C.J. Redwine
Hardcover
Balzer + Bray
Released 8/26/2014
Everything hangs in the balance, and nothing is certain: Rachel has been kidnapped by enemy forces and is being taken to Rowansmark while Logan, imprisoned and awaiting trial, is unable to leave Lankenshire. Separated from each other and their Baalboden comrades, each must find a way to achieve what they desperately want: to rid their world once and for all of the Commander and the tech that controls the deadly Cursed One.
Fighting through her pain and embracing the warrior she's become, Rachel will do whatever it takes to escape her enemies' clutches and join Logan in his fight. But when she learns a secret that changes everything, she realizes that escaping Ian and his tracker friends is no longer an option if she wants to save the people she loves. Instead, she'll have to destroy Rowansmark from the inside out—if she can survive the journey through the Wasteland.
Logan needs allies if he wants to thwart Rowansmark's power grab and rescue Rachel. But securing allies will mean betraying his beliefs and enlisting the help of the man he hates more than anyone: Commander Jason Chase. Driven by his fierce love for Rachel and his determination to make their world safe, Logan may be just the weapon the city-states need to defeat the Cursed One.
But as Rowansmark bears down and uneasy alliances are tested, will Rachel and Logan's love for each other be enough to surmount the unbelievable odds against them?
Purchase Deliverance at Amazon
Purchase Deliverance at IndieBound
View Deliverance on Goodreads
* * * *
Faces of the Dead
by Suzanne Weyn
Hardcover
Scholastic Press
Released 8/26/2014
When Marie-Therese, daughter of Marie Antoinette, slips into the streets of Paris at the height of the French Revolution, she finds a world much darker than what she's ever known.
When Marie-Thérèse Charlotte of France learns of the powerful rebellion sweeping her country, the sheltered princess is determined to see the revolution for herself. Switching places with a chambermaid, the princess sneaks out of the safety of the royal palace and into the heart of a city in strife.
Soon the princess is brushing shoulders with revolutionaries and activists. One boy in particular, Henri, befriends her and has her questioning the only life she's known. When the princess returns to the palace one night to find an angry mob storming its walls, she's forced into hiding in Paris. Henri brings her to the workshop of one Mademoiselle Grosholtz, whose wax figures seem to bring the famous back from the dead, and who looks at Marie-Thérèse as if she can see all of her secrets. There, the princess quickly discovers there's much more to the outside world - and to the mysterious woman's wax figures - than meets the eye.
Purchase Faces of the Dead at Amazon
Purchase Faces of the Dead at IndieBound
View Faces of the Dead on Goodreads
* * * *
How to Fall
by Jane Casey
Hardcover
St. Martin's Griffin
Released 8/26/2014
Sixteen-year-old Jess Tennant has never met any of her relatives, until her mom suddenly drags her out of London to spend the summer in the tiny English town where her family's from. Her mom's decision is surprising, but even more surprising is the town's reaction to Jess. Everywhere she goes, people look at her like they've seen a ghost. In a way, they have—she looks just like her cousin Freya, who died shortly before Jess came to town.
Jess immediately feels a strange connection to Freya, whom she never got to meet alive. But the more Jess learns about the secrets Freya was keeping while she was alive, the more suspicious Freya's death starts to look. One thing is for sure: this will be anything but the safe, boring summer in the country Jess was expecting.
Beloved author Jane Casey breaks new ground with
How to Fall
, a thrilling and insightfully written mystery.
Purchase How to Fall at Amazon
Purchase How to Fall at IndieBound
View How to Fall on Goodreads
* * * *
If You're Reading This
by Trent Reedy
Hardcover
Arthur A. Levine Books
Released 8/26/2014
From the author of WORDS IN THE DUST and DIVIDED WE FALL: A heartwarming book about a son reconnecting with the father he lost in Afghanistan.
Mike was seven when his father was killed in mysterious circumstances in Afghanistan. Eight years later, the family still hasn't recovered: Mike's mom is overworked and overprotective; his younger sister Mary feels no connection to the father she barely remembers; and in his quest to be "the man of the family," Mike knows he's missing out on everyday high school life.
Then, out of the blue, Mike receives a letter from his father -- the first of a series Dad wrote in Afghanistan, just in case he didn't come home, meant to share some wisdom with his son on the eve of Mike's 16th birthday. As the letters come in, Mike revels in spending time with his dad again, and takes his encouragement to try new things -- to go out for the football team, and ask out the beautiful Isma. But who's been keeping the letters all these years? And how did Dad actually die? As the answers to these mysteries are revealed, Mike and his family find a way to heal and move forward at last.
Purchase If You're Reading This at Amazon
Purchase If You're Reading This at IndieBound
View If You're Reading This on Goodreads
* * * *
Into the Grey
by Celine Kiernan
Hardcover
Candlewick
Released 8/26/2014
A pacy, chilling ghost story from the creator of the internationally acclaimed Moorehawke Trilogy.
I think the fire changed us – me and Dom. I think that's how the boy was able to see us. Though he'd been there for every summer of our childhood, we'd only been stupid boys until then. Stupid, happy, ignorant boys. And what in hell would he have had in common with two stupid boys? But after the fire we were different. We were maybe a little bit like him. And so he saw us, at last, and he thought he'd found a home…
Purchase Into the Grey at Amazon
Purchase Into the Grey at IndieBound
View Into the Grey on Goodreads
* * * *
Maid of Deception
by Jennifer McGowan
Hardcover
Simon & Schuster Books for Young Readers
Released 8/26/2014
Beatrice Knowles is a Maid of Honor, one of Queen Elizabeth I's secret protectors. Known for her uncanny ability to manipulate men's hearts, Beatrice has proven herself to be a valuable asset in the Queen's court—or so she thinks. It has been three weeks since the Maids thwarted a plot to overthrow the Queen, and Beatrice is preparing to wed her betrothed, Lord Cavanaugh. However, her plans come to a crashing halt as rumors of a brewing Scottish rebellion spread among the court.
Beatrice's new assignment is to infiltrate the visiting Scottish delegation using her subtle arts in persuasion. The mission seems simple enough, until the Queen pairs Beatrice with the worst of the lot—Alasdair MacLeod. Beatrice cannot help but think that the Queen is purposefully setting her up for failure. But Alasdair could be the key to unlocking the truth about the rebellion….and her own heart. Caught in a web of ever-more-twisting lies, Beatrice must rise up among the Maids of Honor and prove what she's known all along: In a court filled with deception and danger, love may be the deadliest weapon of all.
Purchase Maid of Deception at Amazon
Purchase Maid of Deception at IndieBound
View Maid of Deception on Goodreads
* * * *
One Death, Nine Stories
by Smith, Jr., Charles R., Arnson, Marc
Hardcover
Candlewick
Released 8/26/2014
Nicholas, Kevin. Age 19. Died at York Hospital, July 19, 2012. Kev's the first kid their age to die. And now, even though he's dead, he's not really gone. Even now his choices are touching the people he left behind. Rita Williams-Garcia follows one aimless teen as he finds a new life in his new job-at the mortuary. Ellen Hopkins reveals what two altar boys (and one altar girl) might get up to at the cemetery at night. Will Weaver turns a lens on Kevin's sister as she collects his surprising effects-and makes good use of them. Here, in nine stories, we meet people who didn't know Kevin, friends from his childhood, his ex-girlfriend, his best friend, all dealing with the fallout of his death. Being a teenager is a time for all kinds of firsts-first jobs, first loves, first good-byes, firsts that break your heart and awaken your soul. It's an initiation of sorts, and it can be brutal. But on the other side of it is the rest of your life.
With stories by
Chris Barton
Nora Raleigh Baskin
Marina Budhos
Ellen Hopkins
A.S. King
Torrey Maldonado
Charles R. Smith Jr.
Will Weaver
Rita Williams-Garcia
Purchase One Death, Nine Stories at Amazon
Purchase One Death, Nine Stories at IndieBound
View One Death, Nine Stories on Goodreads
* * * *
Sanctum
by Madeline Roux
Hardcover
HarperCollins
Released 8/26/2014
In this haunting, fast-paced sequel to the
New York Times
bestselling photo-illustrated novel
Asylum
, three teens must unlock some long-buried secrets from the past before the past comes back to get them first. Featuring found photographs, many from real vintage carnivals, Sanctum is a mind-bending reading experience that blurs the lines between past and present, genius and insanity, perfect for fans of the smash hit
Miss Peregrine's Home for Peculiar Children
.
Dan, Abby, and Jordan remain traumatized by the summer they shared in the Brookline asylum. Much as they'd love to move on, someone is determined to keep the terror alive, sending the teens photos of an old-timey carnival, with no note and no name. Forsaking their plan never to go back, the teens return to New Hampshire College under the guise of a weekend for prospective students, and there they realize that the carnival from the photos is not only real, it's here on campus, apparently for the first time in many years.
Sneaking away from sample classes and college parties, Dan and his friends lead a tour of their own—one through the abandoned houses and hidden places of the surrounding town. Camford is hiding a terrible past, and the influence of the asylum runs deeper than Dan ever imagined.
Purchase Sanctum at Amazon
Purchase Sanctum at IndieBound
View Sanctum on Goodreads
* * * *
Taken
by David Massey
Hardcover
Chicken House
Released 8/26/2014
The trip of a lifetime turns into a fight to the death when six extreme athletes are TAKEN hostage by pirates off the coast of Africa. By the author of TORN.
Six crew members are toughing it out, trying to come together as a team to sail around the world on a grueling challenge for charity. Four are teen military veterans disabled in combat: They're used to being pushed to the limit. But nothing could have prepared them for being kidnapped by the Lord's Resistance Army. Suddenly, the trip of a lifetime turns into a dark journey into the African jungle. Taken hostage by a notorious warlord and his band of child soldiers, how will Rio, Ash, Marcus, Jen, Charis, and Izzy survive?
Purchase Taken at Amazon
Purchase Taken at IndieBound
View Taken on Goodreads
* * * *
The Far Dawn
by Kevin Emerson
Paperback
Katherine Tegen Books
Released 8/26/2014
The Three is a lie. The Three will fail.
Having barely escaped Desenna, Owen and Lilly are on their own now, two of the three Altaneans on a journey to find Atlantis and protect it from the selfish greed of their nemesis Paul and Project Elysium. The secrets buried in the ice ahead have the power to destroy not only the earth but the bond between Owen and Lilly, too. As time grows short and darkness overtakes the planet, Owen must face Paul's greatest treachery yet.
Full of heartrending decisions, pulse-pounding action, and fascinating questions of science and ethics alike, The Far Dawn takes readers on an explosive journey through time and space. At the far ends of the earth, Owen must choose—does he save the planet, or the people he loves?
Perfect for fans of
Ship Breaker
and the City of Ember series, slightly younger teen readers, and classroom library shelves.
Purchase The Far Dawn at Amazon
Purchase The Far Dawn at IndieBound
View The Far Dawn on Goodreads
* * * *
The Island of Excess Love
by Francesca Lia Block
Hardcover
Henry Holt and Co.
Released 8/26/2014
Pen has lost her parents. She's lost her eye. But she has fought Kronen; she has won back her fragile friends and her beloved brother. Now Pen, Hex, Ash, Ez, and Venice are living in the pink house by the sea, getting by on hard work, companionship, and dreams. Until the day a foreboding ship appears in the harbor across from their home. As soon as the ship arrives, they all start having strange visions of destruction and violence. Trance-like, they head for the ship and their new battles begin.
This companion to
Love in the Time of Global Warming
follows Pen as she searches for love among the ruins, this time using Virgil's epic
Aeneid
as her guide. A powerful and stunning book filled with Francesca Lia Block's beautiful language and inspiring characters.
Purchase The Island of Excess Love at Amazon
Purchase The Island of Excess Love at IndieBound
View The Island of Excess Love on Goodreads
* * * *
The Revenge of Seven
by Pittacus Lore
Hardcover
HarperCollins
Released 8/26/2014
The Garde have suffered an unbearable loss. Number Five has betrayed them. Eight is gone forever. Ella has been kidnapped. The others are now scattered.
In Chicago, John makes the unlikeliest of allies: Adam, a Mogadorian who turned his back on his people. He has invaluable information about Mog technology, battle strategies, and weaknesses. Most important, he knows where to hit them: their command base near Washington, DC. During the assault, however, John and Adam learn the unimaginable truth: it is too late. The Mogadorians have commenced their ultimate invasion plans.
With a front-row seat to the impending invasion, Ella finds herself in the hands of the enemy. For some reason she's more valuable to them alive, and they'll stop at nothing to turn her.
Meanwhile, Six, Nine, and Marina make their way through the Florida Everglades, hot on the trail of the traitorous Five. With the development of a new Legacy, Marina finally has the power to fight back—if her thirst for revenge doesn't consume her first.
Purchase The Revenge of Seven at Amazon
Purchase The Revenge of Seven at IndieBound
View The Revenge of Seven on Goodreads
* * * *
The Rule of Thoughts
by James Dashner
Hardcover
Delacorte Press
Released 8/26/2014
From the New York Times bestselling author of the Maze Runner series comes The Rule of Thoughts, the exciting sequel to The Eye of Minds. Fans of the Divergent series by Veronica Roth and The Hunger Games will love the new Mortality Doctrine series.
Michael completed the Path. What he found at the end turned everything he'd ever known about his life—and the world—completely upside down.
He barely survived. But it was the only way VirtNet Security knew to find the cyber-terrorist Kaine—and to make the Sleep safe for gamers once again. And, the truth Michael discovered about Kaine is more complex than they anticipated, and more terrifying than even the worst of their fears.
Kaine is a tangent, a computer program that has become sentient. And Michael's completing the Path was the first stage in turning Kaine's master plan, the Mortality Doctrine, into a reality.
The Mortality Doctrine will populate Earth entirely with human bodies harboring tangent minds. Any gamer who sinks into the VirtNet risks coming out with a tangent intelligence in control of their body.
And the takeover has already begun.
Purchase The Rule of Thoughts at Amazon
Purchase The Rule of Thoughts at IndieBound
View The Rule of Thoughts on Goodreads
* * * *
Undead with Benefits
by Jeff Hart
Paperback
HarperTeen
Released 8/26/2014
The living dead are living it up in this hilarious and surprisingly romantic sequel to
Eat, Brains, Love
, which
Kirkus Reviews
called "one hell of a road trip...funny, gross, and scary in equal, alternating measures."
Jake and Amanda are in love, on the run—and undead. They've teamed up with Cass, who's ditched her former job as shady government psychic zombie-tracker, and they're headed across the border into Iowa, where there's rumored to be a zombie cure.
Armed with a trunk full of guinea pigs (aka zombie snacks), they're ready to take on the Midwest's first undead warlord, the psycho psychic out for their blood, and their own superawkward love triangle. But the virus is spreading faster than you can say "zombie apocalypse," and Jake, Amanda, and Cass have to find the cure—if it even exists—before the whole state of Iowa goes up in flames.
With its heartwarming blend of guts, romance, and spot-on teen humor, this road trip–ready paperback original is perfect for fans of Isaac Marion's Warm Bodies and AMC's The Walking Dead. Readers will devour Jeff Hart's fresh, funny, and irreverent take on love and life (well, unlife) in an eat-or-be-eaten world.
Purchase Undead with Benefits at Amazon
Purchase Undead with Benefits at IndieBound
View Undead with Benefits on Goodreads
* * * *
yolo
by Lauren Myracle
Hardcover
Amulet Books
Released 8/26/2014
Through texts and messages, the mega-bestselling, beloved Internet Girls series followed the ups and downs of school for three very different, very close friends. Now it's freshman year of college for the winsome threesome, and *everything* is different. For one, the best friends are facing their first semester apart. Way, way apart. Maddie's in California, Zoe's in Ohio, and Angela's back in Georgia. And it's not just the girls who are separated. Zoe's worried that Doug wants to break up now that they're at different schools, and Maddie's boyfriend, Ian, is on the other side of the country.In the face of change and diverging paths, Maddie's got a plan to keep the friends close, and it involves embracing the present, making memories, and . . . roller derby! Using of-the-moment technology, Lauren Myracle brings her groundbreaking series into the brave new virtual world of texting and tweets.
Praise for yolo
"Funny, deceptively smart and just in time for those going off to college."
--
Kirkus Reviews
Purchase yolo at Amazon
Purchase yolo at IndieBound
View yolo on Goodreads
a Rafflecopter giveaway