by James Dashner
Paperback Giveaway
Delacorte Press
When Thomas wakes up in the lift, the only thing he can remember is his first name. His memory is blank. But he's not alone. When the lift's doors open, Thomas finds himself surrounded by kids who welcome him to the Glade-a large, open expanse surrounded by stone walls.
Just like Thomas, the Gladers don't know why or how they got to the Glade. All they know is that every morning the stone doors to the maze that surrounds them have opened. Every night they've closed tight. And every 30 days a new boy has been delivered in the lift.
Thomas was expected. But the next day, a girl is sent up-the first girl to ever arrive in the Glade. And more surprising yet is the message she delivers.
Thomas might be more important than he could ever guess. If only he could unlock the dark secrets buried within his mind.
Book Details:
Format: Hardcover
Publication Date: 10/6/2009
Pages: 384
Reading Level: Age 12 and Up
* * *
THE EYE OF MINDS
by James Dashner
Paperback Giveaway
Delacorte Press
An all-new, edge-of-your seat adventure from James Dashner, the author of the New York Times bestselling Maze Runner series, The Eye of Minds is the first book in The Mortality Doctrine, a series set in a world of hyperadvanced technology, cyberterrorists, and gaming beyond your wildest dreams . . . and your worst nightmares.
Michael is a gamer. And like most gamers, he almost spends more time on the VirtNet than in the actual world. The VirtNet offers total mind and body immersion, and it's addictive. Thanks to technology, anyone with enough money can experience fantasy worlds, risk their life without the chance of death, or just hang around with Virt-friends. And the more hacking skills you have, the more fun. Why bother following the rules when most of them are dumb, anyway?
But some rules were made for a reason. Some technology is too dangerous to fool with. And recent reports claim that one gamer is going beyond what any gamer has done before: he's holding players hostage inside the VirtNet. The effects are horrific—the hostages have all been declared brain-dead. Yet the gamer's motives are a mystery.
The government knows that to catch a hacker, you need a hacker.
And they've been watching Michael. They want him on their team.
But the risk is enormous. If he accepts their challenge, Michael will need to go off the VirtNet grid. There are back alleys and corners in the system human eyes have never seen and predators he can't even fathom—and there's the possibility that the line between game and reality will be blurred forever.
IndieBound | Amazon | Goodreads
* * * *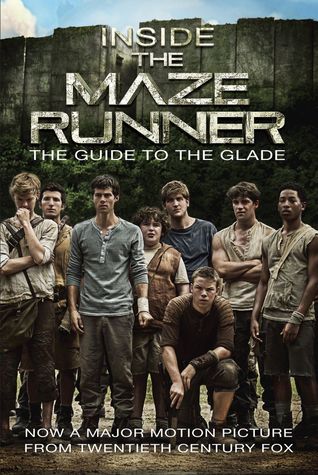 Inside the Maze Runner
The Guide to the Glade
The first book in James Dashner's
New York Times
bestselling Maze Runner series is soon to be a major motion picture. Featuring the star of MTV's
Teen Wolf
, Dylan O'Brien; Kaya Scodelario; Aml Ameen; Will Poulter; and Thomas Brodie-Sangster, the movie will be in theaters September 19, 2014.
The Maze Runner
is perfect for fans of
The Hunger Games
and
Divergent
.
Explore the Glade and uncover the secrets to the Maze in the ultimate
Maze Runner
movie companion book. This action-packed volume features more than 100 thrilling full-color photographs, up-close profiles of the Gladers, and details about the Glade, the Maze, and more! A must-have for fans of the Maze Runner series, who'll want to learn all they can before
The Maze Runner
movie hits theaters on September, 19, 2014.
SPECIAL OneFour KIDLIT PREVIEW AND GIVEAWAY
Wordless
by AdriAnne Strickland
Signed Paperback plus Swag Giveaway

U.S. Only
Flux Books
Released 8/8/2014
"The Gods made their Words into flesh, giving privileged individuals the powers of creation..."
In Eden City, a member of the illiterate wordless class would never dream of meeting the all-powerful Words ... much less of running away with one. So when a gorgeous girl literally falls into his lap during a routine trash run, seventeen-year-old Tavin Barnes isn't sure if it's the luckiest or worst day of his life. That girl is Khaya, the Word of Life, who can heal a wound or command an ivy bush to devour a city block with ease. And yet she needs Tavin's help.
By aiding Khaya's escape from the seemingly idyllic confines of Eden City, Tavin unwittingly throws himself into the heart of a conflict that is threatening to tear the world apart. Eden City's elite will stop at nothing to protect the shocking secret Khaya hides, and they enlist the other Words, each with their own frightening powers, to bring her back.
Author Question: What is your favorite thing about Wordless?
I love the mythology around the Words Made Flesh that I was able to create that let me involve teens from every kind of diverse background, give them super-powers, and make language/literacy super-powerful at the same time. Not to mention the forbidden love aspect...
* * * *
Gates of Thread and Stone
by Lori M. Lee
Signed Hardcover Giveaway

U.S. Only
Skyscape
Released 8/5/2014
In the Labyrinth, we had a saying: keep silent, keep still, keep safe.
In a city of walls and secrets, where only one man is supposed to possess magic, seventeen-year-old Kai struggles to keep hidden her own secret—she can manipulate the threads of time. When Kai was eight, she was found by Reev on the riverbank, and her "brother" has taken care of her ever since. Kai doesn't know where her ability comes from—or where
she
came from. All that matters is that she and Reev stay together, and maybe one day move out of the freight container they call home, away from the metal walls of the Labyrinth. Kai's only friend is Avan, the shopkeeper's son with the scandalous reputation that both frightens and intrigues her.
Then Reev disappears. When keeping silent and safe means losing him forever, Kai vows to do whatever it takes to find him. She will leave the only home she's ever known and risk getting caught up in a revolution centuries in the making. But to save Reev, Kai must unravel the threads of her past and face shocking truths about her brother, her friendship with Avan, and her unique power.
Author Question: What is your favorite thing about Gates of Thread and Stone?
I loved developing the magic and the rules of its use. Kai can manipulate the threads of time, but that doesn't mean she has free reign on what she can do. In fact, she's very limited. Her abilities are subject to the laws of all magic users, the most important being that of balance. Maintaining balance is one of the biggest issues in the book, and is something Kai has to learn as well.
Purchase Gates of Thread and Stone at Amazon
Purchase Gates of Thread and Stone at IndieBound
View Gates of Thread and Stone on Goodreads
a Rafflecopter giveaway