On Sunday, one of the most talented and beloved teen authors, Sarah Dessen, tweeted a photo of her thirteen unpublished novels lined up in her driveway so that they could finally see the light of day.
She also clarified that these were not all before she was a published author.
And then, she added this:
I included the top tweet in this second group, the one Sarah retweeted, because that is part of the lesson to be learned here. But honestly, the main lesson for me is the one where she questions whether we need the misfires.
I think we do have to take risks, go over the top, push the limits and see where those limits are. We have to keep pushing, drilling deeper into the well of creativity. There's nothing creative about safety and security, nothing exhilarating about sameness. Maybe creativity requires a level of risk.
The brilliant Sarah Ockler shared a great post that every creative person ought to read.
Pixar Cofounder Ed Catmull on Failure and Why Fostering a Fearless Culture Is the Key to Groundbreaking Creative Work
One of my favorite parts of the article is this quote:
"To disentangle the good and the bad parts of failure, we have to recognize both the reality of the pain and the benefit of the resulting growth."
In other words, at some point, we have to embrace failure. Ugh.
In this business, there is so much temptation, even pressure, to compare ourselves to others, to find the unfairness or the lack of luck that results in rejection of our work and the reverse that gives success to someone else's. It's natural, but it's paralyzing. It's probably part of what makes so many writers prone to depression. It's hard to pour ourselves into an endeavor and have it rejected, only to pick ourselves up, get excited about a new project, and start the process all over again.
Creative geniuses have done it in many different ways. According to
this article by Juliette Guilbert titled How to Fuel Your Creative Genius.
"Beethoven went for awalk every day with notepad in hand to jot down the music that streamed through his mind."
"Thomas Edison was famous for tackling his biggest challenges after a power snooze."
There's a powerful suggestion there -- don't just keep doing the same thing. Powering through and staring at a blank page isn't going to result in success. Get away do something different. Let your brain work at it on its own. That's why so many writers run, take long showers, or work at coffee shops. The key to finding a solution is often simply to look at it from a changed perspective.
Of course, you can't just sit around waiting for inspiration either. As the article also points out:
"By the time Mozart was 28 years old, 'his hands were deformed because of all the hours he had spent practicing.'"
After Thomas Edison had tried 5,000 times to develop a filament for his light bulb invention, his assistant queried him about the failure and asked when he was going to quit. Edison told him he hadn't failed. He'd merely discovered 5,000 things that didn't work.
If all else fails, traveling or at the very least, reading, can often be the ticket. As writers, we have to read in our genre, but also outside of it. The more we read, the more fuel we have for creativity.
I took a workshop once from Bruce Coville, the fantasy writer, who suggested forcing yourself to come up with twenty ideas for every one you need. Juliette Guilbert's article points out that Michael Michalko, author of many books on creativity, suggests using an "idea quota" to write down "140 ideas" or more, because the most complex are often among the last third.
So, how do we recharge the writing well when things get hard? Here's a quick and simple recipe.
Read.
Brainstorm.
Live life to the full.
Think mindfully about writing craft every day.
Write something every day.
That's it. Simple process. Rinse, repeat. Go forward. Surivive the pain to do it all again. I'm going to go try that myself today.
What's your recipe? Have any tips to share?
TODAY'S YA GIVEAWAY
The Eye of Minds
by James Dashner
Paperback
Random House
Released 7/22/2014
From James Dashner, the author of the
New York Times
bestselling Maze Runner series that's soon to be a major motion picture from Twentieth Century Fox, comes an all-new, edge-of-your seat adventure.
The Eye of Minds
is the first book in The Mortality Doctrine series set in a world of hyperadvanced technology, cyberterrorists, and gaming beyond your wildest dreams . . . and your worst nightmares.
Michael is a gamer. And like most gamers, he almost spends more time on the VirtNet than in the actual world. The VirtNet offers total mind and body immersion, and it's addictive. Thanks to technology, anyone with enough money can experience fantasy worlds, risk their life without the chance of death, or just hang around with Virt-friends. And the more hacking skills you have, the more fun. Why bother following the rules when most of them are dumb, anyway?
But some rules were made for a reason. Some technology is too dangerous to fool with. And recent reports claim that one gamer is going beyond what any gamer has done before: he's holding players hostage inside the VirtNet. The effects are horrific—the hostages have all been declared brain-dead. Yet the gamer's motives are a mystery.
The government knows that to catch a hacker, you need a hacker. And they've been watching Michael. They want him on their team. But the risk is enormous. If he accepts their challenge, Michael will need to go off the VirtNet grid. There are back alleys and corners in the system human eyes have never seen and predators he can't even fathom—and there's the possibility that the line between game and reality will be blurred forever.
Praise for The Eye of Minds, Book One in the Mortality Doctrine series
"More realistic and addictive than any video game—
The Eye of Minds
sucked me in from the very first page.
The Girl with the Dragon Tattoo
meets
The Matrix
in a vividly rendered world of gamers, hackers, and cyber-terrorists. I can't wait to read the next book in the series!"—Kami Garcia, #1
New York Times
bestselling coauthor of
Beautiful Creatures
and author of
Unbreakable
"In typical Dashner style, this is quick and involving, with the main frustration being the wait time until the next book." —
Booklist
"High on concept, this is an intriguing read for the digital generation." —
Kirkus Reviews
"Dashner once again creates a dystopian world in which nothing is what it seems." -
VOYA
Purchase The Eye of Minds at Amazon
Purchase The Eye of Minds at IndieBound
View The Eye of Minds on Goodreads
* * * *
The Fire Wish
by Amber Lough
Hardcover
Random House Books for Young Readers
Released 7/22/2014
A jinni. A princess. And the wish that changes everything. . . .
Najwa is a jinni, training to be a spy in the war against the humans. Zayele is a human on her way to marry a prince of Baghdad—which she'll do anything to avoid. So she captures Najwa and makes a wish. With a rush of smoke and fire, they fall apart and re-form—as each other. A jinni and a human, trading lives. Both girls must play their parts among enemies who would kill them if the deception were ever discovered—enemies including the young men Najwa and Zayele are just discovering they might love.
Purchase The Fire Wish at Amazon
Purchase The Fire Wish at IndieBound
View The Fire Wish on Goodreads

PREVIOUS GIVEAWAY
I had a copy of Maggie Stiefvater's SINNER to giveaway two weeks ago, complete with her signature and the hand drawn book wrapper she did just for preorders and special events. Sadly, I picked a winner for it tonight, but don't worry. I've got a few more of these stashed away for you, so keep an eye out!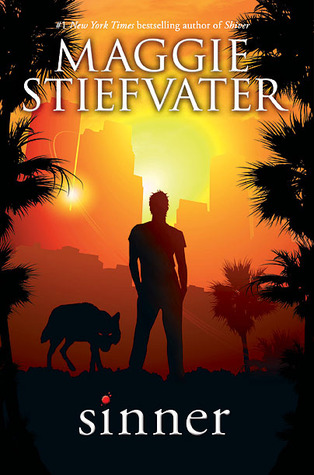 Sinner
by Maggie Stiefvater
released 7/1/14
Scholastic Press
WINNER: Joycedale Chapman
A standalone companion book to the internationally bestselling Shiver Trilogy.
Sinner follows Cole St. Clair, a pivotal character from the #1 New York Times bestselling Shiver Trilogy. Everybody thinks they know Cole's story. Stardom. Addiction. Downfall. Disappearance. But only a few people know Cole's darkest secret -- his ability to shift into a wolf. One of these people is Isabel. At one point, they may have even loved each other. But that feels like a lifetime ago. Now Cole is back. Back in the spotlight. Back in the danger zone. Back in Isabel's life. Can this sinner be saved?
Purchase Sinner at Amazon
Purchase Sinner at IndieBound
View Sinner on Goodreads
a Rafflecopter giveaway