Get there first thing in the morning when the doors open. Publishers are more likely to have books at the booths.
Get the BEA app for your mobile phone so you can get alerts about ARC drops at the booths.
Leave yourself plenty of time to stand in line for book signings.
If all else fails, go ahead and ask for the ARC at the booth.
Heading to ALA, I had two goals.
Don't make a fool of myself at the panel with Scott Westerfeld.
Grab a bunch of ARCs for AYAP readers.
I'm still not sure about item 1, but applying what I'd learned at BEA to ALA worked like a charm. I've got two boxes coming via UPS, and each box weighs twenty pounds. And those books will all be headed your way in the next few months!
So what else happened at ALA?
I got to hang out with Lisa Gail Green, Leslie Rose, and the newest member of the AYAP team, Katharyn Sinelli on Thursday night. We had an amazing dinner--it was Leslie's birthday!--and then talked until five in the morning. They are the BEST kind of friends, the kind you can share with as if it has been a day since you've been together no matter how long it has really been. Of course we talked about writing and some upcoming news from Lisa that will (hopefully soon!) blow you away! And we read the first two chapters of Scott Westerfeld's Afterworlds aloud. We decided that Chapter Two it is actually the perfect illustration of how to balance character and action in an opening. Seriously. I can't wait for you all to be able to read it!
Lisa Gail Green, Katharyn Sinelli, and Leslie Sullivan Rose
Katharyn, there in the center, will be helping out with author scheduling and contests. She is a sometimes English professor whose scholarly work examines the stories we tell about disease. Currently she is writing YA fantasy, and I expect you will be hearing lots of good publishing news from her soon.
Martina Boone, Shannon Greenland,
Holly Black, Kimberley Griffiths Little
On Friday, I joined up with Shannon Greenland (S.E. Green/KILLER INSTINCT) and Kimberley Griffiths Little (FORBIDDEN) at the Wynn Hotel. On our way down to dinner, we ran into Holly Black, and I proceeded to fangirl out on her. (Yes, it was bad. :() But she was incredibly gracious and kind.
Shannon Greenland, Kimberley Griffiths Little, Ellen Hopkins,
Claudia Gray, Martina Boone, Tracy Clark
We headed over to the Paris Hotel to meet up with fellow YASeriesInsiders.com authors Tracy Clark and Claudia Gray, along with another of my favorite authors, Ellen Hopkins. We had to rush through it so that we could make it to the Printz Award ceremony to listen to Michael Sedgwick's acceptance speech and hear him and the other honorees discuss their books and their writing processes. Then there was a chocolate fountain at the reception afterwards, so all in all, it was a perfect night.
Michael Sedgwick accepting the 2014 Printz Award for Midwinterblood
On Saturday I finally headed over to the convention center, and there was COMPULSION on the wall of the booth. Isn't it pretty? And happy-making (in Uglies-speak). There's my book up there with Scott Westerfeld's, Becca Fitzpatrick's, and Cassie Clare's. It's insanely wonderful, and I'm still expecting someone to shout April Fool's any day.
Compulsion on the convention floor!
One of the biggest pleasures on Saturday morning was the chance to walk around, pick up books (did I mention forty pounds of books?) and run into people I've been wanting to meet. This is Hannah McBride from YADC.
Hannah McBride and Martina Boone
YASeriesInsiders Martina Boone and Tracy Clark
Running into Tracy Clark again, we found we had clearly gotten the memo on wearing stripes. Then it was time to head back over to the Wynn, which is absolutely gorgeous. It's all decked out with balloons and carousels made from fresh flowers.
Life-size flower carousel at the Wynn
After a bit of rehearsal with Shannon and Kimberley where we worked on the Powerpoint presentation for our upcoming promotion tour this fall, I did a quick change and headed down with Shannon and our lovely publisher, Mara Anastas, for the book signing.
Signing Compulsion before the panel
That was followed by the debut author panel moderated by Scott Westerfeld. Talk about intimidating. Not only was I awkward because, well, Scott Westerfeld, right? But also, being on the panel with Shannon (S.E. Greene/
Killer Instinct
), Jason Reynolds (
When I Was the Greatest
), CJ Flood (
Infinite Sky
), Brendan Kiely (
The Gospel of Winter
) and Scott Westerfeld (
Afterworlds
) was an incredible honor. These writers have some serious chops. And they also managed to be funny and charming.
After the panel, we got a chance to meet the librarians who had been in the audience at a series of round-tables. It was especially a treat to get to meet Jaime Arnold from Two Chicks on Books--along with her mother. They were delightful, and very kind--as were all the librarians.
Martina Boone, Shannon Greenland,
Jason Reynolds, CJ Flood, Brendan Kiely and Scott Westerfeld
After that it was off to dinner with our publishers and the authors from the panel. Unfortunately, I didn't get to take any photos there because I left my phone in the room--which made it even worse when I finally got to meet Laini Taylor, Jim DiBartolo, and Maggie Stiefvater afterwards! AAAAH. Cue more awkward fangirl moments. The BIGGEST awkward fangirl moments. But looking on the bright side, I figured I had now met all my favorite, favorite authors and humiliated myself sufficiently that I can figure the worst is over.
I tested that theory at the Simon & Schuster dessert party with Judy Blume and Judith Viorst. And I didn't
physically
drool on either one of them, so that was a bonus.
Overall, it was an epic weekend, and affirmed for me yet again how incredibly lucky I am to have ended up at Pulse. Mara Anastas, Mary Marotta, Lucille Restino, Michelle Leo, Candace Greene, Katy Hershberger, Anthony Parisi, and the support team both at ALA and back in New York made the trip truly wonderful. (THANK YOU!)
THIS WEEK'S GIVEAWAY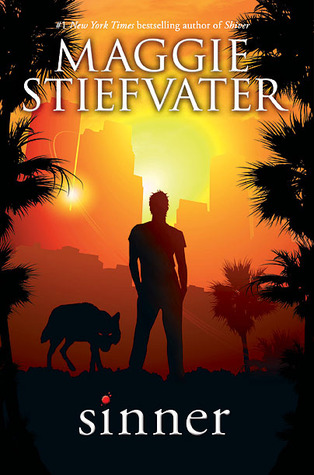 Sinner
by Maggie Stiefvater
released 7/1/14
Scholastic Press
A standalone companion book to the internationally bestselling Shiver Trilogy.
Sinner follows Cole St. Clair, a pivotal character from the #1 New York Times bestselling Shiver Trilogy. Everybody thinks they know Cole's story. Stardom. Addiction. Downfall. Disappearance. But only a few people know Cole's darkest secret -- his ability to shift into a wolf. One of these people is Isabel. At one point, they may have even loved each other. But that feels like a lifetime ago. Now Cole is back. Back in the spotlight. Back in the danger zone. Back in Isabel's life. Can this sinner be saved?
a Rafflecopter giveaway