WIN RUIN AND RISING, The Grisha Trilogy #3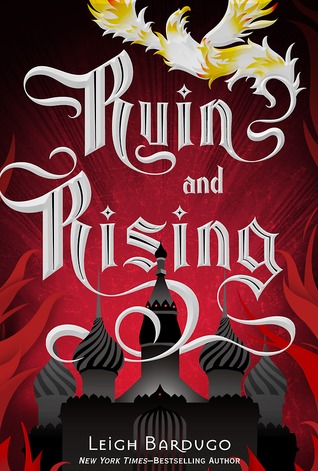 by Leigh Bardugo
Henry Holt & Co.
Released June 17, 2014
The capital has fallen. The Darkling rules Ravka from his shadow throne.
Now the nation's fate rests with a broken Sun Summoner, a disgraced tracker, and the shattered remnants of a once-great magical army.
Deep in an ancient network of tunnels and caverns, a weakened Alina must submit to the dubious protection of the Apparat and the zealots who worship her as a Saint. Yet her plans lie elsewhere, with the hunt for the elusive firebird and the hope that an outlaw prince still survives.
Alina will have to forge new alliances and put aside old rivalries as she and Mal race to find the last of Morozova's amplifiers. But as she begins to unravel the Darkling's secrets, she reveals a past that will forever alter her understanding of the bond they share and the power she wields. The firebird is the one thing that stands between Ravka and destruction—and claiming it could cost Alina the very future she's fighting for.
SPECIAL OneFour KIDLIT PREVIEW AND GIVEAWAY
Behind The Scenes
by Dahlia Adler
Personalized Paperback Giveaway
Spencer Hill Contemporary
Released 6/24/2014
High school senior Ally Duncan's best friend may be the Vanessa Park - star of TV's hottest new teen drama - but Ally's not interested in following in her BFF's Hollywood footsteps. In fact, the only thing Ally's ever really wanted is to go to Columbia and study abroad in Paris. But when her father's mounting medical bills threaten to stop her dream in its tracks, Ally nabs a position as Van's on-set assistant to get the cash she needs.
Spending the extra time with Van turns out to be fun, and getting to know her sexy co-star Liam is an added bonus. But when the actors' publicist arranges for Van and Liam to "date" for the tabloids just after he and Ally share their first kiss, Ally will have to decide exactly what role she's capable of playing in their world of make believe. If she can't play by Hollywood's rules, she may lose her best friend, her dream future, and her first shot at love.
Purchase Behind The Scenes at Amazon
Purchase Behind The Scenes at IndieBound
View Behind The Scenes on Goodreads
Essence
by Lisa Ann O'Kane
Spencer Hill Press
Signed Paperback Giveaway and Two Essence Pins
Neutrality is the key to longevity. This motto has governed 16 year-old Autumn's life in the mid-21st century Centrist cult, which believes that expressing emotions leads to Essence drain and premature death.
But Autumn's younger brother's death casts her faith into question. While sprinting through a park in violation of Centrist teachings, she encounters Ryder Stone, an Outsider who claims Essence drain is nothing more than a Centrist scare tactic. She agrees to join his Community, a utopia of adrenaline junkies living in the abandoned remains of Yosemite National Park.
Autumn learns about sex, drugs, and living life to the fullest. But as she discovers dark secrets beneath the Community's perfect exterior, she realises that this illusion of paradise could be shattered…
What is your favorite thing about Essence?
Essence
is set in Yosemite National Park, and it was partially inspired by the summer I spent living in a tent and working for the park's concessionaire. Simply put, Yosemite is the most breathtaking place I have ever lived, and I often think of
Essence
as a love letter to my time there. The setting is (hopefully) so vibrant it has almost become a character itself.
Purchase Essence at Amazon
Purchase Essence at IndieBound
View Essence on Goodreads
17 First Kisses
by Rachael Allen
Signed Paperback Giveaway
HarperTeen
Released 6/17/2014
No matter how many boys Claire kisses, she can't seem to find a decent boyfriend. Someone who wouldn't rather date her gorgeous best friend, Megan. Someone who won't freak out when he learns about the tragedy her family still hasn't recovered from. Someone whose kisses can carry her away from her backwoods town for one fleeting moment.
Until Claire meets Luke.
But Megan is falling for Luke, too, and if there's one thing Claire knows for sure, it's that Megan's pretty much irresistible.
With true love and best friendship on the line, Claire suddenly has everything to lose. And what she learns—about her crush, her friends, and most of all herself—makes the choices even harder.
In her moving debut, Rachael Allen brilliantly captures the complexities of friendship, the struggles of self-discovery, and the difficulties of trying to find love in high school. Fans of Sarah Ockler, Susane Colasanti, and Stephanie Perkins will fall head over heels for this addictive, heartfelt, and often hilarious modern love story.
Author Question: What is your favorite thing about 17 First Kisses?
The female friendships. I love reading contemporary books with an emphasis on female relationships, whether it's mother-daughter, sisters, or BFFs. My MC, Claire, and her best friend, Megan, are fiercely supportive and protective of each other even though there's a competitiveness between them, particularly with guys. These girls are flawed characters, and neither of them is a model friend, but I love that about them.

Girls need to know that if a friendship has a strong core, you can get in a fight or make a mistake, and it doesn't mean the friendship is over. You can change and grow together instead of apart. Claire and Megan have the kind of friendship that's worth figuring things out about themselves and each other. Instead of hating each other, they work to fix things. And if part of that reconciliation takes the form of stealing your ex-boyfriend's clothes while he's skinny dipping, well, so be it :)
Purchase 17 First Kisses at Amazon
Purchase 17 First Kisses at IndieBound
View 17 First Kisses on Goodreads
* * * *
My Faire Lady
by Laura Wettersten
1 Hardcover, 2 Arcs, signed and personalized Giveaway (3 Copies)
Simon & Schuster Books for Young Readers
Released 6/3/2014
Rowena Duncan is a thoroughly modern girl with big plans for her summer—until she catches her boyfriend making out with another girl. Heartbroken, she applies to an out-of-town job posting and finds herself somewhere she never expected: the Renaissance Faire.
As a face-painter doubling as a serving wench, Ro is thrown headfirst into a vibrant community of artists and performers. She feels like a fish out of water until Will, a quick-witted whip cracker, takes her under his wing. Then there's Christian, a blue-eyed stunt jouster who makes Ro weak in the knees. Soon, it's not just her gown that's tripping her up.
Trading in the internet and electricity for stars and campfires was supposed to make life simpler, but Ro is finding that love is the ultimate complication. Can she let the past make way for her future?
Author Question: What is your favorite thing about My Faire Lady?
The characters. The setting. The camp fires. The knights. It's romantic, hilarious at times, and just plain fun.
Purchase My Faire Lady at Amazon
Purchase My Faire Lady at IndieBound
View My Faire Lady on Goodreads
* * * *
The Girl Who Never Was
by Skylar Dorset
Signed Trade Paperback Giveaway
Sourcebooks Fire
Released 6/1/2014
THE GIRL WHO NEVER WAS is the story of Selkie Stewart, who thinks she's a totally normal teenager growing up in Boston. Sure, her father is in an insane asylum, her mother left her on his doorstep—literally—when she was a baby, and she's being raised by two ancient aunts who spend their time hunting gnomes in their Beacon Hill townhouse. But other than that her life is totally normal! She's got an adventurous best friend who's always got her back and an unrequited crush on an older boy named Ben. Just like any other teenager, right?
When Selkie goes in search of the mother she's never known, she gets more than she bargained for. It turns out that her mother is faerie royalty, which would make Selkie a faerie princess—except for the part where her father is an ogre, which makes her only half of anything. Even more confusing, there's a prophecy that Selkie is going to destroy the tyrannical Seelie Court, which is why her mother actually wants to kill her. Selkie has been kept hidden all her life by her adoring aunts, with the help of a Salem wizard named Will. And Ben. Because the boy she thinks she's in love with turns out to be a faerie whose enchantment has kept her alive, but also kept her in the dark about her own life.
Now, with enchantments dissolved and prophecies swinging into action, Selkie finds herself on a series of mad quests to save the people she's always loved and a life she's learning to love. But in a supernatural world of increasingly complex alliances and distressingly complicated deceptions, it's so hard to know who to trust. Does her mother really wish to kill her? Would Will sacrifice her for the sake of the prophecy? And does Ben really love her or is it all an elaborate ruse? In order to survive, Selkie realizes that the key is learning—and accepting—who she really is.
Author Question: What is your favorite thing about The Girl Who Never Was?
I think what I love most about my book is how the main character finds out that she's faerie royalty and prophesied to lead a revolution and that her mother wants her dead and yet none of that changes who she *is,* and I love her stubbornness in the face of all the craziness of the Otherworld she finds herself in.
Purchase The Girl Who Never Was at Amazon
Purchase The Girl Who Never Was at IndieBound
View The Girl Who Never Was on Goodreads
* * * *
The Truth About Alice
by Jennifer Mathieu
Personalized Hardcover Giveaway
Roaring Brook Press
Released 6/3/2014
Everyone knows Alice slept with two guys at one party. When Healy High star quarterback, Brandon Fitzsimmons, dies in a car crash, it was because he was sexting with Alice. Ask
anybody
. Rumor has it Alice Franklin is a slut. It's written all over the "slut stall" in the girls' bathroom: "Alice had sex in exchange for math test answers" and "Alice got an abortion last semester." After Brandon dies, the rumors start to spiral out of control. In this remarkable debut novel, four Healy High students tell all they "know" about Alice--and in doing so reveal their own secrets and motivations, painting a raw look at the realities of teen life. But in this novel from Jennifer Mathieu, exactly what is the truth about Alice? In the end there's only one person to ask: Alice herself.
Author Question: What is your favorite thing about The Truth About Alice?
It's impossible to choose, but one thing I love is that in the end, the reader is the only person who knows the entire truth about Alice. I hope that is a powerful experience for the reader!
Purchase The Truth About Alice at Amazon
Purchase The Truth About Alice at IndieBound
View The Truth About Alice on Goodreads
* * * *
My Last Kiss
by Bethany Neal
Other Giveaway
Farrar, Straus and Giroux
Released 6/10/2014
What if your last kiss was with the wrong boy?
Cassidy Haines remembers her first kiss vividly. It was on the old covered bridge the summer before her freshman year with her boyfriend of three years, Ethan Keys. But her last kiss—the one she shared with someone at her seventeenth birthday party the night she died—is a blur. Cassidy is trapped in the living world, not only mourning the loss of her human body, but left with the grim suspicion that her untimely death wasn't a suicide as everyone assumes. She can't remember anything from the weeks leading up to her birthday and she's worried that she may have betrayed her boyfriend.
If Cassidy is to uncover the truth about that fateful night and make amends with the only boy she'll ever love, she must face her past and all the decisions she made—good and bad—that led to her last kiss.
Bethany Neal's suspenseful debut novel is about the power of first love and the haunting lies that threaten to tear it apart.
Author Question: What is your favorite thing about My Last Kiss?
I love how MY LAST KISS doesn't fit into just one genre. It could be categorized as a contemporary romance, a mystery/thriller, or even a paranormal romance given that the main character is a ghost...ish. Even though she's not technically human, at the heart of the story is a teenage girl trying to figure out who she is--or wants to be remembered as--and I think a lot of readers will be able to relate to that.
Purchase My Last Kiss at Amazon
Purchase My Last Kiss at IndieBound
View My Last Kiss on Goodreads
MORE OneFour Kidlit June Debuts
Hexed
by Michelle Krys
Hardcover
Delacorte Press
Released 6/10/2014
If high school is all about social status, Indigo Blackwood has it made. Sure, her quirky mom owns an occult shop, and a nerd just won't stop trying to be her friend, but Indie is a popular cheerleader with a football-star boyfriend and a social circle powerful enough to ruin everyone at school. Who wouldn't want to be her?
Then a guy dies right before her eyes. And the dusty old family Bible her mom is freakishly possessive of is stolen. But it's when a frustratingly sexy stranger named Bishop enters Indie's world that she learns her destiny involves a lot more than pom-poms and parties. If she doesn't get the Bible back, every witch on the planet will die. And that's seriously bad news for Indie, because according to Bishop, she's a witch too.
Suddenly forced into a centuries-old war between witches and sorcerers, Indie's about to uncover the many dark truths about her life—and a future unlike any she ever imagined on top of the cheer pyramid.
Author Question: What is your favorite thing about Hexed?
I love the humor. Indie's sarcastic commentary and Bishop's cheeky banter adds some levity to the novel that breaks up some of the heavier, darker paranormal elements of the book.

Purchase Hexed at Amazon
Purchase Hexed at IndieBound
View Hexed on Goodreads
* * * *
Otherbound
by Corinne Duyvis
Hardcover
Amulet Books
Released 6/17/2014
Amara is never alone. Not when she's protecting the cursed princess she unwillingly serves. Not when they're fleeing across dunes and islands and seas to stay alive. Not when she's punished, ordered around, or neglected.
She
can't
be alone, because a boy from another world experiences all that alongside her, looking through her eyes.
Nolan longs for a life uninterrupted. Every time he blinks, he's yanked from his Arizona town into Amara's mind, a world away, which makes even simple things like hobbies and homework impossible. He's spent years as a powerless observer of Amara's life. Amara has no idea . . . until he learns to control her, and they communicate for the first time. Amara is terrified. Then, she's furious.
All Amara and Nolan want is to be free of each other. But Nolan's breakthrough has dangerous consequences. Now, they'll have to work together to survive--and discover the truth about their connection.
Purchase Otherbound at Amazon
Purchase Otherbound at IndieBound
View Otherbound on Goodreads
* * * *
Push Girl
by Chelsie Hill, Jessica Love
Hardcover
St. Martin's Griffin
Released 6/3/2014
An inspiring, real, and fresh young adult novel about how life can change in an instant by Chelsie Hill, one of the stars Sundance Channel's unscripted series Push Girls, based on her own life
Kara is a high school junior who's loving life. She's popular, has a great group of friends and an amazing boyfriend, and she's a shoe-in for homecoming queen. Even though her parents can't stop fighting and her ex-boyfriend can't seem to leave her alone, Kara won't let anything get in the way of her perfect year. It's Friday night, and Kara arrives at a party, upset after hearing her parents having another one of their awful fights, and sees another girl with her hands all over her boyfriend. Furious, Kara leaves to take a drive, and, as she's crossing an intersection, a car comes out of nowhere and slams into the driver's side of Kara's car.
When Kara wakes up, she has no memory of the night before. Where is she? Why are her parents crying? And, most importantly -- why can't she feel her legs? As Kara is forced to adjust to her new life, where her friends aren't who they seemed to be and her once-adoring boyfriend is mysteriously absent, she starts to realize that what matters in life isn't what happens to you -- it's the choices you make and the people you love.
Co-written by "Push Girls" star Chelsie Hill, whose real life closely mirrors Kara's experience, this novel will open the eyes of readers everywhere who have never met someone who lives with paralysis.
Purchase Push Girl at Amazon
Purchase Push Girl at IndieBound
View Push Girl on Goodreads
* * * *
The Murder Complex
by Lindsay Cummings
Hardcover
Greenwillow Books
Released 6/10/2014
An action-packed, blood-soaked, futuristic debut thriller set in a world where the murder rate is higher than the birthrate. For fans of Moira Young's Dust Lands series, La Femme Nikita, and the movie Hanna.
Meadow Woodson, a fifteen-year-old girl who has been trained by her father to fight, to kill, and to survive in any situation, lives with her family on a houseboat in Florida. The state is controlled by The Murder Complex, an organization that tracks the population with precision.
The plot starts to thicken when Meadow meets Zephyr James, who is—although he doesn't know it—one of the MC's programmed assassins. Is their meeting a coincidence? Destiny? Or part of a terrifying strategy? And will Zephyr keep Meadow from discovering the haunting truth about her family?
Action-packed, blood-soaked, and chilling, this is a dark and compelling debut novel by Lindsay Cummings.
Purchase The Murder Complex at Amazon
Purchase The Murder Complex at IndieBound
View The Murder Complex on Goodreads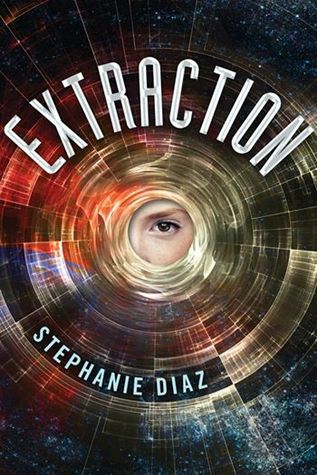 * * * *
Extraction
by Stephanie Diaz
St. Martin's Press
July 22, 2014
Welcome to Extraction testing.
Clementine has spent her whole life preparing for her sixteenth birthday, when she'll be tested for Extraction in the hopes of being sent from the planet Kiel's toxic Surface to the much safer Core, where people live without fear or starvation. When she proves promising enough to be "Extracted," she must leave without Logan, the boy she loves. Torn apart from her only sense of family, Clem promises to come back and save him from brutal Surface life.
What she finds initially in the Core is a utopia compared to the Surface—it's free of hard labor, gun-wielding officials, and the moon's lethal acid. But life is anything but safe, and Clementine learns that the planet's leaders are planning to exterminate Surface dwellers—and that means Logan, too.
Trapped by the steel walls of the underground and the lies that keep her safe, Clementine must find a way to escape and rescue Logan and the rest of the planet. But the planet leaders don't want her running—they want her subdued.
With intense action scenes and a cast of unforgettable characters,Extraction is a page-turning, gripping read, sure to entertain lovers ofHunger Games and Ender's Game and leave them breathless for more.
a Rafflecopter giveaway