I got an email from Writer's Digest on Thursday letting us know we'd been honored as one of their 101 Best Websites for Writers for the second year in a row. And I honestly can't begin to tell you how grateful I am--how grateful we all are! We are in phenomenal company, which is even more astonishing.
One of the most wonderful things about this award is that it truly recognizes the team effort that goes into creating a blog like this. It would be an impossible, and far less rewarding, task for any one person to undertake. But the recognition is far broader than our core team of myself, Alyssa, Clara, Lisa, and Jan. It truly goes to the authors and publishers who contribute posts and interviews and books to us to share with you guys each week. Bringing
their
words to you is what this site is all about.
Writing is a lonely endeavor so much of the time. Being able to share it with other writers makes it easier. Being able to learn from authors generous enough to give their insight, wisdom, expertise, and most of all from their fiction is beyond price.
We want this site to be an intersection between readers and writers, a place where readers and authors connect about the love of the journey and celebrate each other.
Ordinarily, we would post a giveaway in honor of a hallmark like this, but the news came just a day after I posted a the huge giveaway to celebrate reaching two million page views, so I think that's celebration enough. : ) The
giveaway for that post is here
, and to make a long story short, you'll find twenty prize packs in there, including thirty-eight different books or series by Jennifer L. Armentrout, Holly Black, Anne Blankman, Libba Bray, Sarah Rees Brennan, Rae Carson, Kresley Cole, Leah Cypess, Kimberly Derting, Lisa Gail Green, S.E. Green, Wendy Higgins, Rosamund Hodge, Clara Kensie, Kimberley Griffiths Little, Marie Rutkoski, Maggie Stiefvater, Laini Taylor, Kat Zhang and more.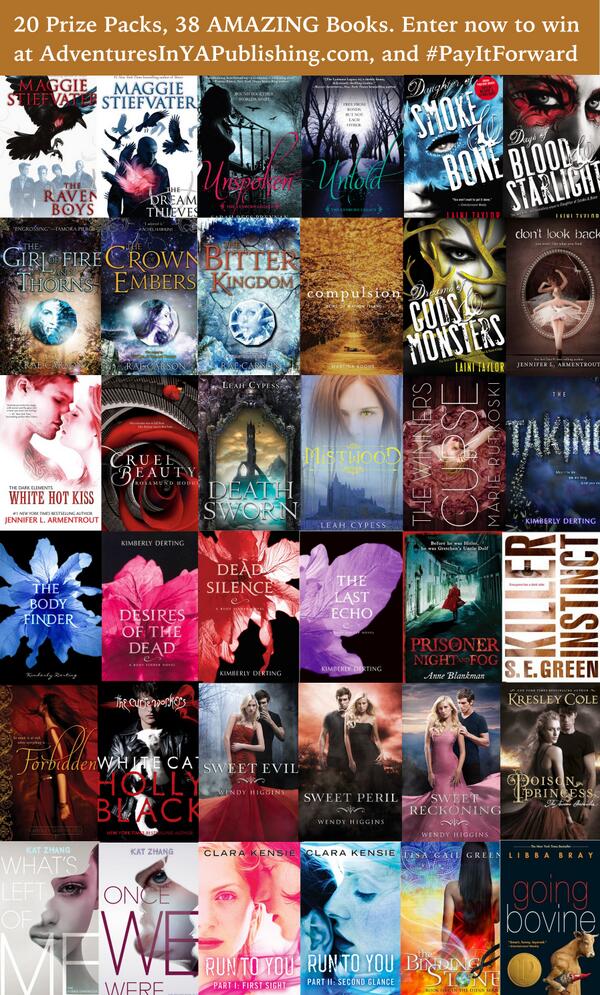 That should take care of the reading portion of our celebration.
To showcase the writing portion, I've asked Alyssa and Jan to go through and pull together a list of popular or helpful posts on writing craft and getting published. Here's the list they came up with.
There are a LOT more posts. Check the labels and browse around.
We hope you'll find something helpful on this list and on the site in general, something that will inspire you, get you past a hurdle, and push you a little further along the publishing path.
I can honestly say that everything that you'll find on this site is material that I've experimented with and applied to my own writing in the past four years. This site is how I learned to write.
I can't say often enough that I know luck plays a huge part in getting a book published and into the hands of readers. I feel beyond blessed every single day that
Compulsion
was picked up and that I have the opportunity to work with the incredible team at Simon and Schuster and Simon Pulse. (And I have news I can't even share yet about how wonderful they are!)
That said, though, luck isn't all that goes into it. We have to be brutally critical of our own work. As writers, we have to be ready for luck to strike. It's no surprise that so many of the writers I've met online or at writers workshops have been published or are in the process of being published. We can't control which manuscripts get picked up by agents or ultimately sell, but we can get our manuscripts to publishable level. And to do that, we have to learn everything we can about craft. The writers I've seen succeeding are those who write all the time, read all the time, and question and eagerly pursue learning as part of the process.
I've been lucky to learn from most of the websites mentioned in this year's issue, as well as many who aren't on the list.
Writers Helping Writers
,
Janice Hardy
, and
Jami Gold
are three sites you don't want to miss, and
Mystery Writing Is Murder
,
Victoria Mixon
,
Anne R. Allen
,
Jane Friedman
,
The Plot Whisperer
,
Writer Unboxed
,
YA Highway
,
The SCBWI
,
Querytracker
,
Adventures in Agentland
,
Rachelle Gardner
,
Nathan Bransford
and so many others have been my go to sites for years. I can't believe we're on a list with Mashable, Absolute Write, and Goodreads, for Pete's sake. How awesome is that? Mind. Blown. But I truly wish the list was longer. So many people and great sites deserve it.
Thank you all! Thank you to Writer's Digest. Thank you to the amazing authors and publishers who make this happen. Most of all, thank you to Alyssa, Clara, Lisa, and Jan, without whom this site simply would not exist!
Happy writing, everyone,
Martina