Happy Reading,
Shelly, Sam, Martina, Erin, Susan, Kelly, Laura, Emily, Anisaa, and Lori Ann
YOUNG ADULT NOVELS NEW IN STORES NEXT WEEK
* * * *
I'm Not Dying with You Tonight
by Gilly Segal and Kimberly Jones
Hardcover
Sourcebooks Fire
Released 8/6/2019
Lena and Campbell aren't friends.
Lena has her killer style, her awesome boyfriend, and a plan. She knows she's going to make it big. Campbell, on the other hand, is just trying to keep her head down and get through the year at her new school.
When both girls attend the Friday-night football game, what neither expects is for everything to descend into sudden mass chaos. Chaos born from violence and hate. Chaos that unexpectedly throws them together.
They aren't friends. They hardly understand the other's point of view. But none of that matters when the city is up in flames, and they only have each other to rely on if they're going to survive the night.
Purchase I'm Not Dying with You Tonight at Amazon
Purchase I'm Not Dying with You Tonight at IndieBound
View I'm Not Dying with You Tonight on Goodreads
* * * *
#MurderFunding
by Gretchen McNeil
Hardcover
Freeform
Released 8/6/2019
WELCOME TO WHO WANTS TO BE A PAINIAC?, the latest reality TV show on the hunt for the next big-hit serial killer. But don't worry-no one is actually going to murder anyone, as real as the fake gore and pretend murder may appear . . . uh, right?
Seventeen-year-old Becca Martinello is about to find out. When her perfectly normal soccer mom dies in a car crash, a strange girl named Stef appears and lets Becca know that her deceased mom was none other than one of Alcatraz 2.0's most popular serial killers-Molly Mauler. Soon, Becca ends up on Who Wants to Be a Painiac? to learn the truth about her mom's connection to Molly, but things turn sinister when people are murdered IRL. Will Becca uncover dark secrets and make it out of the deadly reality show alive? Or will she get cut?
Purchase #MurderFunding at Amazon
Purchase #MurderFunding at IndieBound
View #MurderFunding on Goodreads
* * * *
A Dress for the Wicked
by Autumn Krause
Hardcover
HarperTeen
Released 8/6/2019
The high-stakes fashion scene of a reimagined nineteenth century Europe takes center stage in this YA debut perfect for fans of The Belles and The Luxe.
Purchase A Dress for the Wicked at Amazon
Purchase A Dress for the Wicked at IndieBound
View A Dress for the Wicked on Goodreads
* * * *
Containment
by Caryn Lix
Hardcover
Simon Pulse
Released 8/6/2019
They may have escaped Sanctuary, but Kenzie and her friends are far from safe.
Ex-Omnistellar prison guard Kenzie and her superpowered friends barely made it off Sanctuary alive. Now they're stuck in a stolen alien ship with nowhere to go and no one to help them. Kenzie is desperate for a plan, but she doesn't know who to trust anymore. Everyone has their own dark secrets: Omnistellar, her parents, even Cage. Worse still, she's haunted by memories of the aliens who nearly tore her to shreds—and forced her to accidentally kill one of the Sanctuary prisoners, Matt.
When Kenzie intercepts a radio communication suggesting that more aliens are on their way, she knows there's only one choice: They must turn themselves in to Omnistellar and destroy the ship before the aliens follow the signal straight to them. Because if the monstrous creatures who attacked Sanctuary reach Earth, then it's game over for humanity.
What Kenzie doesn't know is that the aliens aren't the only ones on the hunt. Omnistellar has put a bounty on Kenzie's head—and the question is whether the aliens or Omnistellar get to her first.
Purchase Containment at Amazon
Purchase Containment at IndieBound
View Containment on Goodreads
* * * *
Hello Girls
by Brittany Cavallaro
Hardcover
Katherine Tegen Books
Released 8/6/2019
Winona has been starving for life in the seemingly perfect home that she shares with her seemingly perfect father, celebrity weatherman Stormy Olsen. No one knows that he locks the pantry door to control her eating and leaves bruises where no one can see them.
Lucille has been suffocating beneath the needs of her mother and her drug-dealing brother, wondering if there's more out there for her than disappearing waitress tips and a lifetime of barely getting by.
One harrowing night, Winona and Lucille realize they can't wait until graduation to start their new lives. They need out. Now. One hour later, they're armed with a plan that will take them from their small Michigan town to Chicago.
All they need is three grand, fast. And really, a stolen convertible can't hurt.
Chased by the oppression, toxicity, and powerlessness that has held them down, Winona and Lucille must reclaim their strength if they are going to make their daring escape—and get away with it.
Purchase Hello Girls at Amazon
Purchase Hello Girls at IndieBound
View Hello Girls on Goodreads
* * * *
Here There Are Monsters
by Amelinda Bérubé
Paperback
Sourcebooks Fire
Released 8/6/2019
Sixteen-year-old Skye is done playing the knight in shining armor for her insufferable younger sister, Deirdre. And moving across the country seems like the perfect chance to start over as someone different.
In their isolated new neighborhood, Skye manages to fit in, but Deirdre withdraws from everyone, becoming fixated on the swampy woods behind their house and building monstrous sculptures out of sticks and bones.
Then Deirdre disappears.
And when something awful comes scratching at Skye's window in the middle of the night, claiming Skye's the only one who can save Deirdre, Skye knows she will stop at nothing to bring her sister home.
Purchase Here There Are Monsters at Amazon
Purchase Here There Are Monsters at IndieBound
View Here There Are Monsters on Goodreads
* * * *
How the Light Gets In
by Katy Upperman
Hardcover
Swoon Reads
Released 8/6/2019
Since her sister's tragic death, seventeen-year-old Callie Ryan has basically given up. Her grades have plummeted, she's quit her swim team, and she barely recognizes the people her parents once were.
When she returns to her aunt's run-down coastal Victorian one year after Chloe's death, Callie resigns herself to a summer of guilt and home renovations. She doesn't expect to be charmed by the tiny coastal town or by Tucker Morgan, a local boy brimming with sunshine.
But even as her days begin to brighten, Callie's nights are crowded with chilling dreams, unanswered questions, and eerie phenomenon that have her convinced she's being haunted. Will Callie be able to figure out what her sister is trying to communicate before it's too late?
Purchase How the Light Gets In at Amazon
Purchase How the Light Gets In at IndieBound
View How the Light Gets In on Goodreads
* * * *
Let's Call It a Doomsday
by Katie Henry
Hardcover
Katherine Tegen Books
Released 8/6/2019
There are many ways the world could end. A fire. A catastrophic flood. A super eruption that spews lakes of lava. Ellis Kimball has made note of all possible scenarios, and she is prepared for each one.
What she doesn't expect is meeting Hannah Marks in her therapist's waiting room. Hannah calls their meeting fate. After all, Ellis is scared about the end of the world; Hannah knows when it's going to happen.
Despite Ellis's anxiety—about what others think of her, about what she's doing wrong, about the safety of her loved ones—the two girls become friends. But time is ticking down, and as Ellis tries to help Hannah decipher the details of her doomsday premonition, their search for answers only raises more questions.
When does it happen? Who will believe them? And how do you prepare for the end of the world when it feels like your life is just getting started?
Purchase Let's Call It a Doomsday at Amazon
Purchase Let's Call It a Doomsday at IndieBound
View Let's Call It a Doomsday on Goodreads
* * * *
Remember Me
by Chelsea Bobulski
Hardcover
Feiwel & Friends
Released 8/6/2019
Nell Martin is moving again, this time to the Winslow Grand Hotel, built in 1878. As Nell is settling in, strange things begin to happen. Doors lock of their own accord, writing appears on bathroom walls―and most horrifying of all―visions of a dead boy permeate her waking life. Thinking it was her mind playing tricks on her, she soon finds the past and the present colliding as she learns horrific details of a murder that happened at the hotel in 1907 involving a girl named Lea.
Nell and a mysterious bellboy must relive that day in hopes of finally breaking a curse that imprisons them both. And Nell discovers what truly links her to the history of the Winslow Grand Hotel.
Purchase Remember Me at Amazon
Purchase Remember Me at IndieBound
View Remember Me on Goodreads
* * * *
Sea Witch Rising
by Sarah Henning
Hardcover
Katherine Tegen Books
Released 8/6/2019
Runa will not let her twin sister die. Alia traded her voice to the Sea Witch for a shot at happiness with a prince who doesn't love her. And his rejection will literally kill her—unless Runa intervenes.
Under the sea, Evie craves her own freedom—but liberation from her role as Sea Witch will require an exchange she may not be willing to make. With their hearts' desires at odds, what will Runa and Evie be willing to sacrifice to save their worlds?
Told from alternating perspectives, this epic fairy tale retelling is a romantic and heart-wrenching story about the complications of sisterhood, the uncompromising nature of magic, and the cost of redemption.
Purchase Sea Witch Rising at Amazon
Purchase Sea Witch Rising at IndieBound
View Sea Witch Rising on Goodreads
* * * *
Swipe Right for Murder
by Derek Milman
Hardcover
jimmy patterson
Released 8/6/2019
Finding himself alone in a posh New York City hotel room for the night, Aidan does what any red-blooded seventeen-year-old would do--tries to hook up with someone new. But that lapse in judgement leads him to a room with a dead guy and a mysterious flash drive...two things that spark an epic case of mistaken identity that puts Aidan on the run--from the authorities, his friends, his family, the people who are out to kill him--and especially from his own troubled past.
Purchase Swipe Right for Murder at Amazon
Purchase Swipe Right for Murder at IndieBound
View Swipe Right for Murder on Goodreads
* * * *
The Demon World
by Sally Green
Hardcover
Viking Books for Young Readers
Released 8/6/2019
A princess. A soldier. A servant. A demon hunter. A thief. When we last saw them, this unlikely group was heading into the Northern Territory of the kingdom of Pitoria, on the run from the sadistic and power-hungry King Aloysius of Brigant. The Smoke Thieves have discovered that demon smoke is not only an illegal drug used for pleasure, but in fact, when taken by children, demon smoke briefly gives its users super-human strength. Aloysius' plan is simple and brutal: kill the demons for their smoke, and use that smoke to build an unstoppable army of children to take over Pitoria, Calidor, and then the rest of the world. The Smoke Thieves are the only ones who understand this plan--but can they stop it? Catherine, Aloysius' daughter, is seen as a traitor from all sides; Tash is heartbroken after the loss of her one friend and sees nothing left for her in the human world; Edyon is wanted for murder; March is carrying the secret of his betrayal of his new love; Ambrose is out for revenge--and all the while, the demons have plans of their own...
Purchase The Demon World at Amazon
Purchase The Demon World at IndieBound
View The Demon World on Goodreads
* * * *
T-Minus
by Shannon Greenland
Paperback
Entangled: Teen
Released 8/6/2019
I am the daughter of the first female POTUS, and today is about to become the longest day of my life…
24 hours―that's how much time I have to save my mother before terrorists assassinate her. But now my father and brother are missing, too. This goes deeper than anyone thinks. Only someone on the inside would know how to pull this off―how to make the entire First Family disappear.
I can't trust anyone, so it's up to me to uncover the conspiracy and stop these madmen. Because little do they know, they picked the wrong person to terrorize.
My name is Sophie Washington, and I will not be a victim. No one, I repeat no one, is taking me or my family down. But the clock is ticking…
Purchase T-Minus at Amazon
Purchase T-Minus at IndieBound
View T-Minus on Goodreads
* * * *
Vow of Thieves
by Mary E. Pearson
Hardcover
Henry Holt and Co.
Released 8/6/2019
Kazi and Jase have survived, stronger and more in love than ever. Their new life now lies before them―the Ballengers will be outlaws no longer, Tor's Watch will be a kingdom, and Kazi and Jase will meet all challenges side by side, together at last.
But an ominous warning mars their journey back, and they soon find themselves captured in a tangled web of deceit woven by their greatest enemies and unlikeliest allies, a place where betrayals run deeper and more deadly than either had thought possible, and where timeless ambitions threaten to destroy them both.
Purchase Vow of Thieves at Amazon
Purchase Vow of Thieves at IndieBound
View Vow of Thieves on Goodreads
* * * *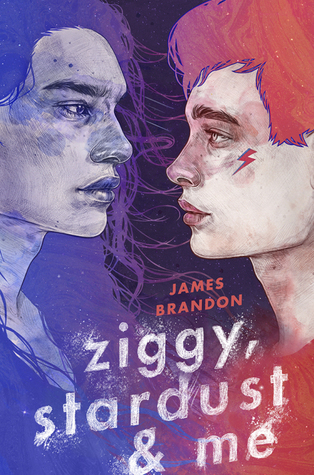 Ziggy, Stardust and Me
by James Brandon
Hardcover
G.P. Putnam's Sons Books for Y
Released 8/6/2019
The year is 1973. The Watergate hearings are in full swing. The Vietnam War is still raging. And homosexuality is still officially considered a mental illness. In the midst of these trying times is sixteen-year-old Jonathan Collins, a bullied, anxious, asthmatic kid, who aside from an alcoholic father and his sympathetic neighbor and friend Starla, is completely alone. To cope, Jonathan escapes to the safe haven of his imagination, where his hero David Bowie's Ziggy Stardust and dead relatives, including his mother, guide him through the rough terrain of his life. In his alternate reality, Jonathan can be anything: a superhero, an astronaut, Ziggy Stardust, himself, or completely "normal" and not a boy who likes other boys. When he completes his treatments, he will be normal--at least he hopes. But before that can happen, Web stumbles into his life. Web is everything Jonathan wishes he could be: fearless, fearsome and, most importantly, not ashamed of being gay.
Jonathan doesn't want to like brooding Web, who has secrets all his own. Jonathan wants nothing more than to be "fixed" once and for all. But he's drawn to Web anyway. Web is the first person in the real world to see Jonathan completely and think he's perfect. Web is a kind of escape Jonathan has never known. For the first time in his life, he may finally feel free enough to love and accept himself as he is.
Purchase Ziggy, Stardust and Me at Amazon
Purchase Ziggy, Stardust and Me at IndieBound
View Ziggy, Stardust and Me on Goodreads