Happy Reading,
Shelly, Sam, Martina, Erin, Susan, Kelly, Laura, Emily, Anisaa, and Lori Ann
MORE YOUNG ADULT NOVELS NEW IN STORES NEXT WEEK
* * * *
Before I Disappear
by Danielle Stinson
Hardcover
Feiwel & Friends
Released 7/23/2019
Rose Montgomery parks her family's trailer in Fort Glory, Oregon with one goal: to carve out a new life for herself and her little brother, Charlie. They need a fresh start for their family, and she thinks she's finally found it in a town where nobody knows them.
But Rose's plans come crashing down when, in an instant, Fort Glory disappears and every person in town vanishes into thin air―including Charlie.
Rose and four other teens become trapped in the Fold, a patch of woods caught halfway between the real world and the lost town. In the Fold, a mysterious force suspends the laws of physics, and everyone's inner darkness has the power to kill.
To survive the Fold, Rose must unravel the clues Charlie sends her from the missing town. And Rose has to find Charlie soon―or he'll be gone forever.
Purchase Before I Disappear at Amazon
Purchase Before I Disappear at IndieBound
View Before I Disappear on Goodreads
* * * *
By Night Vol. 2
by John Allison
Paperback
Simon and Shuster
Released 7/23/2019
Two estranged childhood best friends unexpectedly travel through a portal into another, spookier world where they attempt to create the greatest documentary of all time.
Jane Langstaff and Heather Meadows have been to the other side...and now it's just a question of how to bring proof back home with them. And then there's the question of how the portal got there in the first place...and whether or not the town of Spectrum, South Dakota is safe, or monsters are about to start pouring through to our world. Not to mention, with Gardt facing the consequences for Jane and Heather's invasion, have the girls actually been the monsters all along?
Purchase By Night Vol. 2 at Amazon
Purchase By Night Vol. 2 at IndieBound
View By Night Vol. 2 on Goodreads
* * * *
Grimoire Noir
by Vera Greentea
Hardcover
First Second
Released 7/23/2019
Bucky Orson is a bit gloomy, but who isn't at fifteen?
His best friend left him to hang out with way cooler friends, his dad is the town sheriff, and wait for it―he lives in Blackwell, a town where all the girls are witches. But when his little sister is kidnapped because of her extraordinary power, Bucky has to get out of his own head and go on a strange journey to investigate the small town that gives him so much grief. And in the process he uncovers the town's painful history and a conspiracy that will change it forever.
Purchase Grimoire Noir at Amazon
Purchase Grimoire Noir at IndieBound
View Grimoire Noir on Goodreads
* * * *
How We Became Wicked
by Alexander Yates
Hardcover
Atheneum/Caitlyn Dlouhy Books
Released 7/23/2019
A plague, called Wickedness, is pulsing through the world; and in its wake, it's dividing the population into thirds:
The WICKED: Already infected by the droves of Singers, the ultraviolet mosquito-like insects who carry the plague, the Wicked roam the world freely. They don't want for much—only to maim and dismember you. But don't worry: They always ask politely first.
The TRUE: The True live in contained, isolated communities. They're the lucky ones; they found safety from the Singers. And while the threat of the Wicked may not be eliminated, for the True, the threat has certainly been contained…
The VEXED: The Vexed are the truly fortunate ones—they survived the sting of the Singers, leaving them immune. But they're far from safe. The Vexed hold the key to a cure, and there are those who will do anything to get it.
In this brilliantly realized novel, three teens—Astrid, Hank, and Natalie—start to realize that the divisions of their world aren't as clear as they seem, and are forced to question what being wicked truly means.
Purchase How We Became Wicked at Amazon
Purchase How We Became Wicked at IndieBound
View How We Became Wicked on Goodreads
* * * *
Soul of Stars
by Ashley Poston
Hardcover
Balzer + Bray
Released 7/23/2019
Once Ana was an orphaned space outlaw. Then she was the Empress of the Iron Kingdom. Now, thought dead by most of the galaxy after she escaped from the dark AI program called the HIVE, Ana is desperate for a way to save Di from the HIVE's evil clutches and take back her kingdom.
Ana's only option is to find Starbright, the one person who hacked into the HIVE and lived to tell the tale. But when Ana's desperation costs the crew of the Dossier a terrible price, Ana and her friends are sent spiraling through the most perilous reaches of the Iron Kingdom to stop the true arbiter of evil in her world: an ancient world-ending deity called the Great Dark.
Their journey will take their sharp-witted pilot, Jax, to the home he never wanted to return to and the dangerous fate he left behind. And when Robb finds out who Jax really is, he must contend with his own feelings for the boy he barely knows, and question whether he truly belongs with this group of outcasts.
When facing the worst odds, can Ana and her crew of misfits find a way to stop the Great Dark once and for all?
Purchase Soul of Stars at Amazon
Purchase Soul of Stars at IndieBound
View Soul of Stars on Goodreads
* * * *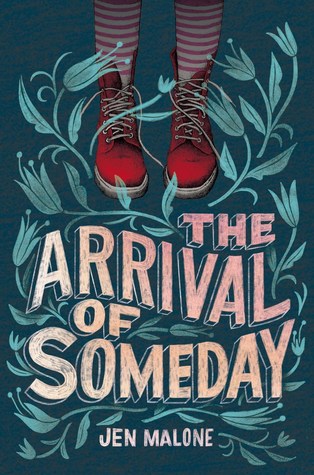 The Arrival of Someday
by Jen Malone
Hardcover
HarperTeen
Released 7/23/2019
Hard-charging and irrepressible, eighteen-year-old Amelia Linehan could see a roller derby opponent a mile away—and that's while crouched down, bent over skates, and zooming around a track at the speed of light.
What she couldn't see coming, however, was the flare-up of the rare liver disorder she was born with. But now it's the only thing she—and everyone around her—can think about.
With no guarantee of a viable organ transplant, everything Amelia's been sure of—like college plans or the possibility of one day falling in love—has become a huge question mark, threatening to drag her down into a sea of what-ifs she's desperate to avoid.
Then a friend from the past shows up. With Will, it's easy to forget about what's lurking between the lightness of their time together. She feels alive when all signs point elsewhere.
But with the odds decidedly not in her favor, Amelia knows this feeling can't last forever. After all, what can?
Purchase The Arrival of Someday at Amazon
Purchase The Arrival of Someday at IndieBound
View The Arrival of Someday on Goodreads
* * * *
The Spaces Between Us
by Stacia Tolman
Hardcover
Henry Holt and Co
Released 7/23/2019
Serena Velasco and her best (and only) friend, Melody Grimshaw, are dying to get out of Colchis. Until now they've both been coasting, keeping a safe distance from the bleakness of home and the banality of high school. To make things more interesting Serena fixates on communism, eager to get a rise out of their conservative small town. Her Western Civ teacher catches on and challenges her with an independent study of class and upward mobility―what creates the spaces between us. Meanwhile, Grimshaw takes on a mission of her own: to make it onto the cheerleading squad, find a job, and escape the weight of her family's hopeless reputation.
But sometimes the biggest obstacles are the ones you don't see coming; Grimshaw's quest for success becomes a fight for survival, and Serena's independent study gets a little too real. With the future of their friendship and their lives on the line, the stakes have never been so high.
Purchase The Spaces Between Us at Amazon
Purchase The Spaces Between Us at IndieBound
View The Spaces Between Us on Goodreads
* * * *
The Undoing of Thistle Tate
by Katelyn Detweiler
Hardcover
Margaret Ferguson Books
Released 7/23/2019
Thistle Tate is a glittering wunderkind--only seventeen, and a bestselling author of the wildly successful Lemonade Skies series, with the highly anticipated final book due to publish next year. She has diehard fans across the globe, flashy tours, and steep advances. And now she's finally started to date her best friend and next-door-neighbor, Liam, the only one who knows her deep dark secret: she's not the real author of the Lemonade Skies books.
Thistle's guilt about lying intensifies after she meets the surprisingly charming Oliver, who introduces her to his super-fan little sister--but how can she have friendships based on deception? All she wants is for this last book to be written so she can be done with the ruse for good.
Then with just two weeks left to deliver the manuscript to her agent and editor, a dramatic turn of events puts everything in jeopardy, and Thistle must grapple with her own identity. Is she a victim, a fraudster, or both? On top of that, Liam is increasingly jealous of Thistle's budding friendship with Oliver--a friendship that leaves Thistle more than a little confused about her own heart.
As the book deadline looms closer, the stakes ever higher, a startling family truth comes to light, and it's only a matter of time before something gives--and Thistle's world becomes undone.
Purchase The Undoing of Thistle Tate at Amazon
Purchase The Undoing of Thistle Tate at IndieBound
View The Undoing of Thistle Tate on Goodreads