Happy Reading,
Shelly, Sam, Martina, Erin, Susan, Kelly, Laura, Emily, Anisaa, and Lori Ann
MORE YOUNG ADULT NOVELS NEW IN STORES
* * * *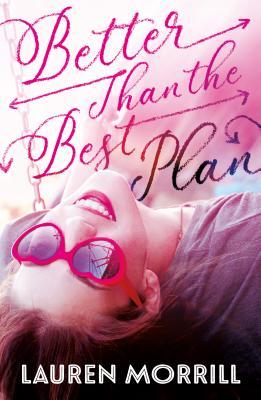 Better Than the Best Plan
by Lauren Morrill
Hardcover
Farrar, Straus and Giroux
Released 6/25/2019
Plans are made to be broken.
It's the last day of junior year, and seventeen-year-old Ritzy―short for Maritza―is pretty sure she has a great plan. Summer job―check. Hang with friends at the beach―check. Keep looking after herself as she's been doing since her mom bailed to follow her bliss―check. Or no check?
After someone reports that Ritzy is living alone, a social worker shows up and puts her into foster care. That's surprise enough. Even more surprising? Ritzy has been in foster care before, as an infant, and the woman who cared for her then takes her in again. But maybe the greatest surprise of all for Ritzy is that living with her foster mother, Kristin, in Kristin's gorgeous house, isn't all that bad. And neither is the cute, friendly boy next door. If Ritzy's mom hadn't gotten her back all those years ago, this is the life she could have had. But is it the life she should have had?
When Ritzy's old life catches up with her new one, she has some decisions to make. Can she plan for the worst, but still hope for the best?
Purchase Better Than the Best Plan at Amazon
Purchase Better Than the Best Plan at IndieBound
View Better Than the Best Plan on Goodreads
* * * *
Call It What You Want
by Brigid Kemmerer
Hardcover
Bloomsbury YA
Released 6/25/2019
When his dad is caught embezzling funds from half the town, Rob goes from popular lacrosse player to social pariah. Even worse, his father's failed suicide attempt leaves Rob and his mother responsible for his care.
Everyone thinks of Maegan as a typical overachiever, but she has a secret of her own after the pressure got to her last year. And when her sister comes home from college pregnant, keeping it from her parents might be more than she can handle.
When Rob and Maegan are paired together for a calculus project, they're both reluctant to let anyone through the walls they've built. But when Maegan learns of Rob's plan to fix the damage caused by his father, it could ruin more than their fragile new friendship . . .
Purchase Call It What You Want at Amazon
Purchase Call It What You Want at IndieBound
View Call It What You Want on Goodreads
* * * *
DEV1AT3 (Deviate)
by Jay Kristoff
Hardcover
Knopf Books for Young Readers
Released 6/25/2019
In the wake of a climactic battle in the ruined city of Babel, two former best friends suddenly find themselves on opposite sides of the same quest. Eve is torn between the memories of the girl she was, and the synthetic she's discovered herself to be. Together with her lifelike "siblings," Eve sets out to find the real Ana Monrova, whose DNA is the key to building an army of lifelikes. Meanwhile, Eve's best friend, Lemon, is coming to terms with a power that she has long denied--and that others want to harness as a weapon. When she meets a strange boy named Grimm, he offers to lead her out of the horror-ridden landscape and to an enclave of other abnorms like herself. There, Lemon quickly finds a sense of belonging--and perhaps even love--among the other genetic deviates. But all is not what it seems, and with enemies and friends, heroes and villains wearing interchangeable faces, Lemon, too, will join the race to locate Ana Monrova before her former best friend can get to her.
Purchase DEV1AT3 (Deviate) at Amazon
Purchase DEV1AT3 (Deviate) at IndieBound
View DEV1AT3 (Deviate) on Goodreads
* * * *
Girl Upside Down
by Nicole Williams
Paperback
Crown Books for Young Readers
Released 6/25/2019
Quinn knows better than to believe in happy endings, but she always assumed her mom would be by her side. When tragedy strikes, Quinn is sent to live with her estranged father, Nick, who walked out on their family years ago.
Set on hating her new life, Quinn is surprised when she meets Kel. Her new classmate has a reputation around town as a phenom at both baseball and attracting trouble. Even Kel has told Quinn she should stay away, but that only makes him more enticing.
Once Kel starts bailing on school--and plans with Quinn--even she can't ignore the facts. Quinn is determined to uncover Kel's secrets, but will more than just her heart get hurt in the process?
Purchase Girl Upside Down at Amazon
Purchase Girl Upside Down at IndieBound
View Girl Upside Down on Goodreads
* * * *
Return to Zero
by Pittacus Lore
Hardcover
HarperCollins
Released 6/25/2019
After the battle in Switzerland, the Fugitive Six find their allegiances torn, dividing them into two factions. Taylor, Kopano, and Nigel return to the Academy with Nine, but nothing is the same. As fear and resentment of the Human Garde continues to grow, the United Nations decrees that all humans with Legacies must be implanted with inhibitors. So our heroes will have no choice but to rebel.
And with the Foundation still at large, Isabela, Caleb, and Ran have decided to join forces with their former foes Einar and Five to hunt them down. But when a new threat is revealed, the group may find itself painfully outmatched. Facing capture or annihilation from all sides, the only hope the Human Garde have for survival is to stand together once and for all to fight back against their true enemies.
Purchase Return to Zero at Amazon
Purchase Return to Zero at IndieBound
View Return to Zero on Goodreads
* * * *
The Evil Queen
by Gena Showalter
Hardcover
HarperCollins
Released 6/25/2019
WELCOME TO THE FOREST OF GOOD AND EVIL.
A DREAM COME TRUE…AND A LIVING NIGHTMARE.
Far, far away, in the realm of Enchantia, creatures of legend still exist, magic is the norm and fairy tales are real. Except, fairy tales aren't based on myths and legends of the past—they are prophecies of the future.
Raised in the mortal realm, Everly Morrow has no idea she's a real-life fairy-tale princess—until she manifests an ability to commune with mirrors.
Look. See… What will one peek hurt?
Soon, a horrifying truth is revealed. She is fated to be Snow White's greatest enemy, the Evil Queen.
With powers beyond her imagination or control, Everly returns to the land of her birth. There, she meets Roth Charmaine, the supposed Prince Charming. Their attraction is undeniable, but their relationship is doomed. As the prophecy unfolds, Everly faces one betrayal after another, and giving in to her dark side proves more tempting every day. Can she resist, or will she become the queen—and villain—she was born to be?
The battle between good and evil is on.
Purchase The Evil Queen at Amazon
Purchase The Evil Queen at IndieBound
View The Evil Queen on Goodreads
* * * *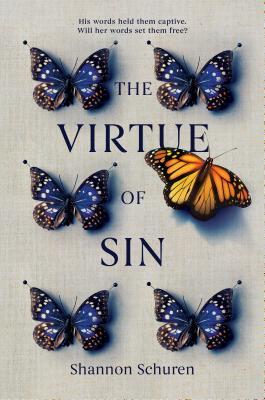 The Virtue of Sin
by Shannon Schuren
Hardcover
Philomel Books
Released 6/25/2019
Miriam lives in New Jerusalem, a haven in the desert far away from the sins and depravity of the outside world. Within the gates of New Jerusalem, and under the eye of its founder and leader, Daniel, Miriam knows she is safe. Cared for. Even if she's forced, as a girl, to quiet her tongue when she has thoughts she wants to share, Miriam knows that New Jerusalem is a far better life than any alternative. So when God calls for a Matrimony, she's thrilled; she knows that Caleb, the boy she loves, will choose her to be his wife and they can finally start their life together.
But when the ceremony goes wrong and Miriam winds up with someone else, she can no longer keep quiet. For the first time, Miriam begins to question not only the rules that Daniel has set in place, but also what it is she believes in, and where she truly belongs.
Alongside unexpected allies, Miriam fights to learn--and challenge--the truth behind the only way of life she's ever known, even if it means straying from the path of Righteousness.
Purchase The Virtue of Sin at Amazon
Purchase The Virtue of Sin at IndieBound
View The Virtue of Sin on Goodreads
* * * *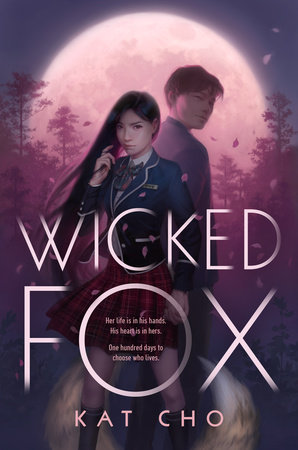 Wicked Fox
by Kat Cho
Hardcover
G.P. Putnam's Sons Books for Y
Released 6/25/2019
Eighteen-year-old Gu Miyoung has a secret--she's a gumiho, a nine-tailed fox who must devour the energy of men in order to survive. Because so few believe in the old tales anymore, and with so many evil men no one will miss, the modern city of Seoul is the perfect place to hide and hunt.
But after feeding one full moon, Miyoung crosses paths with Jihoon, a human boy, being attacked by a goblin deep in the forest. Against her better judgment, she violates the rules of survival to rescue the boy, losing her fox bead--her gumiho soul--in the process.
Jihoon knows Miyoung is more than just a beautiful girl--he saw her nine tails the night she saved his life. His grandmother used to tell him stories of the gumiho, of their power and the danger they pose to men. He's drawn to her anyway.
With murderous forces lurking in the background, Miyoung and Jihoon develop a tenuous friendship that blossoms into something more. But when a young shaman tries to reunite Miyoung with her bead, the consequences are disastrous and reignite a generations-old feud . . . forcing Miyoung to choose between her immortal life and Jihoon's.
Purchase Wicked Fox at Amazon
Purchase Wicked Fox at IndieBound
View Wicked Fox on Goodreads