Happy Reading,
Shelly, Sam, Martina, Erin, Susan, Kelly, Laura, Emily, Anisaa, and Lori Ann
YOUNG ADULT NOVELS NEW IN STORES NEXT WEEK
* * * *
Amelia Westlake Was Never Here
by Erin Gough
Hardcover
Poppy
Released 5/21/2019
Harriet Price is the perfect student: smart, dutiful, over-achieving. Will Everhart is a troublemaker who's never met an injustice she didn't fight. When their swim coach's inappropriate behavior is swept under the rug, the unlikely duo reluctantly team up to expose his misdeeds, pulling provocative pranks and creating the instantly legendary Amelia Westlake--an imaginary student who helps right the many wrongs of their privileged institution. But as tensions burn throughout their school--who is Amelia Westlake?--and between Harriet and Will, how long can they keep their secret? How far will they go to make a difference? And when will they realize they're falling for each other?
Purchase Amelia Westlake Was Never Here at Amazon
Purchase Amelia Westlake Was Never Here at IndieBound
View Amelia Westlake Was Never Here on Goodreads
* * * *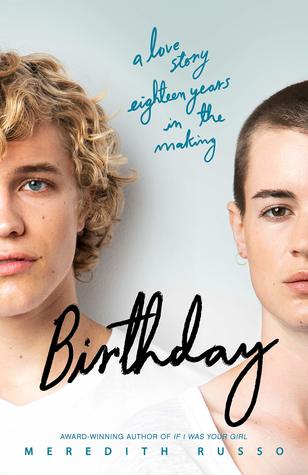 Birthday: A Novel
by Meredith Russo
Hardcover
Flatiron Books
Released 5/21/2019
Two best friends. A shared birthday. Six years...
ERIC: There was the day we were born. There was the minute Morgan and I decided we were best friends for life. The years where we stuck by each other's side―as Morgan's mom died, as he moved across town, as I joined the football team, as my parents started fighting. But sometimes I worry that Morgan and I won't be best friends forever. That there'll be a day, a minute, a second, where it all falls apart and there's no turning back the clock.
MORGAN: I know that every birthday should feel like a new beginning, but I'm trapped in this mixed-up body, in this wrong life, in Nowheresville, Tennessee, on repeat. With a dad who cares about his football team more than me, a mom I miss more than anything, and a best friend who can never know my biggest secret. Maybe one day I'll be ready to become the person I am inside. To become her. To tell the world. To tell Eric. But when?
Six years of birthdays reveal Eric and Morgan's destiny as they come together, drift apart, fall in love, and discover who they're meant to be―and if they're meant to be together.
Purchase Birthday: A Novel at Amazon
Purchase Birthday: A Novel at IndieBound
View Birthday: A Novel on Goodreads
* * * *
Brave Face: A Memoir
by Shaun David Hutchinson
Hardcover
Simon Pulse
Released 5/21/2019
"I wasn't depressed because I was gay. I was depressed and gay."
Shaun David Hutchinson was nineteen. Confused. Struggling to find the vocabulary to understand and accept who he was and how he fit into a community in which he couldn't see himself. The voice of depression told him that he would never be loved or wanted, while powerful and hurtful messages from society told him that being gay meant love and happiness weren't for him.
A million moments large and small over the years all came together to convince Shaun that he couldn't keep going, that he had no future. And so he followed through on trying to make that a reality.
Thankfully Shaun survived, and over time, came to embrace how grateful he is and how to find self-acceptance. In this courageous and deeply honest memoir, Shaun takes readers through the journey of what brought him to the edge, and what has helped him truly believe that it does get better.
Purchase Brave Face: A Memoir at Amazon
Purchase Brave Face: A Memoir at IndieBound
View Brave Face: A Memoir on Goodreads
* * * *
Girl Gone Viral
by Arvin Ahmadi
Hardcover
Viking Books for Young Readers
Released 5/21/2019
For seventeen-year-old Opal Hopper, code is magic. She builds entire worlds from scratch: Mars craters, shimmering lakes, any virtual experience her heart desires.
But she can't code her dad back into her life. When he disappeared after her tenth birthday, leaving only a cryptic note, Opal tried desperately to find him. And when he never turned up, she enrolled at a boarding school for technical prodigies and tried to forget.
Until now. Because WAVE, the world's biggest virtual reality platform, has announced a contest where the winner gets to meet its billionaire founder. The same billionaire who worked closely with Opal's dad. The one she always believed might know where he went. The one who maybe even murdered him.
What begins as a small data hack to win the contest spirals out of control when Opal goes viral, digging her deeper into a hole of lies, hacks, and manipulation. How far will Opal go for the answers--or is it the attention--she's wanted for years?
Purchase Girl Gone Viral at Amazon
Purchase Girl Gone Viral at IndieBound
View Girl Gone Viral on Goodreads
* * * *
Going Off Script
by Jen Wilde
Hardcover
Swoon Reads
Released 5/21/2019
Seventeen-year-old Bex is thrilled when she gets an internship on her favorite tv show, Silver Falls. Unfortunately, the internship isn't quite what she expected... instead of sitting in a crowded writer's room volleying ideas back and forth, Production Interns are stuck picking up the coffee.
Determined to prove her worth as a writer, Bex drafts her own script and shares it with the head writer―who promptly reworks it and passes it off as his own! Bex is understandably furious, yet...maybe this is just how the industry works? But when they rewrite her proudly lesbian character as straight, that's the last straw! It's time for Bex and her crush to fight back.
Purchase Going Off Script at Amazon
Purchase Going Off Script at IndieBound
View Going Off Script on Goodreads
* * * *
Happily and Madly
by Alexis Bass
Hardcover
Tor Teen
Released 5/21/2019
Maris Brown has been told two things about her destiny:
1. She will fall happily and madly in love.
2. She could be dead before she turns eighteen.
The summer before that fateful birthday, Maris is in the wealthy beach town of Cross Cove with her estranged father and his new family--and the infamous Duvals. Since the youngest member of the Duval family, Edison, is back from college and back in the arms of Maris's new stepsister, her summer looks to be a long string of lazy days on the Duval's lush beach.
But Edison is hiding something. And the more Maris learns about him, the more she's given signs that she should stay as far away from him as possible. As wrong as it is, Maris is drawn to him. Around Edison, she feels truly alive and she's not willing to give that up. Even if it means a collision course with destiny.
Purchase Happily and Madly at Amazon
Purchase Happily and Madly at IndieBound
View Happily and Madly on Goodreads
* * * *
Hold My Hand
by Michael Barakiva
Hardcover
Farrar, Straus and Giroux
Released 5/21/2019
Alek Khederian thinks about his life B.E. and A.E.: Before Ethan and After Ethan. Before Ethan, Alek was just an average Armenian-American kid with a mess of curly dark hair, grades not nearly good enough for his parents, and no idea of who he was or what he wanted. After he got together with Ethan, Alek was a new man. Stylish. Confident. (And even if he wasn't quite marching in LGBTQ parades), Gay and Out and Proud.
With their six-month anniversary coming up, Alek and Ethan want to do something special to celebrate. Like, really special. Like, the most special thing two people in love can do with one another. But Alek's not sure he's ready for that. And then he learns something about Ethan that may not just change their relationship, but end it.
Alek can't bear the thought of finding out who he'd be P.E.: Post-Ethan. But he also can't forgive or forget what Ethan did. Luckily, his best friend Becky and madcap Armenain family are there to help him figure out whether it's time to just let Ethan go, or reach out and hold his hand.
Purchase Hold My Hand at Amazon
Purchase Hold My Hand at IndieBound
View Hold My Hand on Goodreads
* * * *
Kingsbane
by Claire Legrand
Hardcover
Sourcebooks Fire
Released 5/21/2019
Rielle Dardenne has been anointed Sun Queen, but her trials are far from over. The Gate keeping the angels at bay is falling. To repair it, Rielle must collect the seven hidden castings of the saints. Meanwhile, to help her prince and love Audric protect Celdaria, Rielle must spy on the angel Corien―but his promises of freedom and power may prove too tempting to resist.
Centuries later, Eliana Ferracora grapples with her new reality: She is the Sun Queen, humanity's long-awaited savior. But fear of corruption―fear of becoming another Rielle―keeps Eliana's power dangerous and unpredictable. Hunted by all, racing against time to save her dying friend Navi, Eliana must decide how to wear a crown she never wanted―by embracing her mother's power, or rejecting it forever.
Purchase Kingsbane at Amazon
Purchase Kingsbane at IndieBound
View Kingsbane on Goodreads
* * * *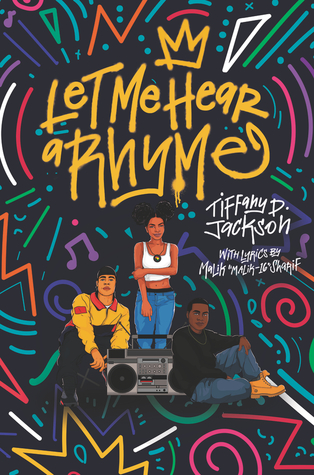 Let Me Hear a Rhyme
by Tiffany D. Jackson
Hardcover
Katherine Tegen Books
Released 5/21/2019
Brooklyn, 1998. Biggie Smalls was right: Things done changed. But that doesn't mean that Quadir and Jarrell are cool letting their best friend Steph's music lie forgotten under his bed after he's murdered—not when his rhymes could turn any Bed Stuy corner into a party.
With the help of Steph's younger sister Jasmine, they come up with a plan to promote Steph's music under a new rap name: the Architect. Soon, everyone wants a piece of him. When his demo catches the attention of a hotheaded music label rep, the trio must prove Steph's talent from beyond the grave.
As the pressure of keeping their secret grows, Quadir, Jarrell, and Jasmine are forced to confront the truth about what happened to Steph. Only, each has something to hide. And with everything riding on Steph's fame, they need to decide what they stand for or lose all that they've worked so hard to hold on to—including each other.
Purchase Let Me Hear a Rhyme at Amazon
Purchase Let Me Hear a Rhyme at IndieBound
View Let Me Hear a Rhyme on Goodreads
* * * *
Missing, Presumed Dead
by Emma Berquist
Hardcover
Greenwillow Books
Released 5/21/2019
When eighteen-year-old Lexi foresees the brutal murder of a young woman outside a club in downtown L.A., she is powerless to stop it.
But then the girl's ghost appears, seeking vengeance, and Lexi is swept into a dangerous search that could put her directly in the path of a serial killer.
With a touch, Lexi can sense how and when someone will die. Some say it's a gift. But to Lexi it's a curse—one that keeps her friendless and alone. All that changes when Lexi foresees the violent death of a young woman, Jane, outside a club.
Jane doesn't go to the afterlife quietly. Her ghost remains behind, determined to hunt down her murderer, and she needs Lexi's help. In life, Jane was everything Lexi is not—outgoing, happy, popular. But in death, all Jane wants is revenge.
Lexi will do anything to help Jane, to make up for the fact that she didn't—couldn't—save Jane's life, and to keep this beautiful ghost of a girl by her side for as long as possible.
Purchase Missing, Presumed Dead at Amazon
Purchase Missing, Presumed Dead at IndieBound
View Missing, Presumed Dead on Goodreads
* * * *
The Bone Charmer
by Breeana Shields
Hardcover
Page Street Kids
Released 5/21/2019
On the day of Saskia's kenning―a special bone reading that determines the apprenticeships of all seventeen-year-olds―her worst fear comes true. She receives an assignment to train as a Bone Charmer, a seer, like her mother.
Saskia knows her mother saw multiple paths for her, yet chose the one she knew Saskia wouldn't want. Their argument leads to a fracture in one of the bones, with the devastating result of splitting Saskia's future.
Now she will live her two potential paths simultaneously: one where she's forced to confront her magic, and one where she tries to run from it. But when both paths become entangled in the plot of a rogue Charmer, Saskia learns that no future is safe, and some choices have unimaginable consequences. Only one future can survive. And Saskia's life is in danger in both.
Purchase The Bone Charmer at Amazon
Purchase The Bone Charmer at IndieBound
View The Bone Charmer on Goodreads
* * * *
The Exalted
by Kaitlyn Sage Patterson
Hardcover
Inkyard Press; Original editio
Released 5/21/2019
When an assassin's bullet takes the life of Queen Runa and allows an impostor to steal the throne, Bo Trousillion is forced to flee the empire that is his birthright. With few choices left and burdened with a secret that could disinherit him, Bo pursues an alliance with Noriava, the Queen of Denor, but the devious royal ensnares him in a trap and demands a huge price for her aid.
To the south, Vi Abernathy—Bo's secret twin—joins a ragtag army of resistance fighters, determined to free Alskad and the colony of Ilor from the control of the corrupt temple and its leaders. But as Vi discovers a strength she never knew she had and prepares to rejoin her brother in Alskad, news of the coup and Bo's narrow escape arrive in Ilor.
Determined to rescue Bo, Vi sails to Denor with the rebels at her side and a plan to outwit Queen Noriava, knowing there's only one way she and Bo will be able to save the Alskad Empire—together.
Purchase The Exalted at Amazon
Purchase The Exalted at IndieBound
View The Exalted on Goodreads
* * * *
The Missing Season
by Gillian French
Hardcover
HarperTeen
Released 5/21/2019
Whenever another kid goes missing in October, the kids in the old factory town of Pender know what is really behind it: a monster out in the marshes that they call the Mumbler.
That's what Clara's new crew tells her when she moves to town. Bree and Sage, who take her under their wing. Spirited Trace, who has taken the lead on this year's Halloween prank war. And magnetic Kincaid, whose devil-may-care attitude and air of mystery are impossible for Clara to resist.
Clara doesn't actually believe in the Mumbler—not like Kinkaid does. But as Halloween gets closer and tensions build in the town, it's hard to shake the feeling that there really is something dark and dangerous in Pender. Lurking in the shadows. Waiting to bring the stories to life.
Purchase The Missing Season at Amazon
Purchase The Missing Season at IndieBound
View The Missing Season on Goodreads
* * * *
The Pursuit of Miss Heartbreak Hotel
by Moe Bonneau
Hardcover
Henry Holt and Co
Released 5/21/2019
Ours is an age-old tale of two betties, apple-Jacks forever, when suddenly one goes ace gorgeous and then, naturally, massive popular. Said popular betty ditches other unsaid, unpopular betty for superhit cool crowd. Girls don't speak again for four years, until a chance meeting reunites them . . .
What do you do when Ms. Ancient History comes waltzing back into your life? If you're Lu Butler, dodging sweet but clueless boys while secretly crushing hard on girls, you fall.
Intimate and raw, The Pursuit of Miss Heartbreak Hotel is a story about friends, family, old habits you can't quite shake, and first love you never see coming. Bursting with undeniable swagger and neo-beat slang, Moe Bonneau's stunning debut novel has a language and rhythm all its own.
Purchase The Pursuit of Miss Heartbreak Hotel at Amazon
Purchase The Pursuit of Miss Heartbreak Hotel at IndieBound
View The Pursuit of Miss Heartbreak Hotel on Goodreads
* * * *
We Are the Perfect Girl
by Ariel Kaplan
Hardcover
Knopf Books for Young Readers
Released 5/21/2019
Aphra Brown is bold and outgoing. Her best friend, Bethany, is achingly beautiful. Individually, they could both do a little better in the self-esteem department, but together? Together, they have what it takes to win over Greg D'Agostino, a proverbial "ten," who happens to be fluent in six languages--seven if you count the language of smoldering gazes . . .
What begins as an honest mistake turns into an elaborate deception, wherein Bethany goes on dates with Greg while Aphra coaches her on what to say, and texts him in the guise of Bethany, trying and failing, all the while, to tamp down her own hopeless crush. It's only a matter of time before things come crashing down. The question is: What will happen when Greg finds out? And can Aphra and Bethany's friendship survive the fallout?
Purchase We Are the Perfect Girl at Amazon
Purchase We Are the Perfect Girl at IndieBound
View We Are the Perfect Girl on Goodreads