Happy Reading,
Shelly, Sam, Martina, Erin, Susan, Kelly, Laura, Emily, Anisaa, and Lori Ann
YOUNG ADULT NOVELS NEW IN STORES THIS WEEK
* * * *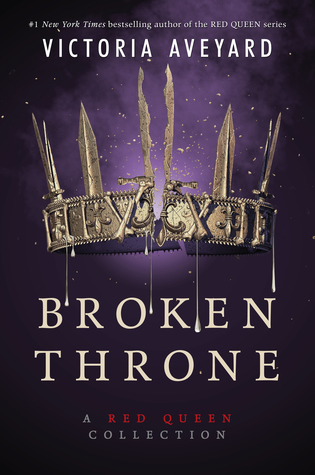 Broken Throne
by Victoria Aveyard
Hardcover
HarperTeen
Released 5/17/2019
The perfect addition to the #1 New York Times bestselling Red Queen series, this gorgeously designed package features three brand-new novellas, two previously published novellas, Steel Scars and Queen Song, and never-before-seen maps, flags, bonus scenes, journal entries, and much more exclusive content.
Fans will be delighted to catch up with beloved characters after the drama of War Storm and be excited to hear from brand-new voices as well. This stunning collection is not to be missed!
Purchase Broken Throne at Amazon
Purchase Broken Throne at IndieBound
View Broken Throne on Goodreads
* * * *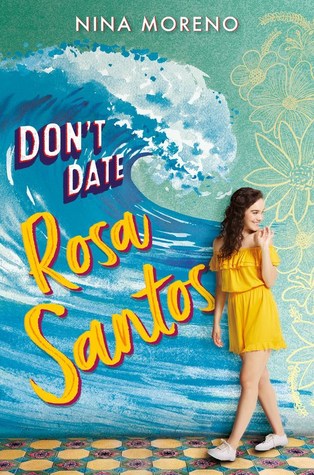 Don't Date Rosa Santos
by Nina Moreno
Hardcover
Disney-Hyperion
Released 5/14/2019
Rosa Santos is cursed by the sea-at least, that's what they say. Dating her is bad news, especially if you're a boy with a boat.
But Rosa feels more caught than cursed. Caught between cultures and choices. Between her abuela, a beloved healer and pillar of their community, and her mother, an artist who crashes in and out of her life like a hurricane. Between Port Coral, the quirky South Florida town they call home, and Cuba, the island her abuela refuses to talk about.
As her college decision looms, Rosa collides-literally-with Alex Aquino, the mysterious boy with tattoos of the ocean whose family owns the marina. With her heart, her family, and her future on the line, can Rosa break a curse and find her place beyond the horizon?
Purchase Don't Date Rosa Santos at Amazon
Purchase Don't Date Rosa Santos at IndieBound
View Don't Date Rosa Santos on Goodreads
* * * *
Four Sisters
by Malika Ferdjoukh
Paperback
Random House
Released 5/14/2019
Since the deaths of their parents, Hortense and her sisters have been on their own. But, although their parents are gone, their spirits can still visit.
Winter arrives, and, as the world is buried in snow, Hortense buries her life in books. She wonders what she will become: A character in her favorite series? A surgeon of incurable diseases who can help her new friend Muguette? Or perhaps an actress? But to go on stage, Hortense would have to overcome her shyness, which seems unlikely for a girl who'd rather write in her diary than express her feelings out loud. It's in her diary where she exposes her innermost thoughts and shares the ups and downs of her teenage life.
Purchase Four Sisters at Amazon
Purchase Four Sisters at IndieBound
View Four Sisters on Goodreads
* * * *
If I Stay: Special Edition
by Gayle Forman
Paperback
Penguin Books
Released 5/14/2019
Everything can change in an instant. For Mia, the day started like any other, surrounded by a loving family, an adoring boyfriend, and a bright future filled with music and infinite possibilities. What she never expected is the choice before her now. Caught between life and death, between a happy past and an uncertain future, Mia has to contemplate everything she holds dear and make a choice: to go or to stay.
Purchase If I Stay: Special Edition at Amazon
Purchase If I Stay: Special Edition at IndieBound
View If I Stay: Special Edition on Goodreads
* * * *
On a Scale of One to Ten
by Ceylan Scott
Hardcover
Chicken House
Released 5/14/2019
Tamar is admitted to Lime Grove, a psychiatric hospital for teenagers.
Lime Grove is home to a number of teenagers with a variety of problems: anorexia, bipolar disorder, behavior issues. Tamar will come to know them all very well. But there's one question she can't... won't answer: What happened to her friend Iris? As Tamar's emotional angst becomes more and more clear to her, she'll have to figure out a path to forgiveness. A shocking, moving, and darkly funny depiction of life in a psychiatric world.
A stunning journey of one girl's mental illness and the redemptive power of truth and healing.
Purchase On a Scale of One to Ten at Amazon
Purchase On a Scale of One to Ten at IndieBound
View On a Scale of One to Ten on Goodreads
* * * *
Splintered
by Jon McGoran
Hardcover
Penguin Books
Released 5/14/2019
After Del's death, Jimi wants to pick up the pieces of her life and move on. But she's become a public figure in her defense of chimeras, and she can't quite shake the spotlight--or her suspicion that she's being followed.
When her friend Dr. Guzman, a chimera sympathizer, is arrested for the murder of a chimera wearing a strange medical bracelet, Jimi does some digging--and eventually discovers that Howard Wells, the venal businessman and proponent of the Genetic Heritage Act, is supporting a hospital that ostensibly provides healthcare for chimeras.
After teaming up with friends Rex and Claudia, Jimi learns that the hospital is actually a cover for an extensive mining operation that retrieves metals needed to operate WellPlants, the computerized brain implants that only the super-rich can afford--and which have made Howard Wells millions. When Jimi realizes that the perilous mining is being done by captive chimeras, she risks her own life to shut down the operation--and incurs the wrath of one of the most powerful and dangerous people in the world.
Purchase Splintered at Amazon
Purchase Splintered at IndieBound
View Splintered on Goodreads
* * * *
Testimony from Your Perfect Girl
by Kaui Hart Hemmings
Hardcover
G.P. Putnam's Sons Books for Y
Released 5/14/2019
Annie Tripp has everything she needs--Italian sweaters, vintage chandelier earrings, and elite ice skating lessons--but all that changes when her father is accused of scamming hundreds of people out of their investments. Annie knows her dad wasn't at fault, but she and her brother are exiled to their estranged aunt and uncle's house in a run-down part of Breckenridge--until the trial blows over.
Life with her new family isn't quite up to Annie's usual standard of living, but surprisingly, pretending to be someone else offers a freedom she's never known. As Annie starts to make real friends for the first time, she realizes she has more in common with her aunt and uncle than she ever wanted to know. As the family's lies begin to crumble and truths demand consequences, Annie must decide which secrets need to see the light of day . . . and which are worth keeping.
Purchase Testimony from Your Perfect Girl at Amazon
Purchase Testimony from Your Perfect Girl at IndieBound
View Testimony from Your Perfect Girl on Goodreads
* * * *
The Summer Bed
by Ann Brashares
Paperback
Ember
Released 5/14/2019
For Sasha, summer means time at her family's sprawling old house out on Long Island. For Ray, it's the same. Sasha and Ray aren't related--and they've never met--but long ago, before they were born, Sasha's dad and Ray's mom were married. Then came a bitter divorce, remarriages, and a new generation of children. Now, the two families have an arrangement: use the summerhouse at your designated time and never cross paths.
Sasha and Ray do connect, though, by email--joking around, confiding in one another, forming a friendship. They've shared so much already . . . what would happen if they met in real life?
Purchase The Summer Bed at Amazon
Purchase The Summer Bed at IndieBound
View The Summer Bed on Goodreads
* * * *
The Things She's Seen
by Ambelin Kwaymullina
Hardcover
Knopf Books for Young Readers
Released 5/14/2019
Nothing's been the same for Beth Teller since the day she died.
Her dad is drowning in grief. He's also the only one who has been able to see and hear her since the accident. But now she's got a mystery to solve, a mystery that will hopefully remind her detective father that he needs to reconnect with the living.
The case takes them to a remote Australian town, where there's been a suspicious fire. All that remains are an unidentifiable body and an unreliable witness found wandering nearby. This witness speaks in riddles. Isobel Catching has a story to tell, and it's a tale to haunt your dreams--but does it even connect to the case at hand?
As Beth and her father unravel the mystery, they find a shocking and heartbreaking story lurking beneath the surface of a small town.
Purchase The Things She's Seen at Amazon
Purchase The Things She's Seen at IndieBound
View The Things She's Seen on Goodreads
* * * *
Tomb of Ancients
by Madeleine Roux
Hardcover
HarperTeen
Released 5/14/2019
Fleeing the nightmares of Coldthistle House, Louisa and her friends have taken up in a posh new London residence. But religious zealots from the shepherd's army are flocking to the city in droves, and ominous warnings are being left on Louisa's very doorstep.
With the evil influence of her father's spirit growing stronger, Louisa knows she'll have to pick a side in the coming war between the old gods, whether she'd like to or not.
Louisa will do whatever it takes to save herself—even if it means returning to Coldthistle House. And when she strikes another devil's bargain with Mr. Morningside, she's forced to join his supernatural staff on a journey to a gateway between worlds, a place of legend: the Tomb of Ancients.
But as always, Louisa knows there's a catch. . .
Purchase Tomb of Ancients at Amazon
Purchase Tomb of Ancients at IndieBound
View Tomb of Ancients on Goodreads
* * * *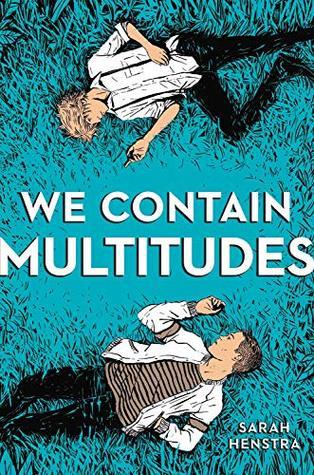 We Contain Multitudes
by Sarah Henstra
Hardcover
Little, Brown Books for Young
Released 5/14/2019
Jonathan Hopkirk and Adam "Kurl" Kurlansky are partnered in English class, writing letters to one another in a weekly pen pal assignment. With each letter, the two begin to develop a friendship that eventually grows into love. But with homophobia, bullying, and devastating family secrets, Jonathan and Kurl struggle to overcome their conflicts and hold onto their relationship...and each other.
Purchase We Contain Multitudes at Amazon
Purchase We Contain Multitudes at IndieBound
View We Contain Multitudes on Goodreads
* * * *
We Hunt the Flame
by Hafsah Faizal
Hardcover
Farrar, Straus and Giroux
Released 5/14/2019
People lived because she killed. People died because he lived.
Zafira is the Hunter, disguising herself as a man when she braves the cursed forest of the Arz to feed her people. Nasir is the Prince of Death, assassinating those foolish enough to defy his autocratic father, the sultan. If Zafira was exposed as a girl, all of her achievements would be rejected; if Nasir displayed his compassion, his father would punish him in the most brutal of ways. Both Zafira and Nasir are legends in the kingdom of Arawiya―but neither wants to be.
War is brewing, and the Arz sweeps closer with each passing day, engulfing the land in shadow. When Zafira embarks on a quest to uncover a lost artifact that can restore magic to her suffering world and stop the Arz, Nasir is sent by the sultan on a similar mission: retrieve the artifact and kill the Hunter. But an ancient evil stirs as their journey unfolds―and the prize they seek may pose a threat greater than either can imagine. Set in a richly detailed world inspired by ancient Arabia, We Hunt the Flame is a gripping debut of discovery, conquering fear, and taking identity into your own hands.
Purchase We Hunt the Flame at Amazon
Purchase We Hunt the Flame at IndieBound
View We Hunt the Flame on Goodreads