Happy Reading,
Shelly, Sam, Martina, Erin, Susan, Kelly, Laura, Emily, Anisaa, and Lori Ann
YOUNG ADULT NOVELS NEW IN STORES THIS WEEK
* * * *
Again, but Better
by Christine Riccio
Hardcover
Wednesday Books
Released 5/7/2019
Shane has been doing college all wrong. Pre-med, stellar grades, and happy parents…sounds ideal -- but Shane's made zero friends, goes home every weekend, and romance…what's that?
Her life has been dorm, dining hall, class, repeat. Time's a ticking, and she needs a change -- there's nothing like moving to a new country to really mix things up. Shane signs up for a semester abroad in London. She's going to right all her college mistakes: make friends, pursue boys, and find adventure!
Easier said than done. She is soon faced with the complicated realities of living outside her bubble, and when self-doubt sneaks in, her new life starts to fall apart.
Shane comes to find that, with the right amount of courage and determination one can conquer anything. Throw in some fate and a touch of magic - the possibilities are endless.
Purchase Again, but Better at Amazon
Purchase Again, but Better at IndieBound
View Again, but Better on Goodreads
* * * *
All Our Broken Pieces
by L.D. Crichton
Hardcover
Disney-Hyperion
Released 5/7/2019
You can't keep two people who are meant to be together apart for long...
Lennon Davis doesn't believe in much, but she does believe in the security of the number five. If she flicks the bedroom light switch five times, maybe her new LA school won't suck. But that doesn't feel right, so she flicks the switch again. And again. Ten more flicks of the switch and maybe her new stepfamily will accept her. Twenty-five more flicks and maybe she won't cause any more of her loved ones to die. Fifty more and then she can finally go to sleep.
Kyler Benton witnesses this pattern of lights from the safety of his tree house in the yard next door. It is only there, hidden from the unwanted stares of his peers, that Kyler can fill his notebooks with lyrics that reveal the true scars of the boy behind the oversize hoodies and caustic humor. But Kyler finds that descriptions of blond hair, sad eyes, and tapping fingers are beginning to fill the pages of his notebooks. Lennon, the lonely girl next door his father has warned him about, infiltrates his mind. Even though he has enough to deal with without Lennon's rumored tragic past in his life, Kyler can't help but want to know the truth about his new muse.
Purchase All Our Broken Pieces at Amazon
Purchase All Our Broken Pieces at IndieBound
View All Our Broken Pieces on Goodreads
* * * *
Always Smile: Lessons from the Inspiring Life of Carley Allison
by Alice Kuipers
Hardcover
Kids Can Press
Released 5/7/2019
Not long ago, seventeen-year-old Carley Allison had it all. She was on the edge of fame as a singer and composer. She was reaching for the highest levels as a competitive skater. She had a brand-new boyfriend and a golden future waiting after graduation. Her world came crashing down when she was diagnosed with a rare kind of cancer in her trachea. Her case, doctors said, was one in 3.5 billion.
Faced with an uncertain new future, Carley did what she always did: she rose to the challenge. Cancer treatment tested her, but Carley was fearless and strong. Told she might never sing again, Carley beat the odds and performed on television for an audience of millions. ?Ladies and gentlemen,? the announcer said, introducing her, ?The voice you're about to hear is a miracle ...?
Carley died before her twenty-first birthday, but her memory lives on in the countless people she touched with her courage. Bestselling author Alice Kuipers (Me & Me, Life on the Refrigerator Door) weaves their stories with the blog Carley kept in the final months of her life. These many voices --- plus plenty of Carley's texts and photos --- show her transformation from ordinary to extraordinary, and convey her personal rules for living well in the worst of times.
Some readers will know Carley already, whether from videos she shared on YouTube, from her heroic public performances, or from the internationally-acclaimed movie Kiss and Cry inspired by Carley's story and starring her real-life friend Sarah Fisher (Degrassi) This tribute to her life and legacy will appeal to her admirers and inspire those who are meeting Carley for the first time. Always Smile a book that will linger and resonate in a reader's heart.
Purchase Always Smile: Lessons from the Inspiring Life of Carley Allison at Amazon
Purchase Always Smile: Lessons from the Inspiring Life of Carley Allison at IndieBound
View Always Smile: Lessons from the Inspiring Life of Carley Allison on Goodreads
* * * *
Ask Me Anything
by Molly E. Lee
Paperback
Entangled: Teen
Released 5/7/2019
I should've kept my mouth shut.
But Wilmont Academy's been living in the Dark Ages when it comes to sex ed, and someone had to take matters into her own hands. Well, I'm a kickass coder, so I created a totally anonymous, totally untraceable blog where teens can come to get real, honest, nothing-is-off-limits sex advice.
And holy hell, the site went viral overnight. Who knew this school was so hard up.
Except now the school administration is trying to shut me down, and they've forced Dean―my coding crush, aka the hottest guy in school―to try to uncover who I am. If he discovers my secret, I'll lose him forever. And thousands of teens who need real advice won't have anyone to turn to.
Ask me anything…except how to make things right.
Purchase Ask Me Anything at Amazon
Purchase Ask Me Anything at IndieBound
View Ask Me Anything on Goodreads
* * * *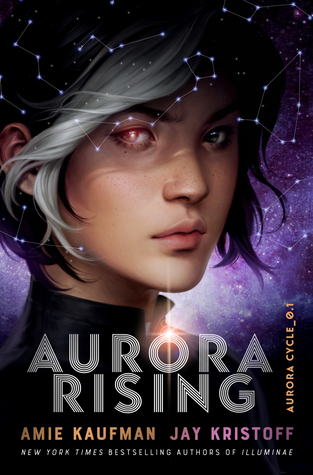 Aurora Rising
by Amie Kaufman
Hardcover
Knopf Books for Young Readers
Released 5/7/2019
The year is 2380, and the graduating cadets of Aurora Academy are being assigned their first missions. Star pupil Tyler Jones is ready to recruit the squad of his dreams, but his own boneheaded heroism sees him stuck with the dregs nobody else in the academy would touch . . .
A cocky diplomat with a black belt in sarcasm
A sociopath scientist with a fondness for shooting her bunkmates
A smart-ass tech whiz with the galaxy's biggest chip on his shoulder
An alien warrior with anger-management issues
A tomboy pilot who's totally not into him, in case you were wondering
And Ty's squad isn't even his biggest problem--that'd be Aurora Jie-Lin O'Malley, the girl he's just rescued from interdimensional space. Trapped in cryo-sleep for two centuries, Auri is a girl out of time and out of her depth. But she could be the catalyst that starts a war millions of years in the making, and Tyler's squad of losers, discipline cases, and misfits might just be the last hope for the entire galaxy.
NOBODY PANIC.
Purchase Aurora Rising at Amazon
Purchase Aurora Rising at IndieBound
View Aurora Rising on Goodreads
* * * *
Carmilla
by Kim Turrisi
Hardcover
Kids Can Press
Released 5/7/2019
Newly escaped from the stifling boredom of a small town, college freshman Laura is ready to make the most of her first year at Silas University. But when her roommate, Betty, vanishes and a sarcastic, nocturnal philosophy student named Carmilla moves into Betty's side of the room, Laura decides to play detective. Turns out Betty isn't the first girl to go missing ? she's just the first girl not to come back.
All over campus, girls have been vanishing, and they are completely changed when (or if) they return. Even more disturbing are the strange dreams they recount: smothering darkness, and a strange pale figure haunting their rooms. Dreams that Laura is starting to have herself.
As Laura closes in on the answers, tensions rise with Carmilla. Is this just a roommate relationship that isn't working out, or does Carmilla know more than she's letting on about the disappearances?
What will Laura do if it turns out her roommate isn't just selfish and insensitive, but completely inhuman? And what will she do with the feelings she's starting to have for Carmilla?
Purchase Carmilla at Amazon
Purchase Carmilla at IndieBound
View Carmilla on Goodreads
* * * *
Dark Shores
by Danielle L. Jensen
Hardcover
Tor Teen
Released 5/7/2019
A PIRATE WITH A WILL OF IRON
Teriana is the second mate of the Quincense, a ship beholden to the Goddess of the Seas. Her people are born of the waves, and they alone know how to cross the impassable oceans between East and West.
A SOLDIER WITH A SECRET
Marcus is the commander of the Thirty-Seventh, the notorious legion that has led the Celendor Empire to conquer the entire East. The legion is his only family, and even they don't know the secret he's been hiding since childhood.
A DANGEROUS QUEST
When a power-hungry ruler captures Teriana's crew and threatens to reveal Marcus's secret unless they help him conquer the unknown West, the two are forced into an unlikely--and unwilling--alliance. They unite for the sake of their families, but both must decide how far they are willing to go, and how much they are willing to sacrifice.
Purchase Dark Shores at Amazon
Purchase Dark Shores at IndieBound
View Dark Shores on Goodreads
* * * *
Deposing Nathan
by Zack Smedley
Hardcover
Macmillan
Released 5/7/2019
For sixteen years, Nate was the perfect son―the product of a no-nonsense upbringing and deep spiritual faith. Then he met Cam, who pushed him to break rules, dream, and accept himself. Conflicted, Nate began to push back. With each push, the boys became more entangled in each others' worlds...but they also spiraled closer to their breaking points. And now all of it has fallen apart after a fistfight-turned-near-fatal-incident―one that's left Nate with a stab wound and Cam in jail.
Now Nate is being ordered to give a statement, under oath, that will send his best friend to prison. The problem is, the real story of what happened between them isn't as simple as anyone thinks. With all eyes on him, Nate must make his confessions about what led up to that night with Cam...and in doing so, risk tearing both of their lives apart.
Purchase Deposing Nathan at Amazon
Purchase Deposing Nathan at IndieBound
View Deposing Nathan on Goodreads
* * * *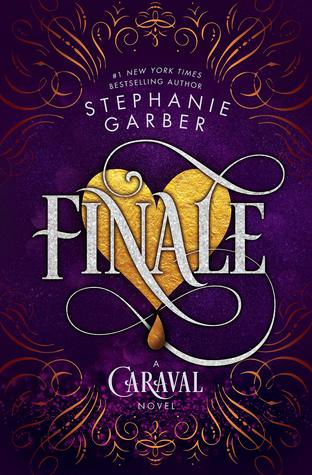 Finale
by Stephanie Garber
Hardcover
Flatiron Books
Released 5/7/2019
A love worth fighting for. A dream worth dying for. An ending worth waiting for.
It's been two months since the Fates were freed from a deck of cards, two months since Legend claimed the throne for his own, and two months since Tella discovered the boy she fell in love with doesn't really exist.
With lives, empires, and hearts hanging in the balance, Tella must decide if she's going to trust Legend or a former enemy. After uncovering a secret that upends her life, Scarlett will need to do the impossible. And Legend has a choice to make that will forever change and define him.
Caraval is over, but perhaps the greatest game of all has begun. There are no spectators this time: only those who will win, and those who will lose everything.
Welcome, welcome to Finale. All games must come to an end…
Purchase Finale at Amazon
Purchase Finale at IndieBound
View Finale on Goodreads
* * * *
Her Royal Highness
by Rachel Hawkins
Hardcover
G.P. Putnam's Sons Books for Y
Released 5/7/2019
Millie Quint is devastated when she discovers that her sort-of-best friend/sort-of-girlfriend has been kissing someone else. Heartbroken and ready for a change of pace, Millie decides to apply for scholarships to boarding schools . . . the farther from Houston the better.
Soon, Millie is accepted into one of the world's most exclusive schools, located in the rolling highlands of Scotland. Here, the country is dreamy and green; the school is covered in ivy, and the students think her American-ness is adorable.
The only problem: Mille's roommate Flora is a total princess.
She's also an actual princess. Of Scotland.
At first, the girls can't stand each other, but before Millie knows it, she has another sort-of-best-friend/sort-of-girlfriend. Princess Flora could be a new chapter in her love life, but Millie knows the chances of happily-ever-afters are slim . . . after all, real life isn't a fairy tale . . . or is it?
Purchase Her Royal Highness at Amazon
Purchase Her Royal Highness at IndieBound
View Her Royal Highness on Goodreads
* * * *
Hope and Other Punchlines
by Julie Buxbaum
Hardcover
Delacorte Press
Released 5/7/2019
Sometimes looking to the past helps you find your future.
Abbi Hope Goldstein is like every other teenager, with a few smallish exceptions: her famous alter ego, Baby Hope, is the subject of internet memes, she has asthma, and sometimes people spontaneously burst into tears when they recognize her. Abbi has lived almost her entire life in the shadow of the terrorist attacks of September 11. On that fateful day, she was captured in what became an iconic photograph: in the picture, Abbi (aka "Baby Hope") wears a birthday crown and grasps a red balloon; just behind her, the South Tower of the World Trade Center is collapsing.
Now, fifteen years later, Abbi is desperate for anonymity and decides to spend the summer before her seventeenth birthday incognito as a counselor at Knights Day Camp two towns away. She's psyched for eight weeks in the company of four-year-olds, none of whom have ever heard of Baby Hope.
Too bad Noah Stern, whose own world was irrevocably shattered on that terrible day, has a similar summer plan. Noah believes his meeting Baby Hope is fate. Abbi is sure it's a disaster. Soon, though, the two team up to ask difficult questions about the history behind the Baby Hope photo. But is either of them ready to hear the answers?
Purchase Hope and Other Punchlines at Amazon
Purchase Hope and Other Punchlines at IndieBound
View Hope and Other Punchlines on Goodreads
* * * *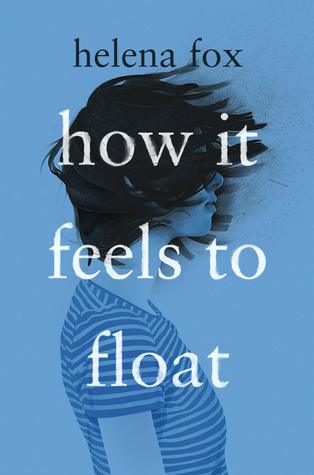 How It Feels to Float
by Helena Fox
Hardcover
Dial Books
Released 5/7/2019
Biz knows how to float. She has her people, her posse, her mom and the twins. She has Grace. And she has her dad, who tells her about the little kid she was, and who shouldn't be here but is. So Biz doesn't tell anyone anything. Not about her dark, runaway thoughts, not about kissing Grace or noticing Jasper, the new boy. And she doesn't tell anyone about her dad. Because her dad died when she was seven. And Biz knows how to float, right there on the surface--normal okay regular fine.
But after what happens on the beach--first in the ocean, and then in the sand--the tethers that hold Biz steady come undone. Dad disappears and, with him, all comfort. It might be easier, better, sweeter to float all the way away? Or maybe stay a little longer, find her father, bring him back to her. Or maybe--maybe maybe maybe--there's a third way Biz just can't see yet.
Purchase How It Feels to Float at Amazon
Purchase How It Feels to Float at IndieBound
View How It Feels to Float on Goodreads
* * * *
Last Things
by Jacqueline West
Hardcover
Greenwillow Books
Released 5/7/2019
High school senior Anders Thorson is unusually gifted. His band, Last Things, is legendary in their northern Minnesota hometown. With guitar skills that would amaze even if he weren't only eighteen, Anders is the focus of head-turning admiration. And Thea Malcom, a newcomer to the insular town, is one of his admirers. Thea seems to turn up everywhere Anders goes: gigs at the local coffeehouse, guitar lessons, even in the woods near Anders's home.
When strange things start happening to Anders, blame immediately falls on Thea. But is she trying to hurt him? Or save him? Can he trust a girl who doesn't seem to know the difference between dreams and reality? And how much are they both willing to sacrifice to get what they want?
Purchase Last Things at Amazon
Purchase Last Things at IndieBound
View Last Things on Goodreads
* * * *
Laura Dean Keeps Breaking Up with Me
by Mariko Tamaki
Hardcover
First Second
Released 5/7/2019
Laura Dean, the most popular girl in high school, was Frederica Riley's dream girl: charming, confident, and SO cute. There's just one problem: Laura Dean is maybe not the greatest girlfriend.
Reeling from her latest break up, Freddy's best friend, Doodle, introduces her to the Seek-Her, a mysterious medium, who leaves Freddy some cryptic parting words: break up with her. But Laura Dean keeps coming back, and as their relationship spirals further out of her control, Freddy has to wonder if it's really Laura Dean that's the problem. Maybe it's Freddy, who is rapidly losing her friends, including Doodle, who needs her now more than ever. Fortunately for Freddy, there are new friends, and the insight of advice columnists like Anna Vice to help her through being a teenager in love.
Purchase Laura Dean Keeps Breaking Up with Me at Amazon
Purchase Laura Dean Keeps Breaking Up with Me at IndieBound
View Laura Dean Keeps Breaking Up with Me on Goodreads
* * * *
Love from A to Z
by S. K. Ali
Hardcover
Salaam Reads / Simon & Schuste
Released 5/7/2019
A marvel: something you find amazing. Even ordinary-amazing. Like potatoes—because they make French fries happen. Like the perfect fries Adam and his mom used to make together.
An oddity: whatever gives you pause. Like the fact that there are hateful people in the world. Like Zayneb's teacher, who won't stop reminding the class how "bad" Muslims are.
But Zayneb, the only Muslim in class, isn't bad. She's angry.
When she gets suspended for confronting her teacher, and he begins investigating her activist friends, Zayneb heads to her aunt's house in Doha, Qatar, for an early start to spring break.
Fueled by the guilt of getting her friends in trouble, she resolves to try out a newer, "nicer" version of herself in a place where no one knows her.
Then her path crosses with Adam's.
Since he got diagnosed with multiple sclerosis in November, Adam's stopped going to classes, intent, instead, on perfecting the making of things. Intent on keeping the memory of his mom alive for his little sister.
Adam's also intent on keeping his diagnosis a secret from his grieving father.
Alone, Adam and Zayneb are playing roles for others, keeping their real thoughts locked away in their journals.
Until a marvel and an oddity occurs…
Marvel: Adam and Zayneb meeting.
Oddity: Adam and Zayneb meeting.
Purchase Love from A to Z at Amazon
Purchase Love from A to Z at IndieBound
View Love from A to Z on Goodreads
* * * *
Nexus
by Sasha Alsberg and Lindsay Cummings
Hardcover
Harper Colllns
Released 5/7/2019
With her crew captured and her ship a smoldering ruin, notorious mercenary Androma Racella is no longer the powerful Bloody Baroness, but a fugitive on the run. And with most of the galaxy now trapped under the mind control of the bloodthirsty Queen Nor, not even the farthest reaches of Mirabel can offer safety for the queen's most-hated adversary.
But Andi will risk anything, even her precious freedom, to save her crew. So when she finds herself stranded with bounty hunter Dextro Arez on the unforgiving ice planet of Solera, Andi seeks out the mysterious Arachnid, the one person who seems to be fighting back against the vicious queen…and uncovers the true, devastating reason for Nor's takeover.
Back on Andi's home planet of Arcardius, Nor's actions have made Mirabel vulnerable to invasion from an outside force. Now allying with her mortal enemy may be the only way for the Bloody Baroness to save the galaxy—even if that alliance demands the most wrenching sacrifice of all.
Purchase Nexus at Amazon
Purchase Nexus at IndieBound
View Nexus on Goodreads
* * * *
Nocturna
by Maya Motayne
Hardcover
Balzer + Bray
Released 5/7/2019
To Finn Voy, magic is two things: a knife to hold under the chin of anyone who crosses her…and a disguise she shrugs on as easily as others pull on cloaks.
As a talented faceshifter, it's been years since Finn has seen her own face, and that's exactly how she likes it. But when Finn gets caught by a powerful mobster, she's forced into an impossible mission: steal a legendary treasure from Castallan's royal palace or be stripped of her magic forever.
After the murder of his older brother, Prince Alfehr is first in line for the Castallan throne. But Alfie can't help but feel that he will never live up to his brother's legacy. Riddled with grief, Alfie is obsessed with finding a way to bring his brother back, even if it means dabbling in forbidden magic.
But when Finn and Alfie's fates collide, they accidentally unlock a terrible, ancient power—which, if not contained, will devour the world. And with Castallan's fate in their hands, Alfie and Finn must race to vanquish what they have unleashed, even if it means facing the deepest darkness in their pasts.
Purchase Nocturna at Amazon
Purchase Nocturna at IndieBound
View Nocturna on Goodreads
* * * *
Somewhere Only We Know
by Maurene Goo
Hardcover
Farrar, Straus and Giroux
Released 5/7/2019
10:00 p.m.: Lucky is the biggest K-pop star on the scene, and she's just performed her hit song "Heartbeat" in Hong Kong to thousands of adoring fans. She's about to debut on The Tonight Show in America, hopefully a breakout performance for her career. But right now? She's in her fancy hotel, trying to fall asleep but dying for a hamburger.
11:00 p.m.: Jack is sneaking into a fancy hotel, on assignment for his tabloid job that he keeps secret from his parents. On his way out of the hotel, he runs into a girl wearing slippers, a girl who is single-mindedly determined to find a hamburger. She looks kind of familiar. She's very cute. He's maybe curious.
12:00 a.m.: Nothing will ever be the same.
Purchase Somewhere Only We Know at Amazon
Purchase Somewhere Only We Know at IndieBound
View Somewhere Only We Know on Goodreads
* * * *
The Goodbye Summer
by Sarah Van Name
Paperback
Sourcebooks Fire
Released 5/7/2019
Caroline is counting the days until September, when she'll turn seventeen and she and her older boyfriend, Jake, will run away together. She doesn't feel connected to anyone at home now that she has him, and she can't wait to see the world with the most important person in her life. So with just a few more months until freedom, she spends her summer working at the local aquarium gift shop and dreaming of the fall.
Then she meets Georgia, a counselor at the aquarium's camp, and Caroline's world changes. Through pizza lunches, trips to amusement parks, and midnight talks, Georgia begins to show Caroline there's more to life than being with Jake.
The stronger Georgia and Caroline's bond grows, the more uneasy Caroline becomes about her plans to leave. When summer comes to a close, she'll have to say goodbye to someone...but who is she willing to lose?
Purchase The Goodbye Summer at Amazon
Purchase The Goodbye Summer at IndieBound
View The Goodbye Summer on Goodreads
* * * *
The Truths We Hold: An American Journey (Young Readers Edition)
by Kamala Harris
Hardcover
Philomel Books
Released 5/7/2019
Now adapted for young readers, Senator Kamala Harris's empowering memoir about the values and inspirations that guided her life. As the first woman, African American, and South Asian American to become attorney general of California, and the second black woman ever elected to the U.S. Senate, Kamala Harris has blazed trails on her path to the national stage. But how did she achieve her goals? What values and influences guided and inspired her along the way? In this young readers edition of Senator Harris's memoir, we learn about the impact that Kamala's family and community had on her life, and see what led Senator Harris to discover her own sense of self and purpose. The Truths We Hold is a biographical ode to the values she holds most dear--those of community, equality, and justice--all of which helped shape her choices on her path to the Senate. An inspiring and empowering read, this book challenges readers to use their own values to guide their decisions and become leaders in their own lives.
Purchase The Truths We Hold: An American Journey (Young Readers Edition) at Amazon
Purchase The Truths We Hold: An American Journey (Young Readers Edition) at IndieBound
View The Truths We Hold: An American Journey (Young Readers Edition) on Goodreads
* * * *
This Is Not a Love Scene
by S. C. Megale
Hardcover
Wednesday Books
Released 5/7/2019
Lights, camera―all Maeve needs is action. But at eighteen, a rare form of muscular dystrophy usually stands in the way of romance. She's got her friends, her humor, and a passion for filmmaking to keep her focus off consistent rejection...and the hot older guy starring in her senior film project.
Tall, bearded, and always swaying, Cole Stone is everything Maeve can't be. And she likes it. Between takes, their chemistry is shockingly electric.
Suddenly, Maeve gets a taste of typical teenage dating life, but girls in wheelchairs don't get the hot guy―right? Cole's attention challenges everything she once believed about her self-image and hopes for love. But figuring this out, both emotionally and physically, won't be easy for either of them. Maeve must choose between what she needs and what she wants, while Cole has a tendency to avoid decisions altogether. And the future might not wait for either.
Purchase This Is Not a Love Scene at Amazon
Purchase This Is Not a Love Scene at IndieBound
View This Is Not a Love Scene on Goodreads
* * * *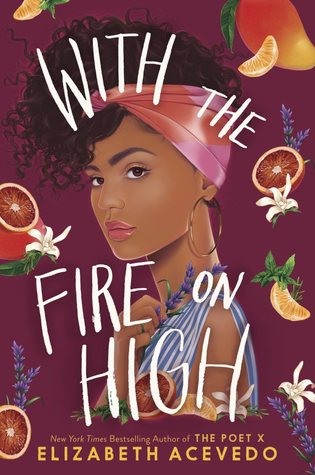 With the Fire on High
by Elizabeth Acevedo
Hardcover
HarperTeen
Released 5/7/2019
Ever since she got pregnant freshman year, Emoni Santiago's life has been about making the tough decisions—doing what has to be done for her daughter and her abuela. The one place she can let all that go is in the kitchen, where she adds a little something magical to everything she cooks, turning her food into straight-up goodness.
Even though she dreams of working as a chef after she graduates, Emoni knows that it's not worth her time to pursue the impossible. Yet despite the rules she thinks she has to play by, once Emoni starts cooking, her only choice is to let her talent break free.
Purchase With the Fire on High at Amazon
Purchase With the Fire on High at IndieBound
View With the Fire on High on Goodreads