Happy Monday! We're so excited to be featuring so many new releases this week! Make sure to read all about them below.
Happy Reading,
Shelly, Riki, Sam, Martina, Erin, Susan, Kelly, Laura, Emily, Anisaa, and Lori Ann
YOUNG ADULT NOVELS NEW IN STORES NEXT WEEK
* * * *
A Place for Wolves
by Kosoko Jackson
Hardcover
Sourcebooks Fire
Released 4/2/2019
James Mills isn't sure he can forgive his parents for dragging him away from his life, not to mention his best friend and sister, Anna. He's never felt so alone.
Enter Tomas. Falling for Tomas is unexpected, but sometimes the best things in life are.
Then their world splits apart. A war that has been brewing finally bursts forward, filled with violence, pain, and cruelty. James and Tomas can only rely on each other as they decide how far they are willing to go―and who they are willing to become―in order to make it back to their families.
Purchase A Place for Wolves at Amazon
Purchase A Place for Wolves at IndieBound
View A Place for Wolves on Goodreads
* * * *
Defy Me
by Tahereh Mafi
Hardcover
HarperCollins
Released 4/2/2019
Juliette Ferrars isn't who she thinks she is.
Still reeling from the explosive events of the Continental Symposium and the secrets Warner has been keeping, Juliette has nowhere to turn and doesn't know who she can trust.
She's desperate for answers, but to get them, she'll have to face the nightmares that have been chasing her for a lifetime.
Purchase Defy Me at Amazon
Purchase Defy Me at IndieBound
View Defy Me on Goodreads
* * * *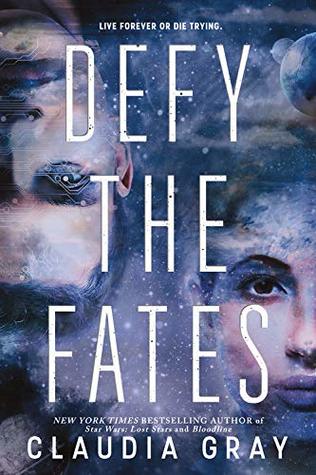 Defy the Fates
by Claudia Gray
Hardcover
Little, Brown Books for Young
Released 4/2/2019
Hunted and desperate.
Abel only has one mission left that matters: save the life of Noemi Vidal. To do that, he not only has to escape the Genesis authorities, he also must face the one person in the galaxy who still has the means to destroy him. Burton Mansfield's consciousness lives on, desperate for a home, and Abel's own body is his last bargaining chip.
Alone in the universe.
Brought back from the brink of death, Noemi Vidal finds Abel has not only saved her life, but he's made her into something else, something more. Not quite mech, yet not quite human any longer, Noemi must find her place in a universe where she is utterly unique, all while trying to create a world where anyone--even a mech--can be free.
The final battle between Earth and the colony planets is here, and there's no lengths to which Earth won't go to preserve its domination over all humanity. But together, the universe's most advanced mech and its first human-mech hybrid might have the power to change the galaxy for good.
Purchase Defy the Fates at Amazon
Purchase Defy the Fates at IndieBound
View Defy the Fates on Goodreads
* * * *
Forward Me Back to You
by Mitali Perkins
Hardcover
Farrar, Straus and Giroux
Released 4/2/2019
Katina King is the reigning teen jiu-jitsu champion of Northern California, but she's having trouble fighting off the secrets in her past.
Robin Thornton was adopted from an orphanage in Kolkata, India and is reluctant to take on his future. Since he knows nothing about his past, how is he supposed to figure out what comes next?
Robin and Kat meet in the most unlikely of places ― a summer service trip to India to work with survivors of human trafficking. As bonds blossom between the travel-mates, Robin and Kat discover the healing superpowers of friendship.
Purchase Forward Me Back to You at Amazon
Purchase Forward Me Back to You at IndieBound
View Forward Me Back to You on Goodreads
* * * *
Girl Mogul: Dream It. Do it. Change the World
by Tiffany Pham
Hardcover
Imprint
Released 4/2/2019
Welcome to Girl Mogul! No matter who you are or where you come from, this book can help you define success, envision it, and make it happen―in school, in your personal life, and at work. Get ready to awaken all the awesomeness that is already inside of you.
You are fierce.
You are bold.
You are unique.
You are driven.
You are inspiring.
YOU ARE A GIRL MOGUL
Purchase Girl Mogul: Dream It. Do it. Change the World at Amazon
Purchase Girl Mogul: Dream It. Do it. Change the World at IndieBound
View Girl Mogul: Dream It. Do it. Change the World on Goodreads
* * * *
Havoc
by Mary Lindsey
Paperback
Entangled: Teen
Released 4/2/2019
Havoc is a thrilling and sexy werewolf tale, full of girl power and heart-pounding paranormal action.
Purchase Havoc at Amazon
Purchase Havoc at IndieBound
View Havoc on Goodreads
* * * *
Polar Explorer
by Jade Hameister
Hardcover
Feiwel & Friends
Released 4/2/2019
Polar Explorer is an inspiring and empowering story by sixteen-year-old Jade Hameister, chronicling her feat of being the youngest person to complete the Polar Hat Trick...
Purchase Polar Explorer at Amazon
Purchase Polar Explorer at IndieBound
View Polar Explorer on Goodreads
* * * *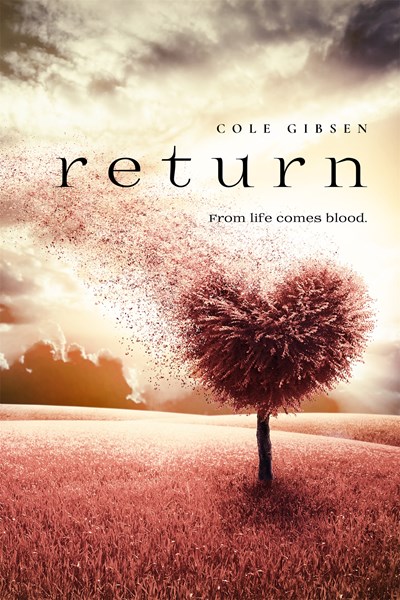 Return
by Cole Gibsen
Paperback
Entangled: Teen
Released 4/2/2019
Full of mystery and romance, Return is a fast-paced, literary thriller perfect for fans of The Vampire Diaries.
Purchase Return at Amazon
Purchase Return at IndieBound
View Return on Goodreads
* * * *
Since We Last Spoke
by Brenda Rufener
Hardcover
HarperTeen
Released 4/2/2019
When Aggi Frank and Max Granger finally admitted their feelings for each other last December, it felt like love was beautiful and endless . . . until it wasn't.
A fatal car accident involving their older siblings throws their lives into sudden chaos. And with a restraining order now in place between the two bitter households, Aggi and Max's love runs cold. Being together again seems like a distant fantasy, even though they share the same driveway.
Still, Plum Lake is a small town, and staying apart can't last forever. Aggi and Max eventually reunite at a lake-house party and break the ice after a year of silence.
But just as they begin to rebuild their relationship, the unthinkable happens, leading them to confront each other and their families in the hope of mending the broken pieces.
Purchase Since We Last Spoke at Amazon
Purchase Since We Last Spoke at IndieBound
View Since We Last Spoke on Goodreads
* * * *
Smoke and Key
by Kelsey Sutton
Paperback
Entangled: Teen
Released 4/2/2019
A sound awakens her. There's darkness all around. And then she's falling...
She has no idea who or where she is. Or why she's dead. The only clue to her identity hangs around her neck: a single rusted key. This is how she and the others receive their names―from whatever belongings they had when they fell out of their graves. Under is a place of dirt and secrets, and Key is determined to discover the truth of her past in order to escape it.
She needs help, but who can she trust? Ribbon seems content in Under, uninterested in finding answers. Doll's silence hints at deep sorrow, which could be why she doesn't utter a word. There's Smoke, the boy with a fierceness that rivals even the living. And Journal, who stays apart from everyone else. Key's instincts tell her there is something remarkable about each of them, even if she can't remember why.
Then the murders start. Bodies that are burned to a crisp. And after being burned, the dead stay dead. Key is running out of time to discover who she was―and what secret someone is willing to kill to keep hidden―before she loses her life for good…
Purchase Smoke and Key at Amazon
Purchase Smoke and Key at IndieBound
View Smoke and Key on Goodreads
* * * *
The Center of the Universe
by Ria Voros
Hardcover
Kids Can Press
Released 4/2/2019
Grace Carter's mother --- the celebrity news anchor GG Carter --- is everything Grace is not. GG is a star, with a flawless wardrobe and a following of thousands, while Grace --- an aspiring astrophysicist --- is into stars of another kind. She and her mother have always been in different orbits.
Then one day GG is just ... gone. Cameras descend on their house, news shows speculate about what might have happened and Grace's family struggles to find a new rhythm as they wait for answers.
While the authorities unravel the mystery behind GG's disappearance, Grace grows closer to her high school's golden boy, Mylo, who has faced a black hole of his own. She also uncovers some secrets from her mother's long-lost past. The more Grace learns, the more she wonders. Did she ever really know her mother? Was GG abducted ... or did she leave? And if she left, why?
Author Ria Voros (Nobody's Dog, The Opposite of Geek) reaches for the stars here, deftly combining mystery with a passion for science and themes of mother-daughter bonds, celebrity, first love and best friendship.
Facts about astronomy and astrophysics are seamlessly woven into the story and are supplemented by an interview with real-life astrophysicist Elizabeth Tasker, making this the perfect book for readers who love STEM. And even readers who don't have stars in their eyes will love this smart, suspenseful, relatable and literary novel.
Purchase The Center of the Universe at Amazon
Purchase The Center of the Universe at IndieBound
View The Center of the Universe on Goodreads
* * * *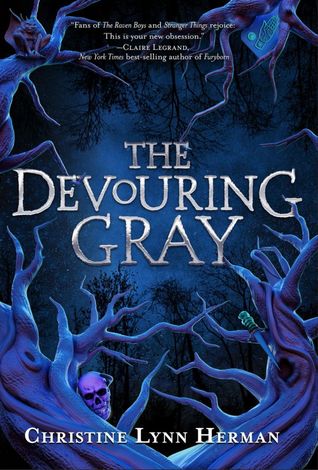 The Devouring Gray
by Christine Lynn Herman
Hardcover
Disney-Hyperion
Released 4/2/2019
After the death of her sister, seventeen-year-old Violet Saunders finds herself dragged to Four Paths, New York. Violet may be a newcomer, but she soon learns her mother isn't: They belong to one of the revered founding families of the town, where stone bells hang above every doorway and danger lurks in the depths of the woods.
Justin Hawthorne's bloodline has protected Four Paths for generations from the Gray-a lifeless dimension that imprisons a brutal monster. After Justin fails to inherit his family's powers, his mother is determined to keep this humiliation a secret. But Justin can't let go of the future he was promised and the town he swore to protect.
Ever since Harper Carlisle lost her hand to an accident that left her stranded in the Gray for days, she has vowed revenge on the person who abandoned her: Justin Hawthorne. There are ripples of dissent in Four Paths, and Harper seizes an opportunity to take down the Hawthornes and change her destiny-to what extent, even she doesn't yet know.
The Gray is growing stronger every day, and its victims are piling up. When Violet accidentally unleashes the monster, all three must band together with the other Founders to unearth the dark truths behind their families' abilities... before the Gray devours them all.
Purchase The Devouring Gray at Amazon
Purchase The Devouring Gray at IndieBound
View The Devouring Gray on Goodreads
* * * *
The Lost
by Natasha Preston
Paperback
Sourcebooks Fire
Released 4/2/2019
In Piper's hometown, teenagers keep disappearing, and everyone assumes they're just a bunch of runaways. But when yet another person disappears, Piper and her best friend Hazel suspect something more sinister is going on.
So they decide to investigate, determined to learn the truth. Their search for answers leads them to the source of the missing people...and their captors. Piper and Hazel suddenly find themselves locked away in a secluded building in the middle of a privately owned forest.
But the building isn't only meant to keep them imprisoned; every room is a test to see if they can make it out alive.
And failure means being lost...forever.
Purchase The Lost at Amazon
Purchase The Lost at IndieBound
View The Lost on Goodreads
* * * *
The Princess and the Fangirl: A Geekerella Fairytale
by Ashley Poston
Hardcover
Quirk Books
Released 4/2/2019
Imogen Lovelace is an ordinary fangirl on an impossible mission: save her favorite character, Princess Amara, from being killed off from her favorite franchise, Starfield. The problem is, Jessica Stone—the actress who plays Princess Amara—wants nothing more than to leave the intense scrutiny of the fandom behind. If this year's ExcelsiCon isn't her last, she'll consider her career derailed.
When a case of mistaken identity throws look-a-likes Imogen and Jess together, they quickly become enemies. But when the script for the Starfield sequel leaks, and all signs point to Jess, she and Imogen must trade places to find the person responsible. That's easier said than done when the girls step into each other's shoes and discover new romantic possibilities, as well as the other side of intense fandom. As these "princesses" race to find the script-leaker, they must rescue themselves from their own expectations, and redefine what it means to live happily ever after.
Purchase The Princess and the Fangirl: A Geekerella Fairytale at Amazon
Purchase The Princess and the Fangirl: A Geekerella Fairytale at IndieBound
View The Princess and the Fangirl: A Geekerella Fairytale on Goodreads
* * * *
We Rule the Night
by Claire Eliza Bartlett
Hardcover
Little, Brown Books for Young
Released 4/2/2019
Seventeen-year-old Revna is a factory worker, manufacturing war machines for the Union of the North. When she's caught using illegal magic, she fears being branded a traitor and imprisoned. Meanwhile, on the front lines, Linné defied her father, a Union general, and disguised herself as a boy to join the army. They're both offered a reprieve from punishment if they use their magic in a special women's military flight unit and undertake terrifying, deadly missions under cover of darkness. Revna and Linné can hardly stand to be in the same cockpit, but if they can't fly together, and if they can't find a way to fly well, the enemy's superior firepower will destroy them--if they don't destroy each other first.
We Rule the Night is a powerful story about sacrifice, complicated friendships, and survival despite impossible odds.
Purchase We Rule the Night at Amazon
Purchase We Rule the Night at IndieBound
View We Rule the Night on Goodreads
* * * *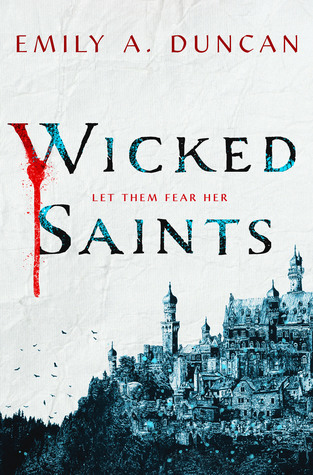 Wicked Saints
by Emily A. Duncan
Hardcover
Wednesday Books
Released 4/2/2019
A girl who can speak to gods must save her people without destroying herself.
A prince in danger must decide who to trust.
A boy with a monstrous secret waits in the wings.
Together, they must assassinate the king and stop the war.
Purchase Wicked Saints at Amazon
Purchase Wicked Saints at IndieBound
View Wicked Saints on Goodreads
* * * *
You'd Be Mine: A Novel
by Erin Hahn
Hardcover
Wednesday Books
Released 4/2/2019
Annie Mathers is America's sweetheart and heir to a country music legacy full of all the things her Gran warned her about. Superstar Clay Coolidge is most definitely going to end up one of those things.
But unfortunately for Clay, if he can't convince Annie to join his summer tour, his music label is going to drop him. That's what happens when your bad boy image turns into bad boy reality. Annie has been avoiding the spotlight after her parents' tragic death, except on her skyrocketing YouTube channel. Clay's label wants to land Annie, and Clay has to make it happen.
Swayed by Clay's undeniable charm and good looks, Annie and her band agree to join the tour. From the start fans want them to be more than just tour mates, and Annie and Clay can't help but wonder if the fans are right. But if there's one part of fame Annie wants nothing to do with, it's a high-profile relationship. She had a front row seat to her parents' volatile marriage and isn't interested in repeating history. If only she could convince her heart that Clay, with his painful past and head over heels inducing tenor, isn't worth the risk.
Purchase You'd Be Mine: A Novel at Amazon
Purchase You'd Be Mine: A Novel at IndieBound
View You'd Be Mine: A Novel on Goodreads