Happy Reading,
Shelly, Riki, Sam, Martina, Erin, Susan, Kelly, Laura, Emily, Anisaa, and Lori Ann
YOUNG ADULT NOVELS NEW IN STORES THIS WEEK
* * * *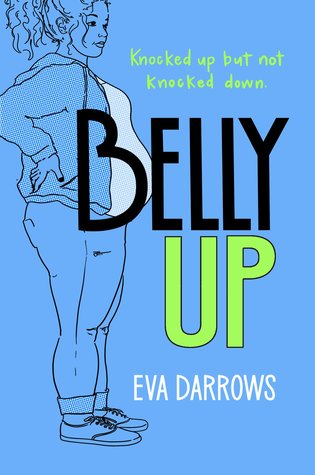 Belly Up
by Eva Darrows
Hardcover
Inkyard Press; Original editio
Released 4/30/2019
There's a first time for everything.
First time playing quarters.
First time spinning the bottle.
First totally hot consensual truck hookup with a superhot boy whose digits I forgot to get.
First time getting pregnant.
Surprised you with that one, didn't I?
Surprised me, too. I'd planned to spend senior year with my bestie-slash-wifey, Devi Abrams, graduating at the top of my class and getting into an Ivy League college. Instead, Mom and I are moving in with my battle-ax of a grandmother and I'm about to start a new school and a whole new life.
Know what's more fun than being the new girl for your senior year? Being the pregnant new girl. It isn't awesome. There is one upside, though—a boy named Leaf Leon. He's cute, an amazing cook and he's flirting me up, hard-core. Too bad I'm knocked up with a stranger's baby. I should probably mention that to him at some point.
But how?
It seems I've got a lot more firsts to go.
Purchase Belly Up at Amazon
Purchase Belly Up at IndieBound
View Belly Up on Goodreads
* * * *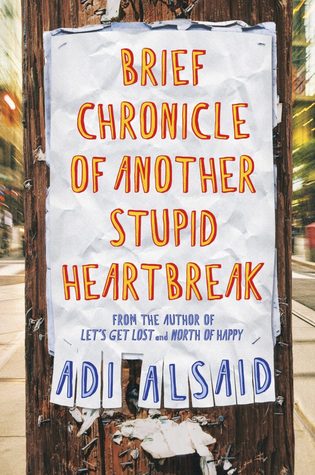 Brief Chronicle of Another Stupid Heartbreak
by Adi Alsaid
Hardcover
HarperCollins
Released 4/30/2019
Has heartbreak broken her for good?
Dumped by her boyfriend the summer after senior year, teen love and relationship columnist Lu Charles has hit a wall with her writing. The words just won't come to her like they used to and if she doesn't find a topic for her column, she'll lose her gig at hip online magazine Misnomer, and the college scholarship that goes along with it.
Her best friend, Pete, thinks she should write through her own pain, but when Lu overhears another couple planning a precollege breakup just like hers, she becomes convinced that they're the answer to cracking her writer's block. And when she meets them—super-practical Iris and cute, sweet Cal—and discovers they're postponing their breakup until the end of the summer, she has to know more.
Have Cal and Iris prolonged their own misery by staying together, knowing the end is in sight? Or does the secret to figuring out all this love business—and getting over it—lie with them? One thing is certain—if Lu can't make a breakthrough before summer is over, she can kiss her future goodbye.
Purchase Brief Chronicle of Another Stupid Heartbreak at Amazon
Purchase Brief Chronicle of Another Stupid Heartbreak at IndieBound
View Brief Chronicle of Another Stupid Heartbreak on Goodreads
* * * *
Eiffel's Tower for Young People
by Jill Jonnes
Hardcover
Random House Books for Young R
Released 4/30/2019
Weaving together the behind-the-scenes history of the Eiffel Tower with an account of the 1889 World's Fair in Paris for which the tower was built, Jonnes creates a vivid, lively pageant of people and cultures meeting--and competing.
The book opens a window into a piece of the past that, in its passions and politics, feels timelessly modern: art, science, business, entertainment, gossip, royalty, and national pride mingle in an unforgettable portrait of a unique moment in history, when Buffalo Bill and Annie Oakley became the toasts of Paris and Gustave Eiffel, builder of the tower, rose to the pinnacle of fame, only to suffer a tragic fall from grace.
Above all, the 1889 World's Fair revolved around two nations, whose potent symbols were the twin poles of the fair. France, with its long history of sophistication and cultivation, and with a new republican government eager for the country to take its place at the forefront of the modern world, presented the Eiffel Tower--the world's tallest structure--as a symbol of national pride and engineering superiority. The United States, with its brash, can-do spirit, full of pride in its frontier and its ingenuity, presented the rollicking Wild West show of Buffalo Bill Cody and the marvelous new phonograph of Thomas Edison.
Eiffel, Cody, Oakley, and Edison are just a few of the characters who populate Jonnes's dramatic history. There are also squabbling artists, a notorious newspaperman, and a generous sprinkling of royalty from around the world. Some of them emerged from the World's Fair of 1889 winners, some losers, but neither they nor any among the vast crowds who attended the fair ever forgot it. The drama, color, and personalities that made the adult book so fascinating and critically acclaimed, are all here in spades as adapted for middle grade and above by Rebecca Stefoff.
Purchase Eiffel's Tower for Young People at Amazon
Purchase Eiffel's Tower for Young People at IndieBound
View Eiffel's Tower for Young People on Goodreads
* * * *
Hearts Made for Breaking
by Jen Klein
Paperback
Random House Books for Young R
Released 4/30/2019
Lark is the queen of breakups. When she ends things with a boy, there are never any hard feelings. Sometimes he doesn't even realize that she broke up with him. And that's exactly how Lark likes it. What's the point in hurting people? Or getting hurt?
Her best friends, Cooper and Katie, think Lark's dating pattern is tragic. How can she know what love is if she refuses to take risks? They dare her to finally have a bad breakup, one that matters. To appease her friends, Lark selects "Undateable" Ardy Tate as her target. He's a mysterious challenge and completely different from any guy she's ever dated. Can she win him over? Will she break his heart? Or will the Queen of Breakups have her heart broken?
Purchase Hearts Made for Breaking at Amazon
Purchase Hearts Made for Breaking at IndieBound
View Hearts Made for Breaking on Goodreads
* * * *
Hot Dog Girl
by Jennifer Dugan
Hardcover
G.P. Putnam's Sons Books for Y
Released 4/30/2019
Elouise (Lou) Parker is determined to have the absolute best, most impossibly epic summer of her life. There are just a few things standing in her way:
* She's landed a job at Magic Castle Playland . . . as a giant dancing hot dog.
* Her crush, the dreamy Diving Pirate Nick, already has a girlfriend, who is literally the Princess of the park. But Lou's never liked anyone, guy or otherwise, this much before, and now she wants a chance at her own happily ever after.
* Her best friend, Seeley, the carousel operator, who's always been up for anything, suddenly isn't when it comes to Lou's quest to set her up with the perfect girl or Lou's scheme to get close to Nick.
* And it turns out that this will be their last summer at Magic Castle Playland--ever--unless she can find a way to stop it from closing.
Purchase Hot Dog Girl at Amazon
Purchase Hot Dog Girl at IndieBound
View Hot Dog Girl on Goodreads
* * * *
How to Be Luminous
by Harriet Reuter Hapgood
Hardcover
Roaring Brook Press
Released 4/30/2019
Minnie Sloe and her sisters have weathered it all together―growing up without fathers, living an eccentric lifestyle with a pet rabbit named Salvador Dali, and riding out their famous artist mother's mental highs and lows.
But then their mother disappears, and Minnie, who was supposed to follow in her footsteps, starts seeing the world in monochrome. Literally. How can she create when all she sees is black-and-white?
As grief threatens to tear the three sisters apart, Minnie fears she could lose everything: her family, her future, her first love . . . and maybe even her mind.
Purchase How to Be Luminous at Amazon
Purchase How to Be Luminous at IndieBound
View How to Be Luminous on Goodreads
* * * *
King of Fools
by Amanda Foody
Hardcover
Inkyard Press; Original editio
Released 4/30/2019
On the quest to find her missing mother, prim and proper Enne Salta became reluctant allies with Levi Glaisyer, the city's most famous con man. Saving his life in the Shadow Game forced Enne to assume the identity of Séance, a mysterious underworld figure. Now, with the Chancellor of the Republic dead and bounties on both their heads, she and Levi must play a dangerous game of crime and politics…with the very fate of New Reynes at stake.
Thirsting for his freedom and the chance to build an empire, Levi enters an unlikely partnership with the estranged son of mafia donna Vianca Augustine. Meanwhile, Enne remains trapped by Vianca's binding oath, playing the roles of both darling lady and cunning street lord, unsure which side of herself reflects the truth.
As Enne and Levi walk a path of unimaginable wealth and opportunity, new relationships and deadly secrets could quickly lead them into ruin. And when unforeseen players enter the game, they must each make an impossible choice: sacrifice everything they've earned in order to survive...
Or die as legends.
Purchase King of Fools at Amazon
Purchase King of Fools at IndieBound
View King of Fools on Goodreads
* * * *
Strangers Assume My Girlfriend Is My Nurse
by Shane Burcaw
Hardcover
Roaring Brook Press
Released 4/30/2019
With his signature acerbic wit and hilarious voice, twenty-something author, blogger, and entrepreneur Shane Burcaw is back with an essay collection about living a full life in a body that many people perceive as a tragedy. From anecdotes about first introductions where people patted him on the head instead of shaking his hand, to stories of passersby mistaking his able-bodied girlfriend for a nurse, Shane tackles awkward situations and assumptions with humor and grace.
On the surface, these essays are about day-to-day life as a wheelchair user with a degenerative disease, but they are actually about family, love, and coming of age.
Purchase Strangers Assume My Girlfriend Is My Nurse at Amazon
Purchase Strangers Assume My Girlfriend Is My Nurse at IndieBound
View Strangers Assume My Girlfriend Is My Nurse on Goodreads
* * * *
The Backstagers Vol. 3
by James Tynion IV
Paperback
Simon & Shuster
Released 4/30/2019
All the world's a stage . . . but what happens behind the curtain is pure magic—literally!
The Backstagers are back in (stage) blacks, for a festive collection of Valentine's Day and Halloween stories! Join Jory and the rest of the Backstagers as they wrestle with anti-Valentine crusades, totally creepy phantoms (NOT of the opera), and the everpresent magic of the backstage world in this romantically spooky third volume of the hit series.
Reuniting the Prism Award-winning team of writer James Tynion IV (Detective Comics, Justice League) and artist Rian Sygh, along with a variety of fan-favorite artists including Brittney Williams (Goldie Vance), Caitlin Rose Boyle (Jonesy), Katy Farina (Steven Universe), and more, these holiday tales will fill your heart with love, spooky spectres, and chocolate. Lots...and lots...of chocolate.
Purchase The Backstagers Vol. 3 at Amazon
Purchase The Backstagers Vol. 3 at IndieBound
View The Backstagers Vol. 3 on Goodreads
* * * *
When I Was Summer
by J. B. Howard
Hardcover
Viking Books for Young Reader
Released 4/30/2019
Sixteen-year-old Nora Wakelin has always felt like an outsider in her own family. Her parents and older sister love her, but they don't understand anything about her: not her passion for music, not her all-encompassing crush on her bandmate Daniel (who is very much unavailable), not her recklessness and impulsiveness. Nora has always imagined that her biological mother might somehow provide the answer as to why she feels like such an outsider.
Through internet stalking and leaps of logic, Nora identifies three women living elsewhere in California who seem like they could be her biological mother. So she sets out to track them each down, one by one, under the pretense of a statewide tour with her rock band, Blue Miles. Three cities, three gigs, three possible birth mothers--it sounds so easy.
But once they're on the road, of course, it's anything but easy. Nora wants to be with Daniel, she wants to find her birth mother, she wants to keep her parents happy, she wants the band to stay together, and she wants to know why she is the way she is. But she won't be the first musician to find out that, while you can't always get what you want, sometimes you get what you need.
Purchase When I Was Summer at Amazon
Purchase When I Was Summer at IndieBound
View When I Was Summer on Goodreads