Happy Reading,
Shelly, Sam, Riki, Jocelyn, Martina, Erin, Susan, Kelly, Laura, Emily, Anisaa, and Lori Ann
YA BOOK GIVEAWAYS THIS WEEK
* * * *
Tin Heart: A Novel
by Shivaun Plozza
Hardcover Giveaway

U.S. Only
Flatiron Books
Released 3/12/2019
When Marlowe gets a heart transplant and a second chance at life, all she wants to do is to thank her donor's family. Maybe then she can move on. Maybe then she'll discover who she is if she's no longer The Dying Girl.
But with a little brother who dresses like every day is Halloween, a vegan warrior for a mother, and an all-out war with the hot butcher's apprentice next door, Marlowe's life is already pretty complicated. And her second chance is about to take an unexpected turn...
Purchase Tin Heart: A Novel at Amazon
Purchase Tin Heart: A Novel at IndieBound
View Tin Heart: A Novel on Goodreads
YA BOOK GIVEAWAYS LAST WEEK: WINNERS
Chicken Girl by Heather T. Smith:
Audrey S.
MORE YOUNG ADULT NOVELS NEW IN STORES NEXT WEEK
* * * *
Angel Thieves
by Kathi Appelt
Hardcover
Atheneum/Caitlyn Dlouhy Books
Released 3/12/2019
Sixteen-year-old Cade Curtis is an angel thief. After his mother's family rejected him for being born out of wedlock, he and his dad moved to the apartment above a local antique shop. The only payment the owner Mrs. Walker requests: marble angels, stolen from graveyards, for her to sell for thousands of dollars to collectors. But there's one angel that would be the last they'd ever need to steal; an angel, carved by a slave, with one hand open and one hand closed. If only Cade could find it…
Zorra, a young ocelot, watches the bayou rush past her yearningly. The poacher who captured and caged her has long since lost her, and Zorra is getting hungrier and thirstier by the day. Trapped, she only has the sounds of the bayou for comfort—but it tells her help will come soon.
Before Zorra, Achsah, a slave, watched the very same bayou with her two young daughters. After the death of her master, Achsah is free, but she'll be damned if her daughters aren't freed with her. All they need to do is find the church with an angel with one hand open and one hand closed…
Purchase Angel Thieves at Amazon
Purchase Angel Thieves at IndieBound
View Angel Thieves on Goodreads
* * * *
Beware the Night
by Jessika Fleck
Hardcover
Swoon Reads
Released 3/12/2019
On the island of Bellona, life is peaceful--as long as the citizens dutifully worship the Sun, which protects them from all harm. Seventeen-year-old Veda knows that keeping the Sun happy will protect her and her grandfather from the Night, the dangerous people who snatch innocent citizens from their beds under the cover of darkness, never to be seen again. As long as Veda follows the rules, she will be safe.
But when Veda's grandfather is offered up as the next sacrificial offering to keep the Sun's favor, she starts to see that the safety she's been promised comes at a dangerous price. Maybe there is more to fear above than there is below.
With a mysterious young man, Dorian, at her side, Veda has to figure out if the scary bedtime stories she grew up hearing are real--or dangerous lies.
Purchase Beware the Night at Amazon
Purchase Beware the Night at IndieBound
View Beware the Night on Goodreads
* * * *
Heart & Shadow: The Valkyrie Duology
by Amanda Hocking
Paperback
Wednesday Books
Released 3/12/2019
WHEN THE FATE OF THE WORLD IS AT STAKE, LOYALTIES WILL BE TESTED. As one of Odin's Valkyries, Malin's greatest responsibility is to slay immortals and return them to the underworld. But when she unearths a secret that could unravel the balance of all she knows, Malin along with her best friend and her ex-girlfriend must decide where their loyalties lie. And if helping the blue-eyed boy Asher enact his revenge is worth the risk―to the world and her heart.
From the Earth to the Shadows
SHE WILL SAVE THE WORLD OR DIE TRYING. While dealing with dark revelations about her life and her world, Malin Krigarie finds herself with new allies--and new enemies. Her quest for the truth leads her to places she never thought possible, and she's never been one to shy away from a fight. But for all her strength and determination, will it be enough to rescue the people she cares about and save the world before it's too late?
Purchase Heart & Shadow: The Valkyrie Duology at Amazon
Purchase Heart & Shadow: The Valkyrie Duology at IndieBound
View Heart & Shadow: The Valkyrie Duology on Goodreads
* * * *
Heroine
by Mindy McGinnis
Hardcover
Katherine Tegen Books
Released 3/12/2019
When a car crash sidelines Mickey just before softball season, she has to find a way to hold on to her spot as the catcher for a team expected to make a historic tournament run. Behind the plate is the only place she's ever felt comfortable, and the painkillers she's been prescribed can help her get there.
The pills do more than take away pain; they make her feel good.
With a new circle of friends—fellow injured athletes, others with just time to kill—Mickey finds peaceful acceptance, and people with whom words come easily, even if it is just the pills loosening her tongue.
But as the pressure to be Mickey Catalan heightens, her need increases, and it becomes less about pain and more about want, something that could send her spiraling out of control.
Purchase Heroine at Amazon
Purchase Heroine at IndieBound
View Heroine on Goodreads
* * * *
Izzy + Tristan
by Shannon Dunlap
Hardcover
Poppy
Released 3/12/2019
Izzy, a practical-minded teen who intends to become a doctor, isn't happy about her recent move from the Lower East Side across the river to Brooklyn. She feels distanced from her family, especially her increasingly incomprehensible twin brother, as well as her new neighborhood.
And then she meets Tristan.
Tristan is a chess prodigy who lives with his aunt and looks up to his cousin, Marcus, who has watched out for him over the years. When he and Izzy meet one fateful night, together they tumble into a story as old and unstoppable as love itself.
Purchase Izzy + Tristan at Amazon
Purchase Izzy + Tristan at IndieBound
View Izzy + Tristan on Goodreads
* * * *
Kiss Number 8
by Colleen AF Venable
Hardcover
First Second
Released 3/12/2019
Mads is pretty happy with her life. She goes to church with her family, and minor league baseball games with her dad. She goofs off with her best friend Cat, and has thus far managed to avoid getting kissed by Adam, the boy next door. It's everything she hoped high school would be… until all of a sudden, it's not.
Her dad is hiding something big―so big it could tear her family apart. And that's just the beginning of her problems: Mads is starting to figure out that she doesn't want to kiss Adam… because the only person she wants to kiss is Cat.
Purchase Kiss Number 8 at Amazon
Purchase Kiss Number 8 at IndieBound
View Kiss Number 8 on Goodreads
* * * *
Other Words for Smoke
by Sarah Maria Griffin
Hardcover
Greenwillow Books
Released 3/12/2019
When the women from the house at the end of the lane went missing, none of the townspeople knew what happened. A tragedy, they called it. Only twins Mae and Rossa know the truth about that fateful summer.
Only they know about the owl in the wall, the uncanny cat, the insidious creatures that devour love and fear. Only they know the trials of loving someone who longs for power, for freedom, for magic. Only they know what brought everything tumbling down around them. And they'll never, ever breathe a word.
Purchase Other Words for Smoke at Amazon
Purchase Other Words for Smoke at IndieBound
View Other Words for Smoke on Goodreads
* * * *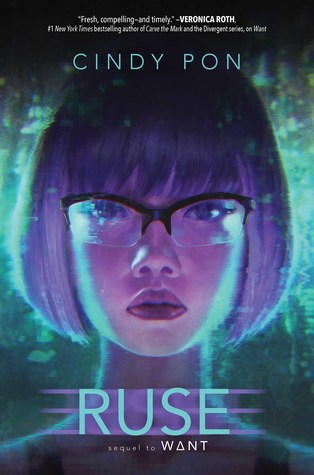 Ruse
by Cindy Pon
Hardcover
Simon Pulse
Released 3/12/2019
Jason Zhou, his friends, and Daiyu are still recovering from the aftermath of bombing Jin Corp headquarters. But Jin, the ruthless billionaire and Daiyu's father, is out for blood. When Lingyi goes to Shanghai to help Jany Tsai, a childhood acquaintance in trouble, she doesn't expect Jin to be involved. And when Jin has Jany murdered and steals the tech she had refused to sell him, Lingyi is the only one who has access to the encrypted info, putting her own life in jeopardy.
Zhou doesn't hesitate to fly to China to help Iris find Lingyi, even though he's been estranged from his friends for months. But when Iris tells him he can't tell Daiyu or trust her, he balks. The reunited group play a treacherous cat and mouse game in the labyrinthine streets of Shanghai, determined on taking back what Jin had stolen.
When Daiyu appears in Shanghai, Zhou is uncertain if it's to confront him or in support of her father. Jin has proudly announced Daiyu will be by his side for the opening ceremony of Jin Tower, his first "vertical city." And as hard as Zhou and his friends fight, Jin always gains the upper hand. Is this a game they can survive, much less win?
Purchase Ruse at Amazon
Purchase Ruse at IndieBound
View Ruse on Goodreads
* * * *
SHOUT
by Laurie Halse Anderson
Hardcover
Viking Books for Young Readers
Released 3/12/2019
Bestselling author Laurie Halse Anderson is known for the unflinching way she writes about, and advocates for, survivors of sexual assault. Now, inspired by her fans and enraged by how little in our culture has changed since her groundbreaking novel Speak was first published twenty years ago, she has written a poetry memoir that is as vulnerable as it is rallying, as timely as it is timeless. In free verse, Anderson shares reflections, rants, and calls to action woven between deeply personal stories from her life that she's never written about before. Searing and soul-searching, this important memoir is a denouncement of our society's failures and a love letter to all the people with the courage to say #MeToo and #TimesUp, whether aloud, online, or only in their own hearts. Shout speaks truth to power in a loud, clear voice-- and once you hear it, it is impossible to ignore.
Purchase SHOUT at Amazon
Purchase SHOUT at IndieBound
View SHOUT on Goodreads
* * * *
Squad
by Mariah MacCarthy
Hardcover
Farrar, Straus and Giroux
Released 3/12/2019
Jenna Watson is a cheerleader. And she wants you to know it's not some Hollywood crap: they are not every guy's fantasy. They are not the "mean girls" of Marsen High School. They're literally just human females trying to live their lives and do a perfect toe touch. And their team is at the top of their game. They're a family.
But all that changes when Jenna's best friend stops talking to her. Suddenly, she's not getting invited out with the rest of the squad. She's always a step behind. And she has no idea why.
While grappling with post-cheer life, Jenna explores things she never allowed herself to like, including LARPing (live action role playing) and a relationship with a trans guy that feels a lot like love.
When Jenna loses the sport and the friends she's always loved, she has to ask herself: What else is left?
Purchase Squad at Amazon
Purchase Squad at IndieBound
View Squad on Goodreads
* * * *
The Sound of Drowning
by Katherine Fleet
Hardcover
Page Street Kids
Released 3/12/2019
Meredith Hall has a secret. Every night she takes the ferry to meet Ben, her best friend and first love. Though their relationship must remain a secret, they've been given a second chance, and Mer's determined to make it work. She lost Ben once before and discovered the awful reality: she doesn't know how to be happy without him…
Until Wyatt washes ashore―a brash new guy with a Texas twang and a personality bigger than his home state. He makes her feel reckless, excited, and alive in ways that cut through her perpetual gloom. The deeper they delve into each other's pasts, the more Wyatt's charms become impossible to ignore.
But a storm is brewing in the Outer Banks. When it hits, Mer finds her heart tearing in half and her carefully constructed reality slipping back into the surf. As she discovers that even the most deeply buried secrets have a way of surfacing, she'll have to learn that nothing is forever―especially second chances.
Purchase The Sound of Drowning at Amazon
Purchase The Sound of Drowning at IndieBound
View The Sound of Drowning on Goodreads
* * * *
The Tesla Legacy
by K.K. Perez
Hardcover
Tor Teen
Released 3/12/2019
An action-packed, young adult coming-of-age adventure, K. K. Perez's The Tesla Legacy follows a precocious young scientist named Lucy Phelps whose fateful encounter in the Tesla Suite of the New Yorker Hotel unlocks her dormant electrical powers. As Lucy struggles to understand her new abilities through scientific experimentation, she is thrust into a centuries old battle between rival alchemical societies.
One side wants her help and the other wants her dead, but both believe she is the next step in human evolution. Unfortunately, carriers of the genetic mutation―including Nikola Tesla―have a greatly reduced life expectancy. Even if Lucy can outrun her enemies, she can't outrun herself.
Purchase The Tesla Legacy at Amazon
Purchase The Tesla Legacy at IndieBound
View The Tesla Legacy on Goodreads
* * * *
The Waking Forest
by Alyssa Wees
Hardcover
Delacorte Press
Released 3/12/2019
The waking forest has secrets. To Rhea, it appears like a mirage, dark and dense, at the very edge of her backyard. But when she reaches out to touch it, the forest vanishes. She's desperate to know more--until she finds a peculiar boy who offers to reveal its secrets. If she plays a game.
To the Witch, the forest is her home, where she sits on her throne of carved bone, waiting for dreaming children to beg her to grant their wishes. One night, a mysterious visitor arrives and asks her what she wishes for, but the Witch sends him away. And then the uninvited guest returns.
The strangers are just the beginning. Something is stirring in the forest, and when Rhea's and the Witch's paths collide, a truth more treacherous and deadly than either could ever imagine surfaces. But how much are they willing to risk to survive?
Purchase The Waking Forest at Amazon
Purchase The Waking Forest at IndieBound
View The Waking Forest on Goodreads
* * * *
When the Sky Fell on Splendor
by Emily Henry
Hardcover
Razorbill
Released 3/12/2019
Almost everyone in the small town of Splendor, Ohio, was affected when the local steel mill exploded. If you weren't a casualty of the accident yourself, chances are a loved one was. That's the case for seventeen-year-old Franny, who, five years after the explosion, still has to stand by and do nothing as her brother lies in a coma.
In the wake of the tragedy, Franny found solace in a group of friends whose experiences mirrored her own. The group calls themselves The Ordinary, and they spend their free time investigating local ghost stories and legends, filming their exploits for their small following of YouTube fans. It's silly, it's fun, and it keeps them from dwelling on the sadness that surrounds them.
Until one evening, when the strange and dangerous thing they film isn't fiction--it's a bright light, something massive hurtling toward them from the sky. And when it crashes and the teens go to investigate...everything changes.
Purchase When the Sky Fell on Splendor at Amazon
Purchase When the Sky Fell on Splendor at IndieBound
View When the Sky Fell on Splendor on Goodreads