Happy Reading,
Shelly, Riki, Sam, Martina, Erin, Susan, Kelly, Laura, Emily, Anisaa, and Lori Ann
YA BOOK GIVEAWAYS LAST WEEK: WINNERS
Winter War Awakening by Rosalyn Eves:
Amy Z.
MORE YOUNG ADULT NOVELS NEW IN STORES NEXT WEEK
* * * *
The Beast Player
by Nahoko Uehashi
Hardcover
Henry Holt and Co.
Released 3/26/2019
Nahoko Uehashi's The Beast Player is an epic YA fantasy about a girl with a special power to communicate with magical beasts and the warring kingdom only she can save.
Purchase The Beast Player at Amazon
Purchase The Beast Player at IndieBound
View The Beast Player on Goodreads
* * * *
Dig
by A.S. King
Hardcover
Dutton Books for Young Readers
Released 3/26/2019
The Shoveler, the Freak, Can I Help You?, Loretta the Flea-Circus Ring Mistress, and First-Class Malcolm. These are the five teenagers lost in the Hemmings family's maze of tangled secrets. Only a generation removed from being Pennsylvania potato farmers, Gottfried and Marla Hemmings managed to trade digging spuds for developing subdivisions and now sit atop a seven-figure bank account--wealth they've declined to pass on to their adult children or their teenage grandchildren. "Because we want them to thrive," Marla always says. What does thriving look like? Like carrying a snow shovel everywhere. Like selling pot at the Arby's drive-thru window. Like a first class ticket to Jamaica between cancer treatments. Like a flea-circus in a double-wide. Like the GPS coordinates to a mound of dirt in a New Jersey forest. As the rot just beneath the surface of the Hemmings' precious suburban respectability begins to spread, the far-flung grandchildren gradually find their ways back to one another, just in time to uncover the terrible cost of maintaining the family name.
Purchase Dig at Amazon
Purchase Dig at IndieBound
View Dig on Goodreads
* * * *
Eyes on Me
by Rachel Harris
Paperback
Entangled: Teen
Released 3/26/2019
Look up the word "nerd" and you'll find Lily Bailey's picture. She's got one goal: first stop valedictorian, next stop Harvard. Until a stint in the hospital from too much stress lands her in the last place a klutz like her ever expected to be: salsa dance lessons.
Look up the word "popular" and you'll find Stone Torres's picture. His life seems perfect―star of the football team, small-town hero, lots of friends. But his family is struggling to make ends meet, so if pitching in at his mom's dance studio helps, he'll do it.
When Lily's dad offers Stone extra cash to volunteer as Lily's permanent dance partner, he can't refuse. But with each dip and turn, each moment her hand is in his, his side job starts to feel all too real. Lily shows Stone he's more than his impressive football stats, and he introduces her to a world outside of studying. But with the lines blurred, can their relationship survive the secret he's been hiding?
Purchase Eyes on Me at Amazon
Purchase Eyes on Me at IndieBound
View Eyes on Me on Goodreads
* * * *
Fake Plastic Girl
by Zara Lisbon
Hardcover
Henry Holt and Co.
Released 3/26/2019
Celebrity-studded parties that last long into the night. Camera flashes and designer clothes. And a body found floating in the Venice Beach canals.
But let's start at the beginning.
Justine Childs is your average teenage girl, until the day ex-child-star Eva Kate Kelly moves in across the way. Eva Kate is gorgeous, seductive, and eager to invite Justine into her glittery world. Their relationship intensifies quickly, but there is a lot they aren't telling each other, and in the midst of the whirlwind, a girl lies dead. Who killed Eva Kate? Justine swears her innocence―and she'd like you to hear her side of the story.
Purchase Fake Plastic Girl at Amazon
Purchase Fake Plastic Girl at IndieBound
View Fake Plastic Girl on Goodreads
* * * *
In Another Life: A Novel
by C. C. Hunter
Hardcover
Wednesday Books
Released 3/26/2019
Chloe was three years old when she became Chloe Holden, but her adoption didn't scar her, and she's had a great life. Now, fourteen years later, her loving parents' marriage has fallen apart and her mom has moved them to Joyful, Texas. Starting twelfth grade as the new kid at school, everything Chloe loved about her life is gone. And feelings of déjà vu from her early childhood start haunting her.
When Chloe meets Cash Colton she feels drawn to him, as though they're kindred spirits. Until Cash tells her the real reason he sought her out: Chloe looks exactly like the daughter his foster parents lost years ago, and he's determined to figure out the truth.
As Chloe and Cash delve deeper into her adoption, the more things don't add up, and the more strange things start happening. Why is Chloe's adoption a secret that people would kill for?
Purchase In Another Life: A Novel at Amazon
Purchase In Another Life: A Novel at IndieBound
View In Another Life: A Novel on Goodreads
* * * *
Killing November
by Adriana Mather
Hardcover
Knopf Books for Young Readers
Released 3/26/2019
November is trapped.
At the mysterious Academy Absconditi, a school that's completely off the grid, there's no electricity, no internet, and a brutal eye-for-an-eye punishment system. Classes include everything from knife-throwing and poisons to the art of deception. And the other students? All children of the world's most elite strategists, in training to become assassins, spies, and master manipulators. November Adley doesn't know why she's been sent to this place, or the secrets that make up its legacy, but she'll quickly discover that allies are few in a school where competition is everything. When another student is murdered, all eyes turn to November, who must figure out exactly how she fits in before she is found guilty of the crime...or becomes the killer's next victim.
Purchase Killing November at Amazon
Purchase Killing November at IndieBound
View Killing November on Goodreads
* * * *
The Dating Game
by Kiley Roache
Hardcover
Inkyard Press
Released 3/26/2019
When a notoriously difficult class for future entrepreneurs leads to three freshmen developing the next "it" app for dating on college campuses, all hell breaks loose…
Type A control freak Sara lives by her color-coordinated Post-it notes.
Rich boy Braden wants out from under his billionaire father's thumb.
Scholarship student Roberto can't afford for his grades to drop.
When the three are forced to work together in one of the university's most difficult classes, tension rises to the breaking point…until, shockingly, the silly dating app they create proves to be the most viable project in class. Late nights of app development, interest from investors and unexpected romance are woven into a true-to-life college drama that explores what it means to really connect online and IRL.
Purchase The Dating Game at Amazon
Purchase The Dating Game at IndieBound
View The Dating Game on Goodreads
* * * *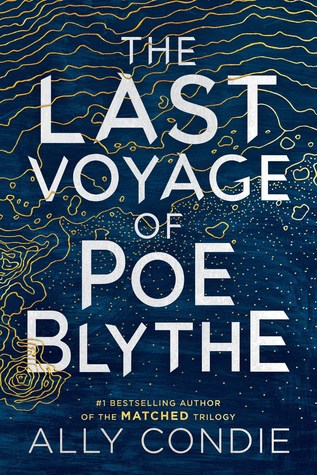 The Last Voyage of Poe Blythe
by Ally Condie
Hardcover
Dutton Books for Young Readers
Released 3/26/2019
Who do you become when you have nothing left to lose?
There is something Poe Blythe, the seventeen-year-old captain of the Outpost's last mining ship, wants far more than the gold they tear from the Serpentine River.
Revenge.
Poe has vowed to annihilate the river raiders who robbed her of everything two years ago. But as she navigates the treacherous waters of the Serpentine and realizes there might be a traitor among her crew, she must also reckon with who she has become, who she wants to be, and the ways love can change and shape you. Even—and especially—when you think all is lost.
Purchase The Last Voyage of Poe Blythe at Amazon
Purchase The Last Voyage of Poe Blythe at IndieBound
View The Last Voyage of Poe Blythe on Goodreads
* * * *
The Rebel Mages: An Anthology
by Laurie Forest
Paperback
Inkyard Press
Released 3/26/2019
Wandfasted
Twenty years before Elloren Gardner enrolled at the illustrious Verpax University, Erthia was rent asunder during the devastating Realm War. When Tessla Harrow is driven from her home by the fighting, she discovers a depth of power she never knew she had…and an irresistible draw toward Vale Gardner, the son of the most powerful mage her people have ever known—the Black Witch.
Light Mage
Before Elloren came to possess the White Wand of myth, the Wand was drawn to another bearer: Sagellyn Gaffney. Sage's affinity for light magery, a rare skill among Gardnerians, makes her the perfect protector for the one tool that can combat the shadows spreading across Erthia. But in order to keep the Wand safe from the dark forces hunting for it, Sage must abandon everything she once knew and forge a new path for herself…a dangerous course that could lead to either triumph or utter ruin.
Purchase The Rebel Mages: An Anthology at Amazon
Purchase The Rebel Mages: An Anthology at IndieBound
View The Rebel Mages: An Anthology on Goodreads
* * * *
Unleaving
by Melissa Ostrom
Hardcover
Feiwel & Friends
Released 3/26/2019
After surviving an assault at an off-campus party, nineteen-year-old Maggie is escaping her college town, and, because her reporting the crime has led to the expulsion of some popular athletes, many people―in particular, the outraged Tigers fans―are happy to see her go.
Maggie moves in with her Aunt Wren, a sculptor who lives in an isolated cabin bordered by nothing but woods and water. Maggie wants to forget, heal, and hide, but her aunt's place harbors secrets and situations that complicate the plan. Worse, the trauma Maggie hoped to leave behind has followed her, haunting her in ways she can't control, including flashbacks, insomnia and a sense of panic. Her troubles intensify when she begins to receive messages from another student who has survived a rape on her old campus. Just when Maggie musters the courage to answer her emails, the young woman goes silent.
Purchase Unleaving at Amazon
Purchase Unleaving at IndieBound
View Unleaving on Goodreads
* * * *
XL
by Scott Brown
Hardcover
Knopf Books for Young Readers
Released 3/26/2019
Fiercely funny, honest, and poignant, this story of a growth spurt gone wrong is perfect for readers who love Becky Albertalli and Jesse Andrews.
Will Daughtry is a late bloomer--at least that's what everyone tells the high school sophomore, who is just shy of five feet. By his sixteenth birthday, Will is resigned, bitterly, to being tiny forever. His only comfort is his best friend and stepbrother, Drew (6'3"), and their pal Monica (5'10"), the girl Will's secretly pined for since fifth grade. With them, he feels whole; everyone else sees him as a half man. But when Will stumbles onto Drew and Monica kissing, he realizes he's on his own.
That's when he starts to grow. And grow fast. Astonishingly fast.
For the first time in his life, Will is happy with his height, and with himself. He can barely keep up with the new possibilities that are opening up to him: sports come naturally, girls are throwing themselves his way. But as his growth spurt shows no signs of slowing, it starts to affect his relationships with Drew and Monica, the people who've meant the most to him. Now Will has to figure out what to do with himself--and all of this new "himself" he never expected to have.
Purchase XL at Amazon
Purchase XL at IndieBound
View XL on Goodreads