Happy Reading,
Shelly, Sam, Riki, Jocelyn, Martina, Erin, Susan, Kelly, Laura, Emily, Anisaa, and Lori Ann
YOUNG ADULT NOVELS NEW IN STORES NEXT WEEK
* * * *
An Affair of Poisons
by Addie Thorley
Hardcover
Page Street Kids
Released 2/26/2019
After unwittingly helping her mother poison King Louis XIV, seventeen-year-old alchemist Mirabelle Monvoisin is forced to see her mother's Shadow Society in a horrifying new light: they're not heroes of the people, as they've always claimed to be, but murderers. Herself included. Mira tries to ease her guilt by brewing helpful curatives, but her hunger tonics and headache remedies cannot right past wrongs or save the dissenters her mother vows to purge.
Royal bastard Josse de Bourbon is more kitchen boy than fils de France. But when the Shadow Society assassinates the Sun King and half of the royal court, he must become the prince he was never meant to be in order to save his injured sisters and the petulant dauphin. Forced to hide in the sewers beneath the city, Josse's hope of reclaiming Paris seems impossible―until his path collides with Mirabelle's.
She's a deadly poisoner. He's a bastard prince. They are sworn enemies, yet they form a tenuous pact to unite the commoners and former nobility against the Shadow Society. But can a rebellion built on mistrust ever hope to succeed?
Purchase An Affair of Poisons at Amazon
Purchase An Affair of Poisons at IndieBound
View An Affair of Poisons on Goodreads
* * * *
Daughter of the Siren Queen
by Tricia Levenseller
Hardcover
Feiwel & Friends
Released 2/26/2019
Alosa's mission is finally complete. Not only has she recovered all three pieces of the map to a legendary hidden treasure, but the pirates who originally took her captive are now prisoners on her ship. Still unfairly attractive and unexpectedly loyal, first mate Riden is a constant distraction, but now he's under her orders. And she takes great comfort in knowing that the villainous Vordan will soon be facing her father's justice.
When Vordan exposes a secret her father has kept for years, Alosa and her crew find themselves in a deadly race with the feared Pirate King. Despite the danger, Alosa knows they will recover the treasure first . . . after all, she is the daughter of the Siren Queen.
Purchase Daughter of the Siren Queen at Amazon
Purchase Daughter of the Siren Queen at IndieBound
View Daughter of the Siren Queen on Goodreads
* * * *
Four Dead Queens
by Astrid Scholte
Hardcover
G.P. Putnam's Sons Books for Y
Released 2/26/2019
Seventeen-year-old Keralie Corrington may seem harmless, but she's, in fact, one of Quadara's most skilled thieves and a liar. Varin, on the other hand, is an honest, upstanding citizen of Quadara's most enlightened region, Eonia. He runs afoul of Keralie when she steals a package from him, putting his life in danger. When Varin attempts to retrieve the package, he and Keralie both find themselves entangled in a conspiracy that leaves all four of Quadara's queens dead.
With no other choices and on the run from Keralie's former employer, the two decide to join forces, endeavoring to discover who has killed the queens and save their own lives in the process. When their reluctant partnership blooms into a tenuous romance, they must overcome their own dark secrets in hopes of a future together that seemed impossible just days before. But first they have to stay alive and untangle the secrets behind the nation's four dead queens.
Purchase Four Dead Queens at Amazon
Purchase Four Dead Queens at IndieBound
View Four Dead Queens on Goodreads
* * * *
On Thin Ice
by Julie Cross
Paperback
Entangled: Teen
Released 2/26/2019
Brooke Parker never expected to find herself in the tiny town of Juniper Falls, Minnesota. Of course, she also never expected to lose her dad. Or for her mom to lose herself. Brooke feels like she's losing it…until she finds Juniper Falls hockey. Juniper Falls girls' hockey, that is.
Jake Hammond, current prince of Juniper Falls, captain of the hockey team, and player with the best chance of scoring it big, is on top of the world. Until one hazing ritual gone wrong lands him injured, sitting on the sidelines, and―shocking even to him―finding himself enjoying his "punishment" as assistant coach for the girls' team.
As Jake and Brooke grow closer, he finds the quiet new girl is hiding a persona full of life, ideas, and experiences bigger and broader than anything he's ever known. But to Jake, hockey's never just been a game. It's his whole life. And leveraging the game for a shot at their future might be more than he can give.
Purchase On Thin Ice at Amazon
Purchase On Thin Ice at IndieBound
View On Thin Ice on Goodreads
* * * *
Rayne & Delilah's Midnite Matinee
by Jeff Zentner
Hardcover
Crown Books for Young Readers
Released 2/26/2019
Every Friday night, best friends Delia and Josie become Rayne Ravenscroft and Delilah Darkwood, hosts of the campy creature feature show Midnite Matinee on the local cable station TV Six.
But with the end of senior year quickly approaching, the girls face tough decisions about their futures. Josie has been dreading graduation, as she tries to decide whether to leave for a big university and chase her dream career in mainstream TV. And Lawson, one of the show's guest performers, a talented MMA fighter with weaknesses for pancakes, fantasy novels, and Josie, is making her tough decision even harder.
Scary movies are the last connection Delia has to her dad, who abandoned the family years ago. If Midnite Matinee becomes a hit, maybe he'll see it and want to be a part of her life again. And maybe Josie will stay with the show instead of leaving her behind, too.
As the tug-of-war between growing up and growing apart tests the bonds of their friendship, Josie and Delia start to realize that an uncertain future can be both monstrous...and momentous.
Purchase Rayne & Delilah's Midnite Matinee at Amazon
Purchase Rayne & Delilah's Midnite Matinee at IndieBound
View Rayne & Delilah's Midnite Matinee on Goodreads
* * * *
The Beauty of the Moment
by Tanaz Bhathena
Hardcover
Farrar, Straus and Giroux
Released 2/26/2019
Susan is the new girl―she's sharp and driven, and strives to meet her parents' expectations of excellence. Malcolm is the bad boy―he started raising hell at age fifteen, after his mom died of cancer, and has had a reputation ever since.
Susan's parents are on the verge of divorce. Malcolm's dad is a known adulterer.
Susan hasn't told anyone, but she wants to be an artist. Malcolm doesn't know what he wants―until he meets her.
Love is messy and families are messier, but in spite of their burdens, Susan and Malcolm fall for each other. The ways they drift apart and come back together are testaments to family, culture, and being true to who you are.
Purchase The Beauty of the Moment at Amazon
Purchase The Beauty of the Moment at IndieBound
View The Beauty of the Moment on Goodreads
* * * *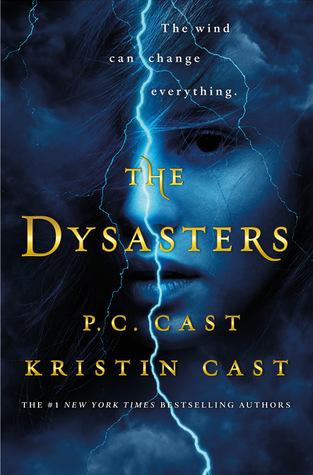 The Dysasters
by Kristin Cast & P.C. Cast
Hardcover
Wednesday Books
Released 2/26/2019
Adoptive daughter of a gifted scientist, Foster Stewart doesn't live a "normal" life, (not that she'd want to). But controlling cloud formations and seeing airwaves aren't things most eighteen year olds can do.
Small town star quarterback and quintessential dreamy boy next door, Tate "Nighthawk" Taylor has never thought much about his extra abilities. Sure, his night vision comes in handy during games, but who wouldn't want that extra edge?
From the moment Foster and Tate collide, their worlds spiral and a deadly tornado forces them to work together, fully awakening their not-so-natural ability - the power to control air.
As they each deal with the tragic loss of loved ones, they're caught by another devastating blow – they are the first in a group of teens genetically manipulated before birth to bond with the elements, and worse… they're being hunted.
Now, Foster and Tate must fight to control their abilities as they learn of their past, how they came to be, who's following them, and what tomorrow will bring… more DYSASTERS?
Purchase The Dysasters at Amazon
Purchase The Dysasters at IndieBound
View The Dysasters on Goodreads
* * * *
The Weight of a Thousand Feathers
by Brian Conaghan
Hardcover
Bloomsbury YA
Released 2/26/2019
As the person who cares for his terminally-ill mother, Bobby Seed has a lot on his plate. Add to that a responsibility to watch over his little brother (with his endless question about why their mother is in so much pain), keeping up at school, and navigating a relationship with a girl friend who wants to be a girlfriend, and he's barely keeping his head above the water. Something's got to give.
But then Bobby's mother makes a request, one that seems impossible. If he agrees, he won't just be soothing her pain. He'll be helping her end it -- and end everything. Angry, stirring, and tender, this bold novel tells a story of choice and compassion, exploring the lengths to which we'll go for the people we love.
Purchase The Weight of a Thousand Feathers at Amazon
Purchase The Weight of a Thousand Feathers at IndieBound
View The Weight of a Thousand Feathers on Goodreads
* * * *
Warrior of the Wild
by Tricia Levenseller
Hardcover
Feiwel & Friends
Released 2/26/2019
How do you kill a god?
As her father's chosen heir, eighteen-year-old Rasmira has trained her whole life to become a warrior and lead her village. But when her coming-of-age trial is sabotaged and she fails the test, her father banishes her to the monster-filled wilderness with an impossible quest: To win back her honor, she must kill the oppressive god who claims tribute from the villages each year or die trying.
Purchase Warrior of the Wild at Amazon
Purchase Warrior of the Wild at IndieBound
View Warrior of the Wild on Goodreads
* * * *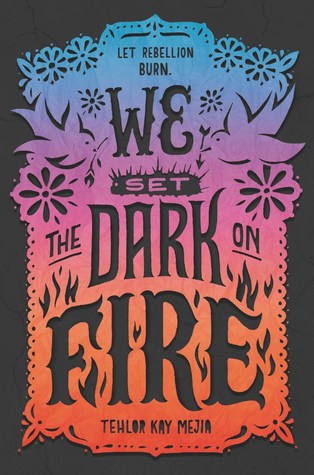 We Set the Dark on Fire
by Tehlor Kay Mejia
Hardcover
Katherine Tegen Books
Released 2/26/2019
At the Medio School for Girls, distinguished young women are trained for one of two roles in their polarized society. Depending on her specialization, a graduate will one day run a husband's household or raise his children. Both paths promise a life of comfort and luxury, far from the frequent political uprisings of the lower class.
Daniela Vargas is the school's top student, but her pedigree is a lie. She must keep the truth hidden or be sent back to the fringes of society.
And school couldn't prepare her for the difficult choices she must make after graduation, especially when she is asked to spy for a resistance group desperately fighting to bring equality to Medio.
Will Dani cling to the privilege her parents fought to win for her, or will she give up everything she's strived for in pursuit of a free Medio—and a chance at a forbidden love?
Purchase We Set the Dark on Fire at Amazon
Purchase We Set the Dark on Fire at IndieBound
View We Set the Dark on Fire on Goodreads
* * * *
What We Buried
by Kate A. Boorman
Hardcover
Henry Holt and Co.
Released 2/26/2019
"Do you ever just want to be believed?"
Siblings Liv and Jory Brewer have grown up resenting each another. Liv―former pageant queen and reality TV star―was groomed for a life in the spotlight, while her older brother, Jory, born with a partial facial paralysis, was left in the shadows. The only thing they have in common is contempt for their parents.
Now Liv is suing her mom and dad for emancipation, and Jory views the whole thing as yet another attention-getting spectacle. But on the day of the hearing, their parents mysteriously vanish, and the siblings are forced to work together. Liv feels certain she knows where they are and suspects that Jory knows more than he's telling…which is true.
What starts as a simple overnight road trip soon takes a turn for the dangerous and surreal. And as the duo speeds through the deserts of Nevada, brother and sister will unearth deep family secrets that force them to relive their pasts as they try to retain a grip on the present.
Purchase What We Buried at Amazon
Purchase What We Buried at IndieBound
View What We Buried on Goodreads