Happy Reading,
Shelly, Sam, Riki, Jocelyn, Martina, Erin, Susan, Kelly, Laura, Emily, Anisaa, and Lori Ann
YA BOOK GIVEAWAYS THIS WEEK
* * * *
The Antidote
by Shelley Sackier
Hardcover Giveaway

U.S. Only
HarperTeen
Released 2/5/2019
In the world of healers, there is no room for magic.
Fee knows this, just as certainly as she knows that her magic must be kept secret.
But the crown prince Xavi, Fee's best friend and only source of comfort, is sick. So sick, that Fee can barely contain the magic lying dormant inside her. She could use it, just a little, to heal him. But magic comes at a deadly cost—and attracts those who would seek to snuff it out forever.
A wisp of a spell later, Fee finds herself caught in a whirl of secret motivations and dark pasts, where no one is who—or what—they appear to be. And saving her best friend means delving deeper into the tempting and treacherous world whose call she's long resisted—uncovering a secret that will change everything.
Author Question: What is your favorite thing about The Antidote?
A massively big chunk of me wants to scream out, "THE COVER!" because, really … the cover. Artist Lisa Perrin is so masterful, and I can't believe The Antidote was fortunate enough to draw such a lucky straw, but I think ultimately, what her artwork does is act as a catalyst. It pulls me deeply into the realm of these characters where beliefs are tested--where a hazy veil is drawn back. One that separates that which we know to be true and that which we believe to be true.

There's a difference.

I like books that try to change your mind—not in a manipulative kind of way—but through drips and drabs of new information and the repeated experience of seeing the same thing from a new perspective. I love that this book reminds me to challenge myself to think beyond the borders of just me.
Purchase The Antidote at Amazon
Purchase The Antidote at IndieBound
View The Antidote on Goodreads
* * * *
The Deceivers
by Kristen Simmons
Hardcover Giveaway

U.S. Only
Tor Teen
Released 2/5/2019
Welcome to Vale Hall, the school for aspiring con artists.
When Brynn Hilder is recruited to Vale, it seems like the elite academy is her chance to start over, away from her mom's loser boyfriend and her rundown neighborhood. But she soon learns that Vale chooses students not so much for their scholastic talent as for their extracurricular activities, such as her time spent conning rich North Shore kids out of their extravagant allowances.
At first, Brynn jumps at the chance to help the school in its mission to rid the city of corrupt officials―because what could be better than giving entitled jerks what they deserve? But that's before she meets her mark―a senator's son―and before she discovers the school's headmaster has secrets he'll stop at nothing to protect. As the lines between right and wrong blur, Brynn begins to realize she's in way over head.
Author Question: What is your favorite thing about The Deceivers?
I loved writing THE DECEIVERS from start to finish - in fact, it was so much fun I wrote all three books back to back to back! I love Brynn and her adventures at the school for con artists, I loved arranging the twists and turns, and I love the high-tension plots of thrillers. But my favorite thing about the books, and the series as a whole, is her connection to the friends she makes at Vale Hall. Found family stories are my favorite, and Brynn, who has never quite fit in with anyone, finds herself deeply connected to her fellow classmates.

In Charlotte, Henry, Sam, and Caleb, Brynn finds support and love she never knew she needed. But how much can you really trust a con artist? Each of her friends has a secret they're guarding - one which won't only put their relationships at risk, but their lives. And as she gets closer to Caleb, she begins to wonder if the guy who always has her back, may have a bigger purpose for getting close. That tension between Brynn and Caleb - between Brynn and all of them - is what had me on the edge of my seat while I was writing. I hope it has readers turning pages, too!
Purchase The Deceivers at Amazon
Purchase The Deceivers at IndieBound
View The Deceivers on Goodreads
YA BOOK GIVEAWAYS LAST WEEK: WINNERS
The Cerulean by Amy Ewing:
Alexa N.
The Lonely Dead by April Henry:
Chris S.
MORE YOUNG ADULT NOVELS NEW IN STORES NEXT WEEK
* * * *
A Danger to Herself and Others
by Alyssa B. Sheinmel
Hardcover
Sourcebooks Fire
Released 2/5/2019
Four walls. One window. No way to escape.
Hannah knows there's been a mistake, She doesn't need to be institutionalized. What happened to her roommate at that summer program was an accident. As soon as the doctor and judge figure out that she isn't a danger to herself or others, she can go home to start her senior year. Those college applications aren't going to write themselves. Until then, she's determined to win over the staff and earn some privileges so she doesn't lose her mind to boredom.
Then Lucy arrives. Lucy has her own baggage, and she's the perfect project to keep Hannah's focus off all she is missing at home. But Lucy may be the one person who can get Hannah to confront the secrets she's avoiding-and the dangerous games that landed her in confinement in the first place.
Purchase A Danger to Herself and Others at Amazon
Purchase A Danger to Herself and Others at IndieBound
View A Danger to Herself and Others on Goodreads
* * * *
Dark of the West
by Joanna Hathaway
Hardcover
Tor Teen
Released 2/5/2019
Aurelia Isendare is a princess of a small kingdom in the North, raised in privilege but shielded from politics as her brother prepares to step up to the throne. Halfway around the world, Athan Dakar, the youngest son of a ruthless general, is a fighter pilot longing for a life away from the front lines. When Athan's mother is shot and killed, his father is convinced it's the work of his old rival, the Queen of Etania―Aurelia's mother. Determined to avenge his wife's murder, he devises a plot to overthrow the Queen, a plot which sends Athan undercover to Etania to gain intel from her children.
Athan's mission becomes complicated when he finds himself falling for the girl he's been tasked with spying upon. Aurelia feels the same attraction, all the while desperately seeking to stop the war threatening to break between the Southern territory and the old Northern kingdoms that control it―a war in which Athan's father is determined to play a role. As diplomatic ties manage to just barely hold, the two teens struggle to remain loyal to their families and each other as they learn that war is not as black and white as they've been raised to believe.
Purchase Dark of the West at Amazon
Purchase Dark of the West at IndieBound
View Dark of the West on Goodreads
* * * *
Enchantée
by Gita Trelease
Hardcover
Flatiron Books
Released 2/5/2019
Paris is a labryinth of twisted streets filled with beggars and thieves, revolutionaries and magicians. Camille Durbonne is one of them. She wishes she weren't...
When smallpox kills her parents, Camille must find a way to provide for her younger sister while managing her volatile brother. Relying on magic, Camille painstakingly transforms scraps of metal into money to buy food and medicine they need. But when the coins won't hold their shape and her brother disappears with the family's savings, Camille pursues a richer, more dangerous mark: the glittering court of Louis XVI and Marie Antoinette.
Using dark magic forbidden by her mother, Camille transforms herself into a baroness and is swept up into life at the Palace of Versailles, where aristocrats both fear and hunger for magic. As she struggles to reconcile her resentment of the rich with the allure of glamour and excess, Camille meets a handsome younge inventor, and begins to believe that love and liberty may both be possible.
But magic has its costs, and soon Camille loses control of her secrets. And when revolution erupts, Camille must choose―love or loyalty, democracy or aristocracy, reality of magic―before Paris burns.
Purchase Enchantée at Amazon
Purchase Enchantée at IndieBound
View Enchantée on Goodreads
* * * *
Fame, Fate, and the First Kiss
by Kasie West
Hardcover
HarperTeen
Released 2/5/2019
Lacey Barnes has dreamed of being an actress for as long as she can remember. So when she gets the opportunity to star in a movie alongside one of Hollywood's hottest actors, she doesn't hesitate to accept the part.
But Lacey quickly learns that life in the spotlight isn't as picture perfect as she imagined. She's having trouble bonding with her costars, her father has hired the definition of a choir boy, Donavan Lake, to tutor her, and somewhere along the way she's lost her acting mojo. And just when it seems like things couldn't get any worse, it looks like someone on set is deliberately trying to sabotage her.
As Lacey's world spins out of control, it feels like the only person she can count on—whether it's helping her try to unravel the mystery of who is out to get her or snap her out of her acting funk—is Donavan. But what she doesn't count on is this straight-laced boy becoming another distraction.
With her entire future riding on this movie, Lacey knows she can't afford to get sidetracked by a crush. But for the first time in her life Lacey wonders if it's true that the best stories really do happen when you go off script.
Purchase Fame, Fate, and the First Kiss at Amazon
Purchase Fame, Fate, and the First Kiss at IndieBound
View Fame, Fate, and the First Kiss on Goodreads
* * * *
Following
by Jeffry W. Johnston
Paperback
Sourcebooks Fire
Released 2/5/2019
Alden likes to follow people. He's not trying to be a creep, he just wants to be an investigator someday, and it's good practice.
But spying on people comes with risks, like when Alden sees popular Greg Matthes seemingly murder his girlfriend, Amy, one night in the bad part of town.
But the facts aren't adding up, especially because Amy may be alive. Now Alden has to figure what he could have seen... and what secrets Greg is hiding.
Purchase Following at Amazon
Purchase Following at IndieBound
View Following on Goodreads
* * * *
Lady Smoke
by Laura Sebastian
Hardcover
Delacorte Press
Released 2/5/2019
The Kaiser murdered Theodosia's mother, the Fire Queen, when Theo was only six. He took Theo's country and kept her prisoner, crowning her Ash Princess--a pet to toy with and humiliate for ten long years. That era has ended. The Kaiser thought his prisoner weak and defenseless. He didn't realize that a sharp mind is the deadliest weapon.
Theo no longer wears a crown of ashes. She has taken back her rightful title, and a hostage--Prinz Soren. But her people remain enslaved under the Kaiser's rule, and now she is thousands of miles away from them and her throne.
To get them back, she will need an army. Only, securing an army means she must trust her aunt, the dreaded pirate Dragonsbane. And according to Dragonsbane, an army can only be produced if Theo takes a husband. Something an Astrean Queen has never done.
Theo knows that freedom comes at a price, but she is determined to find a way to save her country without losing herself.
Purchase Lady Smoke at Amazon
Purchase Lady Smoke at IndieBound
View Lady Smoke on Goodreads
* * * *
Leave. Me. Alone.: A Place to Drop Your Drama
by Dylan Smith-Mitchell
Paperback
Macmillan
Released 2/5/2019
A journal for teens who know adults just don't understand, this full-color book offers guided prompts to help teens express their negative feelings and lead them toward positive ones. Whether it's social anxiety caused by far too much Instagram, academic pressure, or the realization your crush just isn't that into you, this book is the place to process the hard feelings of adolescence and learn how to control your emotions rather than letting them control you.
Purchase Leave. Me. Alone.: A Place to Drop Your Drama at Amazon
Purchase Leave. Me. Alone.: A Place to Drop Your Drama at IndieBound
View Leave. Me. Alone.: A Place to Drop Your Drama on Goodreads
* * * *
Look Closer
by Stewart Lewis
Paperback
Sourcebooks Fire
Released 2/5/2019
Ever since Tegan's father died while serving overseas, she's been numb. She quit the swim team, and without her best friend around to distract her, the weight of her father's death feels like it will crush her.
Then one morning random letters are circled on her cereal box, letters which spell a name. Teagan doesn't know what to make of it, but tracks down that boy―only to witness him commit suicide. Teagan is devastated. But when she meets Edge, a friend of the dead boy, at least someone seems to understand how she feels.
Except she sees another name...and another. And a pattern forms.
Together, Teagan and Edge set out to find those people, to try to save them from their fate. With a renewed purpose, Tegan is determined to save lives that summer, just like her father used to. But can she save herself?
Purchase Look Closer at Amazon
Purchase Look Closer at IndieBound
View Look Closer on Goodreads
* * * *
No One Here Is Lonely
by Sarah Everett
Hardcover
Knopf Books for Young Readers
Released 2/5/2019
Eden has always had two loves: her best friend, Lacey, and her crush, Will. And then, almost simultaneously, she loses them both. Will to a car accident and Lacey to the inevitable growing up and growing apart.
Devastated by the holes they have left in her life, Eden finds solace in an unlikely place. Before he died, Will set up an account with In Good Company, a service that uploads voices and emails and creates a digital companion that can be called anytime, day or night. It couldn't come at a better time because, after losing Lacey--the hardest thing Eden has had to deal with--who else can she confide all her secrets to? Who is Eden without Lacey?
As Eden falls deeper into her relationship with "Will," she hardly notices as her real life blooms around her. There is a new job, new friends. Then there is Oliver. He's Lacey's twin, so has always been off-limits to her, until now. He may be real, but to have him, will Eden be able to say goodbye to Will?
Purchase No One Here Is Lonely at Amazon
Purchase No One Here Is Lonely at IndieBound
View No One Here Is Lonely on Goodreads
* * * *
On the Come Up
by Angie Thomas
Hardcover
Balzer + Bray
Released 2/5/2019
Sixteen-year-old Bri wants to be one of the greatest rappers of all time. Or at least win her first battle. As the daughter of an underground hip hop legend who died right before he hit big, Bri's got massive shoes to fill.
But it's hard to get your come up when you're labeled a hoodlum at school, and your fridge at home is empty after your mom loses her job. So Bri pours her anger and frustration into her first song, which goes viral…for all the wrong reasons.
Bri soon finds herself at the center of a controversy, portrayed by the media as more menace than MC. But with an eviction notice staring her family down, Bri doesn't just want to make it—she has to. Even if it means becoming the very thing the public has made her out to be.
Purchase On the Come Up at Amazon
Purchase On the Come Up at IndieBound
View On the Come Up on Goodreads
* * * *
Stolen Time
by Danielle Rollins
Hardcover
HarperTeen
Released 2/5/2019
Seattle, 1913
Dorothy spent her life learning the art of the con. But after meeting a stranger and stowing away on his peculiar aircraft, she wakes up in a chilling version of the world she left behind—and for the first time in her life, realizes she's in way over her head.
New Seattle, 2077
If there was ever a girl who was trouble, it was one who snuck on board Ash's time machine wearing a wedding gown—and the last thing he needs is trouble if he wants to prevent his terrifying visions of the future from coming true.
Purchase Stolen Time at Amazon
Purchase Stolen Time at IndieBound
View Stolen Time on Goodreads
* * * *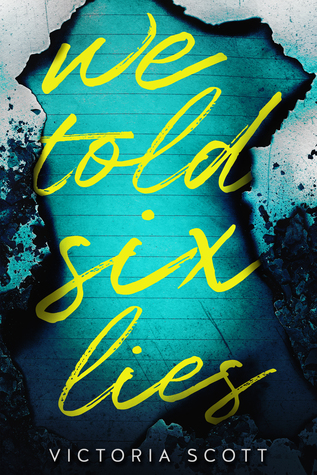 We Told Six Lies
by Victoria Scott
Hardcover
Entangled: Teen
Released 2/5/2019
Remember how many lies we told, Molly? It's enough to make my head spin. You were wild when I met you, and I was mad for you. But then something happened. And now you're gone.
But don't worry. I'll find you. I just need to sift through the story of us to get to where you might be. I've got places to look, and a list of names.
The police have a list of names, too. See now? There's another lie. There is only one person they're really looking at, Molly.
And that's yours truly.
Purchase We Told Six Lies at Amazon
Purchase We Told Six Lies at IndieBound
View We Told Six Lies on Goodreads
* * * *
Ye
by Guilherme Petreca
Paperback
Top Shelf Productions
Released 2/5/2019
Ye is a curious young man, named after the only sound he knows how to make. His voice must have been stolen by the Colorless King, the source of all the world's sorrows -- terrifying, unrelenting, all-taking and never-giving. Now, Ye has no choice but to embark on a long voyage over land and sea, past grizzled pirates, a drunken clown, and more, to find the famous witch who can help him defeat the Colorless King. What he discovers may be a lesson for us all.
Purchase Ye at Amazon
Purchase Ye at IndieBound
View Ye on Goodreads