Happy Reading,
Shelly, Sam, Riki, Jocelyn, Martina, Erin, Susan, Kelly, Laura, Emily, Anisaa, and Lori Ann
YA BOOK GIVEAWAYS THIS WEEK
* * * *
The Cerulean
by Amy Ewing
Hardcover Giveaway

U.S. Only
HarperTeen
Released 1/29/2019
Sera Lighthaven has always felt as if she didn't quite belong among her people, the Cerulean, who live in the City Above the Sky. She is curious about everything—especially the planet that her City is magically tethered to—and can't stop questioning things. Sera has always longed for the day when the tether will finally break and the Cerulean can move to a new planet.
But when Sera is chosen as the sacrifice to break the tether, she feels betrayed by everything in which she'd been taught to trust. In order to save her City, Sera must end her own life.
But something goes wrong, and Sera survives, ending up on the planet below in a country called Kaolin. Sera has heard tales about the dangerous humans who live here, and she quickly learns that these dangers were not just stories.
Meanwhile, back in the City, all is not what it seems, and the life of every Cerulean may be in danger if Sera is not able to find a way home.
Purchase The Cerulean at Amazon
Purchase The Cerulean at IndieBound
View The Cerulean on Goodreads
* * * *
The Lonely Dead
by April Henry
Hardcover Giveaway

U.S. Only
Henry Holt and Co.
Released 1/29/2019
For Adele, the dead aren't really dead. She can see them and even talk to them. But she's spent years denying her gift. When she encounters her ex best friend Tori in a shallow grave in the woods and realizes that Tori is actually dead -- that gift turns into a curse. Without an alibi, Adele becomes the prime suspect in Tori's murder. She must work with Tori's ghost to find the real killer. But what if the killer finds Adele first?
Purchase The Lonely Dead at Amazon
Purchase The Lonely Dead at IndieBound
View The Lonely Dead on Goodreads
YA BOOK GIVEAWAYS LAST WEEK: WINNERS
A Thousand Sisters: The Heroic Airwomen of the Soviet Union in World War II by Elizabeth Wein:
Linda L.
Imprison the Sky by A.C. Gaughen:
Summer D.
The Birds, the Bees, and You and Me by Olivia Hinebaugh:
Dani W.
MORE YOUNG ADULT FICTION IN STORES NEXT WEEK WITH AUTHOR INTERVIEWS
* * * *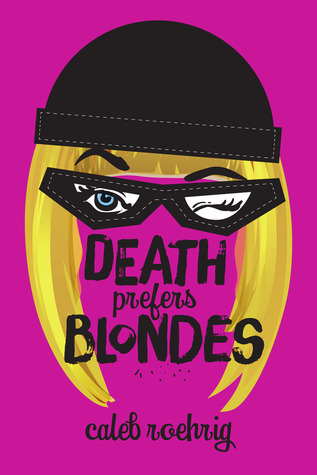 Death Prefers Blondes
by Caleb Roehrig
Hardcover
Feiwel & Friends
Released 1/29/2019
Teenage socialite Margo Manning leads a dangerous double life. By day, she dodges the paparazzi while soaking up California sunshine. By night, however, she dodges security cameras and armed guards, pulling off high-stakes cat burglaries with a team of flamboyant young men. In and out of disguise, she's in all the headlines.
But then Margo's personal life takes a sudden, dark turn, and a job to end all jobs lands her crew in deadly peril. Overnight, everything she's ever counted on is put at risk. Backs against the wall, the resourceful thieves must draw on their special skills to survive. But can one rebel heiress and four kickboxing drag queens withstand the slings and arrows of truly outrageous fortune? Or will a mounting sea of troubles end them―for good?
Author Question: What is your favorite thing about Death Prefers Blondes?
Honestly, my favorite thing about this book is how me it is. That sounds a little funny to say, because every book is representative of its author; but because of the unique path this manuscript took to publication, I stopped thinking about genre and what I believed I could or couldn't "get away with" in a novel, and just wrote what was in my heart. There's banter and romance, glamour and intrigue, fight scenes and elements of speculative fiction…it's all of my favorite things, rolled together in one. It's also my chance to show queer boys embracing their femininity and kicking serious ass, which is something I've wanted to contribute to YA for a while now.
Purchase Death Prefers Blondes at Amazon
Purchase Death Prefers Blondes at IndieBound
View Death Prefers Blondes on Goodreads
MORE YOUNG ADULT NOVELS NEW IN STORES NEXT WEEK
* * * *
A Curse So Dark and Lonely
by Brigid Kemmerer
Hardcover
Bloomsbury YA
Released 1/29/2019
Fall in love, break the curse.
It once seemed so easy to Prince Rhen, the heir to Emberfall. Cursed by a powerful enchantress to repeat the autumn of his eighteenth year over and over, he knew he could be saved if a girl fell for him. But that was before he learned that at the end of each autumn, he would turn into a vicious beast hell-bent on destruction. That was before he destroyed his castle, his family, and every last shred of hope.
Nothing has ever been easy for Harper. With her father long gone, her mother dying, and her brother barely holding their family together while constantly underestimating her because of her cerebral palsy, she learned to be tough enough to survive. But when she tries to save someone else on the streets of Washington, DC, she's instead somehow sucked into Rhen's cursed world.
Break the curse, save the kingdom.
A prince? A monster? A curse? Harper doesn't know where she is or what to believe. But as she spends time with Rhen in this enchanted land, she begins to understand what's at stake. And as Rhen realizes Harper is not just another girl to charm, his hope comes flooding back. But powerful forces are standing against Emberfall . . . and it will take more than a broken curse to save Harper, Rhen, and his people from utter ruin.
Purchase A Curse So Dark and Lonely at Amazon
Purchase A Curse So Dark and Lonely at IndieBound
View A Curse So Dark and Lonely on Goodreads
* * * *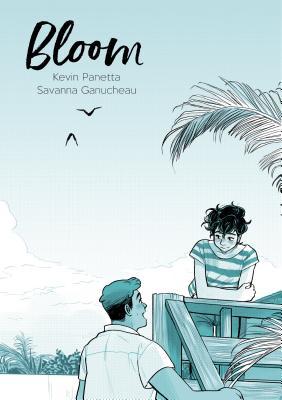 Bloom
by Kevin Panetta
Paperback
First Second
Released 1/29/2019
Now that high school is over, Ari is dying to move to the big city with his ultra-hip band―if he can just persuade his dad to let him quit his job at their struggling family bakery. Though he loved working there as a kid, Ari cannot fathom a life wasting away over rising dough and hot ovens. But while interviewing candidates for his replacement, Ari meets Hector, an easygoing guy who loves baking as much as Ari wants to escape it. As they become closer over batches of bread, love is ready to bloom . . . that is, if Ari doesn't ruin everything.
Purchase Bloom at Amazon
Purchase Bloom at IndieBound
View Bloom on Goodreads
* * * *
Come Find Me
by Megan Miranda
Hardcover
Crown Books for Young Readers
Released 1/29/2019
After surviving an infamous family tragedy, sixteen-year-old Kennedy Jones has made it her mission to keep her brother's search through the cosmos alive. But then something disturbs the frequency on his radio telescope--a pattern registering where no signal should transmit.
In a neighboring county, seventeen-year-old Nolan Chandler is determined to find out what really happened to his brother, who disappeared the day after Nolan had an eerie premonition. There hasn't been a single lead for two years, until Nolan picks up an odd signal--a pattern coming from his brother's bedroom.
Drawn together by these strange signals--and their family tragedies--Kennedy and Nolan search for the origin of the mysterious frequency. But the more they uncover, the more they believe that everything's connected--even their pasts--as it appears the signal is meant for them alone, sharing a message that only they can understand. Is something coming for them? Or is the frequency warning them about something that's already here?
Purchase Come Find Me at Amazon
Purchase Come Find Me at IndieBound
View Come Find Me on Goodreads
* * * *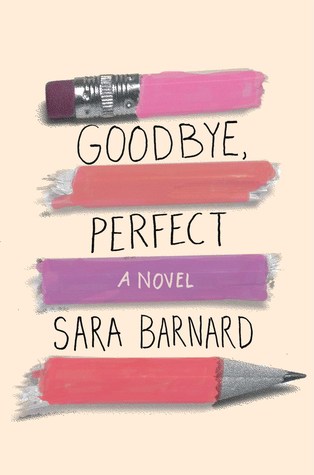 Goodbye, Perfect
by Sara Barnard
Hardcover
Simon Pulse
Released 1/29/2019
Eden McKinley knows she can't count on much in this world, but she can depend on Bonnie, her solid, steady, straight-A best friend. So it's a bit of a surprise when Bonnie runs away with the boyfriend Eden knows nothing about five days before the start of their final exams. Especially when the police arrive on her doorstep and Eden finds out that Bonnie's boyfriend is actually their music teacher, Mr. Cohn.
Sworn to secrecy and bound by loyalty, only Eden knows Bonnie's location, and that's the way it has to stay. There's no way she's betraying her best friend. Not even when she's faced with police questioning, suspicious parents, and her own growing doubts.
As the days pass and things begin to unravel, Eden is forced to question everything she thought she knew about the world, her best friend, and herself. In this touching and insightful novel, bestselling author Sara Barnard explores just what can happen when the pressure one faces to be "perfect" leads to drastic fallout.
Purchase Goodbye, Perfect at Amazon
Purchase Goodbye, Perfect at IndieBound
View Goodbye, Perfect on Goodreads
* * * *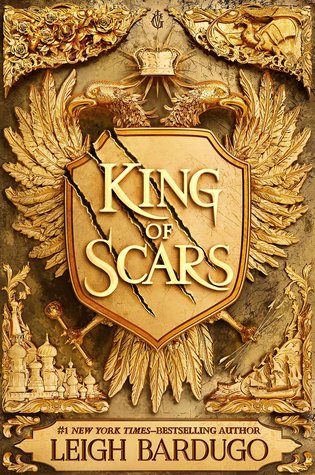 King of Scars
by Leigh Bardugo
Hardcover
Imprint
Released 1/29/2019
Face your demons...or feed them.
Nikolai Lantsov has always had a gift for the impossible. No one knows what he endured in his country's bloody civil war―and he intends to keep it that way. Now, as enemies gather at his weakened borders, the young king must find a way to refill Ravka's coffers, forge new alliances, and stop a rising threat to the once-great Grisha Army.
Yet with every day a dark magic within him grows stronger, threatening to destroy all he has built. With the help of a young monk and a legendary Grisha Squaller, Nikolai will journey to the places in Ravka where the deepest magic survives to vanquish the terrible legacy inside him. He will risk everything to save his country and himself. But some secrets aren't meant to stay buried―and some wounds aren't meant to heal.
Purchase King of Scars at Amazon
Purchase King of Scars at IndieBound
View King of Scars on Goodreads
* * * *
Ransacker
by Emmy Laybourne
Hardcover
Feiwel & Friends
Released 1/29/2019
Rare powers. Precious metals. A final showdown.
1886. The Hemstads possess supernatural powers bestowed upon their family by the ancient Norse gods. Now Sissel, the youngest at 16, discovers her gift: she is a Ransacker. She can find gold and other precious metals and pull them to her. Hers is an awesome and dangerous gift.
Sissel and her siblings have been living peacefully in a small town in Montana, trying to blend-in and escape the violent events that haunt them, but they've all been tricked―the handsome young man courting Sissel is secretly a Pinkerton spy, reporting to the man who wants to control them, the Baron Fjelstad.
Sissel's beau is not the only one interested in her new talents. She's also caught the attention of a local mine owner who's convinced Sissel has a lucky touch when it comes to finding gold. With betrayal lurking around every corner, Sissel must tread carefully. Harnessing her powers could bring great fortune . . . or cause the powerful Baron to come hunting her and her siblings down for once and for all.
Purchase Ransacker at Amazon
Purchase Ransacker at IndieBound
View Ransacker on Goodreads
* * * *
The Dead Queens Club
by Hannah Capin
Hardcover
Inkyard Press; Original editio
Released 1/29/2019
You'd think being the new girl in a tiny town would equal one very boring senior year. But if you're me—Annie Marck, alias Cleves—and you accidentally transform into teenage royalty by entering Lancaster High on the arm of the king himself? Life becomes the exact opposite of boring.
Henry has it all: he's the jock, the genius and the brooding bad boy all in one. Which sort of explains why he's on his sixth girlfriend in two years.
What it doesn't explain is why two of them—two of us—are dead.
My best friend thinks it's Henry's fault, which is obviously ridiculous. My nemesis says we shouldn't talk about it, which is straight-up sketchy. But as the resident nosy new girl, I'm determined to find out what really happened to Lancaster's dead queens…ideally before history repeats itself.
Purchase The Dead Queens Club at Amazon
Purchase The Dead Queens Club at IndieBound
View The Dead Queens Club on Goodreads
* * * *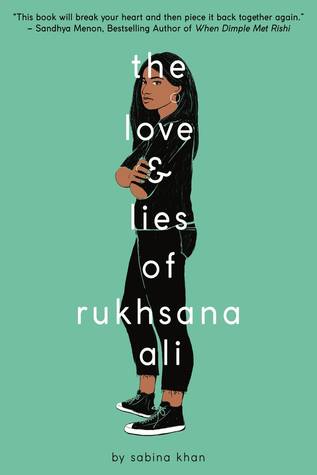 The Love and Lies of Rukhsana Ali
by Sabina Khan
Hardcover
Scholastic Press
Released 1/29/2019
Unable to come out to her conservative Muslim parents, Rukhsana Ali keeps that part of her identity hidden. And that means keeping her girlfriend, Ariana, a secret from them too. Luckily, only a few more months stand between her carefully monitored life at home and a fresh start at Caltech in the fall. But when Rukhsana's mom catches her and Ariana together, her future begins to collapse around her.
Devastated and confused, Rukhsana's parents whisk her off to stay with their extended family in Bangladesh, where she is met with a culture of arranged marriages, religious tradition, and intolerance. Fortunately, Rukhsana finds allies along the way, and, through reading her grandmother's old diary, finds the courage to stand up for her beliefs, take control of her future, and fight for her love.
Purchase The Love and Lies of Rukhsana Ali at Amazon
Purchase The Love and Lies of Rukhsana Ali at IndieBound
View The Love and Lies of Rukhsana Ali on Goodreads
* * * *
Winner Take All
by Laurie Devore
Hardcover
Imprint
Released 1/29/2019
For Nell Becker, life is a competition she needs to win.
For Jackson Hart, everyone is a pawn in his own game.
They both have everything to lose.
Nell wants to succeed at everything―school, sports, life. And victory is sweeter when it means beating Jackson Hart, the rich, privileged, undisputed king of Cedar Woods Prep Academy. Yet no matter how hard she tries, Jackson is somehow one step ahead. They're a match made in hell, but opposites do attract.
Drawn to each other by their rivalry, Nell and Jackson fall into a whirlwind romance that consumes everything in their lives. But when a devastating secret exposes their relationship as just another game, how far will Nell go to win?
Purchase Winner Take All at Amazon
Purchase Winner Take All at IndieBound
View Winner Take All on Goodreads