Even the Darkest Stars
duology, and we're excited to have Heather Fawcett here to chat about it.
Heather, how long did you work on ALL THE WANDERING LIGHT?
Three to four months for the actual writing, but probably six to ten months overall. I draft quickly and revise slowly! My writing process is as follows: extensive outlining followed by rapid writing, which is then followed by several months of revising, first on my own and then with feedback from beta readers and my editor.
How long or hard was your road to publication? How many books did you write before this one, and how many never got published?
In some ways, the road was long, and in others, it was very short. I wrote five or six books, starting at age 13 or 14, before I wrote Even the Darkest Stars (Book One in the series; All the Wandering Light is Book Two), which got me my agent and a publishing deal. None of those books will ever see the light of day, which is a good thing! I think my agent signed me less than two weeks after I started querying, and ETDS sold a week or so after she started shopping it around.
What's your writing ritual like? Do you listen to music? Work at home or at a coffee shop or the library, etc?
I love listening to music as I write. I listened to a lot of Of Monsters and Men and Beach House while writing this series. In the winter, I generally write in coffee shops. In the summer, my favourite place to write is the beach.
What advice would you most like to pass along to other writers?
Read! Read as much as you can in the genre you want to write, but also read other genres every once in a while. Reading doesn't just teach you how to write, it tells you what stories, characters, and archetypes you're drawn to as a reader. Those are the kinds of stories you should be writing. Don't write a certain kind of story because you think it's trendy or it's what you "should" write; focus on what you're passionate about. That passion is what creates engaging books.
ABOUT THE BOOK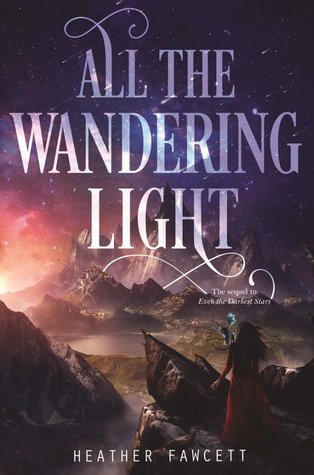 All the Wandering Light
by Heather Fawcett
Hardcover
Balzer + Bray
Released 12/4/2018
After the terrifying events on Mount Raksha, the witches have returned, and River has betrayed Kamzin to regain his dark powers. The witches' next step: march on the Three Cities and take over the Empire—led by River's brother, Esha.
If Kamzin is to save Azmiri and prevent the destruction of the Empire, she must find a star that fell in the Ash Mountains to the north. Fallen stars have immense power, and if Kamzin and Lusha can find the star, they can use its magic to protect their homeland. To get there, Kamzin has allied with Azar-at, the dangerous and deceptive fire demon, who can grant her great power—in exchange for pieces of her soul. But River wants the star too, and as their paths collide in dangerous and unexpected ways, Kamzin must wrestle with both her guilt and her conflicted feelings for the person who betrayed her.
Facing dark magic, a perilous journey, and a standoff against the witches, can Kamzin, Lusha, and Tem find the star and save their Empire?
Purchase All the Wandering Light at Amazon
Purchase All the Wandering Light at IndieBound
View All the Wandering Light on Goodreads
ABOUT THE AUTHOR
I was born and raised in Vancouver, Canada, where I enjoy wandering around in the wilderness and only occasionally getting lost. I've also spent extended periods of time in Italy, where I learned very little Italian but ate quite a lot of pizza, and Ireland, where I searched half-successfully for puffins and selkies.
Before becoming a writer I worked, among other things, as an archaeologist, a technical writer, and a backstage assistant for a Shakespearean theatre company (which I could write several novels about). I have a Master's degree in English Literature and briefly considered becoming a professor, before I realized it involved more than reading books, drinking excessive amounts of tea, and wearing colourful elbow patches.
---
Have you had a chance to read ALL THE WANDERING LIGHT yet? Are you reading inside and outside of your genre? Is it helping you figure out the types of stories you should be writing? Share your thoughts about the interview in the comments!
Happy Reading,
Jocelyn, Halli, Martina, Erin, Susan, Shelly, and Kelly