Lyra, what was your inspiration for writing AMBER & DUSK?

I daydreamed of the world first--a gilded empire lit by an unmoving sun, where the light seemed thick enough to taste, like honey or ambrosia. From there, I was inspired by Cocteau's La Belle et La Bête; Inigo Jones' elaborate masque costume designs from the 17th Century; W. B. Yeats' famous line, "Things fall apart, the center cannot hold;" and a deep and enduring obsession with ball gown and banter, secrets and seduction, court intrigue and clandestine kisses.

What scene was really hard for you to write and why, and is that the one of which you are most proud? Or is there another scene you particularly love?

I think I'm most proud of the last scene in the final chapter. I'm terrible at endings--I always want to end with a cliffhanger! But for this story, I knew I had to find a way to give the book a satisfying sense of finality, while keeping a door open for possible future chapters of Sylvie's journey. It took me many rewrites to get it right, but I think the final image is a beautiful apotheosis of Sylvie's development as a character and manages to capture the hope, anguish, and soaring possibility of finally achieving your dreams.

What book or books would most resonate with readers who love your book--or visa versa?

Any books with lush aesthetics and complicated heroines will probably appeal to fans of A&D! Off the top of my head, I'd recommend The Belles, by Dhonielle Clayton, The Star-Touched Queen, by Roshani Chokshi, The Winner's Curse, by Marie Rutkoski, and The Wrath and the Dawn, by Renee Ahdieh

What do you hope readers will take away from AMBER & DUSK?

To dream perilously, to reach too high even if you might fall too far, and never stop searching for a world just a little more radiant than your own.

How long or hard was your road to publication? How many books did you write before this one, and how many never got published?

Like most authors I know, my journey to publication was at times tedious, heartbreaking, exhilaration, and utterly magical.

Amber & Dusk was the fourth novel I completed over a period of about five years. I started writing seriously in 2011, but I had zero clue about just how much I didn't know about writing, publishing, or my own grit and determination. When I finished my first novel, visions of sugar plums and six-figure book deals danced in my head. After unsuccessfully querying and submitting three full-length novels (now trunked) I started working on A&D.

One of the reasons this book is so close to my heart is because it's very much a culmination of all those years of trying and failing and trying again, and symbolizes the important to me of staying the course even when things get hard.

What advice would you most like to pass along to other writers?

Run.

Just kidding! My best advice is to focus on your own work and try not to compare your journey to anyone else's. There's no expiration date on success, and everyone's path to publication is unique.

What are you working on now?

I'm currently drafting a secret project that readers of Amber & Dusk will hopefully be very eager to read! ;-)
ABOUT THE BOOK
Amber & Dusk
by Lyra Selene
Hardcover
Scholastic Press
Released 11/27/2018
Sylvie has always known she deserves more. Out in the permanent twilight of the Dusklands, her guardians called her power to create illusions a curse. But Sylvie knows it gives her a place in Coeur d'Or, the palais of the Amber Empress and her highborn legacies.
So Sylvie sets off toward the Amber City, a glittering jewel under a sun that never sets, to take what is hers.
But her hope for a better life is quickly dimmed. The empress invites her in only as part of a wicked wager among her powerful courtiers. Sylvie must assume a new name, Mirage, and begin to navigate secretive social circles and deadly games of intrigue in order to claim her spot. Soon it becomes apparent that nothing is as it appears and no one, including her cruel yet captivating sponsor, Sunder, will answer her questions. As Mirage strives to assume what should be her rightful place, she'll have to consider whether it is worth the price she must pay.
Purchase Amber & Dusk at Amazon
Purchase Amber & Dusk at IndieBound
View Amber & Dusk on Goodreads
ABOUT THE AUTHOR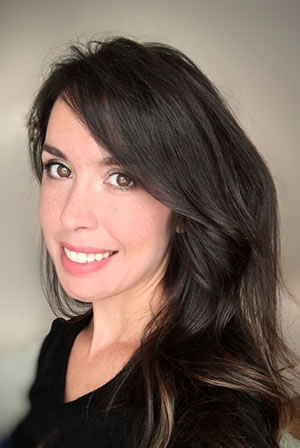 Lyra Selene was born under a full moon and has never quite managed to wipe the moonlight out of her eyes.
Lyra grew up on a steady diet of Lloyd Alexander, Susan Cooper and Ursula K. LeGuin, scribbling in book margins and tapping on typewriters. When she isn't dreaming up fantastical cities and brooding landscapes, Lyra enjoys hiking, rainstorms, autumn, and pretending she's any good at music.
She lives in New England with her husband, in an antique farmhouse that's probably not haunted. AMBER & DUSK is her debut novel.
---
Have you had a chance to read AMBER & DUSK yet? Do you think of the world first? Or characters? Or plot? Are you able to focus on your own work without comparison? Share your thoughts about the interview in the comments!
Happy Reading,
Jocelyn, Halli, Martina, Erin, Susan, Shelly, and Kelly