Dare Mighty Things, One Giant Leap
! Don't forget to check out all the books coming out this week below and enter to win.
Happy Reading,
Shelly, Halli, Jocelyn, Martina, Erin, Susan, Kelly, Laura, Emily, Anisaa, and Lori Ann
YA BOOK GIVEAWAYS THIS WEEK
* * * *
One Giant Leap
by Heather Kaczynski
a signed bookplate and art print of the characters Giveaway

U.S. Only
HarperTeen
Released 10/23/2018
When Cassandra Gupta was chosen to be the youngest member of a top-secret mission to the far reaches of the universe, she knew to expect the unexpected. But nothing could have prepared her for the catastrophic events that would occur once she left Earth.
Cassie and the rest of the crew have found themselves in the middle of a conflict between two alien civilizations hell-bent on destroying each other . . . and anyone else who gets in their way.
What was supposed to be a reconnaissance mission soon becomes a fight for their lives. But Cassie knows that it isn't enough to simply survive.
The war is coming to Earth, and only she has the information that can possibly stop the devastation it will bring. With humanity's fate in the balance, Cassie must decide who she can trust and who she's willing to sacrifice in order to complete her mission.
Author Question: What is your favorite thing about One Giant Leap?
I love that there are still yet more twists and turns that I don't think readers will be expecting. I love Bill Nye's quote, "Everyone you will ever meet knows something you don't," and I think it's a lesson in not believing everything you hear on face value. Question everything. People always have their versions of the truth. Without giving too much away - when your whole perception of a race is told by their enemy, you are getting a distorted version of reality. Cassie has a problem forming opinions about people and situations too quickly, and she is still learning that lesson in this book.
Purchase One Giant Leap at Amazon
Purchase One Giant Leap at IndieBound
View One Giant Leap on Goodreads
MORE YOUNG ADULT FICTION IN STORES NEXT WEEK WITH AUTHOR INTERVIEWS
* * * *
Imagine Us Happy
by Jennifer Yu
Hardcover
Harlequin Teen; Original edition
Released 10/23/2018
Some love stories aren't meant to last
Stella lives with depression, and her goals for junior year are pretty much limited to surviving her classes, staying out of her parents' constant fights and staving off unwanted feelings enough to hang out with her friends Lin and Katie.
Until Kevin. A quiet, wry senior who understands Stella and the lows she's going through like no one else. With him, she feels less lonely, listened to—and hopeful for the first time since ever…
But to keep that feeling, Stella lets her grades go and her friendships slide. And soon she sees just how deep Kevin's own scars go. Now little arguments are shattering. Major fights are catastrophic. And trying to hold it all together is exhausting Stella past the breaking point. With her life spinning out of control, she's got to figure out what she truly needs, what's worth saving—and what to let go.
Author Question: What is your favorite thing about Imagine Us Happy?
My favorite thing about IMAGINE US HAPPY are the relationships between Stella and her best friends, Lin and Katie, and her mother. On first read, IMAGINE US HAPPY is a story about romantic love: the high of finding someone who really, truly understands you; and the heartbreak that results when the very thing that made your connection so real starts to turn toxic. For Stella and Kevin, that's their shared experiences with depression, which makes them uniquely able to understand and support each other – and makes their catastrophic arguments even harder on Stella.

Among all the scenes of romantic love and romantic heartbreak, though, IMAGINE US HAPPY also depicts the platonic love between Stella and two best friends – and the two are very different but I love them both – and the familial love between Stella and her mother. It's perhaps only in the disintegration of the first that Stella really allows herself to depend on the latter two, to be vulnerable with those who really, truly love her – even if it's not in the same way as she and Kevin love each other – and the unfolding of those relationships and their place in Stella's life is something that means a lot to me.
Purchase Imagine Us Happy at Amazon
Purchase Imagine Us Happy at IndieBound
View Imagine Us Happy on Goodreads
* * * *
Watch You Burn
by Amanda Searcy
Hardcover
Delacorte Press
Released 10/23/2018
Jenny didn't want to move to the creepy, possibly haunted town with her dad. But the cops are on to her, and the only way she can protect herself is by moving as far away from her hometown as possible and staying out of trouble.
But even after she moves, Jenny still gets the itch. The itch to light a match and then watch it burn.
It's something she hasn't been able to stop, ever since an accident years ago. Now, in a new town, Jenny has the strange feeling that someone is watching her every move. Will her arsonist ways be exposed? Or is the burning truth deep inside her a greater danger?
Author Question: What is your favorite thing about Watch You Burn?
My favorite thing is that WATCH YOU BURN is really different. Jenny, the main character and narrator, is a seventeen-year-old arsonist. Setting fires is her addiction, and she only gets a momentary release before feeling awful about what she's done (to the point where she has to set another fire to feel better, over and over again). But this is only part of Jenny's story. She also lives in an abandoned motel that's being renovated by her father, so the book has a really quirky setting. WATCH YOU BURN is also a murder mystery with a little romance thrown in. So it's got a lot of different elements that I hope make for a page turning and interesting read.
Purchase Watch You Burn at Amazon
Purchase Watch You Burn at IndieBound
View Watch You Burn on Goodreads
MORE YOUNG ADULT NOVELS NEW IN STORES NEXT WEEK
* * * *
An Assassin's Guide to Love and Treason
by Virginia Boecker
Hardcover
Little, Brown Books for Young
Released 10/23/2018
When Lady Katherine's father is killed for being an illegally practicing Catholic, she discovers treason wasn't the only secret he's been hiding: he was also involved in a murder plot against the reigning Queen Elizabeth I. With nothing left to lose, Katherine disguises herself as a boy and travels to London to fulfill her father's mission, and to take it one step further--kill the queen herself.
Katherine's opportunity comes in the form of William Shakespeare's newest play, which is to be performed in front of Her Majesty. But what she doesn't know is that the play is not just a play. It's a plot to root out insurrectionists and destroy the rebellion once and for all.
The mastermind behind this ruse is Toby Ellis, a young spy for the queen with secrets of his own. When Toby and Katherine are cast opposite each other as the play's leads, they find themselves inexplicably drawn to one another. But the closer they grow, the more precarious their positions become. And soon they learn that star-crossed love, mistaken identity, and betrayal are far more dangerous off the stage than on.
Purchase An Assassin's Guide to Love and Treason at Amazon
Purchase An Assassin's Guide to Love and Treason at IndieBound
View An Assassin's Guide to Love and Treason on Goodreads
* * * *
Anna and the Apocalypse
by Katharine Turner and Barry Waldo
Paperback
Imprint
Released 10/23/2018
School's out for the end of the world.
Anna and the Apocalypse is a horror comedy about a teenager who faces down a zombie apocalypse with a little help from her friends.
Anna Shepherd is a straight-A student with a lot going on under the surface: she's struggling with her mom's death, total friend drama, and the fallout from wasting her time on a very attractive boy. She's looking forward to skipping town after graduation―but then a zombie apocalypse majorly disrupts the holidays season. It's going to be very hard to graduate high school without a brain.
To save the day, Anna, her friends, and her frenemies will have to journey straight to the heart of one of the most dangerous places ever known, a place famous for its horror, terror, and pain…high school.
This novel is inspired by the musical feature film, Anna and the Apocalypse.
Purchase Anna and the Apocalypse at Amazon
Purchase Anna and the Apocalypse at IndieBound
View Anna and the Apocalypse on Goodreads
* * * *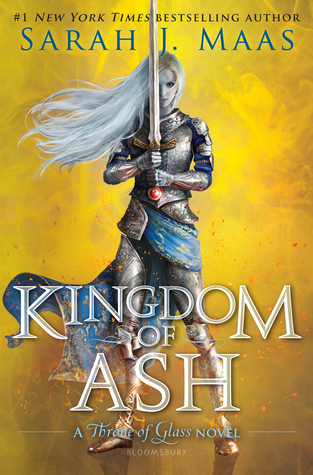 Kingdom of Ash
by Sarah J Maas
Hardcover
Bloomsbury YA
Released 10/23/2018
Aelin has risked everything to save her people―but at a tremendous cost. Locked within an iron coffin by the Queen of the Fae, Aelin must draw upon her fiery will as she endures months of torture. Aware that yielding to Maeve will doom those she loves keeps her from breaking, though her resolve begins to unravel with each passing day…
With Aelin captured, Aedion and Lysandra remain the last line of defense to protect Terrasen from utter destruction. Yet they soon realize that the many allies they've gathered to battle Erawan's hordes might not be enough to save them. Scattered across the continent and racing against time, Chaol, Manon, and Dorian are forced to forge their own paths to meet their fates. Hanging in the balance is any hope of salvation―and a better world.
And across the sea, his companions unwavering beside him, Rowan hunts to find his captured wife and queen―before she is lost to him forever.
As the threads of fate weave together at last, all must fight, if they are to have a chance at a future. Some bonds will grow even deeper, while others will be severed forever in the explosive final chapter of the Throne of Glass series.
Purchase Kingdom of Ash at Amazon
Purchase Kingdom of Ash at IndieBound
View Kingdom of Ash on Goodreads
* * * *
That Night
by Amy Giles
Hardcover
HarperTeen
Released 10/23/2018
The year since a mass shooting shook their Queens neighborhood has played out differently for Jess and Lucas, both of whom were affected by that night in eerily similar and deeply personal ways.
As Jess struggles to take care of her depressed mother and Lucas takes up boxing under the ever-watchful eye of his overprotective parents, their paths converge. They slowly become friends and then something more, learning to heal and move forward together.
But what does it mean to love after an unspeakable tragedy?
Purchase That Night at Amazon
Purchase That Night at IndieBound
View That Night on Goodreads
* * * *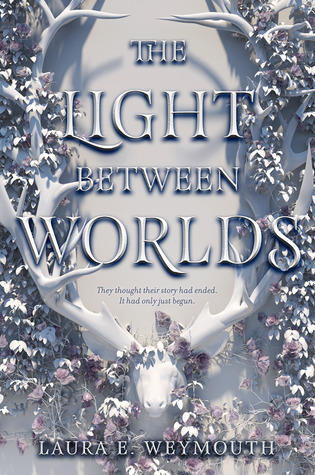 The Light Between Worlds
by Laura E. Weymouth
Hardcover
HarperTeen
Released 10/23/2018
Five years ago, Evelyn and Philippa Hapwell cowered from air strikes in a London bomb shelter. But that night took a turn when the sisters were transported to another realm called the Woodlands. In a forest kingdom populated by creatures out of myth and legend, they found temporary refuge. When Ev and Phil finally returned to London, nothing had changed at all—nothing, except themselves.
Now, Evelyn spends her days sneaking into the woods outside her boarding school, wishing for the Woodlands. Overcome with longing, she is desperate to return no matter what it takes. Philippa, on the other hand, is determined to find a place in this world. She shields herself behind a flawless exterior and countless friends, and moves to America to escape the memory of what was.
But when Evelyn goes missing, Philippa must confront the depth of her sister's despair and the painful truths they've been running from. As the weeks unfold, Philippa wonders if Ev truly did find a way home, or if the weight of their worlds pulled her under.
Purchase The Light Between Worlds at Amazon
Purchase The Light Between Worlds at IndieBound
View The Light Between Worlds on Goodreads
* * * *
Wicked South: Secrets and Lies
by Emily Colin and Katie Rose Guest Pryal
Paperback
Goldenjay Books
Released 10/24/2018
For good or ill—on the page or in life—few things are more alluring than the siren song of a secret.
At the heart of each story in this genre-crossing collection lies a secret. A boy who is not a boy at all, a neighbor with a mysterious identity, a tortured student with a list that isn't what it seems, a girl who abandoned the person she used to be at the bottom of a river.
Conflict and possibility are embedded in a secret's very nature...betrayal and conspiracy are encoded in its DNA. Secrets can transform. They can alienate, anger, or inspire.
One thing is for sure: They make a great story.
WICKED SOUTH: SECRETS AND LIES is an anthology featuring young adult stories by authors from North Carolina, South Carolina, and Georgia. Contributors are New York Times Bestselling author Emily Colin, Elizabeth DeVido, award-winning author Lauren Faulkenberry, Amy Hyatt Fonseca, Lauren Fulcher, award-winning author Robin Kirk, John Klekamp, Karissa Laurel, and Katie Rose Guest Pryal.
Purchase Wicked South: Secrets and Lies at Amazon
Purchase Wicked South: Secrets and Lies at IndieBound
View Wicked South: Secrets and Lies on Goodreads