Happy Reading,
Shelly, Halli, Jocelyn, Martina, Erin, Susan, Kelly, Laura, Emily, Anisaa, and Lori Ann
YA BOOK GIVEAWAYS LAST WEEK: WINNERS
Blanca & Roja by Anna-Marie McLemore:
Debra B.
Odd One Out by Nic Stone:
Adrianna D.
MORE YOUNG ADULT FICTION IN STORES NEXT WEEK WITH AUTHOR INTERVIEWS
* * * *
A Sorrow Fierce and Falling
by Jessica Cluess
Hardcover
Random House Books for Young Readers
Released 10/16/2018
It's time for war.
After suffering terrible losses, Henrietta and Lord Blackwood have led their warriors to Sorrow-Fell, a vast estate where only those invited by a Blackwood may enter--and the ideal place to plan a final assault against the Ancients.
It's time for a wedding.
Henrietta nervously awaits her marriage to Blackwood, but when the ritual to become his bride reveals a dark secret, she realizes that Sorrow-Fell is not a safe haven; it's a trap. Convincing the sorcerers of this, however, is not easy. So with Maria, the true chosen one, and Magnus, the young man who once stole her heart, at her side, Henrietta plots a dangerous journey straight into the enemy's lair. Some will live. Some will die. All will be tested.
In this stunning conclusion to the Kingdom on Fire series, Henrietta must choose between the love from her past, the love from her present, and a love that could define her future. While battles rage, the fate of the kingdom rests on her decision: Will she fall or rise up to become the woman who saves the realm?
It's time for Henrietta to make her stand.
Author Question: What is your favorite thing about A Sorrow Fierce and Falling?
Saying goodbye, oddly enough. For me, the most emotional, painful, bittersweet, and joyful parts of a series come near the end. I know there are authors who could happily write dozens and dozens of books with a given cast of characters, but I've never been like that. I've always got a finite idea of where everyone ends up and how long it will take to get there. Every character in ASFAF—to my mind, at least—gets some kind of sendoff. Some have happy endings, others…less so. But whenever I was writing a character's final scene, I felt intensely emotional towards them. I love everyone in this series a great deal, so it was ironic that I never loved them more than when I was putting them away for the final time.
Purchase A Sorrow Fierce and Falling at Amazon
Purchase A Sorrow Fierce and Falling at IndieBound
View A Sorrow Fierce and Falling on Goodreads
* * * *
Home and Away
by Candice Montgomery
Hardcover
Page Street Publishing
Released 10/16/2018
Tasia Quirk is young, Black, and fabulous. She's a senior, she's got great friends, and a supportive and wealthy family. She even plays football as the only girl on her private high school's team.
But when she catches her mamma trying to stuff a mysterious box in the closet, her identity is suddenly called into question. Now Tasia's determined to unravel the lies that have overtaken her life. Along the way, she discovers what family and forgiveness really mean, and that her answers don't come without a fee. An artsy bisexual boy from the Valley could help her find them―but only if she stops fighting who she is, beyond the color of her skin.
Author Question: What is your favorite thing about Home and Away?
The twist on "found family," I think. In the book, Tasia (kind of spoilery but not reaaalllly) meets her bio dad and his family (sister, mom, dad and *wink* Kai - who is something else altogether.)

I loved exploring the way Taze's new family embraced her or, as the case was, didn't embrace her.
Purchase Home and Away at Amazon
Purchase Home and Away at IndieBound
View Home and Away on Goodreads
MORE YOUNG ADULT NOVELS NEW IN STORES NEXT WEEK
* * * *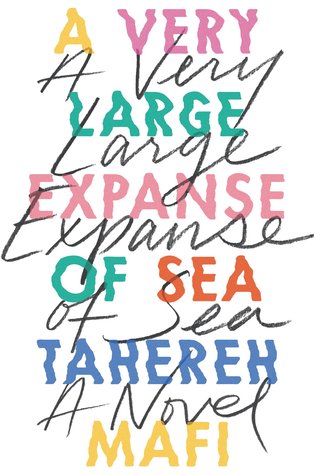 A Very Large Expanse of Sea
by Tahereh Mafi
Hardcover
HarperCollins
Released 10/16/2018
It's 2002, a year after 9/11. It's an extremely turbulent time politically, but especially so for someone like Shirin, a sixteen-year-old Muslim girl who's tired of being stereotyped.
Shirin is never surprised by how horrible people can be. She's tired of the rude stares, the degrading comments—even the physical violence—she endures as a result of her race, her religion, and the hijab she wears every day. So she's built up protective walls and refuses to let anyone close enough to hurt her. Instead, she drowns her frustrations in music and spends her afternoons break-dancing with her brother.
But then she meets Ocean James. He's the first person in forever who really seems to want to get to know Shirin. It terrifies her—they seem to come from two irreconcilable worlds—and Shirin has had her guard up for so long that she's not sure she'll ever be able to let it down.
Purchase A Very Large Expanse of Sea at Amazon
Purchase A Very Large Expanse of Sea at IndieBound
View A Very Large Expanse of Sea on Goodreads
* * * *
Crown of Thunder
by Tochi Onyebuchi
Hardcover
Razorbill
Released 10/16/2018
In the sequel to the acclaimed Beasts Made of Night, Taj has escaped Kos, but Queen Karima will go to any means necessary--including using the most deadly magic--to track him down.
Taj is headed west, but the consequences of leaving Kos behind confront him at every turn. Innocent civilians flee to refugee camps as Karima's dark magic continues to descend on the city. Taj must return, but first he needs a plan.
With Arzu's help, Taj and Aliya make it to the village of her ancestors, home of the tastahlik--sin-eaters with Taj's same ability to both battle and call forth sins. As Taj comes to terms with his new magic, he realizes there are two very different groups of tastahlik--one using their powers for good, the other for more selfish ends.
Aliya is struggling with her own unique capabilities. She's immersed in her work to uncover the secret to Karima's magic, but her health begins to mysteriously deteriorate. With the help of a local western mage, Aliya uncovers her true destiny--a future she's not sure she wants.
As Taj and Aliya explore their feelings for each other and Arzu connects with her homeland, the local westerners begin to question Taj's true identity. Karima is on his heels, sending dark warnings to the little village where he's hiding. Taj will have to go back and face her before she sends her mostly deadly weapon--Taj's former best friend, Bo.
Purchase Crown of Thunder at Amazon
Purchase Crown of Thunder at IndieBound
View Crown of Thunder on Goodreads
* * * *
Phantom Wheel: A Hackers Novel
by Tracy Deebs
Hardcover
Little, Brown Books for Young Readers
Released 10/16/2018
Being recruited by the CIA to join a top-secret intelligence program should be the opportunity of a lifetime. For Issa, it's a shot at creating a new and better life for herself and her siblings. For clever con artist Harper, it's a chance to bury the secrets of her troubled past and make sure that those secrets stay buried. But for Owen--honor student, star quarterback, and computer-hacking genius--it sounds like a trap.
He's right.
Owen discovers that instead of auditioning for the CIA, they've all been tricked by a multibillion-dollar tech company into creating the ultimate computer virus. It's called Phantom Wheel, and it's capable of hacking anyone on Earth, anywhere, at any time. And thanks to six teenagers, it's virtually unstoppable.
Horrified by what they've done, the hackers must team up to stop the virus before the world descends into chaos. But working together is easier said than done, especially as the lines start to blur between teammate, friend, and more than friend. Because how do you learn to trust someone when you've spent your entire life exploiting that same trust in others?
Purchase Phantom Wheel: A Hackers Novel at Amazon
Purchase Phantom Wheel: A Hackers Novel at IndieBound
View Phantom Wheel: A Hackers Novel on Goodreads
* * * *
Villain
by Michael Grant
Hardcover
Katherine Tegen Books
Released 10/16/2018
It's been four years since the events of GONE. The Perdido Beach dome is down, but the horrors within have spread. The alien virus-infested rock that created the FAYZ is creating monsters—monsters that walk the cities and countryside, terrorizing all.
There are tanks in the street and predator drones in the sky, doomed efforts to stop the disintegration of civilization. Into this chaos comes a villain with the power to control anyone with just the sound of his voice. Dillon Poe wanted to be a comedian once…but everyone made fun of him. Dillon the loser. Dillon the freak. Now he's sending thousands to their death. Who's laughing now?
The only people who can stop a superpowered villain are superpowered heroes. Dekka, Shade, Cruz, Malik, Armo, and a new mutant with unmatched powers, are all that stand in Dillon's way. But when the lines begin to blur between hero and villain—some begin to wonder who's really the monster.
Purchase Villain at Amazon
Purchase Villain at IndieBound
View Villain on Goodreads
* * * *
Wind Rider: Tales of a New World
by P. C. Cast
Hardcover
Wednesday Books
Released 10/16/2018
Mari, Nik, and their newly formed Pack are being hunted. Thaddeus and the God of Death will stop at nothing until they are obliterated from the earth. But Mari and Nik have one goal: to reach the plains of the Wind Riders, in order to band together to stop Thaddeus from destroying all that Mari and Nik hold dear.
But will the mysterious Wind Riders accept the Pack, or will Mari and Nik and their people be rejected by the mighty Riders and be forced to flee for their lives? And what happens when a rogue Lead Stallion gets too close to the Pack, rejecting all Wind Riders and turning to a stranger for companionship instead?
In the next installment of the Tales of a New World series love and goodness are put to the ultimate test. Will the Wind Riders and the Pack be strong enough to withstand the God of Death? Will the Great Goddess of Life awaken to join the battle, and if so, will it be as Death's consort, or will the Goddess stand with Mari and her people against the great love of her eternal life?
Purchase Wind Rider: Tales of a New World at Amazon
Purchase Wind Rider: Tales of a New World at IndieBound
View Wind Rider: Tales of a New World on Goodreads