Happy Reading,
Shelly, Halli, Jocelyn, Martina, Erin, Susan, Kelly, Laura, Emily, Anisaa, and Lori Ann
YA BOOK GIVEAWAYS THIS WEEK
* * * *
Odd One Out
by Nic Stone
Hardcover Giveaway

U.S. Only
Crown Books for Young Readers
Released 10/9/2018
Courtney "Coop" Cooper
Dumped. Again. And normally I wouldn't mind. But right now, my best friend and source of solace, Jupiter Sanchez, is ignoring me to text some girl.
Rae Evelyn Chin
I assumed "new girl" would be synonymous with "pariah," but Jupiter and Courtney make me feel like I'm right where I belong. I also want to kiss him. And her. Which is . . . perplexing.
Jupiter Charity-Sanchez
The only thing worse than losing the girl you love to a boy is losing her to your boy. That means losing him, too. I have to make a move. . .
One story.
Three sides.
No easy answers.
Author Question: What is your favorite thing about Odd One Out?
My favorite thing about ODD ONE OUT is that it's my love letter to teen me, who was very confused and could've used it.
Purchase Odd One Out at Amazon
Purchase Odd One Out at IndieBound
View Odd One Out on Goodreads
* * * *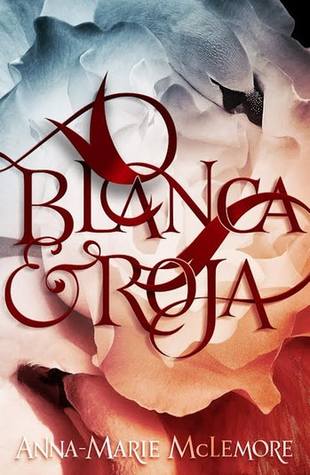 Blanca & Roja
by Anna-Marie McLemore
Hardcover Giveaway

U.S. Only
Feiwel & Friends
Released 10/9/2018
The biggest lie of all is the story you think you already know.
The del Cisne girls have never just been sisters; they're also rivals, Blanca as obedient and graceful as Roja is vicious and manipulative. They know that, because of a generations-old spell, their family is bound to a bevy of swans deep in the woods. They know that, one day, the swans will pull them into a dangerous game that will leave one of them a girl, and trap the other in the body of a swan.
But when two local boys become drawn into the game, the swans' spell intertwines with the strange and unpredictable magic lacing the woods, and all four of their fates depend on facing truths that could either save or destroy them. Blanca & Roja is the captivating story of sisters, friendship, love, hatred, and the price we pay to protect our hearts.
Purchase Blanca & Roja at Amazon
Purchase Blanca & Roja at IndieBound
View Blanca & Roja on Goodreads
YA BOOK GIVEAWAYS LAST WEEK: WINNERS
History vs Women: The Defiant Lives that They Don't Want You to Know by Anita Sarkeesian and Ebony Adams:
Penny O.
Star-Crossed by Pintip Dunn:
Cathy M.
The Chaos of Now by Erin Jade Lange:
Madeline T.
The Last Wish of Sasha Cade by Cheyanne Young:
Yvonne M.
What They Don't Know by Nicole Maggi:
Alisha J.
MORE YOUNG ADULT FICTION IN STORES NEXT WEEK WITH AUTHOR INTERVIEWS
* * * *
Bridge of Clay
by Markus
Hardcover
Knopf Books for Young Readers; Signed edition
Released 10/9/2018
An unforgettable and sweeping family saga from Markus Zusak, the storyteller who gave us the extraordinary bestseller THE BOOK THIEF, lauded by the New York Times as "the kind of book that can be lifechanging." The breathtaking story of five brothers who bring each other up in a world run by their own rules. As the Dunbar boys love and fight and learn to reckon with the adult world, they discover the moving secret behind their father's disappearance. At the center of the Dunbar family is Clay, a boy who will build a bridge—for his family, for his past, for greatness, for his sins, for a miracle. The question is, how far is Clay willing to go? And how much can he overcome? Written in powerfully inventive language and bursting with heart, BRIDGE OF CLAY is signature Zusak.
Author Question: Where was the idea for Bridge of Clay born?
The right ideas are usually buried beneath several wrong ideas first – and those wrong ideas can take months, sometimes years to get through – but in that time you accrue what you need for when the right ideas come together. In this case, I stumbled over the thought of a boy building a bridge when I was nineteen or twenty years old – but I had a lot of growing up to do, both as a person and a writer – before I was able to write it. I tried, of course. I even finished a version of BRIDGE OF CLAY that I didn't send off to attempt publication. I was a long way from having anything published at that stage – but I knew even then that the version I'd written wasn't the right one…I didn't know it would be another twenty three years before I'd get there.
Purchase Bridge of Clay at Amazon
Purchase Bridge of Clay at IndieBound
View Bridge of Clay on Goodreads
* * * *
Select Few
by Marit Weisenberg
Hardcover
Charlesbridge Teen
Released 10/9/2018
After rejecting the cult-like influence of her father's family, Julia moves into a fancy hotel in downtown Austin. But she finds herself alone except for her boyfriend, John--and her fears. Once again she's suppressing her abilities, afraid her family will come for John when they find out he's been developing abilities of his own in her presence. The FBI is also keeping a close eye on Julia hoping she can lead them to her father, Novak, as he's wanted for questioning in his former assistant's death.
With tensions high, Julia and John agree to go separate ways for the summer, paving the way for Julia to reunite with Angus, fellow outcast. Together they set out on a road trip to California to find Julia's mom and a way into Novak's secret underground world. Along the way Julia will learn the Puri perhaps aren't the only humans evolving into something different. . . and that maybe she's the leader her people have needed all along.
Author Question: What is your favorite thing about Select Few?
I love that John's voice made its way into SELECT FEW. I also loved writing the road trip sequence and the feeling of a sheltered girl finally breaking out of her tight bubble and seeing the world for the first time.
Purchase Select Few at Amazon
Purchase Select Few at IndieBound
View Select Few on Goodreads
* * * *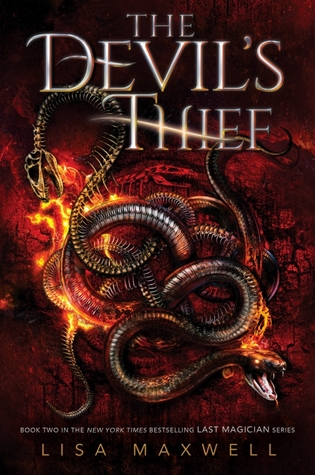 The Devil's Thief
by Lisa Maxwell
Hardcover
Simon Pulse
Released 10/9/2018
Hunt the Stones.
Beware the Thief.
Avenge the Past.
Esta's parents were murdered. Her life was stolen. And everything she knew about magic was a lie. She thought the Book of Mysteries held the key to freeing the Mageus from the Order's grasp, but the danger within its pages was greater than she ever imagined.
Now the Book's furious power lives inside Harte. If he can't control it, it will rip apart the world to get its revenge, and it will use Esta to do it.
To bind the power, Esta and Harte must track down four elemental stones scattered across the continent. But the world outside the city is like nothing they expected. There are Mageus beyond the Brink not willing to live in the shadows—and the Order isn't alone in its mission to crush them.
In St. Louis, the extravagant World's Fair hides the first stone, but an old enemy is out for revenge and a new enemy is emerging. And back in New York, Viola and Jianyu must defeat a traitor in a city on the verge of chaos.
As past and future collide, time is running out to rewrite history—even for a time-traveling thief.
Author Question: What is your favorite thing about The Devil's Thief?
THE DEVIL'S THIEF is the sequel to THE LAST MAGICIAN, which came out in July of 17. My favorite thing about the book is the way I was able to delve more into the various characters. While TLM focused mostly on Harte and Esta, TDT gives some of the spotlight to some of the secondary characters that I fell in love with writing the first book. If readers loved Viola and Jianyu in TLM, they're going to be really excited to see more about those two. And because the world is growing, there's a few new characters that I can't wait for readers to meet.

But don't worry!! This is still Esta's story at its core, so Esta and Harte are still a huge part of the sequel.

I'm hoping readers enjoy the chance to learn more about all of the characters as much as I have!
Purchase The Devil's Thief at Amazon
Purchase The Devil's Thief at IndieBound
View The Devil's Thief on Goodreads
MORE YOUNG ADULT NOVELS NEW IN STORES NEXT WEEK
* * * *
Carols and Chaos
by Cindy Anstey
Paperback
Swoon Reads
Released 10/9/2018
1817. The happy chaos of the Yuletide season has descended upon the country estate of Shackleford Park in full force, but lady's maid Kate Darby barely has the time to notice. Between her household duties, caring for her ailing mother, and saving up money to someday own a dress shop, her hands are quite full. Matt Harlow is also rather busy. He's performing double-duty, acting as valet for both of the Steeple brothers, two of the estate's holiday guests.
Falling in love would be a disaster for either of them. But staving off their feelings for each other becomes the least of their problems when a devious counterfeiting scheme reaches the gates of Shackleford Park, and Kate and Matt are unwittingly swept up in the intrigue.
Full of sweetness, charm, and holiday mischief, Carols and Chaos―a standalone companion novel to Suitors and Sabotage―is perfect for readers who like their historical fiction with a side of romance and danger.
Purchase Carols and Chaos at Amazon
Purchase Carols and Chaos at IndieBound
View Carols and Chaos on Goodreads
* * * *
Dagger and Coin
by Kathy MacMillan
Hardcover
HarperTeen
Released 10/9/2018
Soraya Gamo was meant to be queen of Qilara, until an Arnath slave rebellion upended the social order and destroyed the capital city. Now, improbably, she sits on the new ruling council beside Mati, Raisa, and Jonis from Book 1, and must work with her former enemies.
She finally holds the political power she always wanted—but over a nation in ruins. As she helps to rebuild Qilara, she can, at last, use what everyone once told her to hide: her brain.
But not everyone is ready to accept that the Arnathim are no longer enslaved to the Qilarites. So when a slave ship arrives in the city, full of Arnathim captured before Qilara fell, the civil unrest that has been bubbling since the rebellion erupts.
Forced to confront her own prejudices, Soraya struggles to gain the trust of the Arnath people she once disregarded and establish peace in what has become chaos. With the threat of attacks high, Gelti, a former guard captain, trains Soraya in self-defense. As the two grow close, tension within the city ramps up, with danger, betrayal, and deception meeting Soraya everywhere she turns.
Friends become foes, adversaries become companions, and the clashing of classes threatens to unravel all the good Soraya has been trying to do. Can Soraya, raised to be a submissive Qilarite lady, learn to be a true leader? Or will the sins of her past forever haunt the footsteps of her future?
Purchase Dagger and Coin at Amazon
Purchase Dagger and Coin at IndieBound
View Dagger and Coin on Goodreads
* * * *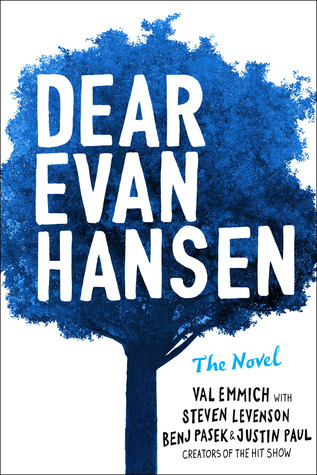 Dear Evan Hansen: The Novel
by Val Emmich and Steven Levenson
Hardcover
Poppy
Released 10/9/2018
Dear Evan Hansen,
Today's going to be an amazing day and here's why…
When a letter that was never meant to be seen by anyone draws high school senior Evan Hansen into a family's grief over the loss of their son, he is given the chance of a lifetime: to belong. He just has to stick to a lie he never meant to tell, that the notoriously troubled Connor Murphy was his secret best friend.
Suddenly, Evan isn't invisible anymore—even to the girl of his dreams. And Connor Murphy's parents, with their beautiful home on the other side of town, have taken him in like he was their own, desperate to know more about their enigmatic son from his closest friend. As Evan gets pulled deeper into their swirl of anger, regret, and confusion, he knows that what he's doing can't be right, but if he's helping people, how wrong can it be?
No longer tangled in his once-incapacitating anxiety, this new Evan has a purpose. And a website. He's confident. He's a viral phenomenon. Every day is amazing. Until everything is in danger of unraveling and he comes face to face with his greatest obstacle: himself.
A simple lie leads to complicated truths in this big-hearted coming-of-age story of grief, authenticity and the struggle to belong in an age of instant connectivity and profound isolation.
Purchase Dear Evan Hansen: The Novel at Amazon
Purchase Dear Evan Hansen: The Novel at IndieBound
View Dear Evan Hansen: The Novel on Goodreads
* * * *
Dreaming Out Loud
by Baby Ariel
Hardcover
HarperCollins
Released 10/9/2018
Musically megastar and recording artist Baby Ariel tells the inspiring story behind her empire of more than 35 million fans. Full of revealing personal anecdotes, advice, doodles, and never-before-seen photos!
Ariel is all about opening up and being goofy, funny, and completely herself. In her debut book, she talks about every step of her amazing journey: from the good (like being on the cover of Billboard, filming music videos for her original songs, and meeting her amazing fans) to the bad (like overcoming anxiety, handling breakups, and dealing with haters and bullies).
Through it all, Ariel has learned one important lesson that she wants her fans to learn, too: You gotta be you, babies.
Fierce, funny, and real, Dreaming Out Loud goes behind the scenes in the life of one of today's most popular influencers, giving you Baby Ariel like you've never seen her before.
Purchase Dreaming Out Loud at Amazon
Purchase Dreaming Out Loud at IndieBound
View Dreaming Out Loud on Goodreads
* * * *
Light as a Feather
by Zoe Aarsen
Hardcover
Simon Pulse
Released 10/9/2018
It was supposed to be a game…
Junior year is shaping up to be the best of McKenna Brady's life. After a transformative summer, McKenna is welcomed into the elite group of popular girls at Weeping Willow High, led by the gorgeous Olivia Richmond. For the first time in a long time, things are looking up.
But everything changes the night of Olivia's Sweet Sixteen sleepover. Violet, the mysterious new girl in town, suggests the girls play a game during which Violet makes up elaborate, creepily specific stories about the violent ways the friends will die. Though it unsettles McKenna, it all seems harmless at the time.
Until a week later, when Olivia dies…exactly as Violet predicted.
As Violet rises to popularity and steps into the life Olivia left unfinished, McKenna becomes convinced Olivia's death wasn't just a coincidence, especially when a ghost haunting her bedroom keeps leaving clues that point to Violet. With the help of her cute neighbor, Trey, McKenna pledges to get to the bottom of Violet's secrets and true intentions before it's too late. Because it's only a matter of time before more lives are lost.
Purchase Light as a Feather at Amazon
Purchase Light as a Feather at IndieBound
View Light as a Feather on Goodreads
* * * *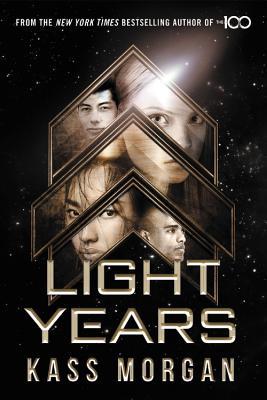 Light Years
by Kass Morgan
Hardcover
Little, Brown Books for Young Readers
Released 10/9/2018
Reeling from the latest attack by a mysterious enemy, the Quatra Fleet Academy is finally admitting students from every planet in the solar system after centuries of exclusivity.
Hotshot pilot Vesper, an ambitious Tridian citizen, dreams of becoming a captain--but when she loses her spot to a brilliant, wisecracking boy from the wrong side of the asteroid belt, it makes her question everything she thought she knew. Growing up on the toxic planet Deva, Cormak will take any chance he can get to escape his dead-end life and join the Academy--even if he has to steal someone's identity to do it. Arran was always considered an outsider on icy Chetire, always dreaming of something more than a life working in the mines. Now an incoming cadet, Arran is looking for a place to belong--he just never thought that place would be in the arms of a Tridian boy. And Orelia is hiding a dark secret--she's infiltrated the Academy to complete a mission, one that threatens the security of everyone there. But if anyone finds out who she really is, it'll be her life on the line.
These cadets will have to put their differences aside and become a team if they want to defend their world from a cunning enemy--and they might even fall in love in the process.
Purchase Light Years at Amazon
Purchase Light Years at IndieBound
View Light Years on Goodreads
* * * *
The Healer
by Donna Freitas
Hardcover
HarperTeen
Released 10/9/2018
Marlena Oliveira has—mysteriously, miraculously—been given the power to heal all kinds of ailments. People around the world believe she is a saint. But it all comes at a price. Because of her power, she'll never be able to live a normal life. And the older she gets, the more trapped she feels.
Then she meets Finn, a boy who makes her want to fall in love. For the first time, she begins to doubt her power—and herself. Is her gift worth all she must give up to keep it? And who would—or could—she be without it?
Purchase The Healer at Amazon
Purchase The Healer at IndieBound
View The Healer on Goodreads
* * * *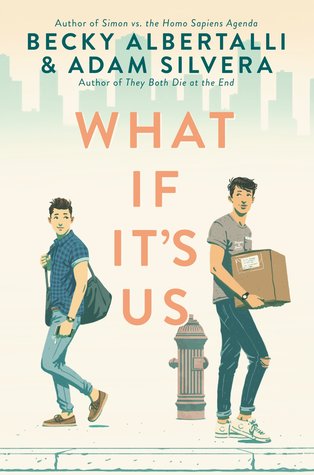 What If It's Us
by Becky Albertalli
Hardcover
HarperTeen
Released 10/9/2018
Critically acclaimed and bestselling authors Becky Albertalli and Adam Silvera combine their talents in this smart, funny, heartfelt collaboration about two very different boys who can't decide if the universe is pushing them together—or pulling them apart.
ARTHUR is only in New York for the summer, but if Broadway has taught him anything, it's that the universe can deliver a showstopping romance when you least expect it.
BEN thinks the universe needs to mind its business. If the universe had his back, he wouldn't be on his way to the post office carrying a box of his ex-boyfriend's things.
But when Arthur and Ben meet-cute at the post office, what exactly does the universe have in store for them . . . ?
Maybe nothing. After all, they get separated.
Maybe everything. After all, they get reunited.
But what if they can't nail a first date even after three do-overs?
What if Arthur tries too hard to make it work and Ben doesn't try hard enough?
What if life really isn't like a Broadway play?
But what if it is?
What if it's us?
Purchase What If It's Us at Amazon
Purchase What If It's Us at IndieBound
View What If It's Us on Goodreads