Elana, how long did you work on DAMSEL?
I tend to write a draft of a book in a season—about three to four months—and then revise in various passes over the next three to six months. DAMSEL was birthed after such a nine-month gestation.
What advice would you most like to pass along to other writers?
It helps me to focus solely on the art of writing first, which to me means allowing the back of my brain to plant seeds, go in directions I can't anticipate, and allow myself to be as honest and tender on the page as possible, without thinking about who may one day read the book or what they might think. Art first, always. Later comes craft—shaping the book into its final form through considering questions of theme, tension, plotting, pacing, by dialing up or back various aspects of the book to help readers feel what I feel. After art and after craft comes business—who will read the book? How will I get it into their hands? Art, then craft, then business.
What did this book teach you about writing or about yourself?
I love this question, because I believe that this is the whole reason I write—to learn more about the world, humanity, myself, and the art and craft of writing through the creation of the book. DAMSEL taught me about how wonderful creative constraints can be. In this case, I decided that the book would be made of seven sections, each with seven chapters. DAMSEL is an original fairy tale, and seven is a magical number, so this seemed like a wise constraint to place. Another constraint I created was that each chapter should be named in a similar fashion—for example, the first chapter of the first section is titled "The Dragon's Blame," and the seventh chapter of the second section is titled, "Ama's Sorrow." This parallel construction, along with the seven sections of seven chapters, form a structure for the story to live inside, and the story structure reflects the structure of the fictional world that the damsel inhabits—a world full of unspoken rules, rigidity, form, constraint, and tension.
What are you working on now?
I am working on another fairy tale inspired novel, this one set in a contemporary world. Also, it has werewolves.
ABOUT THE BOOK
Damsel
by Elana K. Arnold
Hardcover
Balzer + Bray
Released 10/2/2018
The rite has existed for as long as anyone can remember: When the king dies, his son the prince must venture out into the gray lands, slay a fierce dragon, and rescue a damsel to be his bride. This is the way things have always been.
When Ama wakes in the arms of Prince Emory, she knows none of this. She has no memory of what came before she was captured by the dragon or what horrors she faced in its lair. She knows only this handsome young man, the story he tells of her rescue, and her destiny of sitting on a throne beside him. It's all like a dream, like something from a fairy tale.
As Ama follows Emory to the kingdom of Harding, however, she discovers that not all is as it seems. There is more to the legends of the dragons and the damsels than anyone knows, and the greatest threats may not be behind her, but around her, now, and closing in.
Purchase Damsel at Amazon
Purchase Damsel at IndieBound
View Damsel on Goodreads
ABOUT THE AUTHOR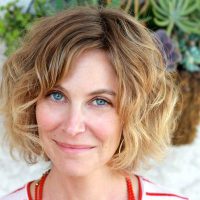 ELANA K. ARNOLD writes books for and about children and teens. She holds a master's degree in Creative Writing/Fiction from the University of California, Davis where she has taught Creative Writing and Adolescent Literature. Her most recent YA novel, WHAT GIRLS ARE MADE OF, was a finalist for the National Book Award, and her middle grade novel, A BOY CALLED BAT, is a Junior Library Guild Selection. A parent and educator living in Huntington Beach, California, Elana is a frequent speaker at schools, libraries, and writers' conferences. Currently, Elana is the caretaker of seven pets, only three of which have fur.
---
Have you had a chance to read DAMSEL yet? Do you allow the back of your brain to plant seeds? Do you put constraints on the way you tell a story? Share your thoughts about the interview in the comments!
Happy Reading,
Jocelyn, Halli, Martina, Erin, Susan, Shelly, Kelly, Laura, Emily, and Lori Ann