Anna-Marie, what's your ritual like? Do you listen to music? Work at home or at a coffee shop or the library, etc?
When it comes to writing rituals, I'm a little bit of a writer cliché. I have to make a playlist before I write the first chapter, and I'm powered by small amounts of coffee and staggering amounts of tea. And fizzy water. My relatives just got my husband and me a carbonator and I'm in love.
What scene was really hard for you to write and why, and is that the one of which you are most proud?
There's a scene in which Roja has debilitating menstrual cramps and the start of a brutal period. Writing that scene, I felt a little like I was ripping my own body open and showing readers,
This is what so many of us live with
. But it's also one of the scenes I'm most proud of, and I hope it makes anyone who's gone through something similar feel less alone.
Equally important to me was the character Barclay's reaction. He doesn't freak out. He doesn't pick apart what might be wrong with her. He sees a friend in pain and tries to help. It was important for me to put that on the page.
What did this book teach you about writing or about yourself?
Sometimes you will have an idea for a story, but it might not be quite the right time to write it. You might be missing a piece, some spark that will make it the book it's meant to be. I had to wait for that spark. I knew I wanted to write a "Snow-White & Rose-Red" reimagining, I knew I was enthralled by
Swan Lake
, but it wasn't until I looked deeply at what I'm expected to be as a Latina woman, as a queer woman, as a queer woman of color that BLANCA & ROJA truly came to life.
ABOUT THE BOOK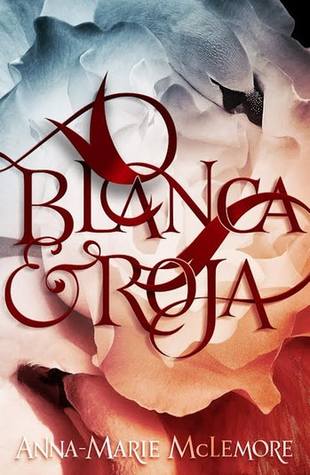 Blanca & Roja
by Anna-Marie McLemore
Hardcover
Feiwel & Friends
Released 10/9/2018
The biggest lie of all is the story you think you already know.
The del Cisne girls have never just been sisters; they're also rivals, Blanca as obedient and graceful as Roja is vicious and manipulative. They know that, because of a generations-old spell, their family is bound to a bevy of swans deep in the woods. They know that, one day, the swans will pull them into a dangerous game that will leave one of them a girl, and trap the other in the body of a swan.
But when two local boys become drawn into the game, the swans' spell intertwines with the strange and unpredictable magic lacing the woods, and all four of their fates depend on facing truths that could either save or destroy them. Blanca & Roja is the captivating story of sisters, friendship, love, hatred, and the price we pay to protect our hearts.
Purchase Blanca & Roja at Amazon
Purchase Blanca & Roja at IndieBound
View Blanca & Roja on Goodreads
ABOUT THE AUTHOR
Anna-Marie McLemore was born in the foothills of the San Gabriel Mountains and taught by her family to hear la llorona in the Santa Ana winds. Her debut novel THE WEIGHT OF FEATHERS was a Junior Library Guild Selection, a YALSA Best Fiction for Young Adults book, and a finalist for the William C. Morris Debut Award. Her second novel, WHEN THE MOON WAS OURS, was long-listed for the National Book Award in Young People's Literature, and was a 2017 Stonewall Honor Book. Her latest is WILD BEAUTY, and BLANCA & ROJA is forthcoming in fall of 2018.
---
Have you had a chance to read BLANCA & ROJA yet? When writing, do you ever feel like you're ripping your own body open and showing readers? Have you ever had a story idea but known it wasn't the right time to write it? Share your thoughts about the interview in the comments!
Happy Reading,
Jocelyn, Halli, Martina, Erin, Susan, Shelly, Kelly, Laura, Emily, and Lori Ann