Happy Reading,
Shelly, Halli, Jocelyn, Martina, Erin, Susan, Kelly, Laura, Emily, Anisaa, and Lori Ann
YA BOOK GIVEAWAYS LAST WEEK: WINNERS
One Giant Leap by Heather Kaczynski (signed bookplate + art print): Jillian E.
MORE YOUNG ADULT FICTION IN STORES NEXT WEEK WITH AUTHOR INTERVIEWS
* * * *
This Is Kind of an Epic Love Story
by Kheryn Callender
Hardcover
Balzer + Bray
Released 10/30/2018
Nathan Bird doesn't believe in happy endings. Although he's the ultimate film buff and an aspiring screenwriter, Nate's seen the demise of too many relationships to believe that happy endings exist in real life.
Playing it safe to avoid a broken heart has been his MO ever since his father died and left his mom to unravel—but this strategy is not without fault. His best-friend-turned-girlfriend-turned-best-friend-again, Florence, is set on making sure Nate finds someone else. And in a twist that is rom-com-worthy, someone does come along: Oliver James Hernández, his childhood best friend.
After a painful mix-up when they were little, Nate finally has the chance to tell Ollie the truth about his feelings. But can Nate find the courage to pursue his own happily ever after?
Author Question: What is your favorite thing about This Is Kind of an Epic Love Story?
My favorite thing about THIS IS KIND OF AN EPIC LOVE STORY is that the main character and his love interest are queer people of color who find unapologetic joy. The characters are all realistic—they make mistakes, and they all need to learn and grow—but this isn't a story about QPOC fighting homophobia or racism. While prejudice is something QPOC have to face every day, and books that explore ignorance and pain will always be important, I think a reminder of our love and joy and happiness is just as needed. Think of EPIC LOVE STORY as a sort of self-care for QPOC! I believe in resistance through joy, and I hope that THIS IS KIND OF AN EPIC LOVE STORY will serve as a reminder to queer people of color everywhere that we are magical, beautiful, and deserving of love stories, too.
Purchase This Is Kind of an Epic Love Story at Amazon
Purchase This Is Kind of an Epic Love Story at IndieBound
View This Is Kind of an Epic Love Story on Goodreads
MORE YOUNG ADULT NOVELS NEW IN STORES NEXT WEEK
* * * *
Finding Baba Yaga: A Short Novel in Verse
by Jane Yolen
Paperback
Tor.com
Released 10/30/2018
A young woman discovers the power to speak up and take control of her fate―a theme that has never been more timely than it is now…
You think you know this story.
You do not.
A harsh, controlling father. A quiescent mother. A house that feels like anything but a home. Natasha gathers the strength to leave, and comes upon a little house in the wood: A house that walks about on chicken feet and is inhabited by a fairy tale witch. In finding Baba Yaga, Natasha finds her voice, her power, herself....
Purchase Finding Baba Yaga: A Short Novel in Verse at Amazon
Purchase Finding Baba Yaga: A Short Novel in Verse at IndieBound
View Finding Baba Yaga: A Short Novel in Verse on Goodreads
* * * *
Jack of Hearts (and other parts)
by L. C. Rosen
Hardcover
Little, Brown Books for Young
Released 10/30/2018
Jack has a lot of sex--and he's not ashamed of it. While he's sometimes ostracized, and gossip constantly rages about his sex life, Jack always believes that "it could be worse."
But then, the worse unexpectedly strikes: When Jack starts writing a teen sex advice column for an online site, he begins to receive creepy and threatening love letters that attempt to force Jack to curb his sexuality and personality. Now it's up to Jack and his best friends to uncover the stalker--before their love becomes dangerous.
Ground-breaking and page-turning, Jack of Hearts (and other parts) celebrates the freedom to be oneself, especially in the face of adversity.
Purchase Jack of Hearts (and other parts) at Amazon
Purchase Jack of Hearts (and other parts) at IndieBound
View Jack of Hearts (and other parts) on Goodreads
* * * *
Never Quit: How I Became a Special Ops Pararescue Jumper
by Jimmy Settle and Don Rearden
Hardcover
St. Martin's Griffin
Released 10/30/2018
The young adult adaptation of the epic memoir of an Alaskan pararescue jumper, Special Forces Operator, and decorated war hero.
"That Others May Live" is a mantra that defines the fearless men of Alaska's 212th Pararescue Unit, the PJs, one of the most elite military forces on the planet. Whether they are rescuing citizens injured and freezing in the Alaskan wilderness or saving wounded Rangers and SEALS in blazing firefights at war, the PJs are some of the least known and most highly trained of America's warriors.
Never Quit is the true story of how Jimmy Settle, an Alaskan shoe store clerk, became a Special Forces Operator and war hero. After being shot in the head during a dangerous high mountain operation in Afghanistan, Jimmy returns to battle with his teammates for a heroic rescue, the bullet fragments stitched over and still in his skull. In a cross between a suicide rescue mission and an against-all-odds mountain battle, his team of PJs risk their lives again in an epic firefight. When his helicopter is hit and begins leaking fuel, Jimmy finds himself in the worst possible position as a rescue specialist―forced to leave members from his own team behind. Jimmy will have to risk everything to get back into the battle and save his brothers.
From death-defying Alaskan wilderness training, wild rescues, and battles against the Taliban and Al Qaeda, this is the true story of how a boy from humble beginnings became an American hero.
Purchase Never Quit: How I Became a Special Ops Pararescue Jumper at Amazon
Purchase Never Quit: How I Became a Special Ops Pararescue Jumper at IndieBound
View Never Quit: How I Became a Special Ops Pararescue Jumper on Goodreads
* * * *
OtherEarth
by Jason Segel and Kirsten Miller
Hardcover
Delacorte Press
Released 10/30/2018
Simon would have done anything to save his best friend after a mysterious accident almost killed her--including follow her into a virtual world. And what he and Kat discovered there was more terrifying than they could have ever imagined. Unwitting hospital patients are being forced to test a device that lets VR be experienced with all five senses. The technology is so advanced that it's deadly.
Now the world's biggest tech corporation is hunting Simon and Kat while war rages in Otherworld, the virtual world it created. Determined to destroy the Company, Simon and Kat must join forces with a hacker, a gangster, and a digital entity. But as they battle to save two worlds, they uncover an all-new threat to our world: the Company's latest creation, an augmented-reality game called OtherEarth. Not only does OtherEarth kill, it has the power to erase the line between what's real and what's fantasy.
Purchase OtherEarth at Amazon
Purchase OtherEarth at IndieBound
View OtherEarth on Goodreads
* * * *
The Brilliant Death
by Amy Rose Capetta
Hardcover
Viking Books for Young Readers
Released 10/30/2018
Teodora di Sangro is used to hiding her magical ability to transform enemies into music boxes and mirrors. Nobody knows she's a strega—and she aims to keep it that way.
The she meets Cielo—and everything changes.
A strega who can switch outward form as effortlessly as turning a page in a book, Cielo shows Teodora what her life could be like if she masters the power she's been keeping secret. And not a moment too soon: the ruler of Vinalia has poisoned the patriarchs of the country's five controlling families, including Teodora's father, and demands that each family send a son to the palace.
If she wants to save her family, Teodora must travel to the capital—not disguised as a boy, but transformed into one. But the road to the capital, and to bridling her powers, is full of enemies and complications, including the one she least expects: falling in love.
Purchase The Brilliant Death at Amazon
Purchase The Brilliant Death at IndieBound
View The Brilliant Death on Goodreads
* * * *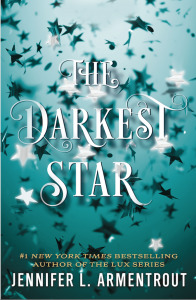 The Darkest Star
by Jennifer L Armentrout
Hardcover
Tor Teen
Released 10/30/2018
In the world of the Lux, secrets thrive, lies shatter, and love is undeniable.
Seventeen-year-old Evie Dasher knows firsthand the devastating consequences of humanity's war with the stunning, otherworldly Luxen. Evie was just a kid when the aliens were defeated, but her life was forever changed when her father, Sergeant Jason Dasher, was killed during one of the deadly battles.
When Evie is caught up in a raid at a notorious club known as one of the few places where humans and the surviving Luxen can mingle freely, she meets Luc, an unnaturally beautiful guy she initially assumes is a Luxen...but he is in fact something much more secret―and much more dangerous.
Her growing desire to know about Luc will lead her deeper and deeper into a world she'd only heard about, revealing secrets long buried, a betrayal that could tear her life apart, and an attraction that could be the very end of her.
Purchase The Darkest Star at Amazon
Purchase The Darkest Star at IndieBound
View The Darkest Star on Goodreads
* * * *
This Cruel Design
by Emily Suvada
Hardcover
Simon Pulse
Released 10/30/2018
The nightmare of the outbreak is finally over, but Cat's fight has only just begun.
Exhausted, wounded, and reeling from revelations that have shaken her to her core, Cat is at a breaking point. Camped in the woods with Cole and Leoben, she's working day and night, desperate to find a way to stop Lachlan's plan to reprogram humanity. But she's failing—Cat can't even control her newly regrown panel, and try as she might to ignore them, she keeps seeing glitching visions from her past everywhere she turns.
When news arrives that the Hydra virus might not be as dead as they'd thought, the group is pushed into an uneasy alliance with Cartaxus to hunt down Lachlan and fix the vaccine. Their search takes them to Entropia, a city of genehackers hidden deep in the desert that could also hold the answers about Cat's past that she's been searching for.
But when confronted with lies and betrayals, Cat is forced to question everything she knows and everyone she trusts. And while Lachlan is always two steps ahead, the biggest threat to Cat may be the secrets buried in her own mind.
Purchase This Cruel Design at Amazon
Purchase This Cruel Design at IndieBound
View This Cruel Design on Goodreads