S. A., how long did you work on THE TOMB?
I drafted the book in about 30 days. I know that first draft is going to be awful, so I'd prefer to get it over as quickly as possible. Then I can change hats and revise, which is what I really love, and feel that I'm good at. That took several weeks, then it went to my editor and we did a couple rounds of editorial revisions. All told, I probably spent several months on it, not including the weeks of outlining to figure the story out…
How long or hard was your road to publication? How many books did you write before this one, and how many never got published?
The Tomb is my tenth published novel, which is hard to believe. But the road was rough before my first one. I wrote nine novels before I sold The Compound, and none of those will ever be published. And I still get rejections, trust me. I currently have six completed YA novels that have not found homes. Maybe they never will. But each one made me a better writer.

What advice would you most like to pass along to other writers?

For me, the only constant in this business is the doubt. I deal with it every single day. So finding a way to live with that, to push past it and believe that what you are writing will someday find an audience, that is key. Just don't give up. That's my best advice.
ABOUT THE BOOK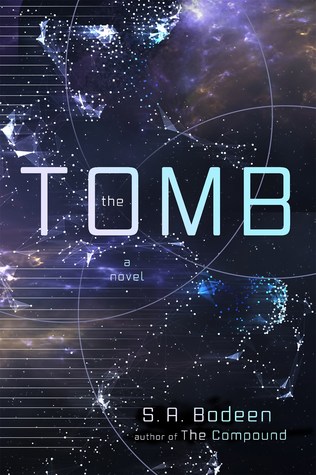 The Tomb: A Novel
by S. A. Bodeen
Hardcover
Feiwel & Friends
Released 9/25/2018
Nothing is as it seems.
These are the first words Kiva's best friend Seth says, after three years of silence.
Kiva thought she was growing up in ancient Alexandria. That's what she and all her classmates had been led to believe by their parents. It turns out she was living in virtual reality, in a sleep chamber in deep space, and three years ago, Seth woke up. Now it's her turn to join him.
Together, Kiva and Seth must take an escape shuttle to search for the engine part their home ship needs to keep running. But it's been a long time since the Krakatoa has communicated with any of the other three ships harboring human civilization. Kiva and Seth are not sure what they'll find if and when they finally make contact.
Danger, romance and twists you'll never see coming abound in this high-stakes science fiction adventure.
Purchase The Tomb: A Novel at Amazon
Purchase The Tomb: A Novel at IndieBound
View The Tomb: A Novel on Goodreads
ABOUT THE AUTHOR
S.A. Bodeen grew up on a dairy farm in Wisconsin. She graduated from UW-River Falls with a degree in Secondary Ed., then joined the Peace Corps with her husband and went to Tanzania, East Africa. Her first picture book,
Elizabeti's Doll
(written as Stephanie Stuve-Bodeen) was published in 1998, followed by six other picture books.Her first YA novel written as S.A. Bodeen, the award-winning
The Compound
, came out from Feiwel and Friends in 2008. The novel count is up to nine, with the tenth releasing in 2018. She has lived in eight states, two African countries, and an insular possession. Currently, she lives in the Midwest with her husband and two daughters.
---
Have you had a chance to read THE TOMB yet? Do you prefer drafting or revising? How do you deal with doubt? Share your thoughts about the interview in the comments!
Happy Reading,
Jocelyn, Halli, Martina, Erin, Susan, Shelly, Kelly, Laura, Emily, and Lori Ann