Happy Reading,
Shelly, Halli, Jocelyn, Martina, Erin, Susan, Kelly, Laura, Emily, Anisaa, and Lori Ann
YA BOOK GIVEAWAYS THIS WEEK
* * * *
Attack of the 50 Foot Wallflower
by Christian McKay Heidicker
Hardcover Giveaway

U.S. Only
Simon & Schuster Books for You
Released 9/11/2018
Phoebe Lane is a lightning rod for monsters.
She and her mom are forced to flee flesh-eating plants, blobs from outer space, and radioactive ants. They survive thanks to Phoebe's dad—an invisible titan, whose giant eyes warn them where the next monster attack will take place.
All Phoebe wants is to stop running from motel to motel and start living a monster-free life in New York or Paris. But when her mom mysteriously vanishes, Phoebe is left to fend for herself in small-town Pennybrooke.
That's when Phoebe starts to transform…
Author Question: What is your favorite thing about Attack of the 50 Foot Wallflower?
I love that it's so removed from my own experience. I've never been a teenage girl. Nor have I lived in the 1950s. I have, however, been trapped inside a monster movie marathon, but that's a whole other story.
Purchase Attack of the 50 Foot Wallflower at Amazon
Purchase Attack of the 50 Foot Wallflower at IndieBound
View Attack of the 50 Foot Wallflower on Goodreads
* * * *
Confessions of a Teenage Leper
by Ashley Little
Hardcover Giveaway

U.S. Only
Penguin Teen
Released 9/11/2018
Abby Furlowe has plans. Big plans. She's hot, she's popular, she's a cheerleader and she's going to break out of her small Texas town and make it big. Fame and fortune, adoration and accolades. It'll all be hers.
But then she notices some spots on her skin. She writes them off as a rash, but things only get worse. She's tired all the time, her hands and feet are numb and her face starts to look like day-old pizza. By the time her seventeenth birthday rolls around, she's tried every cream and medication the doctors have thrown at her, but nothing works. When she falls doing a routine cheerleading stunt and slips into a coma, her mystery illness goes into overdrive and finally gets diagnosed: Hansen's Disease, aka leprosy.
Abby is sent to a facility to recover and deal with this new reality. Her many misdiagnoses mean that some permanent damage has been done, and all of her plans suddenly come tumbling down. If she can't even wear high heels anymore, what is the point of living? Cheerleading is out the window, and she might not even make it to prom. PROM!
But it's during this recovery that Abby has to learn to live with something even more difficult than Hansen's Disease. She's becoming aware of who she really was before and what her behavior was doing to others; now she's on the other side of the fence looking in, and she doesn't like what she sees.
Author Question: What is your favorite thing about Confessions of a Teenage Leper?
I like the dynamic between Abby and her brother Dean. They are so mean to each other but I think we can tell that they really love one another fiercely. It was fun to write Dean; I tried to make him both funny and a real jerk but also vulnerable all at the same time; I'm happy with how he turned out.
Purchase Confessions of a Teenage Leper at Amazon
Purchase Confessions of a Teenage Leper at IndieBound
View Confessions of a Teenage Leper on Goodreads
* * * *
Dream Country
by Shannon Gibney
Hardcover Giveaway

U.S. Only
Dutton Books for Young Readers
Released 9/11/2018
Dream Country begins in suburban Minneapolis at the moment when seventeen-year-old Kollie Flomo begins to crack under the strain of his life as a Liberian refugee. He's exhausted by being at once too black and not black enough for his African American peers and worn down by the expectations of his own Liberian family and community. When his frustration finally spills into violence and his parents send him back to Monrovia to reform school, the story shifts. Like Kollie, readers travel back to Liberia, but also back in time, to the early twentieth century and the point of view of Togar Somah, an eighteen-year-old indigenous Liberian on the run from government militias that would force him to work the plantations of the Congo people, descendants of the African American slaves who colonized Liberia almost a century earlier. When Togar's section draws to a shocking close, the novel jumps again, back to America in 1827, to the children of Yasmine Wright, who leave a Virginia plantation with their mother for Liberia, where they're promised freedom and a chance at self-determination by the American Colonization Society. The Wrights begin their section by fleeing the whip and by its close, they are then the ones who wield it. With each new section, the novel uncovers fresh hope and resonating heartbreak, all based on historical fact.
Purchase Dream Country at Amazon
Purchase Dream Country at IndieBound
View Dream Country on Goodreads
YA BOOK GIVEAWAYS LAST WEEK: WINNERS
People Kill People by Ellen Hopkins:
Danny D.
The Leading Edge of Now by Marci Lyn Curtis:
Nadine S.
Uncharted by Erin Cashman:
Lauren B, Lisa A.
MORE YOUNG ADULT FICTION IN STORES NEXT WEEK WITH AUTHOR INTERVIEWS
* * * *
As She Ascends
by Jodi Meadows
Hardcover
Katherine Tegen Books
Released 9/11/2018
Mira the Dragonhearted is on the run with her friends following a fiery escape from the prison where she'd been condemned for speaking out against dragon trafficking.
And she wants answers. Has the treaty she's been defending her whole life truly sold out the Fallen Isles to their enemies? Did her own parents lie to her? Will she lose control of her power and hurt the ones she loves?
The only way to find the truth is to go home again, to face the people who betrayed her and the parents she's not sure she can trust. Home, where she must learn to rise above her fears. Or be consumed.
Author Question: What is your favorite thing about As She Ascends?
The practical answer: My favorite thing is that it's done. That book was hard to write, for a variety of reasons, but now it's a finished book -- I have the first final copies in my hands as we type! -- and all I have to do is be proud that I survived!

The artistic answer is that this book covers a lot more ground for Mira, including her relationships with her friends, and gives her a new perspective on her anxiety. Mira does a lot of growing in this book, and she's able to see herself a lot more clearly than in Before She Ignites. As She Ascends really is about Mira ascending to a new level of herself -- becoming more of the person she's always had the potential to be.
Purchase As She Ascends at Amazon
Purchase As She Ascends at IndieBound
View As She Ascends on Goodreads
MORE YOUNG ADULT NOVELS NEW IN STORES NEXT WEEK
* * * *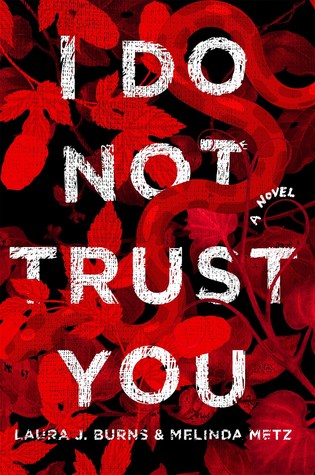 I Do Not Trust You: A Novel
by Laura J. Burns and Melinda Metz
Hardcover
Wednesday Books
Released 9/11/2018
Memphis "M" Engel is stubborn to a fault, graced with an almost absurd knowledge of long lost languages and cultures, and a heck of an opponent in a fight. In short: she's awesome.
Ashwin "Ash" Sood is a little too posh for M's tastes, a little too good looking, and has way too many secrets. He desperately wants the ancient map M inherited from her archeologist father, believing it will lead him to a relic with the power to destroy the world. M obviously can't trust him.
Equally desperate to find the relic for reasons of her own, M forms an uneasy partnership with Ash. From the catacombs of Paris, to a sacred forest in Norway, to the ruins of a submerged temple in Egypt, together they crisscross the globe in their search. But through it all, M can never be sure: Is she traveling with a friend or enemy?
Purchase I Do Not Trust You: A Novel at Amazon
Purchase I Do Not Trust You: A Novel at IndieBound
View I Do Not Trust You: A Novel on Goodreads
* * * *
Rule
by Ellen Goodlett
Hardcover
Little, Brown Books for Young
Released 9/11/2018
Three girls. Three deadly secrets. Only one can wear the crown.
The king is dying, his heir has just been murdered, and rebellion brews in the east. But the kingdom of Kolonya and the outer Reaches has one last option before it descends into leaderless chaos.
Or rather, three unexpected options.
Zofi has spent her entire life trekking through the outer Reaches with her band of Travelers. She would do anything to protect the band, her family. But no one can ever find out how far she's already gone.
Akeylah was raised in the Eastern Reach, surrounded by whispers of rebellion and abused by her father. Desperate to escape, she makes a decision that threatens the whole kingdom.
Ren grew up in Kolonya, serving as a lady's maid and scheming her way out of the servants' chambers. But one such plot could get her hung for treason if anyone ever discovers what she's done.
When the king summons the girls, they arrive expecting arrest or even execution. Instead they learn the truth: they are his illegitimate daughters, and one must become his new heir. But someone in Kolonya knows their secrets, and that someone will stop at nothing to keep the sisters from their destiny... to rule.
Purchase Rule at Amazon
Purchase Rule at IndieBound
View Rule on Goodreads
* * * *
The Echo Room
by Parker Peevyhouse
Hardcover
Tor Teen
Released 9/11/2018
The only thing worse than being locked in is facing what you locked out.
Rett Ward knows how to hide. He's had six years of practice at Walling Home, the state-run boarding school where he learned how to keep his head down to survive.
But when Rett wakes up locked in a small depot with no memory of how he got there, he can't hide. Not from the stranger in the next room. Or from the fact that there's someone else's blood on his jumpsuit.
Worse, every time he tries to escape, he wakes up right back where he started. Same day, same stranger, same bloodstained jumpsuit.
As memories start to surface, Rett realizes that the logo on the walls is familiar, the stranger isn't a stranger, and the blood on his jumpsuit belongs to someone―or something―banging on the door to get in.
Purchase The Echo Room at Amazon
Purchase The Echo Room at IndieBound
View The Echo Room on Goodreads
* * * *
The Lantern's Ember
by Colleen Houck
Hardcover
Delacorte Press
Released 9/11/2018
Welcome to a world where nightmarish creatures reign supreme.
Five hundred years ago, Jack made a deal with the devil. It's difficult for him to remember much about his mortal days. So he focuses on fulfilling his sentence as a Lantern--one of the watchmen who guard the portals to the Otherworld, a realm crawling with every nightmarish creature imaginable. Jack has spent centuries jumping from town to town, ensuring that nary a mortal--or not-so-mortal--soul slips past him. That is, until he meets beautiful Ember O'Dare.
Seventeen, stubborn, and a natural-born witch, Ember feels a strong pull to the Otherworld. Undeterred by Jack's warnings, she crosses into the forbidden plane with the help of a mysterious and debonair vampire--and the chase through a dazzling, dangerous world is on. Jack must do everything in his power to get Ember back where she belongs before both the earthly and unearthly worlds descend into chaos.
Purchase The Lantern's Ember at Amazon
Purchase The Lantern's Ember at IndieBound
View The Lantern's Ember on Goodreads
* * * *
We Are Not Yet Equal: Understanding Our Racial Divide
by Carol Anderson and Tonya Bolden
Hardcover
Bloomsbury YA
Released 9/11/2018
Carol Anderson's White Rage took the world by storm, landing on the New York Times bestseller list and best book of the year lists from New York Times, Washington Post, Boston Globe, and Chicago Review of Books. It launched her as an in-demand commentator on contemporary race issues for national print and television media and garnered her an invitation to speak to the Democratic Congressional Caucus. This compelling young adult adaptation brings her ideas to a new audience.
When America achieves milestones of progress toward full and equal black participation in democracy, the systemic response is a consistent racist backlash that rolls back those wins. We Are Not Yet Equal examines five of these moments: The end of the Civil War and Reconstruction was greeted with Jim Crow laws; the promise of new opportunities in the North during the Great Migration was limited when blacks were physically blocked from moving away from the South; the Supreme Court's landmark 1954 Brown v. Board of Education decision was met with the shutting down of public schools throughout the South; the Civil Rights Act of 1964 and Voting Rights Act of 1965 led to laws that disenfranchised millions of African American voters and a War on Drugs that disproportionally targeted blacks; and the election of President Obama led to an outburst of violence including the death of black teen Michael Brown in Ferguson, Missouri as well as the election of Donald Trump.
This YA adaptation will be written in an approachable narrative style that provides teen readers with additional context to these historic moments, photographs and archival images, and additional backmatter and resources for teens.
Purchase We Are Not Yet Equal: Understanding Our Racial Divide at Amazon
Purchase We Are Not Yet Equal: Understanding Our Racial Divide at IndieBound
View We Are Not Yet Equal: Understanding Our Racial Divide on Goodreads