Uncharted
!! We're so thrilled to share it with you as well as offer two giveaway copies of it. Don't forget to check out all the books coming out this week below and enter to win.
Happy Reading,
Shelly, Halli, Jocelyn, Martina, Erin, Susan, Kelly, Laura, Emily, Anisaa, and Lori Ann
YA BOOK GIVEAWAYS THIS WEEK
* * * *
People Kill People
by Ellen Hopkins
Hardcover Giveaway

U.S. Only
Margaret K. McElderry Books
Released 9/4/2018
People kill people. Guns just make it easier.
A gun is sold in the classifieds after killing a spouse, bought by a teenager for needed protection. But which was it? Each has the incentive to pick up a gun, to fire it. Was it Rand or Cami, married teenagers with a young son? Was it Silas or Ashlyn, members of a white supremacist youth organization? Daniel, who fears retaliation because of his race, who possessively clings to Grace, the love of his life? Or Noelle, who lost everything after a devastating accident, and has sunk quietly into depression?
One tense week brings all six people into close contact in a town wrought with political and personal tensions. Someone will fire. And someone will die. But who?
Author Question: What is your favorite thing about People Kill People?
My favorite thing about PEOPLE KILL PEOPLE is moving into new territory as far as format, POV, etc. There's an omniscient thread, which is the voice of violence as seducer, and this voice is written in verse. I think the poetry is extremely powerful, as it doesn't rely on the need for dialogue, as a verse novel does. This voice threads through the narratives of six main characters, all of whom have reasons to pick up a gun and use it. Readers are invited onto the page in second person to "become" the six characters, with the hope they'll decide not to follow through.

The six characters are connected around a seventh character, whose story is also important, though she is not a POV character. So its was much more complicated to write than a straightforward narrative. The book was finished and in production before Charlottesville, but there's a strong white nationalist element to the storyline, and it offers a few surprises. I hope readers find the book a powerful read that leaves them a little breathless.
Purchase People Kill People at Amazon
Purchase People Kill People at IndieBound
View People Kill People on Goodreads
* * * *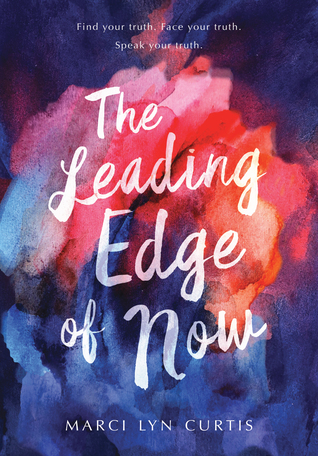 The Leading Edge of Now
by Marci Lyn Curtis
Hardcover Giveaway

U.S. Only
Kids Can Press
Released 9/4/2018
Just when Grace is beginning to get used to being an orphan, her estranged uncle suddenly comes forward to claim her.
That might have been okay if he d spoken to her even once since her father died.
Or if moving in with Uncle Rusty didn't mean returning to New Harbor.
Grace once spent the best summers of her life in New Harbor. Now the place just reminds her of all she s lost: her best friend, her boyfriend and any memory of the night that changed her forever.
People say the truth will set you free, but Grace isn t sure about that. Once she starts looking for it, the truth about that night is hard to find and what happens when her healing hurts the people she cares about the most?
Marci Lyn Curtis, the critically acclaimed author of The One Thing, has crafted an honest and emotional story that will resonate with the wide range of readers impacted by sexual assault.
Sexual assault does not define this story, however, just as it does not define Grace. Wry humor and true love emerge as Grace, like many in the #MeToo era, seeks to find her truth, face her truth, and speak her truth.
Author Question: What is your favorite thing about The Leading Edge of Now?
The characters! With all of my stories, I always end up loving the characters most. They run the gamut in THE LEADING EDGE OF NOW—from preschool teacher to cheesy cowboy, pickpocket to woodwork artist, theater geek to lifeguard—and they've all wormed their way into my heart. I'm super excited to introduce them to my readers!
Purchase The Leading Edge of Now at Amazon
Purchase The Leading Edge of Now at IndieBound
View The Leading Edge of Now on Goodreads
* * * *
Uncharted
by Erin Cashman
Hardcover Giveaway (2 Copies)

U.S. Only
Macmillan
Released 9/4/2018
Seventeen-year-old Annabeth prefers the fantasy of her books and paintings to reality―because in reality, her mom is dead, and it was all her fault. She vows to make her dad's life easier in return. But upon accompanying him to his friends' secluded manor, he goes missing in the woods.
Annabeth suspects the manor's heir Griffin knows more about the disappearance than he's letting on. He's irritable, removed, and he's under police investigation for the mysterious "accidents" happening at his family's estate.
Annabeth fears her father isn't lost, but rather a victim of something sinister. She launches her own investigation, tracing clues that whisper of myth and legend and death, until she stumbles upon a secret. One that some would die to protect, others would kill to expose―and which twists Annabeth's fantasy and reality together in deadly new ways.
Author Question: What is your favorite thing about Uncharted?
I love the rivals to friends to romance relationship between Annabeth and Griffin and how they connect through their grief and guilt. My original concept of the book focused on the mystery and suspense with a small romantic subplot. But in the writing, the connection between Annabeth and Griffin became stronger and deeper than I had anticipated. At one point Annabeth thinks about how beautiful and broken Griffin is – and that describes him perfectly. Since he is harboring so many secrets from Annabeth, he was a hard character to write – at times he could be a real jerk!
Purchase Uncharted at Amazon
Purchase Uncharted at IndieBound
View Uncharted on Goodreads
YA BOOK GIVEAWAYS LAST WEEK: WINNERS
In Another Time by Caroline Leech:
Taffy L
Mirage by Somaiya Daud:
Angie Y. and Celeste H.
The Soul Keepers by Devon Taylor:
Yettee G.
MORE YOUNG ADULT FICTION IN STORES NEXT WEEK WITH AUTHOR INTERVIEWS
* * * *
Buried Beneath the Baobab Tree
by Adaobi Tricia Nwaubani, with a foreward Viviana Mazza
Hardcover
Katherine Tegen Books
Released 9/4/2018
Based on interviews with young women who were kidnapped by Boko Haram, this poignant novel by Adaobi Tricia Nwaubani tells the timely story of one girl who was taken from her home in Nigeria and her harrowing fight for survival. Includes an afterword by award-winning journalist Viviana Mazza.
A new pair of shoes, a university degree, a husband—these are the things that a girl dreams of in a Nigerian village. And with a government scholarship right around the corner, everyone can see that these dreams aren't too far out of reach.
But the girl's dreams turn to nightmares when her village is attacked by Boko Haram, a terrorist group, in the middle of the night. Kidnapped, she is taken with other girls and women into the forest where she is forced to follow her captors' radical beliefs and watch as her best friend slowly accepts everything she's been told.
Still, the girl defends her existence. As impossible as escape may seem, her life—her future—is hers to fight for.
Author Question: What is your favorite thing about Buried Beneath the Baobab Tree?
BURIED BENEATH THE BAOBAB TREE is really a piece of journalism masquerading as fiction. In my work as a journalist, I've covered the Boko Haram insurgency from all sorts of angles over the past four years, mostly aiming to draw the world's attention to the plight of the victims, especially the women and children who inevitably suffer most. But there are just so many people who can't be bothered to read these stories when they appear in the news. I often find it exasperating when even people who are close to me come across as having absolutely no idea of what is going on in that part of Nigeria. Many people just don't pay much attention to the dark headlines in the news. When presented with that same information in a novel, however, they are more likely and willing to take notice. I'm happy that BURIED BENEATH THE BAOBAB TREE is bringing the stories of these women and girls to a wider audience around the world.
Purchase Buried Beneath the Baobab Tree at Amazon
Purchase Buried Beneath the Baobab Tree at IndieBound
View Buried Beneath the Baobab Tree on Goodreads
* * * *
Sadie
by Courtney Summers
Hardcover
Wednesday Books
Released 9/4/2018
A missing girl on a journey of revenge and a Serial―like podcast following the clues she's left behind.
Sadie hasn't had an easy life. Growing up on her own, she's been raising her sister Mattie in an isolated small town, trying her best to provide a normal life and keep their heads above water.
But when Mattie is found dead, Sadie's entire world crumbles. After a somewhat botched police investigation, Sadie is determined to bring her sister's killer to justice and hits the road following a few meager clues to find him.
When West McCray―a radio personality working on a segment about small, forgotten towns in America―overhears Sadie's story at a local gas station, he becomes obsessed with finding the missing girl. He starts his own podcast as he tracks Sadie's journey, trying to figure out what happened, hoping to find her before it's too late.
Author Question: What is your favorite thing about Sadie?
I really enjoyed scripting the podcast chapters of SADIE. I love writing dialogue and a podcast script is all dialogue, so this gave me a real opportunity to dig in to one of my favorite aspects of the novel writing process.
Purchase Sadie at Amazon
Purchase Sadie at IndieBound
View Sadie on Goodreads
* * * *
The 48
by Donna Hosie
Hardcover
Penguin Publishing Group
Released 9/4/2018
Henry VIII's Tudor court meets time-traveling teen assassins in a riveting YA novel.
Twins Charlie and Alex Taylor are the newest time travelers recruited to the Forty-Eight, a clandestine military group in charge of manipulating history. The brothers arrive in 1536 feeling confident, but the Tudor court is not all banquets and merriment: it is a deep well of treachery, torture, lust, intrigue, and suspicion. The boys' mission to prevent Henry VIII from marrying Jane Seymour is further complicated when Alice, a fellow trainee, appears under mysterious and brutal circumstances--and when whispers of an uprising within the Forty-Eight reach their ears. Told in alternating perspectives among Charlie, Alex, and sixteen-year-old Lady Margaret, a ladies' maid to Queen Anne Boleyn with an agenda of her own, The 48 captures the sights, smells, sounds, and hazards of an unhinged Henry VIII's court from the viewpoint of one person who lived that history--and two teens who have been sent to turn it upside down.
Author Question: What is your favorite thing about The 48?
My favourite thing about all of my books, including THE 48, is the historical element. All of my published books feature time travel and for THE 48 I chose the court of Henry VIII. Researching this period was extremely interesting and rewarding and I find that it adds another element to the skill of being a writer. You have to put yourself in that moment in time, which means more than recalling people, events and dates. It's about invoking all five senses through words.
Purchase The 48 at Amazon
Purchase The 48 at IndieBound
View The 48 on Goodreads
* * * *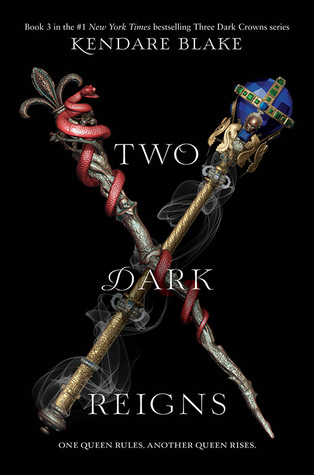 Two Dark Reigns
by Kendare Blake
Hardcover
HarperTeen
Released 9/4/2018
Queen Katharine has waited her entire life to wear the crown. But now that she finally has it, the murmurs of dissent grow louder by the day. There's also the alarming issue of whether or not her sisters are actually dead—or if they're waiting in the wings to usurp the throne.
Mirabella and Arsinoe are alive, but in hiding on the minland and dealing with a nightmare of their own: being visited repeatedly by a specter they think might be the fabled Blue Queen. Though she says nothing, her rotting, bony finger pointing out to sea is clear enough: return to Fennbirn.
Jules, too, is in a strange place—in disguise. And her only confidants, a war-gifted girl named Emilia and her oracle friend Mathilde, are urging her to take on a role she can't imagine filling: a legion-cursed queen who will lead a rebel army to Katharine's doorstep.
This is an uprising that the mysterious Blue Queen may have more to do with than anyone could have guessed—or expected.
Author Question: What is your favorite thing about Two Dark Reigns?
My favorite thing about TWO DARK REIGNS is just that I got to write it! There was never any plan to write beyond the ending of One Dark Throne. But thanks to reader support and the amazing publishing team, I get to find out what happens after the crowning!
Purchase Two Dark Reigns at Amazon
Purchase Two Dark Reigns at IndieBound
View Two Dark Reigns on Goodreads
* * * *
When Elephants Fly
by Nancy Richardson Fischer
Hardcover
Harlequin Teen
Released 9/4/2018
T. Lily Decker is a high school senior with a twelve-year plan: avoid stress, drugs, alcohol and boyfriends, and take regular psych quizzes administered by her best friend, Sawyer, to make sure she's not developing schizophrenia.
Genetics are not on Lily's side. When she was seven, her mother, who had paranoid schizophrenia, tried to kill her. And a secret has revealed that Lily's odds are even worse than she thought. Still, there's a chance to avoid triggering the mental health condition, if Lily can live a careful life from ages eighteen to thirty, when schizophrenia most commonly manifests.
But when a newspaper internship results in Lily witnessing a mother elephant try to kill her three-week-old calf, Swifty, Lily can't abandon the story or the calf. With Swifty in danger of dying from grief, Lily must choose whether to risk everything, including her sanity and a first love, on a desperate road trip to save the calf's life, perhaps finding her own version of freedom along the way.
Author Question: What is your favorite thing about When Elephants Fly?
I have two favorite things! The first is that WHEN ELEPHANTS FLY gives me the chance to shine a light on the stigma attached to mental illness and allows readers to sympathize with my protagonist Lily's struggle as well as recognize that striving to survive and overcome obstacles, whether they're physical, mental or emotional health conditions is universal.

The second is the chance to tell a story about one elephant calf in the hope that Swifty's journey will awaken sympathy for the plight of elephants both in the wild and captivity. If readers care about Swifty, then I believe they'll join the battle to save elephants from abuse, poaching, and extinction.

If you want to learn more about elephant protection and conservation and how you can make a difference, please do visit Space for Giants, https://spaceforgiants.org and Reteti Elephant Sanctuary, https://www.retetielephants.org.
Purchase When Elephants Fly at Amazon
Purchase When Elephants Fly at IndieBound
View When Elephants Fly on Goodreads
MORE YOUNG ADULT NOVELS NEW IN STORES NEXT WEEK
* * * *
And The Ocean Was Our Sky
by Patrick Ness
Hardcover
HarperTeen
Released 9/4/2018
With harpoons strapped to their backs, the proud whales of Bathsheba's pod live for the hunt, fighting in the ongoing war against the world of men. When they attack a ship bobbing on the surface of the Abyss, they expect to find easy prey. Instead, they find the trail of a myth, a monster, perhaps the devil himself...
As their relentless Captain leads the chase, they embark on a final, vengeful hunt, one that will forever change the worlds of both whales and men.
Purchase And The Ocean Was Our Sky at Amazon
Purchase And The Ocean Was Our Sky at IndieBound
View And The Ocean Was Our Sky on Goodreads
* * * *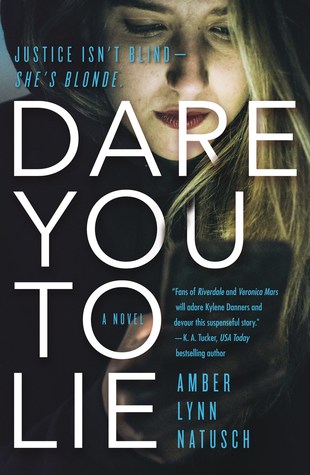 Dare You to Lie
by Amber Lynn Natusch
Hardcover
Tor Teen
Released 9/4/2018
When her FBI agent father is framed for murder, Kylene is forced to move back to the small town that turned its back on her, and the boy who betrayed her. All Ky cares about is clearing her father's name, but her reappearance comes with its own consequences. Someone won't let her forget the photo scandal that drove her away two years ago. With threats against her mounting, the FBI sends a rookie agent to tail her.
More determined than ever to expose the town's hidden skeletons, Ky unwittingly thrusts herself into a much bigger plot. Everyone thought she'd forgive and forget. They're about to learn they messed with the wrong girl.
Purchase Dare You to Lie at Amazon
Purchase Dare You to Lie at IndieBound
View Dare You to Lie on Goodreads
* * * *
Keeper of the Bees
by Meg Kassel
Hardcover
Entangled: Teen
Released 9/4/2018
KEEPER OF THE BEES is a tale of two teens who are both beautiful and beastly, and whose pasts are entangled in surprising and heartbreaking ways.
Dresden is cursed. His chest houses a hive of bees that he can't stop from stinging people with psychosis-inducing venom. His face is a shifting montage of all the people who have died because of those stings. And he has been this way for centuries―since he was eighteen and magic flowed through his homeland, corrupting its people.
He follows harbingers of death, so at least his curse only affects those about to die anyway. But when he arrives in a Midwest town marked for death, he encounters Essie, a seventeen-year-old girl who suffers from debilitating delusions and hallucinations. His bees want to sting her on sight. But Essie doesn't see a monster when she looks at Dresden.
Essie is fascinated and delighted by his changing features. Risking his own life, he holds back his bees and spares her. What starts out as a simple act of mercy ends up unraveling Dresden's solitary life and Essie's tormented one. Their impossible romance might even be powerful enough to unravel a centuries-old curse.
Purchase Keeper of the Bees at Amazon
Purchase Keeper of the Bees at IndieBound
View Keeper of the Bees on Goodreads
* * * *
Kiss Me in Paris
by Catherine Rider
Hardcover
Kids Can Press
Released 9/4/2018
Serena Fuentes won't waste one moment of her whirlwind trip to Paris. She has it all mapped out, right down to the photos she will take, and the last thing she wants is a change in plans.
Yet suddenly she's touring the city with Jean-Luc, a French friend of her sister's boyfriend. He has to take pictures of his own if he ever hopes to pass his photography class, and his project totally slows Serena down. Why can't he get with her program?
One minute they're bickering, the next minute they're bonding ... and soon they're exploring corners of Paris together that Serena never imagined. When it comes to love, sometimes it takes a different lens to see what's right in front of us.
A romantic adventure for anyone who sees the possibilities in a spontaneous tour of the City of Lights with a charming French stranger, and anyone who's ever wondered if true love is waiting on the other side of the ocean.
Purchase Kiss Me in Paris at Amazon
Purchase Kiss Me in Paris at IndieBound
View Kiss Me in Paris on Goodreads
* * * *
Nevertheless, We Persisted: 48 Voices of Defiance, Strength, and Courage
by Amy Klobuchar
Hardcover
Knopf Books for Young Readers
Released 9/4/2018
A powerful collection of essays from actors, activists, athletes, politicians, musicians, writers, and teens, including Senator Amy Klobuchar, actress Alia Shawkat, actor Maulik Pancholy, poet Azure Antoinette, teen activist Gavin Grimm, and many, many more, each writing about a time in their youth when they were held back because of their race, gender, or sexual identity--but persisted.
"Aren't you a terrorist?" "There are no roles for people who look like you." "That's a sin." "No girls allowed." They've heard it all. Actress Alia Shawkat reflects on all the parts she was told she was too "ethnic" to play. Former NFL player Wade Davis recalls his bullying of gay classmates in an attempt to hide his own sexuality. Teen Gavin Grimm shares the story that led to the infamous "bathroom bill," and how he's fighting it. Holocaust survivor Fanny Starr tells of her harrowing time in Aushwitz, where she watched her family disappear, one by one.
What made them rise up through the hate? What made them overcome the obstacles of their childhood to achieve extraordinary success? How did they break out of society's limited view of who they are and find their way to the beautiful and hard-won lives they live today? With a foreword by Minnesota senator and up-and-coming Democratic party leader Amy Klobuchar, these essays share deeply personal stories of resilience, faith, love, and, yes, persistence.
Purchase Nevertheless, We Persisted: 48 Voices of Defiance, Strength, and Courage at Amazon
Purchase Nevertheless, We Persisted: 48 Voices of Defiance, Strength, and Courage at IndieBound
View Nevertheless, We Persisted: 48 Voices of Defiance, Strength, and Courage on Goodreads
* * * *
Part of Your World: A Twisted Tale
by Liz Braswell
Hardcover
Disney Press
Released 9/4/2018
What if Ariel had never defeated Ursula?
It's been five years since the infamous sea witch defeated the little mermaid... and took King Triton's life in the process. Ariel is now the voiceless queen of Atlantica, while Ursula runs Prince Eric's kingdom on land. But when Ariel discovers that her father might still be alive, she finds herself returning to a world--and a prince--she never imagined she would see again.
Purchase Part of Your World: A Twisted Tale at Amazon
Purchase Part of Your World: A Twisted Tale at IndieBound
View Part of Your World: A Twisted Tale on Goodreads
* * * *
Plague Land: Reborn
by Alex Scarrow
Paperback
Sourcebooks Fire
Released 9/4/2018
THEY THOUGHT IT WAS DEAD. THEY WERE WRONG.
Two years ago, a virus hit London, killing thousands of people and driving the rest into hiding. But Leon has somehow survived, making it through two harsh winters. Now he's living on the fragile hope that the freezing snow and ice of the English climate wiped out the virus for good. Word even reaches Leon of a rescue boat on its way.
But all is not as safe as it seems. The virus has been busy...
Purchase Plague Land: Reborn at Amazon
Purchase Plague Land: Reborn at IndieBound
View Plague Land: Reborn on Goodreads
* * * *
Seventh Born
by Monica Sanz
Paperback
Entangled: Teen
Released 9/4/2018
Abomination. Curse. Murderer. All names hurled at eighteen-year-old Seraphina Dovetail. As the seventh-born daughter to a witch, she's the cause of her mother losing her powers and, in turn, her life.
Abandoned as a child, Sera dreams of becoming an inspector and finding her family. To do that, she must be referred into the Advanced Studies Program at the Aetherium's Witchling Academy. Her birth order, quick temper, and tendency to set things on fire, however, have left her an outcast with failing marks…and just what Professor Nikolai Barrington is looking for.
The tall, brooding, yet exceedingly handsome young professor makes her a proposition: become his assistant and he'll give her the referral she needs. Sera is quickly thrust into a world where witches are being kidnapped, bodies are raised from the dead, and someone is burning seventhborns alive. As Sera and Barrington grow ever closer, she'll discover that some secrets are best left buried…and fire isn't the only thing that makes a witch burn.
Purchase Seventh Born at Amazon
Purchase Seventh Born at IndieBound
View Seventh Born on Goodreads
* * * *
Steal This Country: A Handbook for Resistance, Persistence, and Fixing Almost Everything
by Alexandra Styron
Hardcover
Viking Books for Young Readers
Released 9/4/2018
A walk-the-walk, talk-the-talk, hands-on, say-it-loud handbook for activist kids who want to change the world!
Inspired by Abbie Hoffman's radical classic, Steal This Book, author Alexandra Styron's stirring call for resistance and citizen activism will be clearly heard by young people who don't accept "it is what it is," who want to make sure everybody gets an equal piece of the American pie, and who know that the future of the planet is now.
Styron's irreverent and informative primer on how to make a difference is organized into three sections: The Why, The What, and The How. The book opens with a personal essay and a historic look at civil disobedience and teenage activism in America. That's followed by a deep dive into several key issues: climate change, racial justice, women's rights, LGBTQIA rights, immigration, religious understanding, and intersectionality. Each chapter is introduced by an original full page comic and includes a summary of key questions, interviews with movers and shakers--from celebrities to youth activists--and spotlights on progressive organizations. The book's final section is packed with how-to advice on ways to engage, from group activities such as organizing, marching, rallying, and petitioning to individual actions like voting with your wallet, volunteering, talking with relatives with different viewpoints, and using social activism to get out a progressive message.
This is a perfect book for older middle-schoolers and teens who care about the planet, the people with whom they share it, and the future for us all.
Purchase Steal This Country: A Handbook for Resistance, Persistence, and Fixing Almost Everything at Amazon
Purchase Steal This Country: A Handbook for Resistance, Persistence, and Fixing Almost Everything at IndieBound
View Steal This Country: A Handbook for Resistance, Persistence, and Fixing Almost Everything on Goodreads
* * * *
The Book of Dust: La Belle Sauvage Collector's Edition
by Philip Pullman
Hardcover
Knopf Books for Young Readers
Released 9/4/2018
A deluxe edition of Philip Pullman's bestelling classic, with 50 new pieces of art, just in time for the holidays.
"It's a stunning achievement, the universe Pullman has created and continues to build on." --The New York Times
Philip Pullman's return to the world of The Golden Compass in this first book in a new trilogy was hailed as an instant classic.
This impeccably designed and produced collector's edition includes 50 new pieces of black-and-white art from cover artist Chris Wormell and an exclusive interview with Philip Pullman about writing La Belle Sauvage.
Purchase The Book of Dust: La Belle Sauvage Collector's Edition at Amazon
Purchase The Book of Dust: La Belle Sauvage Collector's Edition at IndieBound
View The Book of Dust: La Belle Sauvage Collector's Edition on Goodreads
* * * *
The Opposite of Innocent
by Sonya Sones
Hardcover
HarperTeen
Released 9/4/2018
Luke has been away for two endless years, but he's finally returning today. Lily was only twelve when he left. But now, at fourteen, she feels transformed. She can't wait to see how Luke will react when he sees the new her. And when her mother tells her that Luke will be staying with them for a while, in the bedroom right next to hers, her heart nearly stops.
Having Luke back is better than Lily could have ever dreamed. His lingering looks set Lily on fire. Is she just imagining them? But then, when they're alone, he kisses her. Then he kisses her again. Lily's friends think anyone his age who wants to be with a fourteen-year-old must be really messed up. Maybe even dangerous. But Luke would never do anything to hurt her...would he?
In this powerful tale of a terrifying leap into young adulthood, readers will accompany Lily on her harrowing journey from hopelessness to hope.
Purchase The Opposite of Innocent at Amazon
Purchase The Opposite of Innocent at IndieBound
View The Opposite of Innocent on Goodreads