Heidi, what was your inspiration for writing FOR A MUSE OF FIRE?
My inspirations for novels always come from my obsessions at the time, and this one was no different. I was angry at our country's endless wars. I had fallen in with a bunch of burlesque dancing friends. I grew up hiking the lush valleys and rainforests of Hawaii, so the jungle is always in my heart. I'm an animist. And of course I have a recent past as a musical theatre writer. These things came together like a mental stone soup. Something like Apocalypse Now meets Moulin Rouge with mental illness and necromancy.
What scene was really hard for you to write and why, and is that the one of which you are most proud? Or is there another scene you particularly love?
I wrote a scene about building a leather shadow puppet, which I absolutely loved. The smoothing and cutting of the hide, the riveting of the joints, the colors of the paint, the smells of the tanins. I ran it by a Cambodian puppeteer for accuracy, made the minor corrections, and polished it up. Then I cut the whole thing.
I'm proud of all of that, though. Even the cutting. Because including the scene would have made the book less than what it is now. But I still love the scene.

What advice would you most like to pass along to other writers?
Don't be afraid to rewrite. I rewrote the entire book after first round edits. I think there are about 30 pages total from my first version that made it into my second. Sometimes you have to throw out your first effort. Kind of like pancakes. Likewise, though, don't rewrite endlessly. There comes a point where you have to let go. If you have tips on how to do that, please hit me up.
ABOUT THE BOOK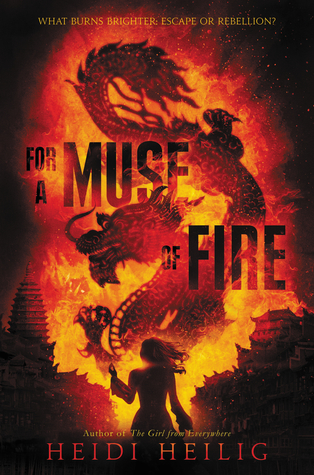 For a Muse of Fire
by Heidi Heilig
Hardcover
Greenwillow Books
Released 9/25/2018
Jetta's family is famed as the most talented troupe of shadow players in the land. With Jetta behind the scrim, their puppets seem to move without string or stick—a trade secret, they say. In truth, Jetta can see the souls of the recently departed and bind them to the puppets with her blood.
But ever since the colonizing army conquered their country, the old ways are forbidden, so Jetta must never show, never tell. Her skill and fame are her family's way to earn a spot aboard the royal ship to Aquitan, where shadow plays are the latest rage, and where rumor has it the Mad Emperor has a spring that cures his ills—and could cure Jetta's, too. Because seeing spirits is not the only thing that plagues her.
But as rebellion seethes and as Jetta meets a young smuggler, she will face truths and decisions that she never imagined—and safety will never seem so far away.
Purchase For a Muse of Fire at Amazon
Purchase For a Muse of Fire at IndieBound
View For a Muse of Fire on Goodreads
ABOUT THE AUTHOR
Heidi grew up in Hawaii where she rode horses and raised peacocks, and then she moved to New York City and grew up even more, as one tends to do. Her favorite thing, outside of writing, is travel, and she has haggled for rugs in Morocco, hiked the trails of the Ko'olau Valley, and huddled in a tent in Africa while lions roared in the dark.
She holds an MFA from New York University in Musical Theatre Writing, of all things, and she's written books and lyrics for shows including T
he Time Travelers Convention
,
Under Construction
, and
The Hole
. She lives in Brooklyn with her husband and sons. They do not own a cat.
---
Have you had a chance to read FOR A MUSE OF FIRE yet? Are you inspired by your obsessions? Are you able to find the balance between rewriting everything and rewriting endlessly? Share your thoughts about the interview in the comments!
Happy Reading,
Jocelyn, Halli, Martina, Erin, Susan, Shelly, Kelly, Laura, Emily, and Lori Ann