Sara, what do you hope readers will take away from THESE REBEL WAVES?
I hope readers take away the strength to question their world. Be informed, be insightful, be aware.
What advice would you most like to pass along to other writers?
Keep moving forward. This job is so chaotic and changes almost daily -- but persistence is key, whether you are at the publishing stage or still drafting. Keep moving forward. You can do this.
What are you working on now?
I'm currently working on the sequel to THESE REBEL WAVES, out next summer! After that, I few a Secret Projects I'm excited to dive into.
ABOUT THE BOOK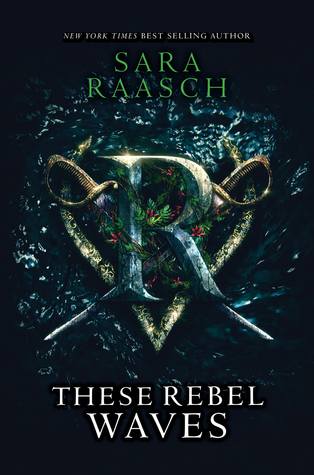 These Rebel Waves
by Sara Raasch
Hardcover
Balzer + Bray
Released 8/7/2018
Adeluna is a soldier. Five years ago, she helped the magic-rich island of Grace Loray overthrow its oppressor, Agrid, a country ruled by religion.
But adjusting to postwar life has not been easy. When an Argridian delegate vanishes during peace talks with Grace Loray's new Council, Argrid demands brutal justice—but Lu suspects something dangerous is at work.
Devereux is a pirate. As one of the stream raiders who run rampant on Grace Loray, he scavenges the island's magic plants and sells them on the black market. But after Argrid accuses raiders of the diplomat's abduction, Vex becomes a target. An expert navigator, he agrees to help Lu find the Argridian—but the truth they uncover could be deadlier than any war.
Benat is a heretic. The crown prince of Argrid, he harbors a secret obsession with Grace Loray's forbidden magic. When Ben's father, the king, gives him the shocking task of reversing Argrid's fear of magic, Ben has to decide if one prince can change a devout country—or if he's building his own pyre.
As conspiracies arise, Lu, Vex, and Ben will have to decide who they really are . . . and what they are willing to become for peace.
Purchase These Rebel Waves at Amazon
Purchase These Rebel Waves at IndieBound
View These Rebel Waves on Goodreads
ABOUT THE AUTHOR
Sara Raasch has known she was destined for bookish things since the age of five, when her friends had a lemonade stand and she tagged along to sell her hand-drawn picture books too. Not much has changed since then — her friends still cock concerned eyebrows when she attempts to draw things and her enthusiasm for the written word still drives her to extreme measures. Her NYTimes bestselling SNOW LIKE ASHES trilogy is available now and her upcoming pirate fantasy, THESE REBEL WAVES, releases August 7, 2018. None of those feature her hand-drawn pictures.
---
Have you had a chance to read THESE REBEL WAVES yet? Are you persistent with your writing and publishing goals? Are you continuing to move forward? Share your thoughts about the interview in the comments!
Happy Reading,
Jocelyn, Halli, Martina, Erin, Susan, Shelly, Kelly, Laura, Emily, and Lori Ann