Happy Reading,
Shelly, Halli, Jocelyn, Martina, Erin, Susan, Kelly, Laura, Emily, Anisaa, and Lori Ann
YA BOOK GIVEAWAYS THIS WEEK
* * * *
In Another Time
by Caroline Leech
Signed Hardcover plus Swag Giveaway

U.S. Only
HarperTeen
Released 8/28/2018
It's 1942, and as the war rages in Europe, Maisie McCall is in the Scottish Highlands swinging an axe for the Women's Timber Corps. Maisie relishes her newfound independence working alongside other lumberjacks—including the mysterious John Lindsay.
As Maisie and John work side by side felling trees together, Maisie can't help but feel that their friendship has the spark of something more to it. And yet every time she gets close to him, John pulls away. It's not until Maisie rescues John from a terrible logging accident that he begins to open up to her about the truth of his past, and the pain he's been hiding.
Suddenly everything is more complicated than Maisie expected. And as she helps John untangle his shattered history, she must decide if she's willing to risk her heart to help heal his. But in a world devastated by war, love might be the only thing left that can begin to heal what's broken.
Author Question: What is your favorite thing about In Another Time?
What I love most about IN ANOTHER TIME is knowing that I based it on real women who were just as courageous and passionate and funny as the ones I created in the book. The story is set in the Highlands of Scotland during World War Two and follows Maisie McCall as she joins the Women's Timber Corps – whose members were known as the lumberjills – to work in the forests chopping down trees to send timber to help the war effort. I read so many memories written down by the lumberjills after the war—of the work, the dances, the weather, the food and yes, the Canadian lumberjacks they worked alongside—and I tried to distill all their extraordinary spirit into one 17 year old girl and the friends she makes in the lumberjill camps. Their stories were so inspiring, I wanted other people to hear about them. These were very special women, and they deserve to be remembered.
Purchase In Another Time at Amazon
Purchase In Another Time at IndieBound
View In Another Time on Goodreads
* * * *
The Soul Keepers
by Devon Taylor
Hardcover Giveaway

U.S. Only
Swoon Reads
Released 8/28/2018
Death is just the beginning.
After dying in a terrible car accident, Rhett awakens in the afterlife and is recruited to join the crew of the Harbinger, a colossal seafaring vessel tasked with ferrying the souls of the dead. To where exactly, no one knows. But the crew must get the souls there, and along the way protect them from vicious soul-eating monsters that will stop at nothing to take the ship and all of its occupants.
Rhett and his new friends have a hard enough time fighting back the monsters that grow bolder and more ferocious every day. But then a new threat emerges, a demon who wants something that Rhett has. And if she gets it, it could mean the end of everything... for both the living and the dead.
Author Question: What is your favorite thing about The Soul Keepers?
My favorite thing about the book has to be its emotional core. There are plenty of supernatural goings-on, terrifying monsters, and intense action sequences throughout the book, but it's all rooted in the emotional journey that the main character, Rhett, takes from the first page to the last. Over the course of the book, he loses one family and gains another, discovers a power within himself that's as miraculous as it is unsettling, and finds out what it means to fight for something bigger than just his own survival. Rhett has so much grief that fighting for any souls that aren't his family's seems impossible. But somehow he finds catharsis in the idea that death doesn't carry the finality he always thought it did. It might be paranormal fantasy, but THE SOUL KEEPERS is also about the very real tragedies that people can experience and how they can still find love and acceptance in the wake of those things.
Purchase The Soul Keepers at Amazon
Purchase The Soul Keepers at IndieBound
View The Soul Keepers on Goodreads
* * * *
Mirage
by Somaiya Daud
Hardcover Giveaway (2 Copies)

U.S. Only
Flatiron Books
Released 8/28/2018
In a world dominated by the brutal Vathek empire, eighteen-year-old Amani is a dreamer. She dreams of what life was like before the occupation; she dreams of writing poetry like the old-world poems she adores; she dreams of receiving a sign from Dihya that one day, she, too, will have adventure, and travel beyond her isolated home.
But when adventure comes for Amani, it is not what she expects: she is kidnapped by the regime and taken in secret to the royal palace, where she discovers that she is nearly identical to the cruel half-Vathek Princess Maram. The princess is so hated by her conquered people that she requires a body double, someone to appear in public as Maram, ready to die in her place.
As Amani is forced into her new role, she can't help but enjoy the palace's beauty―and her time with the princess' fiancé, Idris. But the glitter of the royal court belies a world of violence and fear. If Amani ever wishes to see her family again, she must play the princess to perfection...because one wrong move could lead to her death.
Purchase Mirage at Amazon
Purchase Mirage at IndieBound
View Mirage on Goodreads
YA BOOK GIVEAWAYS LAST WEEK: WINNERS
Nightblood by Elly Blake:
Naikittia B.
The Truth Lies Here by Lindsey Klingele:
Lysette L.
MORE YOUNG ADULT FICTION IN STORES NEXT WEEK WITH AUTHOR INTERVIEWS
* * * *
Hidden Pieces
by Paula Stokes
Hardcover
HarperTeen
Released 8/28/2018
Embry Woods has secrets. Some are small, like the ones about her complicated past. Others are bigger, like her growing feelings for best friend's ex-boyfriend, Holden. But the biggest secret she carries is about what they did at the abandoned Sea Cliff Inn...and the resulting terrible fire.
Embry helps a homeless man escape from the flames and is immediately hailed as a hero, but she knows that couldn't be further from the truth. Though she's wracked with guilt, Embry thinks she can take one last secret to her grave.
But then she receives an anonymous note—someone else was there that night. Now she must respond to a series of threatening messages asking her to make impossible choices.
Someone is playing a high-stakes game with her life. And their last move is murder.
Author Question: What is your favorite thing about Hidden Pieces?
My favorite thing about HIDDEN PIECES is that it's a character-driven mystery. A lot of mysteries are plot-driven, with characters who function like chess pieces, moving through the narrative and making choices that complicate the plot and advance the mystery without ever really letting the readers into their inner worlds. I enjoy those books--they have a compulsively readable quality to them because it's just one twist after another without much downtime. However, I prefer more layered mysteries, where readers get a chance to explore the characters' pasts and understand how their experiences have shaped their world views, which then makes it easier to understand their actions and motivations. When it comes to thrillers, I think it's easy to shock readers, but a lot harder to legitimately surprise them in ways where the outcome to the story also feels authentic and organic.
Purchase Hidden Pieces at Amazon
Purchase Hidden Pieces at IndieBound
View Hidden Pieces on Goodreads
MORE YOUNG ADULT NOVELS NEW IN STORES NEXT WEEK
* * * *
Access Restricted by
by Gregory Scott Katsoulis
Hardcover
Harlequin Teen
Released 8/28/2018
On the day she went silent, Speth never meant for anyone to follow her lead—or to start a rebellion of Silents. But after taking down the tyrant Silas Rog and freeing the city from his grasp, everyone is looking to Speth for answers she doesn't have. All she wants is to find her parents, who are shackled to a lifetime of servitude in exchange for a debt they can never repay. But how can Speth leave her friends to fend for themselves when she's the reason their city is in chaos?
When the government threatens to restore the WiFi and take back the city, Speth is forced to flee with a ragtag group of friends by her side. Together, they embark on a dangerous journey outside the dome they've lived in their entire lives, in search of a better future. Along the way, Speth will discover the shattering truth about their world…and the role she'll need to play to save it.
Purchase Access Restricted by at Amazon
Purchase Access Restricted by at IndieBound
View Access Restricted by on Goodreads
* * * *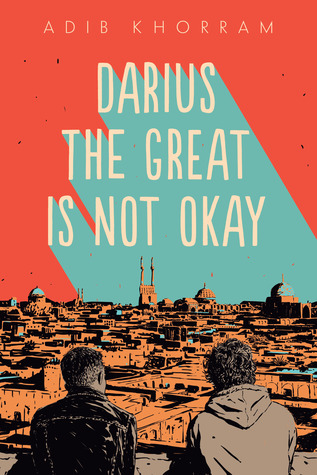 Darius the Great Is Not Okay
by Adib Khorram
Hardcover
Dial Books
Released 8/28/2018
Darius Kellner speaks better Klingon than Farsi, and he knows more about Hobbit social cues than Persian ones. He's a Fractional Persian—half, his mom's side—and his first-ever trip to Iran is about to change his life.
Darius has never really fit in at home, and he's sure things are going to be the same in Iran. His clinical depression doesn't exactly help matters, and trying to explain his medication to his grandparents only makes things harder. Then Darius meets Sohrab, the boy next door, and everything changes. Soon, they're spending their days together, playing soccer, eating faludeh, and talking for hours on a secret rooftop overlooking the city's skyline. Sohrab calls him Darioush—the original Persian version of his name—and Darius has never felt more like himself than he does now that he's Darioush to Sohrab.
Purchase Darius the Great Is Not Okay at Amazon
Purchase Darius the Great Is Not Okay at IndieBound
View Darius the Great Is Not Okay on Goodreads
* * * *
Harbor Me
by Jacqueline Woodson
Hardcover
Nancy Paulsen Books
Released 8/28/2018
Jacqueline Woodson's first middle-grade novel since National Book Award winner Brown Girl Dreaming celebrates the healing that can occur when a group of students share their stories.
It all starts when six kids have to meet for a weekly chat—by themselves, with no adults to listen in. There, in the room they soon dub the ARTT Room (short for "A Room to Talk"), they discover it's safe to talk about what's bothering them—everything from Esteban's father's deportation and Haley's father's incarceration to Amari's fears of racial profiling and Ashton's adjustment to his changing family fortunes. When the six are together, they can express the feelings and fears they have to hide from the rest of the world. And together, they can grow braver and more ready for the rest of their lives.
Purchase Harbor Me at Amazon
Purchase Harbor Me at IndieBound
View Harbor Me on Goodreads
* * * *
Night Flights: A Mortal Engines Collection
by Philip Reeve
Paperback
Scholastic Press
Released 8/28/2018
Return to the world of Mortal Engines in this new book of short stories about the rebellious young aviatrix, Anna Fang, illustrated by Ian McQue. A key character in the Mortal Engines book and upcoming film produced by Peter Jackson (December 2018), this is your chance to learn more of Anna's thrilling past. Night Flights includes Traction City, Philip Reeve's 2011 World Book Day Book.
In a dangerous future world where gigantic, motorized cities attack and devour each other, London hunts where no other predator dares. But Anna Fang -- pilot, adventurer, spy -- isn't afraid.
The three stories show gripping, moving, exciting moments in Anna Fang's life: her childhood as a slave aboard the moving city Arkangel, a showdown against a robotic Stalker that is terrifyingly out of control, and her free life as an intelligence agent for the Anti-Traction league ...
Purchase Night Flights: A Mortal Engines Collection at Amazon
Purchase Night Flights: A Mortal Engines Collection at IndieBound
View Night Flights: A Mortal Engines Collection on Goodreads
* * * *
Seafire
by Natalie C. Parker
Hardcover
Razorbill
Released 8/28/2018
After her family is killed by corrupt warlord Aric Athair and his bloodthirsty army of Bullets, Caledonia Styx is left to chart her own course on the dangerous and deadly seas. She captains her ship, the Mors Navis, with a crew of girls and women just like her, who have lost their families and homes because of Aric and his men. The crew has one mission: stay alive, and take down Aric's armed and armored fleet.
But when Caledonia's best friend and second-in-command barely survives an attack thanks to help from a Bullet looking to defect, Caledonia finds herself questioning whether to let him join their crew. Is this boy the key to taking down Aric Athair once and for all...or will he threaten everything the women of the Mors Navis have worked for?
Purchase Seafire at Amazon
Purchase Seafire at IndieBound
View Seafire on Goodreads
* * * *
That's Not What Happened
by Kody Keplinger
Hardcover
Scholastic Press
Released 8/28/2018
It's been three years since the Virgil County High School Massacre. Three years since my best friend, Sarah, was killed in a bathroom stall during the mass shooting. Everyone knows Sarah's story--that she died proclaiming her faith. But it's not true. I know because I was with her when she died. I didn't say anything then, and people got hurt because of it. Now Sarah's parents are publishing a book about her, so this might be my last chance to set the record straight . . . but I'm not the only survivor with a story to tell about what did--and didn't--happen that day. Except Sarah's martyrdom is important to a lot of people, people who don't take kindly to what I'm trying to do. And the more I learn, the less certain I am about what's right. I don't know what will be worse: the guilt of staying silent or the consequences of speaking up . . .
Purchase That's Not What Happened at Amazon
Purchase That's Not What Happened at IndieBound
View That's Not What Happened on Goodreads
* * * *
The Prodigy
by John Feinstein
Hardcover
Farrar, Straus and Giroux
Released 8/28/2018
Seventeen-year-old Frank Baker is a golfing sensation. He's set to earn a full-ride scholarship to play at the university of his choice, but his single dad wants him to skip college and turn pro―golf has taken its toll on the family bank account, and his dad is eager to start cashing in on his son's prowess. Frank knows he isn't ready for life on the pro tour―regardless of the potential riches―so his swing coach enlists a professional golfer turned journalist to be Frank's secret adviser.
Pressure mounts when, after reaching the final of the U.S. Amateur tournament, Frank wins an automatic invite to the Masters. And when the prodigy, against all odds, starts tearing up the course at Augusta National, sponsors are lined up to throw money at him―and his father. But Frank's entry in the Masters hinges on maintaining his standing as an amateur. Can he and his secret adviser―who has his own conflicts―keep Frank's dad at bay long enough to bring home the legendary green jacket?
Purchase The Prodigy at Amazon
Purchase The Prodigy at IndieBound
View The Prodigy on Goodreads
* * * *
The Sacrifice Box
by Martin Stewart
Hardcover
Viking Books for Young Readers
Released 8/28/2018
In the summer of 1982, five friends discover an ancient stone box hidden deep in the woods. They seal inside of it treasured objects from their childhoods, and they make a vow:
Never come to the box alone.
Never open it after dark.
Never take back your sacrifice.
Four years later, a series of strange and terrifying events begin to unfold: mirrors inexplicably shattering, inanimate beings coming to life, otherworldly crows thirsting for blood. Someone broke the rules of the box, and now everyone has to pay.
But how much are they willing to sacrifice?
Purchase The Sacrifice Box at Amazon
Purchase The Sacrifice Box at IndieBound
View The Sacrifice Box on Goodreads
* * * *
The Second Life of Ava Rivers
by Faith Gardner
Hardcover
Razorbill
Released 8/28/2018
Vera Rivers' life is split in two: before her twin sister Ava disappeared twelve years ago and after.
Before was hot Junes and ice cream trucks, dancing in sprinklers, loud Christmas mornings and pancakes on Saturdays. The after is everything else: police officers, investigators, tips, theories, leads, but never any answers. The case made headlines, shocked Vera's Northern California community, and turned her family into tragic celebrities.
Now, at eighteen, Vera is counting down the days until she starts her new life at college in Portland, Oregon, far away from the dark cloud she and her family have lived under for twelve years. But all that changes when a girl shows up at the local hospital.
Her name is Ava Rivers and she wants to go home.
Ava's return begins to mend the fractures in the Rivers family. Vera and Ava's estranged older brother returns. Vera reconnects with Max, the sweet, artistic boy from her childhood. Their parents smile again. But the questions remain: Where was Ava all these years? And who is she now?
Purchase The Second Life of Ava Rivers at Amazon
Purchase The Second Life of Ava Rivers at IndieBound
View The Second Life of Ava Rivers on Goodreads
* * * *
The Towering Sky
by Katharine McGee
Hardcover
HarperCollins
Released 8/28/2018
Welcome back to New York, 2119. A skyscraper city, fueled by impossible dreams.
Leda just wants to move on from what happened in Dubai. Until a new investigation forces her to seek help—from the person she's spent all year trying to forget.
Rylin is back in her old life, reunited with an old flame. But when she starts seeing Cord again, she finds herself torn: between two worlds, and two very different boys.
Calliope feels trapped, playing a long con that costs more than she bargained for. What happens when all her lies catch up with her?
Watt is still desperately in love with Leda. He'll do anything to win her back—even dig up secrets that are better left buried.
And now that Avery is home from England—with a new boyfriend, Max—her life seems more picture-perfect than ever. So why does she feel like she would rather be anything but perfect?
Purchase The Towering Sky at Amazon
Purchase The Towering Sky at IndieBound
View The Towering Sky on Goodreads