Jessi, what was your inspiration for writing THE OTHER SIDE OF LOST?
The original idea came from a video I saw that went viral, of a young woman who was insta-famous, who decided to quit social media because she felt it had taken over her life. She seemed so entirely lost in the video, and my heart just went out to her because I know how wrapped up in it people are these days—especially young people. She got a lot of backlash for the video, and from the Instagram community, and then she disappeared, which made me wonder where she went. When I thought about what I might do in that situation, I felt like I would have to remove myself completely, which gave me the idea for the hike.
What scene was really hard for you to write and why, and is that the one of which you are most proud? Or is there another scene you particularly love?
The end scene was so hard! I think because it's one moment at the end of long, long journey, and it's such an important one, I wanted to be sure to leave readers with an ending that felt earned and fitting.

What did this book teach you about writing or about yourself?
This book taught me SO much, and that's because during the writing of it, I actually had the opportunity to hike Mt. Whitney. I was not an avid hiker before, so to do this, I had to train to make sure I'd be ready for Whitney. This meant that I went on many 20+ mile day hikes, and in that process, I learned how to push through discomfort, that I was stronger than I knew, could go farther than I thought, and that the feeling of reaching a summit is worth all of the pain it takes to get there. I also learned that long-distance hiking is so similar to writing a novel. It's a long haul. You have to push past doubt and obstacles. You also are treated to beautiful moments along the way, and in the end, it truly is about the journey.

What do you hope readers will take away from THE OTHER SIDE OF LOST?
I hope it will inspire readers to want to be in the present moment. To be braver than they think they are. And to find beauty and stillness within themselves, and in nature.
ABOUT THE BOOK
The Other Side of Lost
by Jessi Kirby
Hardcover
HarperTeen
Released 8/7/2018
Mari Turner's life is perfect. That is, at least, to her thousands of followers who have helped her become an internet starlet.
But when she breaks down and posts a video confessing she's been living a lie—that she isn't the happy, in love, inspirational online personality she's been trying so hard to portray—it goes viral and she receives a major backlash.
To get away from it all, she makes an impulsive decision: to hike the entire John Muir Trail. Mari and her late cousin Bri were supposed to do it together, to celebrate their shared eighteenth birthday. But that was before Mari got so wrapped up in her online world that she shut anyone out who questioned its worth—like Bri.
With Bri's boots and trail diary, a heart full of regret, and a group of strangers that she meets along the way, Mari tries to navigate the difficult terrain of the hike. But the true challenge lies within, as she searches for the way back from to the girl she fears may be too lost to find: herself.
Purchase The Other Side of Lost at Amazon
Purchase The Other Side of Lost at IndieBound
View The Other Side of Lost on Goodreads
ABOUT THE AUTHOR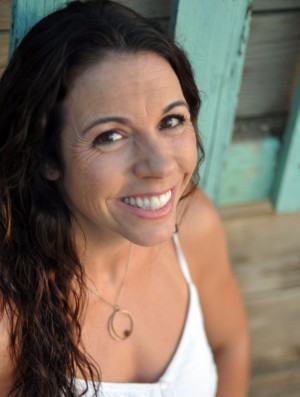 Jessi Kirby is the author of six novels for young adults, including
The Secret History of Us
,
Things We Know By Heart,
and
Moonglass
, which was nominated for the ABA New Voices award. Her novels have received starred reviews from Booklist and Publishers weekly, and have been published in more than twenty countries.
Jessi grew up in Mammoth Lakes, California and earned a degree in English from Cal Poly San Luis Obispo. She currently lives in Central California with her husband and two kids, where she spends her time enjoying her family, teaching, writing, reading, running, and trying to make the most out of every day.
---
Have you had a chance to read THE OTHER SIDE OF LOST yet? Have you been inspired by a viral video? Do you have trouble with writing endings? Share your thoughts about the interview in the comments!
Happy Reading,
Jocelyn, Halli, Martina, Erin, Susan, Shelly, Kelly, Laura, Emily, and Lori Ann