Alice, what was your inspiration for writing ECHOES?

I've always loved watching documentaries about crazy events that seemed impossible yet they still happened, as well as ones about mysterious events that never got solved, like in BuzzFeed Unsolved. When I got the first idea for ECHOES it had a much bigger focus on survival and romance, but it only felt natural for the story to change and evolve into what it ended up being. I took that seemingly simple plot idea and tried to take it further, play with the concept of reality, and place my characters in situations that challenged them in ways they had no way of being prepared for. Along the way I found inspiration in many things like pictures online, songs that sparked ideas for scenes or moments or dialogues, conversations and brainstorming with friends, watching people as they move through the city, you name it.

What scene was really hard for you to write and why, and is that the one of which you are most proud? Or is there another scene you particularly love?

A scene that was really hard to write, and that changed many times across drafts and while editing, happens in the second half of the book. I can't tell you what happens in it, obviously, but getting it just right was a challenge. There were a lot of things that needed to be said in just the right way, since they were crucial for character development, and to understand certain things in the past and present, so I was always worried I might mess it up. I'm very proud of that one, but it's not my favorite.

There is a different one that I particularly love because it's the first time Fiona really sees Miles for who he truly is and starts to wonder if maybe she judged him wrong all along. It's a very emotional scene and I'm glad it stayed nearly the same throughout all drafts.

How long did you work on ECHOES?

The first time I had an idea for what would become ECHOES was during an excursion with my theatre group to a competition when I was 16 years old. I'm 24 now. Of course I didn't steadily work on ECHOES every day for years, but it slowly but surely started to take shape, and I think I worked on the first proper draft of it early 2015. It went through a lot of changes from that first idea I had while on the bus. For example originally Miles and Fiona were flying from Berlin to L.A. instead of Miami to Berlin.

How long or hard was your road to publication? How many books did you write before this one, and how many never got published?

It was a process. ECHOES was the 6th full manuscript I wrote, and honestly the first one I felt was actually really good. I queried it, collected rejections like Pokémon, and decided to shelf it for about a year. In that time I wrote two more, one of them even was part of Pitch Wars in 2016. Finally I gave ECHOES one last chance during #PitMad and now we're here. My 6th is an actual book now while I'm working on my 11th.

What's your writing ritual like? Do you listen to music? Work at home or at a coffee shop or the library, etc?

I'd love to say that it's something really specific and a little obscure like 'I light 5 specific candles in different places of my room and listen to recordings of waves', but it's unfortunately far less interesting. I usually just sit at my desk, listen to music, and do writing sprints by myself or with friends. Since I really like singing, I choose music that either has no lyrics, like EDM or classical, or something in a language that I simply can't speak, and thus can't sing, like K-Pop. I have playlists with songs for my WIPs but they are more songs that fit the story and mood that I could later on share with readers, and not something I actually listen to while writing.

What advice would you most like to pass along to other writers?

Find a method that works best for you. Some people might tell you 'the only right way is to have a 300 pages notebook filled with every single detail ever and a outline spanning 30k words because otherwise you'll never write a book' while others will tell you to just go where the story takes you without any planning at all, just a basic idea, let's go. I used to be the latter, now I like to make a detailed outline so I know which chapter has which scenes, what everyone is doing and what is being said. But at the end of the day I don't think there is one right way that will fit every single writer. Everyone is different so I'd say try out all of them and see which one will stick and you'll feel the most comfortable with.

What are you working on now?

Currently I'm working on a own voice YA fantasy that I'm having a lot of fun with. It's very different from everything I've worked on before, much darker and sinister, and is challenging me in many ways. But, at the same time, it also allowed me to get to know my own culture and country better, to get inspired by it and see how I could use some of it to bring my story idea to life while also bring something new to the table of YA fantasy. Maybe one day you'll be able to read it.
ABOUT THE BOOK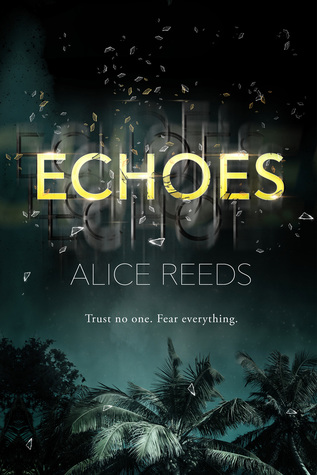 Echoes
by Alice Reeds
Paperback
Entangled: Teen
Released 8/7/2018
They wake on a deserted island. Fiona and Miles, high school enemies now stranded together. No memory of how they got there. No plan to follow, no hope to hold on to.
Each step forward reveals the mystery behind the forces that brought them here. And soon, the most chilling discovery: something else is on the island with them.
Something that won't let them leave alive.
Echoes is a thrilling adventure about confronting the impossible, discovering love in the most unexpected places, and, above all, finding hope in the face of the unknown.
Purchase Echoes at Amazon
Purchase Echoes at IndieBound
View Echoes on Goodreads
ABOUT THE AUTHOR
Alice Reeds was born in a small town in Germany but spent her first eight years in Florida, USA. Later on, she moved back to Europe, where her family moved around a lot. She was raised trilingual and has a basic understanding of Russian, read and spoken. After getting her International Baccalaureate Diploma, Alice is studying English Language and Literature at University. In her free time Alice mostly writes, reads, figure and/or roller skates, or watches countless let's plays and figure skating videos.
---
Have you had a chance to read ECHOES yet? Have you shelved a book that you might try again with some day? Have you found the writing method that works best for you? Share your thoughts about the interview in the comments!
Happy Reading,
Jocelyn, Halli, Martina, Erin, Susan, Shelly, Kelly, Laura, Emily, and Lori Ann