Will, what was your inspiration for writing THE FUTURE WILL BE BS FREE?
I was giving a test in the 300-student Intro to Psychology class I taught at William and Mary until recently. With so many students, you need at least two proctors, so a graduate student with a background in physiology was helping me. When the room was nearly empty, we got talking about future developments in her field. I asked if it might be possible to use a brain scan to tell when people were lying, and she told me about a part of the brain whose function was to resolve internal discrepancies. When people lie, that part of the brain is very active, and a brain scan, an fMRI, might one day be sensitive enough to detect this. That got me thinking about the implications of someone inventing a portable, foolproof lie detector.
What scene was really hard for you to write and why, and is that the one of which you are most proud? Or is there another scene you particularly love?
There's a scene where the brilliant teens who invent this portable lie detector realize that a lie detector not only makes it hard get away with lies, it also makes it hard to keep secrets. They sit around a bonfire and tell each other all of their secrets, to come clean so they don't have to fear their own invention. I gave my characters some painful secrets, and one secret that paints my protagonist in a very negative light. I risked making him unsympathetic to my readers, because I decided if I was going to write a book about lies and deception, the things that come to the surface shouldn't be easy to dismiss. It's not always an easy book to read.
How long did you work on THE FUTURE WILL BE BS FREE?
At this point in my career, I write quickly once I have a rough idea of the plot and characters. It took my about 5 months to write this one.
What do you hope readers will take away from THE FUTURE WILL BE BS FREE?
I hope it will lead readers to imagine what the world would be like if no one could lie, both the pros and cons. And in doing so, I hope it leads them to realize what a staggering role lies and deception play in the modern world.
What's your writing ritual like? Do you listen to music? Work at home or at a coffee shop or the library, etc?
Writing is my full-time job now, so generally I write Monday to Friday, 9 to 5, with a break for lunch and exercise. I listen to music pretty much the entire time. Loud, driving music. A lot of people would find that distracting, but it works for me. I don't write quickly -- a really good day for me is 2000 words -- but the words pile up because I don't take many days off.
What are you working on now?
I'm working on a middle grades book, a young adult book, a contemporary thriller, and a futuristic thriller. They're all at different stages. I keep the revolving door moving, so if I get stuck on one project, I can quickly shift to another.
ABOUT THE BOOK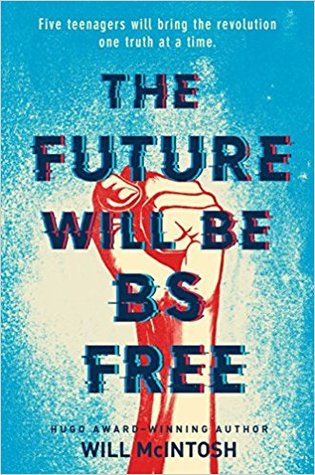 The Future Will Be BS Free
by Will McIntosh
Hardcover
Delacorte Press
Released 7/24/2018
In a Putin-esque near-future America, the gifted and talented high school has just been eliminated, and Sam and his friends have been using their unexpected free time to work on a tiny, undetectable, utterly reliable lie detector. They're all in it for the money--except Theo, their visionary. For Theo, it's about creating a better world. A BS-free world, where no one can lie, and the honest will thrive.
Just when they finish the prototype and turn down an offer to sell their brainchild to a huge corporation, Theo is found dead. Greedy companies, corrupt privatized police, and even the president herself will stop at nothing to steal the Truth App. Sam sets his sights on exposing all lies and holding everyone accountable.
But he and his friends quickly realize the costs of a BS-free world: the lives of loved ones, and political and economic stability. They now face a difficult question: Is the world capable of operating without lies, or are lies what hold it together?
Purchase The Future Will Be BS Free at Amazon
Purchase The Future Will Be BS Free at IndieBound
View The Future Will Be BS Free on Goodreads
ABOUT THE AUTHOR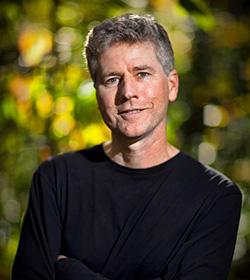 Will McIntosh is a Hugo award winner and finalist for the Nebula and eleven other awards. His most recent novel is
Burning Midnight
(Penguin Random House). His previous book
Defenders
(Orbit Books) was optioned by Warner Brothers for a feature film, while
Love Minus Eighty
was named the best science fiction book of 2013 by the American Library Association. Along with six novels, Will has published around fifty short stories in Asimov's (where he won Reader's Awards in 2010 and 2013), Lightspeed, Science Fiction and Fantasy: Best of the Year, and elsewhere. Up next is
Faller
, a wild SF adventure novel to be published by Tor Books.
Will lives in Williamsburg, Virginia with his wife Alison and twins Hannah and Miles. He left his position as a psychology professor in Southeast Georgia to write full time, and still teaches as an adjunct, at the College of William and Mary. Will is represented by Seth Fishman at The Gernert Company. Follow him on Twitter @WillMcIntoshSF
---
Have you had a chance to read THE FUTURE WILL BE BS FREE yet? Has a conversation with someone sparked a story idea? Do you work on multiple projects at one time? Share your thoughts about the interview in the comments!
Happy Reading,
Jocelyn, Halli, Martina, Erin, Susan, Shelly, Kelly, Laura, Emily, and Lori Ann