Happy Reading,
Shelly, Halli, Jocelyn, Martina, Erin, Susan, Kelly, Laura, Emily, Anisaa, and Lori Ann
YA BOOK GIVEAWAYS THIS WEEK
* * * *
Sanctuary
by Caryn Lix
Hardcover Giveaway

U.S. Only
Simon Pulse
Released 7/24/2018
Kenzie holds one truth above all: the company is everything.
As a citizen of Omnistellar Concepts, the most powerful corporation in the solar system, Kenzie has trained her entire life for one goal: to become an elite guard on Sanctuary, Omnistellar's space prison for superpowered teens too dangerous for Earth. As a junior guard, she's excited to prove herself to her company—and that means sacrificing anything that won't propel her forward.
But then a routine drill goes sideways and Kenzie is taken hostage by rioting prisoners.
At first, she's confident her commanding officer—who also happens to be her mother—will stop at nothing to secure her freedom. Yet it soon becomes clear that her mother is more concerned with sticking to Omnistellar protocol than she is with getting Kenzie out safely.
As Kenzie forms her own plan to escape, she doesn't realize there's a more sinister threat looming, something ancient and evil that has clawed its way into Sanctuary from the vacuum of space. And Kenzie might have to team up with her captors to survive—all while beginning to suspect there's a darker side to the Omnistellar she knows.
Author Question: What is your favorite thing about Sanctuary?
SANCTUARY is the kind of story I loved to read when I was young: full of adventure and heart stopping terror but also with a core of people finding themselves, finding each other, and learning that they are capable of more than they dreamed. I've always loved stories that have a break neck speed. Sometimes I think those tales get dismissed as escapism and fantasy, and to a degree they are -- there's nothing wrong with that. But I think there's more to it. When you see people pushed to the very brink, you see who they really are. You see what they're capable of. They surprise themselves, and each other. It's that element of self discovery I always loved about science fiction, fantasy, horror, and adventure stories. Yes, they're exciting and fun, but I love the growth you see in characters, how they come through these extraordinary circumstances better and stronger than they ever suspected they had in them. SANCTUARY is about many things: accepting people for who they are rather than falling into preset ideas, family, friendships, and self-knowledge. And I suppose that is my favorite thing about it: that I can use this vehicle of exciting action adventure to explore how people grow in extreme circumstances!
Purchase Sanctuary at Amazon
Purchase Sanctuary at IndieBound
View Sanctuary on Goodreads
YA BOOK GIVEAWAYS LAST WEEK: WINNERS
Price of Duty by Todd Strasser:
Danielle H.
The Year of Living Awkwardly: Sophomore Year by Emma Chastain:
Cassandra D.
MORE YOUNG ADULT FICTION IN STORES NEXT WEEK WITH AUTHOR INTERVIEWS
* * * *
Contagion
by Erin Bowman
Hardcover
HarperTeen
Released 7/24/2018
After receiving a distress call from a drill team on a distant planet, a skeleton crew is sent into deep space to perform a standard search-and-rescue mission.
When they arrive, they find the planet littered with the remains of the project—including its members' dead bodies. As they try to piece together what could have possibly decimated an entire project, they discover that some things are best left buried—and some monsters are only too ready to awaken.
Author Question: What is your favorite thing about Contagion?
My favorite thing about CONTAGION is that there isn't a traditional antagonist or villain. Instead, the characters are pitted against an invisible enemy they can't defeat: disease. This is an enemy that spreads, that can't be reasoned with, that attacks without mercy... It was a lot of fun to write.
Purchase Contagion at Amazon
Purchase Contagion at IndieBound
View Contagion on Goodreads
* * * *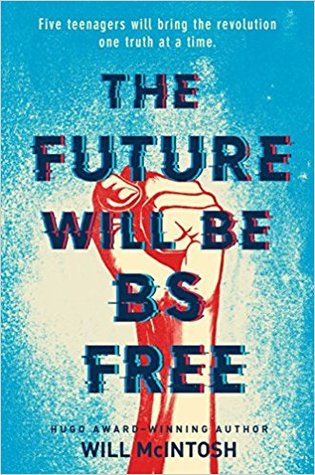 The Future Will Be BS Free
by Will McIntosh
Hardcover
Delacorte Press
Released 7/24/2018
In a Putin-esque near-future America, the gifted and talented high school has just been eliminated, and Sam and his friends have been using their unexpected free time to work on a tiny, undetectable, utterly reliable lie detector. They're all in it for the money--except Theo, their visionary. For Theo, it's about creating a better world. A BS-free world, where no one can lie, and the honest will thrive.
Just when they finish the prototype and turn down an offer to sell their brainchild to a huge corporation, Theo is found dead. Greedy companies, corrupt privatized police, and even the president herself will stop at nothing to steal the Truth App. Sam sets his sights on exposing all lies and holding everyone accountable.
But he and his friends quickly realize the costs of a BS-free world: the lives of loved ones, and political and economic stability. They now face a difficult question: Is the world capable of operating without lies, or are lies what hold it together?
Author Question: What is your favorite thing about The Future Will Be BS Free?
The inadvertent timeliness of the central issue I explore in the book. It's about lies and deception, and what would happen if people could tell when someone was lying...and especially when our leaders are lying. I wrote the book in 2014-15.
Purchase The Future Will Be BS Free at Amazon
Purchase The Future Will Be BS Free at IndieBound
View The Future Will Be BS Free on Goodreads
MORE YOUNG ADULT NOVELS NEW IN STORES NEXT WEEK
* * * *
Between Frost and Fury
by Chani Lynn Feener
Hardcover
Swoon Reads
Released 7/24/2018
Delaney has been kidnapped by aliens. Again. After only a month back on Earth with her hot new alien boyfriend Ruckus, the deadly and devastatingly handsome prince Trystan has dragged her right back to his planet.
While some girls may dream of winning a prince's heart, Delaney just wishes this one would leave her alone. Instead, she finds herself at the center of both a tense political battle between two alien kingdoms and Trystan's romantic attentions, both of which are absolutely ruining the life she's built on Earth. Not to mention the fact that she's about to be crowned queen of a planet she's barely even visited. Just another day in the life of an ordinary human girl.
Purchase Between Frost and Fury at Amazon
Purchase Between Frost and Fury at IndieBound
View Between Frost and Fury on Goodreads
* * * *
Endless Water, Starless Sky
by Rosamund Hodge
Hardcover
Balzer + Bray
Released 7/24/2018
In the last days of the world, the walls of Viyara are still falling, and the dead are rising faster than ever.
Juliet is trapped—ordered by Lord Ineo of the Mahyanai to sacrifice the remaining members of her family, the Catresou, to stave off the end of the world. Though they're certain his plan is useless, Juliet and her former friend Runajo must comply with Lord Ineo's wishes—unless they can discover a different, darker path to protecting Viyara.
Romeo is tortured: Finally aware that his true love is alive, he is at once elated and devastated, for his actions led directly to the destruction of her clan. The only way to redemption is to offer his life to the Catresou to protect and support them . . . even if it means dying to do so.
When Romeo's and Juliet's paths converge once again, only a journey into Death will offer answers and the key to saving them all—but is it a journey either of them will survive?
Purchase Endless Water, Starless Sky at Amazon
Purchase Endless Water, Starless Sky at IndieBound
View Endless Water, Starless Sky on Goodreads
* * * *
Scream All Night
by Derek Milman
Hardcover
Balzer + Bray
Released 7/24/2018
DARIO HEYWARD KNOWS ONE THING: He's never going back to Moldavia Studios, the iconic castle that served as the set, studio, and home to the cast and crew of dozens of cult classic B-horror movies. It's been three years since Dario's even seen the place, after getting legally emancipated from his father, the infamous director of Moldavia's creature features.
But then Dario's brother invites him home to a mysterious ceremony involving his father and a tribute to his first film—The Curse of the Mummy's Tongue. Dario swears his homecoming will be a one-time visit. A way for him to get closure on his past—and reunite with Hayley, his first love and costar of Zombie Children of the Harvest Sun, a production fraught with real-life tragedy—and say good-bye for good. But the unthinkable happens—Dario gets sucked back into the twisted world of Moldavia and the horrors, both real and imagined, he's left there.
With only months to rescue the sinking studio and everyone who has built their lives there, Dario must confront the demons of his past—and the uncertainties of his future. But can he escape the place that's haunted him his whole life?
Purchase Scream All Night at Amazon
Purchase Scream All Night at IndieBound
View Scream All Night on Goodreads